Today it is my pleasure to Welcome author
Anna Bradley
to HJ!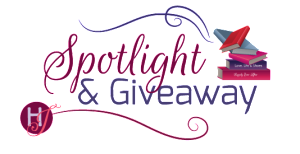 A tantalizing new Regency romance filled with the most elegant society—and the most forbidden desires…

Thank you for having me today!

Please summarize the book for the readers here: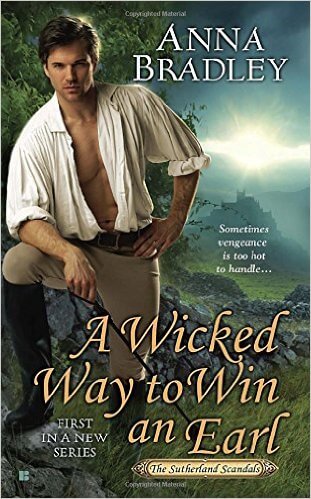 A heroine with a scandalous past and a hero with an uncertain future are locked in the wager of a lifetime. Seduction is even more delicious when it's sweetened with revenge, but what begins as a battle over family pride soon becomes much riskier: a battle for hearts. #truelove.

What's your favorite line from the book?
Oh, that's a tough one. I have quite a few favorite lines, but I think if I have to choose I'll go with one of Alec's lines from about two thirds of the way into the book:

"He gazed into her thickly-lashed eyes and thought of thousands of bluebells carpeting the forest floor."

Alec has struggled with his passion for Delia and at this point in the story he's not yet able to say something so romantic aloud, but this line shows him beginning to succumb to his tenderness for her. I think Delia would be pleased if she knew what he was thinking!
When you sat down to start this book, what was the biggest challenge you faced? What were you most excited about?
I think one challenge writers often face is having enough faith in themselves and their writing to see a book through to the end. For me one of the biggest hurdles was believing I could really do this—that I could write an entire book that might actually be worth reading! What really surprised me was that even when I was struggling with this book and tearing my hair out by the roots, I was still having such a ball writing it. It's one the single most gratifying things I've ever done, and that was the most exciting part for me—acknowledging how much I truly love to write, and then going for it!
Please tell us a little about the characters in your book. As you wrote your protagonist was there anything about them that surprised you?
Yes—that Delia and Alec have a lot to learn in this book! At first Alec is arrogant and Delia is standoffish, and both of them tend to rush to judgment, so we have two strong-willed characters who really spark off each other, and who also make mistakes. The reader will see that these two belong together before either Alec or Delia see it, but both characters learn from each other and change as the book progresses. They become better people because they have to do so in order to be worthy of each other.
What, in your mind, distinguishes this book from other books out there in the same genre?
I'd say it's the characters who make the book/series stand out. There's a lot of humor in this book, but there's also a dramatic intensity that comes from the characters' struggles. Both Delia and Alec are very different people by the end of the book than they are at the start. If you have deep and complex characters who must change over the course of the book in order to earn their HEA, then you have a memorable romance. It never hurts if you can get the reader laughing, too!

The First kiss…
Wild. Deep. Hot. Unexpected. Devastating.

Did any scene have you crying or laughing (or blushing) while writing it?
Oh, so many of them, especially the blushing part. You'd think a writer would be immune to that since we're the ones writing the scenes, but for me it's just the opposite! I blushed my way through the entire first love scene between Alec and Delia. It's tender, yes—they are deeply in love by the time they make love, but it's also hot! They've been driving each other mad with desire for weeks before finally give in to temptation, so when they do come together it's pretty explosive. Here's a snippet:
"Alec's mouth returned to her lips, gentler this time, coaxing, his tongue licking into her mouth with delicate, restrained strokes. He reached up to loosen the buttons of her nightdress, surprised to find his hands were shaking. Slowly, torturously the buttons yielded, one by one. Alec slipped his fingers inside the sagging neck and slid it down her arms. She wore nothing underneath."
If your book was optioned for a movie, what scene would you use for the audition of the main characters?
Great question! I think I'd choose the scene in Chapter 9 where Delia flirts with Alec to find out if he's the immoral seducer she believes him to be. I'd choose this scene because it includes both comic and darker elements—it starts off light and amusing but during the scene Delia throws down a challenge and Alec snaps it up, and things move quickly from playful to dangerous. It's a sexy scene, for sure, so we'd find out if the actors had chemistry, but it's also a little menacing at the end, so the actors would really get a chance to show off their skills.

If you could have given your characters one piece of advice before the opening pages of the book, what would it be and why?
If your hero had a sexy-times play list, what song(s) would have to be on it?
I love this question! I had a tough time narrowing it down, but here are my top five:
Norah Jones "Turn Me On."
Brian Ferry's "Slave to Love."
Peter Gabriel's "In Your Eyes"
Van Morrison's "Tupelo Honey."
But no Alec and Delia sexy-times playlist would be complete without Chris Isaak's "Wicked Game." That song was made for this book!
If you could have given your characters one piece of advice before the opening pages of the book, what would it be and why?
Hold on, because you're going to have quite an adventure before you get to fall into each other's arms! I'd also tell them not to give up on one another, because they're meant to be together. Both Delia and Alec have some painful moments in this book, so I'd remind them that their love will be worth it in the end.

What are you currently working on? What other releases do you have planned for 2015?
I'm just finishing up the fourth book in the Sutherland Scandals series. Once I've finished it I'm moving on to a trilogy featuring the three youngest sisters in the Somerset family—Iris, Violet and Hyacinth. I'm itching to start that trilogy, actually, because I know just how I'm going to get the three sisters into trouble with their heroes!

Thanks for blogging at HJ!
Giveaway:

2 Print copies of A WICKED WAY TO WIN AN EARL
To enter Giveaway: Please complete the Rafflecopter form and Post a comment to this Q:

What two words would you use to describe your perfect hero?
Excerpt from A Wicked Way to Win an Earl:
She was standing near the center of the garden, facing away from him, partially obscured by a towering rose arbor. Her deep blue gown fluttered and shimmered in the light breeze and the moon drew gentle fingers of pale light over her smooth white shoulders and neck.

"I thought you'd retired for the evening, Miss Somerset."

Her slim body stiffened, and a slight tremor shivered down her back. She turned towards him. "I left my sketch book here this afternoon when we . . ." Her voice trailed off. "I came back down to fetch it." She was holding the book tightly against her bosom, as if for protection.

"You never told me which rose is your favorite." His voice was at once both soft and rough.

She turned away again to look at the roses. "May I guess yours, instead?"

Alec drew a deep breath and held it. He seemed to be always holding his breath when he spoke with her, waiting to hear what she'd say next. Anticipating it.

He moved closer to her, because all at once the distance between them felt unbearable. He was close enough so the edges of his coat brushed against her gown. Alec closed his eyes and breathed in the delicate scent of her hair, so much more tempting than the scent of the roses surrounding them. Jasmine? The faintest hint of honey.

"Please," he murmured near her ear, not sure anymore what he asked for.

She paused for a moment, and for one delirious instant Alec thought she was savoring his nearness. Then she walked a few steps closer to the center of the garden and came to a halt next to a tall rose with a large, luxuriant red bloom. "This one, my lord." She turned to face him. "The red. So extravagant." She ran her the tips of her fingers over the lush scarlet petals.
Alec understood immediately. The rose, spectacularly red, with its heavy sweet scent, was the showpiece of the rose garden. All of the other roses were just a prelude to it. Every path in the formal garden ended at this one elaborate bloom.

But Alec didn't spare the ornate red rose a glance. He fixed his eyes on hers, then reached out and wrapped his long fingers around her delicate wrist. He turned and walked deeper into the garden, past the arbor and into the dark shadows even this bright moon had failed to illuminate.

"Here." He tightened his fingers around her wrist and drew her forward, close beside him. "This is my favorite."

This rose hadn't yet fully opened. The outermost petals were still gathered around the center of the bloom, but the barest hint of deep gold was visible inside, peeking shyly out from the protective embrace of the velvety cream-colored petals.

"So delicate," Alec murmured. "Like honey in a bowl of cream."
He reached out and stroked a finger against one of the milky white petals. When he drew his hand away a drop of dew clung to his fingertip. Still clasping her wrist, Alec turned her hand up and slowly drew his damp finger across the center of her palm.
Excerpts. © Reprinted by permission. All rights reserved.

Book Info:
England, 1811. Delia Somerset despises the privileged ton, but her young sister, Lily, is desperate to escape their family's scandalous past and join high society. Unwilling to upset her sister, Delia reluctantly agrees to attend a party at the Sutherland estate—and avoid the gossip at all costs.
Alec Sutherland is known as a hot-headed scoundrel, but nothing gets a rise out of him as much as the news that his brother desires Delia's hand in marriage. She is, after all, the daughter of the London belle who soiled their family name. He's determined to ruin her reputation as well, in the most delicious way possible. It's only a matter of time before he can woo her with his irresistible advances.
As Delia devilishly plays along in Alec's game, determined to prove the joke is on him, they inch ever closer to repeating history. And in this game of seductive glances, scandalous whispers, and old debts, the outcome might be much more than either of them anticipated…
Buy Links:
Amazon – http://ow.ly/Uojeh
Barnes & Noble – http://ow.ly/UojiR
Kobo – http://ow.ly/UojlI


Meet the Author: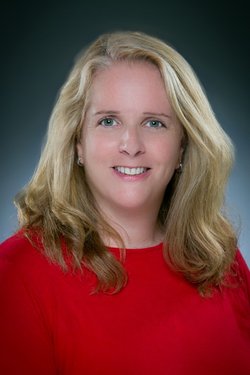 I've been an avid reader, writer and book fondler since childhood, when I pilfered my first romance novel and stole away to my bedroom to devour it. An insatiable love of the written word persisted throughout my childhood in Maine, where it led to a master's degree in English Literature.
Before I became a writer I worked with a rare books library featuring works by British women writers from the 1600s through the Regency period. Here I got to indulge my love of stories, fondle smooth, leather-bound volumes to my heart's content, and dream of becoming a writer.
I write steamy historical romance (think garters, fops and riding crops) and squeeze in a career as a writing instructor on the side. I live with my husband and two children in Portland, OR, where people are delightfully weird and love to read.
My website is annabradley.writerspace.com.
Twitter: annabradley472
Facebook: https://www.facebook.com