Today it is my pleasure to welcome romance author

Erin Kern

to HJ!

Hi Erin, Welcome to HJ
What would you say are the defining characteristic of your novels?
My books are very character-driven with a lot of complex family dynamics. There are usually multiple characters who are each dealing with their own issues that most people could relate with. I'm also a big fan of witty, laugh-out-loud dialogue and HEA!
5 best things about being a writer?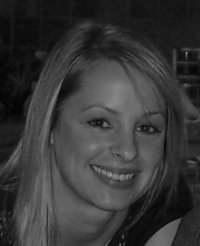 1. Getting to work in my flannel pants
2. Taking breaks to play board games with my kids
3. Living vicariously through my characters
4. Utilizing my alter-ego in multiple forms (cue evil chuckle here)
5. Falling in love with my heroes.
If you were a heroine in a book, your character would be – The girl next door, the damsel in distress, Kick-butt take charge heroine or the aloof ice queen and why?
Definitely the girl next door, because that pretty much describes me perfectly. There are endless possibilities with that particular persona and I think most people can relate to her in some way. And, I think most men are drawn to a woman they can bring home to Mom and Dad.
Let's talk about your newest release: Along Came Trouble
If you had to summarize Along Came Trouble for the readers here…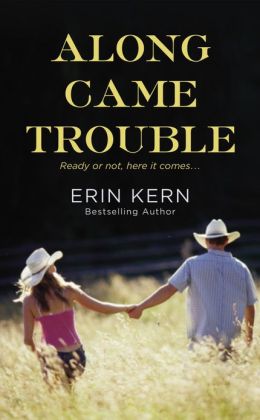 Along Came Trouble focuses on the youngest McDermott brother, Brody, who's been divorced for a few years and is working on moving forward with his life. He's focusing his energy on the restaurant he runs, which has seen a downturn in business. And all thoughts of love and happily-ever-after disintegrated with his marriage. That is, until Elisa Cardoso sashays into his restaurant for a job she was hired to do in an effort to turn things around.
While Elisa loves Trouble, Wyoming, she has much higher ambitions than photographing food and local landscapes. She wants to travel the world. But then she gets one look at Brody McDermott, and the demons clouding those grey eyes of his, and she starts second guessing what she really wants out of life. Including an opportunity to fulfill her lifelong dream.
Please tell us about the characters in your book
Brody was the one McDermott brother who had it all together. But then his family fell apart and the readers see a much more tortured Brody than they saw in the previous books. He becomes the quintessential wounded soul who's trying to piece his life, his work, and his relationship with his eleven-year-old son, back together. He thinks he's damaged goods but, deep down, he's that rare white knight that can make a woman's toes curl.
Elisa Cardoso has endured her own loss. Her parents were killed in a plane crash, and she had to send her little brother to live with their grandparents in South America. For years she's wrestled with the guilt of sending him away but, in the meantime, has made a nice living for herself as a photographer. But the menial jobs snapping pictures of local foothills and food don't exactly fulfill her. She's looking for something more, which includes traveling the world and having her pictures appear in Time Magazine or National Geographic.
What scene did you have the most fun writing? Why?
I really loved writing the epilogue, which is a little family game of baseball between Elisa, Brody and Brody's son. Elisa's not much of a sports gal, and it's evident she's only there for the two males in her life. While I love to watch baseball, I can't play worth a damn, so writing Elisa's discomfort for a game she has no interest in was a piece of cake! Here's an example of that:
There was a very good reason Elisa never played sports. One was the grass stains. Those suckers were damn near impossible to get out and were always in some obvious spot that acted like a freakin' bulls-eye. Like the one on her rear end. On her best pair of yoga pants.

The other was the running. Now, she was no slouch or anything. All things considered, she was in pretty good shape. Ate well, stayed relatively active.

But, shit, did she have to run every single time Tyler hit the ball? Couldn't the kid like strikeout or something?

Brody, who stood on the pitcher's mound in a pair of well-worn jeans and a too-tight black t-shirt, glanced back at her. That was her other problem. She kept missing the ball because she spent too much time staring at Brody's ass.

She lifted her baseball glove-covered hand and waved at him. "Don't mind me," she called from the outfield. "I'll just be back here sucking."

He turned to face her. Even with dark sunglasses shielding his eyes, she still felt the scorching heat of his gaze. "Do you want to come pitch?" he asked.

"Oh no," she replied with a shake of her head. Hadn't he seen her run around like a headless chicken back here? What would make him think she could pitch the ball? "It's much better for me to be way out here than it would for me to potentially give your son a concussion. Trust me," she added.
What scene was the hardest to write? Why?
There's a scene where Elisa has to take a dog she recently found to be euthanized. Even though she had the animal for a short period of time, she instantly fell in love with him. But the dog is very sick and has to be put down. I grew up with dogs, and have lost a lot of them due to illness. Reliving that particular moment when one has to say goodbye to a pet was a little difficult.
The doctor slapped on a pair of examination gloves and held up a needle. "This is going to make him go to sleep. After that I'll inject him with a solution that will stop his heart."

Elisa could only nod as a sick feeling formed in the bottom of her stomach. Brody leaned in close and pressed a soft kiss to her temple.

Just a few seconds later Brinkley's eyes dropped closed as though drifting into a deep sleep. She didn't want to watch, but couldn't tear her eyes away. His stomach still rose and fell with shallow breaths. She wanted to call the whole thing off. Was it too late to whisk her dog away from here and spend just a few more hours with him? It took every ounce of will power she had to remain in her chair, to keep from yelling at the vet to stop the process.
Who would you cast in the role of your characters if your book was optioned for a movie?
When I first created Brody's character immediately thought of Henry Cavill, who I first saw on the Showtime series, The Tudors. Most recently he played superman in Man of Steel.
Elisa has that olive skin, dark-haired exotic look about her due to her South American roots on her father's side of the family. If I had to pick one actress to play her, it would probably be Jessica Alba.
What are you currently working on? What other releases do you have planned for 2013 into 2014?
My latest release, Along Came Trouble, will be out on November 19th. This is the third book in the Trouble series. The first book, Looking for Trouble, and the second book, Here Comes Trouble, are both in bookstores. There will be two more Trouble books, but, as of right now, I don't have any release information for those.
Right now I'm working on the first book to my new series, which takes places in East Texas. I plan on this being a multiple book series that takes place in the same town.
Where can readers get in touch with you?
Readers can e-mail me anytime at erin@erinkern.com
They can also find my blog and other information about giveaways and releases at www.erinkern.com
I'm also on Twitter: erinkern04
And Facebook: erinkernauthor
Thank you for stopping by HJ!
Giveaway:

2 print copies of ALONG CAME TROUBLE
To enter Giveaway: Please complete the Rafflecopter form and post a comment to this Q:

How forgiving are you if a hero has a history of infidelity (in his past, and not with his love interest)