Today it is my pleasure to welcome back New York Times Bestselling author

Jill Shalvis

to HJ
Jill welcome & thanks for celebrating the much awaited release of Always on My Mind with us 🙂

Five Fun Facts for my book ALWAYS ON MY MIND: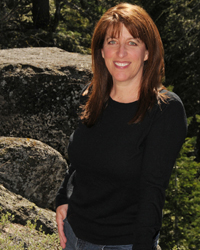 1. I have never had so much fun researching a book before. Hot firefighters? A definite no-brainer. And the real life firefighters who shared their expertise were just as wonderful as any hero I could possibly make up.
2. I based the premise of this book – a pretend relationship – on a crush I had in high school. I managed to convince this crush that we should have a pretend relationship so he could catch the girl he really wanted. Of course he broke my heart. And I was determined to not recreate that ending.
3. I consumed twelve bags of Lay's Salt And Vinegar chips during the writing of this book. By some miracle, I didn't gain weight because I was also babysitting a toddler and running my tush off 24/7.
4. The heroine went through six name changes. I love my editor but sometimes we disagree on names.
5. This book probably contains one of the naughtiest love scenes I've written to date. Look for it on page….
Please introduce us to  Leah Sullivan & Jack Harper: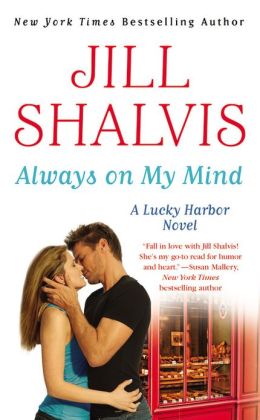 Sexy firefighter Jack Harper is one of my favorite heroes ever. And after. Sheriff Sawyer Thompson (from Head Over Heels) and Dr. Josh Scott (from Forever and a Day), that is really saying something. But from the beginning, Jack just grabbed onto my heart and wouldn't let go. He's a jokester, one of those guys who uses humor to deflect attention from himself. He's got reasons for that, very good reasons. All of which are blown out of the water when one of those reasons comes back to town and, without warning, sucks him into a charade that disrupts his already chaotic life. Her name is Leah, and she's a pain in his ass. The sweetest, sexiest pain in his ass that ever lived. I cackled and rubbed my hands together in glee and cracked myself up writing their book, and I hope you do the same. 🙂
What do your characters do for a living?
Jack Harper is a firefighter and Leah Sullivan is a pastry chef.
How would you describe Jack in one sentence?
I can do it in a few words with Jack: SEXY HOT firefighter. 🙂
What do you like best about your characters?
I love the way Jack sees things in black and white, and Leah is basically is polar opposite.
Are your character ruled by emotion or logic or some combination thereof?
Jack is ruled by logic, everything's black and white.
Leah doesn't have that problem. She's ruled by her emotions, plain and simple. It gets her in a LOT of trouble. 🙂
Was it love at first sight for your character? If not what was the pivotal moment of change?
LOVE at first sight. Jack is probably one of my fave heroes ever.
What is Jack most proud of about in his life?
Jack is defined by his job. and that's what he's most proud of, following his father's (who died in the line of duty). What else is the son of a hero supposed to do?
How your character feel about life right now?
Depends on where in the book you are, but suffice to say I torture them both nicely before they get to their HEA. 🙂
How did your characters spend the week just before the story starts?
Leah is just home after a very public failure, and Jack is status quo, working his ass off at the fire station… both blissfully unaware their lives are about to change!
Giveaway:

5 print copies of  ALWAYS ON MY MIND
To enter Giveaway: Please complete the Rafflecopter form and post a comment: 

How badly do you want to win this one? 😉 Tell me Who are your favorite characters from the Lucky Harbor Series? Why?
Excerpt:
Another firefighter stepped up to the griddle to relieve Jack who loaded a plate for himself and stepped over to Kevin. He flipped the dog a sausage, which Kevin caught in midair with one snap of his huge jaws. The sausage instantly vanished, and Kevin licked his lips, staring intently at Jack's plate as if he could make more sausage fly into his mouth by wish alone.
Jack laughed and crouched down to talk to the dog, a movement that had his shirt riding up, revealing low-riding BDUs – his uniform pants – a strip of taut, tantalizing male skin, and just the hint of a perfect ass.
On either side of Leah, both Ali and Aubrey gave lusty sighs. Leah completely understood. She could feel her own lusty sigh catching in her throat but she squelched it. They were in the F-zone, she and Jack. Friends. Friends didn't do lust, or if they did, they also did the smart, logical thing and ignored it. Still, she felt a smile escape her at the contagious sound of Jack's laughter. Truth was, he'd been making her smile since the sixth grade, when she'd first moved to Lucky Harbor.
As if sensing her appraisal, Jack lifted his head. His dark mirrored sunglasses hid his eyes, but she knew he was looking right at her because he arched a dark brow.
And on either side of her, Ali and Aubrey sighed again.
"Really?" Leah asked them.
"Well look at him," Aubrey said unapologetically. "He's hot, he's got rhythm, and not just the fake white-boy kind either. He's also funny as hell. And for a bonus, he's gainfully employed. It's just too bad I'm off men forever."
"Forever's a long time," Ali said, and Leah's gut cramped at the thought of the beautiful, blonde Aubrey going after Jack.
But Jack was still looking at Leah. Those glasses were still in the way but she knew his dark eyes were framed by thick, black lashes and the straight, dark lines of his eyebrows. And the right brow was sliced through by a thin scar, which he'd gotten at age fourteen when he and his cousin Ben had stolen his mom's car and driven it into a fence.
"Forever," Aubrey repeated emphatically. "I'm off men forever," and Leah felt herself relax a little.
Which was silly. Jack could date whomever he wanted, and did. Often.
About the Book:
THERE'S NOTHING LIKE THE REAL THING
After dropping out of pastry school and messing up her big break on a reality cooking show, Leah Sullivan needs to accomplish something in her life. But when she returns home to Lucky Harbor, she finds herself distracted by her best friend, Jack Harper. In an effort to cheer up Jack's ailing mother, Dee, Leah tells a little fib – that she and Jack are more than just friends. Soon pretending to be hot-and-heavy with this hunky firefighter feels too real to handle . . .
No-strings attachments suit Jack just fine – perfect for keeping the risk of heartbreak away. But as Jack and Leah break every one of their "just friends" rules, he longs to turn their pretend relationship into something permanent. Do best friends know too much about each other to risk falling in love? Or will Jack and Leah discover something new about each other in a little town called Lucky Harbor?
Get Book: Amazon | B & N | Kobo