Today it is my pleasure to Welcome author
Anna J Stewart
to HJ!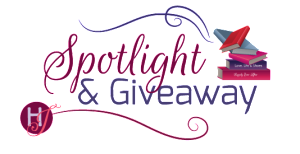 Hi Anna and welcome to HJ! We're so excited to chat with you about your new release, Always the Hero!

Hello, everyone! Wonderful to be back with HJ again. Thanks for having me.

Tell us about the book with this fun little challenge using the title of the book: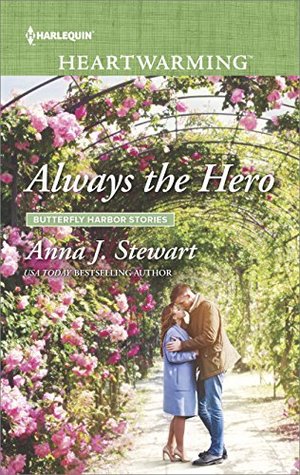 I think this is one of those books where the title really does say it all about the book. Matt Knight comes from a difficult background and he's definitely had a rough life; but he's risen above his circumstances and is now a deputy sheriff in Butterfly Harbor. He also has a tendency to want to save everyone; to always be the person someone calls on when they need help. Trouble is, it isn't possible to be everything to everyone. Something's going to give and someone's going to get hurt. In this case, he's trying hard to make sure that person isn't Lori Bradley, the woman who's won his heart.
What's your favorite line(s) from the book?:
One of Lori's best friends, Abby (from RECIPE FOR REDEMPTION) tells her: "Someday I hope you stop letting what other people might think matter so much. As far as I can tell, the only person judging you, the only person standing in your way, is you."
Please tell us a little about the characters in your book. What first attracts your Hero to the Heroine and vice versa?
As I stated above, Lori's a bit of a wallflower. She's had a rough go of it during childhood; borderline emotional abuse and a heartbreaking incident in high school that in a lot of ways continues to hold her back. She's not a risk taker, at least not in the beginning. And it's when she gets a glimpse of what's possible for her future that she realizes how much she's been hurting herself.
Matt is a man torn among obligations. He also has a secret that, when it's revealed, really breaks Lori's heart before they got off the ground. He's given his word to a troubled teen, that he'll become his foster parent (and subsequently adopt him), he's promised to always be there for his best friend, who has more baggage than an airport carousel; and he wants to be a good man for Lori. Which means this book is also a journey for him in that he realizes he can't save everyone. Not that that stops him from trying.
When you sat down to start this book, what was the biggest challenge you faced? What were you most excited about?
Separating myself from the heroine. This is one of the most personal books I've written. Lori Bradley has battled her weight every day of her life, something I (and a lot of women can relate to). In a lot of ways it's defined her, yet she's made choices I wouldn't have necessarily. So I had to really ask myself "what would Lori do" and get out of my own head. A lot of times I didn't agree with her, but hey, she isn't me.
I think it was that challenge that also excited me about this. I got to witness Lori really come into her own, blossom, so to speak, and accept that she is more than just numbers on a scale. Sometimes I think it takes seeing yourself through someone else's eyes to be able to understand your worth and that's what Matt does for her. He doesn't save her; he can't. But he shows her that she's worth saving. And loving.
What, in your mind, makes this book stand out?
I write the Butterfly Harbor books as a town I would want to live in. It's idyllic. It's pretty, and the people are nice, and the community is caring and attentive and while there are struggles, there's an optimism I thirst for. It's an escape for me, being able to write these stories. It's how I wish things could be. And also, the characters are just fun.
These are people I'd love to hang out with, visit with. Even the less than admirable characters like Mayor Gil Hamilton, who, when the time comes, will have a lot of work to do in redeeming himself to his constituents. There's also a bit of magic thrown in with one of the characters, and the children play vital roles in most of the stories. These are a little like kitchen sink sweet romances: there's a little in them for everyone.
The First Kiss…
Matt stepped closer. So close. Too close. She pressed her lips closed, ducked her head as his hand brushed up her bare arm and made her shiver.

"I think that sounds like a good idea. The personal touch." His voice caressed her, soothed her, even as his presence unsettled her. She could feel the warmth of his body against the cool night. But still she refused to look up, refused to see what she feared she'd find in those beautiful, vibrant brown eyes of his. "You're always thinking, aren't you?"

"Mmmm. Sure." She shrugged. "There's always something that needs doing. Always something that—" She didn't get to finish the thought. Didn't have the strength—or maybe the will—to move as his hand slid up to cup the side of her face.

Her heart pounded so hard in her chest she thought she heard thunder rumbling through the sky. Her skin tingled, her blood warming as if lightning had struck dead center of her chest. And then his lips were on hers. Gentle, tender, as if testing her resolve; testing her determination to keep him at arm's length when all she wanted to do was wrap her own arms around him
and never let go.

"I like how you're always thinking," he whispered and pressed his forehead against hers. "Smart girls are hot."

Tears prickled the back of her eyes, tightened her throat. Why did he do this to her? Make her want the one thing she knew would only hurt her in the end? Why did he let her believe in something that could never be hers?
If your book was optioned for a movie, what scene would you use for the audition of the main characters and why?
When Lori and Matt meet up again after a few weeks of not seeing one another (Matt's been avoiding her). This particular scene speaks to Matt's desire to be with her, even though there's something stopping him from fully committing (I won't spoil it!), but also to Lori's stoic "I'm fine, let's just be friends" mentality, even though what she wants most is to be with him. But she just can't trust herself to take the chance.
"Hey." He tried to sound as casual as possible even as his heart pounded hard in his chest. "Ozzy said you'd be here. Long time no see."

"I know." When she stepped up beside him, she could almost look him directly in the eyes. It had been one of the first things he'd noticed about her —one of the first things he'd liked. She didn't turn simpering smiles or bat overactive lashes to get what she wanted. She didn't look to him to rescue or placate her. She was straightforward, honest and, most importantly, fun to be
around.

He'd missed her.

"I suppose I owe you an apology." The second the words were out of his mouth, he wanted to take them back. He supposed?

The corners of Lori's eyes twitched. "For what?"

She was going to make him say it. "For not returning your calls or your texts. I've had, well…" Oh boy. He'd rehearsed this and yet none of the words seemed to be waiting for him. "I had a lot of thinking I needed to do. Some decisions I had to make and—"

"You don't owe me any explanations, Matt." She shrugged as if they were discussing something no more important than the weather forecast. "We're friends. Well, acquaintances really. Nothing to worry yourself over. We're good."

"Okay." Except it wasn't okay. He could feel all his plans, everything he wanted to say to her fall through his fingers like water. "But I would like to talk to you. Maybe tonight, after the meeting—"

"I have a lot of work to do when I get home. Maybe some other time." She reached for the door handle at the same time he did. His fingers brushed the back of hers. She snatched her hand away as if she'd been burned.

He moved in, lowered his voice and inadvertently brushed his lips over her ear. "I should have called. Or at least told you what—"

She jerked away, her face flashing with anger before she eased her expression. Matt almost gulped.

As big a heel as he felt before, he felt like an even bigger one now.

"Stop making this out to be something it wasn't, Matt." Was that irritation in her voice? "You have your life, I have mine. It's not surprising there's not a lot of overlap. So while there's nothing to apologize for, I'll just accept it so we can move on. Sound okay?"

"Move on as friends." Definitely not the direction he needed to go.

She glanced away and nodded, but not before he saw a flash of disappointment in her eyes. A flash that gave him the thinnest thread of hope to cling to. "I think we'd better get inside, don't you?"
If your hero had a sexy-times play list, what song(s) would have to be on it?
I think Matt is a closet Barry Manilow fan. And I can imagine Lori would have a lot of fun with that revelation. I can totally see him hitting the speaker and having "Looks Like We Made It" filter through, followed by Copacobana because he loves to hear her laugh. Even during the sexy times. Or maybe especially during the sexy times.
What do you want people to take away from reading this book?
That no one can ever know the internal battles people are going through. They can look put together on the outside, but inside, they're a mess. Or vice-versa. Looking beyond people's appearances and circumstances are truly the only way to understand them. And doing so with an open mind and heart…that's where the hope and happily ever after sneak in.
What are you currently working on? What are your up-coming releases?
I just wrote "The End" on THE RANCHER'S HOMECOMING, which will be out in December. This will be the fifth book of the Heartwarming continuity series: Return of the Blackwell Brothers. This will be my first cowboy hero (swoon worthy, I promise!) and the series will launch in August with Carol Ross's THE RANCHER'S TWINS.
Currently, I'm writing BUTTERFLY MAGIC, Calliope's Butterfly Harbor book as well as the third installment of my paranormal novella series, TOME WARDENS (book 1, WARDEN OF MAGIC, is out now in Heart's Kiss Magazine's February, 2018 issue). After that is a super secret project I can't talk about yet, but then I'll be back in Butterfly Harbor with Kendall's story–an unexpected character who popped up in ALWAYS THE HERO. Then, finally, I'll be back to romantic suspense, with the fourth book in my Honor Bound series (Jack's story–yay!). And did I mention there will be a new Christmas Town, Maine story coming this October? Gonna be a busy year!

Thanks for blogging at HJ!
Giveaway: 
Open internationally; winners' preferred format provided.
2 e-copies of THE BAD BOY OF BUTTERFLY HARBOR

2 e-copies of RECIPE FOR REDEMPTION


2 e-copies of A DAD FOR CHARLIE.
To enter Giveaway: Please complete the Rafflecopter form and Post a comment to this Q:

While her day job is as an assistant manager of an historic inn, Lori loves gardening. She'd be happy to spend every minute of the day around her plants and flowers. I'd love to know what some of your hobbies are? What helps you set everything aside and just live in the moment? Aside from reading, of course, but if that's your favorite, by all means, tell me!
Excerpt from Always the Hero:
"I see dark clouds approaching," Calliope murmured with that familiar dazed look in her eyes. "Dark, dangerous clouds."

Lori pursed her lips, looked back at her notebook. The idea of the butterfly sanctuary being anything close to ominous seemed a far stretch even for Calliope's eccentric tendencies.

As the meeting dragged on, Lori scribbled meaningless notes. The sound of Gil's voice became a distant hum. She found herself sketching the exterior of the inn, filling in the seasonal garden roundabout with poinsettias and twinkle lights, making notes as she went. An arbor would be nice, maybe with hanging votive candles…

She made a note to ask Abby if she was planning a nighttime wedding, which would be something completely different. Would people want to spend their Christmas Eve at a wedding,
though? Hmmm…

Brainstorming Christmas ideas and words, crossing out what didn't feel like "Abby." The page filled up as her imagination took hold. It wasn't until Matt reached over and covered her hand to pull it away that she blinked back to the present.

"What?" Had she missed something?

"That's beautiful." He kept his voice low, but his warm breath brushed against the side of her face. She tightened her fingers around her pen, resisting the urge to look into the blue eyes that not so long ago she'd considered drowning in. "You worked a lot on the landscaping upgrades at
the inn, didn't you?"

Lori nodded. "Abby doesn't know a daisy from a carnation. She lets me play."

"You play well."

She glanced at him long enough to see his brows knit. Was that confusion? Surprise? Disapproval? Just what was going on with him anyway? A few weeks ago, he'd slammed the dating door in her face. Tonight, was he attempting to open it again? Hope—as unwanted as it was—pounded unevenly against her ribs while fear of being hurt again quickly steamrolled over it.

"Which brings us to the Monarch Festival committee proposals." Gil reached for a bottle of water and drank. "I'm happy to say the board has agreed to approve most of them. But before we get into all that, there's one topic I need to address." He cleared his throat. "With all I have going on at the mayor's office, it's been brought to my attention that I won't have as much time to dedicate to overseeing every committee's actions."

"What a shame," Matt said.

Lori clicked her pen shut. Abby had been right. One curve ball coming their way. "Wait for it." Lori sat up straight and braced herself.

"Wait for what?" Matt asked.

"As most of you know, town board member Bobby Singer has submitted his resignation," Gil said. "As it's within the authority of the remaining members to elect a substitute to serve the remainder of his term, I'd like to welcome BethAnn Bottomley to the board. BethAnn has also generously offered to oversee all of the community project committees and she'll be acting as my personal go-between to make certain we're putting our focus and finances in the right places. BethAnn?"

"That." Lori deflated as she joined in the muted applause. No wonder BethAnn had been so anxious to offload those invitations on her. She was clearing her own schedule so she could shine and claim as much credit for the festival as possible. Not that Lori cared about credit. But she didn't like the idea BethAnn would steal other people's accolades.

BethAnn hopped out of her chair and practically two-stepped her way onto the stage where she swooped in front of the mayor to stand at the podium. "Thank you, Mayor Hamilton," BethAnn said. "And thank you, all of you, for welcoming me so warmly. It's so nice being back in the town I called home once upon a time."

"Tell me again who this is?" Matt leaned over and whispered.

"Trouble with a capital T."
Excerpts. © Reprinted by permission. All rights reserved.


Book Info:
He never relied on anyone but himself…
But he needs her now!
Butterfly Harbor deputy Matt Knight wants two things: to date Lori Bradley and the chance to adopt Kyle, a troubled teen. Wounded in Afghanistan, Matt knows he can't move forward anchored to the past. But once he regains the guarded hotel manager's trust, will his need to protect those he loves cost him a future with this extraordinary woman?
Book Links: Website | Website | Website | Website |


Meet the Author: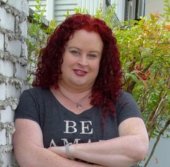 USA Today and national bestselling author Anna J. Stewart writes sweet to sexy romance for Harlequin's Heartwarming and Romantic Suspense lines. Early obsessions with Star Wars, Star Trek, and Wonder Woman set her on the path to creating fun, funny, and family-centric romances with happily ever afters for her independent heroines. Anna lives in Northern California where she deals with a serious Supernatural & Sherlock addiction, surrounds herself with friends and family and tolerates an overly affectionate cat named Snickers (or perhaps it's Snickers who tolerates her). When she's not writing, you can find her at fan conventions or at her local movie theater, or building her client list for her content editing services for authors.
Website | Facebook | Twitter |