Today it is my pleasure to Welcome author
Nancy Scanlon
to HJ!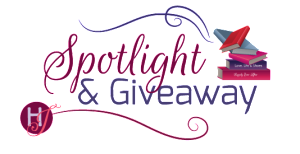 Nancy Scanlon continues the timebending saga she began with The Winter Laird, pulling heroes and villains alike through the portals of time to help save their futures and find their truest loves.
Please summarize the book for the readers here: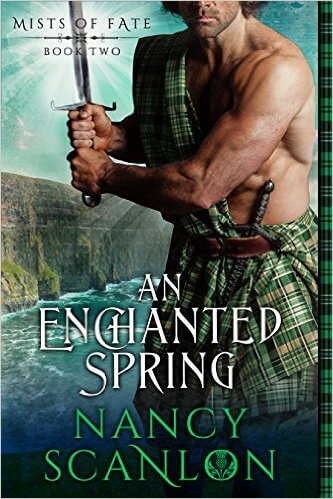 In An Enchanted Spring (Mists of Fate #2), Emmaline Perkins is a publicist who's always put work before herself. When her violent ex-fiancé is unexpectedly released from jail, her carefully-structured life spirals downward – and her only option for safety is under the protection of her newest client, Aidan MacWilliam.
A time-travel accident left Aidan MacWilliam stuck in the future, and though he's adapted to modern life, he wants nothing more than to return home to his brother and clan. But when he meets Emma, she ignites something in his soul. When her life is threatened, Aidan vows to protect her at all costs – even if that means taking her back to the life he's always known. When they're both back in time, Aidan will have to decide between the life he's longed for, or the love of his life.

Please share the opening lines of this book:
To: Emmaline MacDermott
Emmaline Perkins stared in apprehension at the large envelope on her desk. The red CONFIDENTIAL stamp seemed to stare back at her, challenging her to break the seal. But that wasn't what held her back.
It was addressed to Emmaline MacDermott.
Please share a few Fun facts about this book…
I almost completely rewrote the story during the first round of revisions.
My favorite scene in this book is the tournament scene. In fact, it's my favorite scene I've written to date!
Parts of the book were written on my phone, in the Notes app. I'd get an inspiration while driving, shopping, eating at a restaurant, wherever – and then I'd start rapidly talking into my phone. I received many strange looks!
Please tell us a little about the characters in your book. As you wrote your protagonist was there anything about them that surprised you?
Emma is a strong female character, but she doesn't realize it until later in the book. In her personal life, she second-guesses herself a lot because, like many women in the same position, she felt that she should have seen the violence with Ben coming. She doesn't blame herself for his actions, but she does blame herself for allowing herself to be isolated by him. I love the change that happens to her as the novel progresses, and I love that her confidence grows alongside Aidan.
If your book was optioned for a movie, what scene would you use for the audition of the main characters and why?
I would choose the scene where they meet each other for the first time. Aidan shakes Emma's confidence at work, the one place where she's still in full control, but he immediately puts her at ease. And he's not immune to her, either…
"I've never seen a replica of such high quality."
He unfastened the léine as quickly as he'd put it on and tossed it onto the table. "It's not a replica."
She gasped. "What? Good gracious, you just threw it! Shouldn't it be behind glass? How is it so well preserved?"
A ghost of a smile touched his lips. "I believe I was asking the questions."
She blanched, horrified that she'd actually reprimanded a potential client for handling his own belongings.
"I am relieved to find that you are interested in artifacts," he replied wryly. "Are you aware of the upcoming Antique Armory auction?"
"Of course," she replied quickly, then cleared her throat. "Some of our clients plan to attend."
"Perfect. Are you free for dinner tonight?" he asked, stuffing the léine back in the satchel.
She bit her tongue. Hard.
"I have reservations at The Colcannon and would love your company. We can continue our discussion there, after you've had a chance to go through this information." Mr. MacWilliam nodded at the white binder. "I trust I've passed muster with your office, as no one's interrupted us."
Her face gave away her guilt. She hadn't had a client call the firm out on its in-office first meeting policy before.
"Don't think another second on it, Ms. Perkins. I'm fully satisfied that this firm shows a high regard for its employees' safety." He held out the binder, but as she went to take it, he gripped it tightly until she met his gaze. "I must have your word that this is for your eyes only, Ms. Perkins. No one from your team—legal or otherwise—can view it, or dinner, and all else, is canceled."
Emma nodded, though his insistence on secrecy gave her pause. "I didn't get any of my questions in," she pointed out, feeling the need to lighten the moment. Aidan MacWilliam was clearly a take-charge type.
His face softened, and he chuckled. "All right, then. I enjoy rain, sunsets, and whiskey."
She laughed. "Not those kinds of questions. But okay. I'll see your rain, up your sunset by a sunrise, and exchange your whiskey for wine."
"Your beauty is outmatched only by your wit, Ms. Perkins."
The cadence of his words washed over her, and she allowed herself to relax a fraction more.
"Keep up the compliments and I think we'll suit just fine," she said with another laugh. "All right, Mr. MacWilliam. I'll keep your contract terms secret. For now."
What do you want people to take away from reading this book?
I want them to finish that last page with a sense of hope, happiness, and the feeling that love is timeless.
What are you currently working on? What other releases do you have planned for 2016?
Next is Colin O'Rourke's story! As the CEO of Celtic Connections, Colin's determined to take his business overseas to the UK and Ireland. The only thing standing in his way is a prominent gossip columnist who's published a slanderous article before they've even opened their office doors. She's agreed to retract the article if he can match her stubbornly-single niece. Eleanor Carberry is a perfectly content London bookshop owner with no plans for marriage. When Ellie stumbles into the past, Colin must choose between the business he and his family has worked so hard to keep, or the chance at a forever love with the woman who captured his heart once upon a summer night…

Thanks for blogging at HJ!
Giveaway:

Print copy of AN ENCHANTED SPRING by Nancy Scanlon
To enter Giveaway: Please complete the Rafflecopter form and Post a comment to this Q:

Being as fate is a central theme to this series, do you think the characters' actions are the result of freedom of choice, or of destiny?
Excerpt from An Enchanted Spring:
Aidan thanked the policeman as he left the hotel suite, and glanced with concern at Emma. She sat on the sofa, toying with her necklace, and stared blankly at the gas fireplace in the wall.
"His parole officer promised me he'd call if Ben was up for early release," Emma said to no one in particular. "He promised. Swore it, even."
Aidan silently sat down in the armchair directly across from her and steepled his hands against his chin.
"Because Ben had made direct threats against my life," she added, her eyes rooted to the flames as they danced. "I guess I didn't think he'd try to ruin me first. If he had the power to take all my money, why didn't he just do that and disappear? Why does he have to come after me like this?"
"Some men—and I hesitate to use that label in association with your ex—enjoy the feeling of power."
Her eyes swung to Aidan's. "He wasn't like this when we were together."
Aidan didn't respond.
She continued, her voice hollow. "I've lost everything. First he took my money, then he ended my career." She met Aidan's eyes, her own haunted. "And now he's taken my safety."
Aidan's chest constricted. "He has not, Emmaline. Not if you don't allow it."
She laughed incredulously. "Allow it? All I want is to be free of him. But there's no escape. I think he proved that rather effectively, don't you?" She jerked her head toward the door where the policeman had exited. "I don't even have a place to live right now. I don't know where he is, or what his next move will be. Don't you see?" She choked on a sob. "He holds all the cards!"
Aidan hated the stark desolation in her voice. The woman was twisting him in knots, and despite having known her for less than a day, his gut told him she needed protection—but that she wouldn't readily accept it.
What disturbed him more than having gut feelings about a woman was that he had a deep and primitive need to be the one to protect her.
"He doesn't hold all the cards," Aidan replied carefully. "I still need you. Tonight."
• • •
The blatant sensuality in his words jolted Emma from her dark place. She blinked, then realized Aidan was talking about the auction.
"I don't think I'm the right person for this," she faltered. Her brain was on overload—was it really only this morning that her boss had fired her? And then her apartment…it was a strange kind of relief that Aidan had been with her when she'd discovered it. He took charge, giving her the space she needed to process the events—without being asked. He ensured her safety , filed the police reports, and made her eat something.
It was a nice feeling to be mother-henned over.
But that couldn't last. The thought of cleaning up her apartment exhausted her, and angered her—which gave her enough of a reality check to acknowledge that she couldn't rely on this man's hospitality, no matter how freely it was offered. She'd done that once before, and look where that had landed her.
"I'll make you a deal," Aidan offered. "New contract. Same terms as before, but you get the commission—not the firm. You go to the auction and obtain the relics with me. Then, you stay here until I can have your apartment cleaned up. And change your locks," he added darkly. "Definitely change your locks…maybe add a couple more."
"My world is a mess right now," she said, shaking her head.
"Then join me in mine for a while," he replied softly.
Excerpt. © Reprinted by permission. All rights reserved.

Book Info:
A time travel accident has left Aidan MacWilliam, younger brother of a medieval Irish laird, trapped in the future. Though he's become a successful entrepreneur in the twenty-first century, Aidan still can't banish thoughts of the world he left behind. In search of distraction, he heads to New York to scout a PR person for his cousin's matchmaking firm, Celtic Connections.
Emmaline Perkins might be the perfect candidate. A PR expert and closet medievalist, Emma has always put work before her social life. When a breathtakingly handsome man who looks like he stepped straight out of the Middle Ages proposes business, she struggles to keep her professional and personal lives separate.
Then Emma's ex-fiancé resurfaces, threatening Emma's livelihood, her home, and ultimately her safety. Aidan jumps to protect her and not just because she's good for business. He feels a primal need to defend the alluring young woman. But the question is not where she'll be safe, but when.


Meet the Author: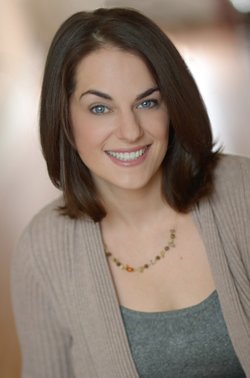 Born and raised near Boston, MA, Nancy wrote her first romance novel at age 16, when she realized that fictional boyfriends were much easier to figure out than real ones. In the time since, she managed to earn her B.A. in English from the University of Massachusetts Amherst, obtain a graduate certificate in creative writing from the University of Cambridge, and marry the man of her dreams (but she still holds tight to her fictional boyfriends).
Nancy adores all things misty, caffeinated, chocolate and grammatically correct. Currently, she resides in Puerto Rico with her husband, two small children, and two not-so-small dogs.
When not writing, Nancy spends her time reading romance and watching too much HGTV.
Website | Facebook | Twitter |