Today, HJ is pleased to share with you

Nalini Singh's

new release 

ARCHANGEL'S ENIGMA

New York Times bestselling author Nalini Singh returns to her world of dark passion and immortal power – and to one of the most seductive and impenetrable heroes ever to stalk the Guild Hunter landscape…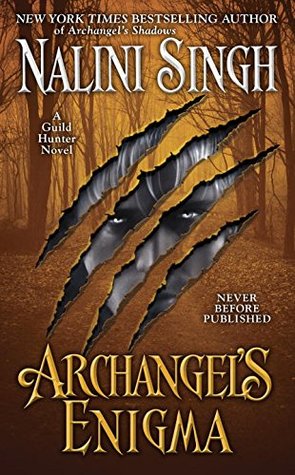 Naasir is the most feral of the powerful group of vampires and angels known as the Seven, his loyalty pledged to the Archangel Raphael. When rumors surface of a plot to murder the former Archangel of Persia, now lost in the Sleep of the Ancients, Naasir is dispatched to find him. For only he possesses the tracking skills required – those more common to predatory animals than to man.

Enlisted to accompany Naasir, Andromeda, a young angelic scholar with dangerous secrets is fascinated by his nature – at once playful and brilliant, sensual and brutal. As they race to find the Sleeping archangel before it's too late, Naasir will force her to question all she knows…and tempt her to walk into the magnificent, feral darkness of his world. But first they must survive an enemy vicious enough to shatter the greatest taboo of the angelic race and plunge the world into a screaming nightmare…

Read an Excerpt from ARCHANGEL'S SHADOWS: 
It took Elena a half hour into the dinner to realize that some of the wine at the table was bloodred—as in real bloodred, and that the shish kebabs Naasir was snacking on beside her were made up of cubes of seasoned but raw meat.

She could live with that. Feral as he was, there was something both innocent and wildly charming about Naasir. He truly was like a wild tiger; he might bite her hand, but only if she threatened him. At least now that he'd decided not to make a meal of her.

At that instant, he nudged his plate toward Ash, who was seated on his other side. Elena watched, wondering what the other hunter would do. Not blinking, Ash reached out and took a piece of cooked meat Naasir had ignored in favor of the raw cubes. Naasir smiled and continued to eat.

Ash clearly knew the vampire's ways better than Elena did. Unsurprising, given that the team of three "shadows" had spent days behind enemy lines with only one another for company.

"Give me a clue," she said when Naasir glanced at her.

"To what?" He bit off a chunk of meat, chewed with relish.

"To what you are," she said, her curiosity as acute now as it had been the first instant she recognized he wasn't a normal vampire in any sense. She had trouble thinking of him as a vampire at all; he might drink blood but, as his diet showed, it was hardly enough to sustain him.

Naasir grinned and took a sip of the rich red liquid in his wineglass. "You can ask me seven questions."

Catching Ash's grin on his other side, Elena considered how strongly he made her think of a big cat—an amused one right now—and decided to tie him down. "Will you answer?"

"Yes."

She wasn't about to fall for that. "Will you answer truthfully?"

Naasir flashed his fangs at her. "I'll give you at least two truthful answers."

Elena decided that was better than nothing. "Are you the only one of your kind?" she asked, conscious of not only Ash but others around them listening in.

"Yes."

She examined his extraordinary eyes, his sly half smile, his body posture—and had absolutely no idea if he was lying or not. Damn it. "Were you born or Made?"

"Both."

Angling her shoulders to face him as Illium's shook with laughter across the table, she said, "Are you part of the tiger family?" His scent, it was so wild she could almost taste the jungle, almost see the long grasses where a striped predator might hide.

Naasir leaned in so close his nose brushed hers. "No," he said with a playful snap of his teeth.

Elena wanted to strangle him. It was impossible to gauge his expression, separate truth from lie, but she wasn't about to give up. "Are you a vampire?"

He drank deeply of the blood in his glass, the dark ruby of it swirling with secrets. "No."

"I think I could be driven to bite you," she muttered. "Hard."

Naasir growled, but his eyes were laughing. "Enough?"
"No. I have three questions left." Shooting a death glare at Dmitri when he asked her if she needed assistance, all false solicitousness, she turned her attention back to Naasir. "Do you truly eat people?"
"Only if I dislike them, or if I'm very hungry." A solemn statement.
Posted by arrangement with Berkley Books, a member of Penguin Group (USA) LLC, A Penguin Random House Company. Copyright © Nalini Singh, 2014.


Giveaway:

Print copy of ARCHANGEL'S ENIGMA (Guild Hunter)
To enter Giveaway: Please complete the Rafflecopter form and post a comment to this Q:

Have you read the Guild Hunter Series? Leave a comment with your thoughts on the book / series…
Meet the Author: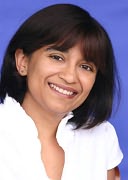 New York Times and USA Today bestselling author Nalini Singh lives and works in beautiful New Zealand, and is passionate about writing. She also loves chatting to readers. You can find her on Twitter (@nalinisingh) and Facebook (facebook.com/authornalinisingh), and via her website: nalinisingh.com