Today it is my pleasure to welcome romance author
Evie Knight
to HJ!
 Hi Evie, welcome to HJ!
If you were a heroine in a book, your character would be – The girl next door, the damsel in distress, Kick-butt take charge heroine or the aloof ice queen and why?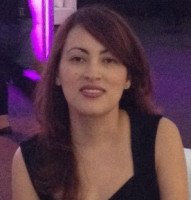 If I were a character in a book I'd be the girl next door because I'm a hopeless romantic.
 Let's talk about your newest release: Ariel's Song
If you had to summarize Ariel's Song for the readers here
When Colin meets Ariel, his goal is to scare her away. He's done his damnest best to stay out of the public eye for the past two years, and he isn't about to let the pretty woman at his doorstep ruin it for him. But his plan is doomed the moment he kisses her.
Ariel needs a job. The thing is, the job Colin offers her comes with kisses and then some. It'd be easier giving into temptation if she didn't have decisions to make, a mystery to solve, and most importantly if she wasn't afraid of falling in love.
Please tell us about the characters in your book?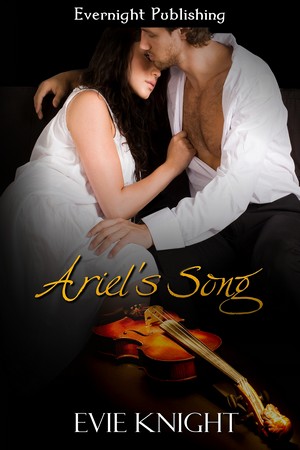 Colin is a famous British violinist, he's considered a music genius in his circles. He can be an A+ asshole because he trusts no one. But beneath it all, there's a kind and loving man.
Ariel is pretty, smart, and honest. She can be very determined but also weak wherever Colin is concerned.
Was it love at first sight for your characters? If not what was the pivotal moment of change?
No. For Colin and Ariel it was a strong attraction that pulled them together. As they spent time together (in and out of bed), and discovered each other's secrets, they realized there was more to their relationship than lust.
If your characters could go back in time and change one thing what would it be? Why?
If Colin and Ariel could go back in time, they'd probably change the events of the night that sealed Colin's fate because … Well, you'll have to read the book to find out why. 😉
What scene did you have the most fun writing? Why?
One of the scenes I had most fun writing was when Colin and Ariel had dinner with their friends. It was just fun listening to the songs included in this scene. Here's a snippet:
"Next one. Colin and Penelope, you're up." Julianne tapped her hand on the table top.

"I'm afraid I have to pass. Playing an instrument doesn't mean I'm a good singer," Penelope said.

Of course, what did Ariel expect of a party pooper?

"People talk about me, baby, say I'm doin' you wrong, doin' you wrong, well, don't you worry baby, don't worry, 'cause I'm right here, right here, right here, right here at home," Colin sang.

Julianne clapped. "That's my brother."

"'Cause I'm a picker, I'm a grinner, I'm a lover and I'm a sinner, I play my music in the sun," Ariel sang.

Colin held her gaze with approval and continued, "I'm a joker, I'm a smoker, I'm a midnight toker, I get my lovin' on the run."
What scene was the hardest to write? Why?
One of the hardest scenes to write was the one in Colin's music studio, I guess because it was sexy, daring, and I could picture everything happening before my eyes but it was hard to put it in words. Here's a little snippet:
"Aren't you going to rehearsal today?" She hoped her tone didn't give her excitement away.

"No." Colin continued to play.

The song wasn't one she'd heard before. "I'm sorry about the other night," Ariel said. She missed him too much to keep their fight going. Colin didn't scare her. Penelope and her lies did. Ariel fought the urge to close her eyes and drum her foot against the floor.

His head came up. "Ssh … don't be."

"What are you playing?" She remained standing near the door, studying him, shocked to see he wasn't dressed in his usual black on black. Today, he'd exchanged his plain black T-shirt for white. Now, that's refreshing.

"I'm composing a new song." Colin grabbed the pencil tucked behind his ear and drew a note on a music composition sheet.

Her curiosity got the best of her, and wanting to break the ice between them, she said, "I'd love to hear it."

He glanced past her at the door. "You have to pay the price."

"Ooh, sounds intriguing." Yes! Progress.

"Are you willing to pay my price?"

His hot gaze slid down her body, her fingers tingled with the need to touch him. "Maybe."
How did your character spend the week just before the story starts?
Colin spent his days locked in his music studio, composing and playing his music. Ariel was on vacation, when she discovered her fortune gone.
Who would you cast in the role of your characters if your book was optioned for a movie?

[ ? ] was my inspiration for Colin and [ ? ] was my inspiration for Ariel. I can see both of them playing these characters.

Follow my tour to find out who they are 😉
What are you currently working on? What other releases so you have planned for 2013 into 2014?
I currently have two projects underway. One is book two of these series, In Bed with the Enemy, and the other one is already in the editing stage with a publisher.
Thanks for blogging at HJ!
Giveaway:
One e-copy of Ariel's Song to one lucky commenter.
A chance to win a Kindle or a $70 Amazon gift card .
To enter Giveaway: Please complete the Rafflecopter form and Post a comment to this Q:
What is a song you listen to over and over again and why?
Except
Are you going to come in or stand there all day?" he asked from inside the room.

His voice startled her. Shit. She opened her eyes. How did he know she'd been there all along? Ariel cleared her throat and walked in. "Hi. I-I was waiting…" She motioned to his instrument. A palpable tension filled the air the moment her gaze met his, drawing her to him. His black T-shirt and jeans gave him a dark angel aura.

He wore his hair down without a ponytail. Colin stood next to his music stand. His stubble denser, framing his face, giving his piercing eyes a darker caramel shade. Ariel cast her gaze to the large skull ring on his left pinky finger. The man was a hot rocker playing Mozart.

"Let me make something clear to you." He raked a hand through his hair, securing a strand behind his ear. "No one walks through that door when I'm in here practicing. Any questions?" Colin placed the bow on the stand and set his violin in its case.

Ariel regained her composure. "No questions. However, I think we need to set some ground rules." She crossed the room to the bay window opposite from him. "If I'm going to be your assistant, there are some things we can't do." She ran her index finger along the edge of the window then placed her tote on the side table next to it. "For starters—" She turned and bumped into his strong chest.

"Enlighten me," Colin said.

Her heart skipped a beat as she lifted her gaze to him, lingering on his mouth before she met his eyes. Ariel fought the need to kiss him again. How would she ever pull this off when he looked at her with those eyes? Colin trapped her between the bay window and him. He hadn't touched her yet, but the heat radiating from him being so close ensnared her all the same. Ariel shifted on her feet, trying to set an inch or two of distance between them.

"For starters what, Ariel?" Colin placed a hand on either side of her, making it harder for her to escape. At her silence, he asked, "Are you going to answer me?"

"This." Ariel rested a hand on his chest, to push him away, his warmth burning her palm. "If we're going to work together, there won't be any touching." Her fingertips tingled at the thrum of his heartbeat. Colin glanced at her hand on his chest. Shit. She curled her fingers into a fist. What was she doing feeling his hard muscles?

"You mean you don't want me to touch you like this?" He gripped her waist, and she jerked at the unexpected contact.

The heat of his grasp on her waist seeped through the thin layer of her clothes, stirring her insides. "Yes." She shook her head. "No."

Colin angled his head, closing the distance. "What else?" he asked, his lips a breath away from hers.

She closed her eyes. "There can't be any more kiss—"

He closed his mouth on hers, not demanding, just giving. Colin drew her in, teasing until she asked for more. Ariel didn't have the willpower to resist him, not when he kissed her like this.
Book Info:
Colin Hoskins, famous classical violinist, is tainted by his past. Angry at life, unable to move beyond the betrayal of his dead fiancé, he's sworn off performing or falling in love ever again. All Colin wants is to be left alone, except no one listens. Especially the pretty little assistant he can't fire and his body burns to claim.
Stranded in a foreign country, bankrupted heiress Ariel Parks needs a job to fund her way home. Assistant of sorts to the musician she's fantasized about for years sounds like a dream job. She never imagined the gorgeous genius would be a reclusive beast. But the real problem is the way every nerve in her body tingles at the mention of his name.
Book Links: All Romance eBooks  | Amazon | BookStrand |Evernight Publishing
Author Bio
Evie Knight writes wickedly sexy contemporary romances with irresistible bad boys, sassy heroines, a bit of conflict, humor and a dash of spice. When she's not hard at work writing, she spends her time blogging, reading, listening to music, or looking for a muse.
She lives in sunny Southern California.
Evie loves hearing from her readers. Feel free to drop her a line here or you can stalk her on Twitter @inlovewromance.
Website | Facebook | Twitter |