Today, HJ is pleased to share with you Jade Lee new release:

As Rich as a Rogue

Third in the saucy, vibrant Rakes & Rogues Regency romance series from USA Today bestselling author Jade Lee
My favorite Place to Write by Jade Lee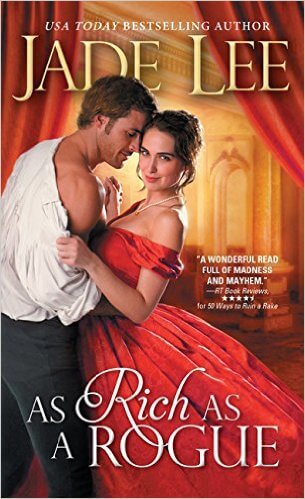 I've had some tight deadlines lately, so when I was asked to talk about my favorite place to write, I thought of a few different locations. Can you guess where my favorite place to write would be?

In a spa with a hot guy rubbing my feet and another promising me a massage the second I finish my daily word count.

Strapped into a chair like a crash dummy with my hands duck taped to a keyboard.
Anywhere so long as it's right next to a full coffee bar and I have an open tab.
At home in my green chair with no one around. No husband or children or pets. Just me. My keyboard. And all the zillion other distractions that I manufacture every moment of the day. Can you say, squirrel!

Answer: All of the above!  Honestly, it's not about location as much as my internal panic meter. The closer I am to a deadline, the higher the panic quotient, and the more likely I am to write anywhere, anywhen just out of terror.

I have written in a spa, in cafes, and pinned to my green chair. In fact, this is a typical picture of me trying to write: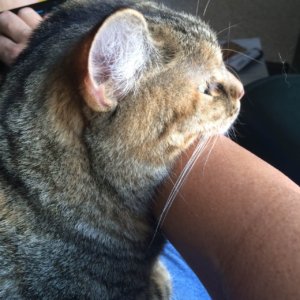 My cat Cinnamon loves to stretch out across my forearms, thereby trapping me in place. I have to write. She doesn't let me do anything else. She doesn't even want me to pet her.  But if some hot guy wants to rub my feet as I write or promise me a hot stone massage right after I finish, I am very, very willing to make that my ultimate favorite writing location!

Enjoy an exclusive excerpt from As Rich as a Rogue: 
"I never imagined that I would have to fight so hard for the woman of my choice."
"Because you are a wealthy lord?"
"Yes."
She sighed and kicked idly at a stone. "If you wish to pursue this, you need only speak to my father. He will put me on bread and water and lock me in a dungeon until I accept your proposal."
His eyes narrowed. "Your father would do that?"
"Probably," she said with a laugh. Her expression was easy despite what she was suggesting.
"So your father is a harsh man," he pressed. This was something he needed to know.
"What? Papa? Well, no more than the usual, I suppose. He's considered merciless in business."
"How merciless?" In his experience, a man's business practices could be very ugly indeed. "I need particulars, Miss Powel."
She faced him squarely. "Then you should talk to my father."
He took a deep breath. "Very well," he said. "I will." It took her a moment to process those words and then another breath before she grabbed his arm in alarm. "Oh no. I misspoke. My father is the gentlest man in the world, and you should definitely not speak to him."
Now they were getting somewhere. "Afraid of bread and water, are you?"
"Yes! Well, no, not literally. Good God, why are we speaking of my father? You are correct, he is the one who wants the title and would do a great deal to see me wed to you. But after the vows are exchanged, you would not be shackled to him. It would be me in your bed. Day in and day out with a wife who spends most of her time wanting to throttle you."
He heard her words, but most of them were lost under the fantasy of her in his bed. Of her beneath him night after night and well into the morning, when he could wake her with sweet kisses and bold thrusts. "My lord?" she pressed when he had been silent too long.
He forcibly drew himself out of his reverie. "So what is it that you want in a man, if it isn't a title or money?"
She glanced at him but quickly looked away. "Shall I name for you the countless well-heeled peers who would be a nightmare as a husband? There are exactly fifty-three."
"Are those the eligible gentlemen?"
She shuddered. "Goodness, no. The unmarried or widower titles number thirty-seven. Beyond that, there are over a dozen in my acceptable column, and exactly none who wish to court me, a wayward Welsh cit."
"Lord Rimbury is courting you."
"Well-heeled, my lord."
"I am courting you."
"You are in my nightmare category." He turned to her. "Why?"
"And here we are full circle. I have explained to you that we do not suit. We fight constantly. You make me want to do violence. Every single one of my good intentions fly to the boughs the moment you enter a room. You make me insane, my lord, and—" He did not allow her to say more. He knew her words were meant to dissuade him, but he heard what she didn't say. He heard that she lost her careful plans when he was around. That she was mad for him. And if they were wed, she would be this creature who challenged him at every turn to speak better, to think more clearly, and to act in every way better than the lummox he had been. That he often still was.
So he kissed her.
He jerked her into his arms and put his mouth on hers. He wrapped her tight against his chest, knew the glorious feel of her breasts flush against his torso, and when her mouth opened on a gasp of surprise, he thrust his tongue inside.
Excerpt. ©Jade Lee. Posted by arrangement with the publisher. All rights reserved.
Giveaway:

2 print copies of As Rich as a Rogue (Rakes and Rogues)
To enter Giveaway: Please complete the Rafflecopter form and

Leave a comment with your thoughts on the book…
Book Info: 
A most unusual wager
Mari Powel's fiery Welsh temper is up. Peter Norwood, Lord Whitly, is back in town after six years romping around India making his fortune. Mari blames him for her social downfall and has spent all this time clawing her way back into the ton's good graces. How dare he show up on his first day back and publicly embroil her in a bet involving long-awaited apologies, illicit kisses, and Lady Illston's unruly parakeet? Mari is outraged, and is going to show him-and everyone else-what she's made of. Little does she know, the unrepentant Lord Whitly has been dreaming of her all this time. Now he'll do anything to win the wager-along with Mari's heart.
Buy Links: Amazon Books-A-Million Barnes & Noble  Chapters iBooks Indiebound


Meet the Author: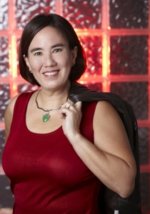 USA Today bestselling author Jade Lee has been crafting love stories since she first picked up a set of paper dolls. Ballgowns and rakish lords caught her attention early (thank you Georgette Heyer), and her fascination with the Regency began. An author of more than 40 romance novels and winner of dozens of reader awards, she brings laughter into the sexy nights of England's elite. Quirky characters and sexy banter are her hallmarks. Find out more at her website www.JadeLeeAuthor.com, or check out her wild contemporary half at www.KathyLyons.com.