Today it is my pleasure to Welcome author
Annie West
to HJ!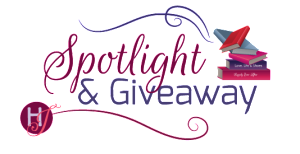 Hi Annie and welcome to HJ! We're so excited to chat with you about your new release, At the Italian's Bidding!

It's wonderful to be back. I so enjoy stopping by and chatting!

Please summarize the book for the readers here: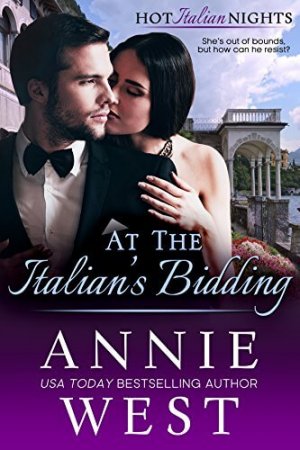 Lia's schoolgirl crush on her brother's best friend has turned into love, but Niccolo, handsome, charming and debonair, has the world at his feet. Why would he notice the girl who's always been there in the shadows? Except notice her, he does, and that's when things get complicated. He's determined to treat her platonically and she's desperate for more. How will they survive a weekend together?

Please share the opening lines of this book:
Come and spend the weekend with me, Lia. I need you.
Lia reread the message in disbelief.
Niccolo Marchesi wanted her to spend the weekend with him?
Please share a few Fun facts about this book…
'At the Italian's Bidding' is the 5th story in my Hot Italian Nights series but it was written out of order, straight after the 3rd story in the series, because Lia and Niccolo were so eager I just had to get their story down! Seriously, this book just begged to be written.
The gorgeous old villa on Lake Como where Lia and Niccolo spend the weekend was inspired by a trip I took to that area years ago. More specifically it's based on a gorgeous, multi-million dollar place that was on sale when I was researching the story. If you want to check it out, here's a link https://tinyurl.com/yb52r9bu I fell in love with the place!
Please tell us a little about the characters in your book. As you wrote your protagonist was there anything about them that surprised you?
I suppose what surprised me most was the passion between Lia and Niccolo. It shouldn't have – I knew this was a story of repressed desire and the tug of war between attraction and duty. Even so, from the moment I started getting words down on the page, the simmering tension between this pair was real and alive for me. I think it's one of the reasons this story was such a treat to write. I felt like this story just unrolled before my eyes, as Niccolo and Lia were so real and so passionate they wanted to steamroller ahead. A nice situation for any writer, believe me!
If your book was optioned for a movie, what scene would you use for the audition of the main characters and why?
It would be the scene when they find themselves sharing a bedroom in his grandmother's lakeside villa. Neither of them expected it and their reactions are telling.
'I apologise, Lia. I had no idea she'd planned to give us this room.' Niccolo kept his voice even, despite the strange, tight feeling that had gripped him since his nonna made her devastating announcement.
He'd been torn between reluctant humour at the timing of her foray into modern mores and something more tangled and complex. There'd been embarrassment for Lia, forced into this ludicrous situation simply because she'd agreed to help him. And a skein of something far darker and more urgent. Something that even now throbbed through his belly to the base of his spine and danced along his skin.
Excitement.
Desire.
Anticipation.
He clenched his teeth, locking his jaw tight as if somehow that could miraculously counter all the dangerous emotions simmering inside.
For the woman before him, the woman he'd spent the evening with, wasn't the kid he'd once known. He'd been aware of her transformation over the years but had battered down his fascination as best he could by seeing her only with her family, ensuring there were plenty of distractions.
There were no distractions now.
Her soft brown eyes surveyed him carefully from across the bedroom. She'd been like that all evening, careful. As if one false move might disrupt her equilibrium.
Did she sense his reaction to her? Did she fear he was going to jump her now they were alone?
Hell! The idea of Lia scared of him… He swung round and paced to the balcony, opening the full-length windows and letting in some air.
'I know you didn't.' Her voice was cool. 'But I hoped you'd have a solution. You didn't say anything at all.'

More of this scene soon…
What do you want people to take away from reading this book?
Definitely a great big sigh of satisfaction. It would be nice too, to think it helped convince someone to stand strong and fight for what they really want in life. 
What are you currently working on? What other releases do you have planned for 2017?
1 September brings the 6th (and for the moment, the final) book in my Hot Italian Nights novella series, called FALLING FOR THE BROODING ITALIAN. Then in October and November I have my 'Princess Seductions' duet with Harlequin Presents: HIS MAJESTY'S TEMPORARY BRIDE and THE GREEK'S FORBIDDEN PRINCESS. Right now I'm working on a new Harlequin novel and playing with ideas for another novella!

Thanks for blogging at HJ!
Giveaway:

International giveaway – the winner will receive a $5 Amazon voucher plus Kindle copies of the first four books in my Hot Italian Nights series – that is 'Back in the Italian's Bed', 'Bought by the Italian', 'The Italian's Bold Reckoning' and 'Bound to the Italian Boss'. If they already have the series, I'll send them a surprise bundle of some other signed Annie West titles.
To enter Giveaway: Please complete the Rafflecopter form and Post a comment to this Q:

For a lot of this book Niccolo and Lia are busy trying not to give in to temptation. What temptation do you find hardest to resist?
Excerpt from At the Italian's Bidding:
Niccolo has just explained why he doesn't contradict his beloved grandmother when she put them in the same suite during a big family party in her villa.
Lia held his gaze steadily. 'It's nice to see how you care for her, but I don't see how we can sort this out. Unless you're proposing to climb out the window and sleep in the boatshed?'
Niccolo shook his head. Actually, that was an option, but only as a last resort. 'I'd have to be up before the crack of dawn. The kids usually race down there as soon as it's light. Plus I heard my cousin, Giancarlo, promise to take them out on his boat. No, my option is simpler. We share the suite but not the bed.'
He paused, watching her intently. 'If you trust me.'
Still her brow knitted. 'Where would you sleep?'
He gestured to the chaise longue on the other side of the room. It was a decorative antique and probably not much softer than the floor but it would have to do.
Lia's fingers stirred in his. Did she realise he still held them? He liked touching her. He enjoyed the differences between them, her hand slender and soft, his broad and callused. More, there was a scintillating shiver of…something that burred under his skin whenever they came in contact. Even now, when she was clearly distracted, thinking about his words rather than him.
Maybe this attraction he felt was totally one-sided!
Niccolo didn't know whether to be relieved at the idea or horrified. It lacerated his pride. He was used to women responding to him. He'd never had to work hard for a woman's attention in his life.
But you don't want that from Lia, do you?
She's your best friend's little sister.
You're supposed to protect her, not seduce her.
Abruptly, Niccolo pulled back, dropping her hand and shot to his feet.
She tilted her neck and looked up at him and he felt a powerful surge of possessiveness swamp him. He wanted to—
'Okay.'
'Okay?' He frowned, still lost in urgent thoughts of how he'd like to get up close and very, very personal with Lia, the elegant, mesmerising woman he'd known since she was in braces.
It didn't matter how often he reminded himself of their shared history, the trust between him and her brothers. Nothing could squash the rising tide of lust he strove so hard to hide.
'We'll share the suite, but not the bed.'
She got to her feet, her hands going to her neat chignon. Seconds later her hair cascaded around her shoulders, glossy and inviting.
Reflexively Niccolo took another step back, needing distance to counter the urge to grab a fistful of that lustrous hair and run it through his fingers.
'I'm tired.' She didn't meet his eyes but turned to her suitcase and removed a few handfuls of bright silk. 'I'll take the bathroom first if that's okay.'
'Of course.'
*
But it wasn't okay. Because no matter how he tried to distract himself, Niccolo was supremely aware of the fact that just beyond the bathroom door, under the shower he could just hear, was Lia, naked and all too alluring.
Niccolo turned and strode out onto the balcony. He'd busied himself arranging a couple of pillows on the chaise longue, pulling a T shirt and boxers from his bag. They'd keep him decent tonight. He wouldn't shock Lia by sleeping in the buff as he usually did.
That took a whole two minutes. So finally, reluctantly, he turned his phone back on. Sure enough, there were half a dozen messages from his manager. Reluctantly he hit speed dial. Enrico answered at once and was soon in full flood.
His manager knew he had things on his mind, decisions to make, and he was determined to convince Niccolo to make the right decision by his team, his fans around the globe, and of course, Enrico.
Niccolo sighed and scraped his palm around the back of his neck. He really was becoming negative!
Since racing had ceased to be about freedom and fun and turned into a pressure cooker of everyone else's expectations.
Oh, he could handle the pressure. And he still loved the speed. But the truth was he no longer loved racing the way he once had. Was it boredom after so many wins? No, surely he wasn't so conceited. Yet increasingly he was dissatisfied with the life he led, and the world he inhabited. Put on a pedestal simply because he was gifted with good reflexes and a talent for speed.
Increasingly he found himself hankering after other challenges.
A sound from the room behind him made him swing round.
Instantly his tension notched to breaking point. The muscles of his neck and shoulders drew taut and he lost the thread of the phone conversation as Enrico's voice quacked down the line.
Madonna mia! If this was a test he was doomed to fail. Even with the length of the room and the balcony between him and Lia as she emerged from the bathroom, Niccolo felt his blood rush to his groin so fast he almost reeled.
She wore a silk negligee the colour of mountain violets, dark and rich. She'd tied it tight at her waist, as if to cover herself as much as possible. But that only drew the fabric taut against her curves. Fascinated, Niccolo traced her delectable figure with his gaze. She was slim but rounded everywhere a man could want.
His blood beat hard and fast, as if he were on the track, waiting for the starter's signal.
Lia turned and the light from the hand-blown chandelier spilled in caressing waves across her hips and high breasts, her exquisite profile and the dark gloss of her hair. His mouth turned arid. He'd known, oh, how he'd known, that Lia was sexy and beautiful. But the intimacy of seeing her like this undid something vital within him.
She reached towards the dressing table and her long hair hid her face.
'Niccolo?' Enrico barked in his ear. 'Did you hear me? We need a definite commitment this coming week.'
Niccolo expelled the breath he hadn't known he'd held and forked his hand through his hair. Now wasn't the time for this discussion, not when he couldn't focus on anything but the woman pulling back the bedcovers.
In one swift, almost furtive movement, she slipped off her negligee to reveal a lace-edged nightgown. He had an impression of bare arms and a narrow back, pale as the creamy camellias blooming in the garden below, of a neatly rounded bottom outlined in dark silk, and then she was in the bed, hauling the covers high.
'Niccolo?'
He swung round to stare across the lake to the sprinkle of lights on the far side. 'I heard you, Enrico, and all the points you raised. But I need time. I'll call you after the weekend.'
He waited a full five minutes, just standing, staring into the night, waiting for his erection to subside.
He scraped a hand across his jaw. He could not, absolutely not go in there while he was still aroused. Lia trusted him. Her family trusted him to look after her.
Another five minutes, then another five. Finally, when the roar of desire was a mere hum in his veins, he swung round and walked into the room.
She'd turned off the overhead light but that only made the atmosphere more— No, he wasn't going there. He kept his eyes off her as he grabbed what he needed and headed to the bathroom for a long, cold shower.
'Goodnight, Niccolo.' Her voice sounded different. Small, as if muffled by the vast four-poster bed.
He slammed to a halt but didn't turn. 'Goodnight, Lia. Sleep well.'
It was going to be a hell of a long night.
Excerpt. © Reprinted by permission. All rights reserved.

Book Info:
She's out of bounds but how can he resist?
Niccolo might risk his neck on the racing car circuit but there's one thing he won't risk — his friendship with the De Laurentis family. Which means he dare not give in to his feelings for his best friend's sister, Lia De Laurentis, no matter how impossible it is to keep his distance. Yet when he needs a pretend girlfriend, just for a weekend, who else can he trust to play the part?
Lia can't believe she says yes to Niccolo Marchesi's outrageous request. Her teenage crush on her brother's daredevil friend has turned into full-scale infatuation, so how is she supposed to withstand two whole nights of temptation, pretending to be his lover? She knows every touch is a lie but it feels like the real thing.
When honour and passion clash, will his scruples prove stronger than her willpower?
Book Links:

Meet the Author: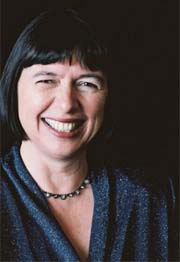 USA Today Bestselling author Annie West loves writing passionate, intense love stories. She has devoted her life to an in depth study of tall, dark, charismatic heroes who cause the best kind of trouble in the lives of their heroines. Creating heroines who are a perfect match for those strong, stubborn men is one of her all time favorite things. As a sideline she's also researched dreamy locations for romance, from vibrant cities to desert encampments and fairytale castles. She leaves on the east coast of Australia and her favourite things are books, good company, good food and travel.
Website | Facebook | Twitter | Instagram | GoodReads |