Today it is my pleasure to welcome author 

Michelle Diene

to HJ!
Hi Michelle Welcome to HJ
What would you say are the defining characteristic of your novels?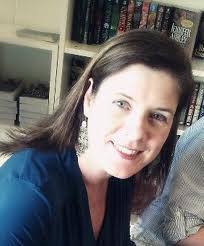 I love playing with themes of characters out of their comfort zone and not being quite what they seem.
5 best things about being a writer?
I love bringing a story to life from my head, to the page, to the reader's head.
I love living part of my day in imaginary worlds.
I love touching someone enough that they write to me to let me know how my story has affected them.
I love getting to know other writers, they are some of the most generous and delightful people in the world.
I love all the readers I've connected with – as a voracious reader myself, they are my kind of people :).
If you were a heroine in a book, your character would be – The girl next door, the damsel in distress, Kick-butt take charge heroine or the aloof ice queen and why?
I'd say a mix of the kick-butt heroine and the ice queen. I'm reserved, which can come off as aloof, and I am definitely a take-charge person. If something needs doing, I try to get it done. And I used to go to karate! So at one point in my life, I definitely kicked butt. 🙂
Let's talk about your newest release: Banquet of Lies
If you had to summarize Banquet of Lies for the readers here…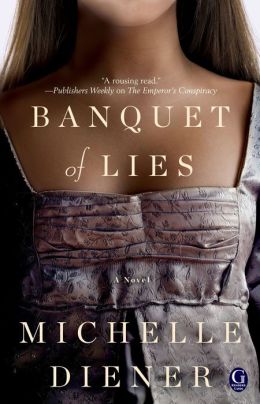 Banquet of Lies is about a young English noblewoman, Giselle Barrington, who, in order to hide from the men hunting her down for an important document she has, goes into hiding in plain sight as the French cook of a London viscount. The story is set during the Regency period, and Giselle has to navigate the political waters of the world below-stairs as well as dodge the men who are after her, while she works out who she can trust. But the beautiful French meals she cooks up for Lord Aldridge, her new employer, make him far too interested in her, and that endangers them both.
The official blurb is:
A Secret Treaty and a Secret Life
LONDON, 1812: Giselle Barrington is living a double life, juggling the duties of chef with those of spy catcher. She must identify her father's savage killer before the shadowy man finds her and uncovers the explosive political document her father entrusted to her safekeeping.
Posing as a French cook in the home of Lord Aldridge, Giselle is surrounded by unlikely allies and vicious enemies. In the streets where she once walked freely among polite society, she now hides in plain sight, learning the hard lessons of class distinction and negotiating the delicate balance between servant and master.
Lord Aldridge's insatiable curiosity about his mysterious new chef blurs the line between civic duty and outright desire. Carefully watching Giselle's every move, he undertakes a mission to figure out who she really is—and, in the process, plunges her straight into the heart of danger when her only hope for survival is to remain invisible.
Please tell us about the characters in your book
My heroine Giselle is the daughter of a knighted academic and has spent a large part of her life travelling, and experiencing far more than most young women of the Regency ton ever would have. This gives her a different view on life and a resilience and determination that she might not have had if she'd been brought up in a more cloistered environment.
Lord Aldridge, the hero of the novel, made an appearance as a secondary character in my November 2012 release, The Emperor's Conspiracy. He has taken his family's title after the sudden death of his brother, and has had to leave the army, where he was fighting in the Peninsula Campaign. He is both frustrated and bored by his new life, and Giselle is just the spark of adventure he needs.
One of my favorite characters is Georges Bisset. He is the French chef of the Duke of Wittaker, and a long time friend of Giselle's. He worked as the sous-chef in her family kitchens when Giselle's French mother was still alive, and he is the only person she can trust in London. He's the one who gets her the job as the cook at Lord Aldridge's house. He's fierce, dictatorial and generally delightful.
What scene did you most enjoy writing? Why? 
One of my favorite scenes happens after a true Cinderella moment in the book, where Giselle sneaks into a ball to see if she can find some of her father's friends to hand the document to, and then comes face to face with her employer, Lord Aldridge. She runs back home, as fast as she can, hoping he hasn't seen her, only to find him already waiting for her at the back door. The simmering attraction between them finally results in them stepping into each others' arms:
She leaned in, rested her head against the scratchy wool of his coat, closed her eyes, and let him prop her up with his warmth and the muscled strength of his body. Breathed him in.
She had never been in such an intimate position with a man, close enough to smell the wool of his coat, the warm sandalwood of his soap.
She lifted her hands and slid them under the lapels of his coat, burrowed a little closer, and his arms came up around her to grip her tighter, so she was completely encircled.
"I'm afraid to ask you questions, and I've never been afraid to do anything before." His voice was a rumble against her temple, a vibration she felt deep in her chest.
"What are you afraid of?" She could only speak in a whisper. As if that was all the energy her body would allow her.
"That you'll run, like you did tonight. But not home. Away somewhere, where I won't find you again."
She sighed. Pulled back. "You may feel differently one day. Might wish I would disappear. But I'm not going anywhere for the moment, my lord."
"No," he said. "You're not." And then he dipped his head and touched his lips to hers.
What scene was the hardest to write? Why? 
One of the hardest scenes to write was near the beginning of the novel, where Giselle witnesses her father's murder. Her father knows she's there, and uses his responses to the man about to kill him as a code to Giselle, urging her to stay hidden. The scene required a lot of work to balance the emotion of the situation, the fear and the fierce need to protect.
The shadow man's face was still in darkness, but she could see his arm, his hand, with the knife gripped tight, gleaming in the moonlight.
She started to rise, and her father caught her eye again, as he pulled off his second boot.
"Please," he mouthed. "Please don't."
"Whispering to yourself, Barrington?" The shadow man forced her father to his knees, knife still just near his throat, and a moment before the clouds obscured the moon again, Gigi saw that he held a pistol as well. Held it to her father's back. No wonder he hadn't tried to escape.
Her father risked one last glance her way, and she tucked herself back into her hiding place, shaking.
Who would you cast in the role of your characters if your book was optioned for a movie?
I think Chris Hemsworth would be a good fit for Lord Aldridge and I could see Emma Stone as Giselle. I would love to see what Johnny Depp could make of the role of Georges Bisset. He'd probably steal the show, though :).
What are you currently working on? What other releases do you have planned for 2013 into 2014?
I'm currently working on a novel, as yet untitled, that is connected to my upcoming historical release, Banquet of Lies. It is set a few months after Banquet of Lies, and some of the characters from Banquet of Lies will appear as secondary characters. Banquet of Lies is due out on October 22nd. I am also hoping to have a fantasy novel, Mistress of the Wind, out by early 2014. Fantasy is a real departure for me from what I usually write, but a fun one. And readers of Banquet of Lies will see how much I love folklore, it is entwined throughout Banquet of Lies, and Mistress of the Wind is a retelling of the fairy tale East of the Sun, West of the Moon, so in a way, it's a natural extension of my interests.
Where can readers get in touch with you?
I love hearing from readers, and they can contact me through the contact form on my website (http://www.michellediener.com/contact/ ) or on my author page on Facebook (http://on.fb.me/18ktYRM) or through twitter (http://bit.ly/16OTCCH). I also blog regularly on Magical Musings (http://bit.ly/1b5tC3b), along with writing friends Jennifer Estep, Karin Tabke, Cynthia Eden, Edie Ramer, Marilyn Brant and many others.
Giveaway:

2 print copies of BANQUET OF LIES
To enter Giveaway: Please complete the Rafflecopter form and post a comment to this Q:

As you will see below, Lord Aldridge's first meeting with Giselle, his new cook, is not what he expects. I think that's happened to us all. We build up a picture in our head of someone before we ever meet them, and sometimes, our expectations are completely different to reality. I'd love to hear your stories of a time when you met someone for the first time, and they surprised you completely. Who were they and how were they different from what you expected?
Excerpt
A woman stepped through the door into the dining room and Jonathan was suddenly at sea.
Dark hair, beautifully coiffured under a white cap, and strangely light, hazel-green eyes fringed with thick lashes. There was a flush of color under the cream of her cheeks, and she regarded him with the same intensity he was watching her, her head tilted to one side on a long, slender neck.
He had the impression of someone who knew how to dress well, but he could not drag his gaze from her face.
He had no context in which to evaluate her. She was in his dining room, looking directly at him, and all he could think of was that he had seen her before.
She was familiar.
Some old, long-forgotten memory stirred in him, along with a slightly guilty yearning, but although he chased it, tried to pin it, it slipped elusively from him and left him flat-footed.
Belatedly he rose and bowed, and felt the heat of a blush steal over his cheeks at his poor manners.
"My lord." She curtsied and watched him with a cool, composed expression. Then she nodded towards the crystal cup that had held the dessert. "Mr. Edgars says you wish to speak to me?"
No.
Jonathan looked from the cup to her, but he still refused to believe it. This could not be his cook. She was supposed to be old and plump and slightly grumpy. He was sure that was compulsory for cooks.
And yet, it could not be anyone else.
"Madame Levéel?"
She nodded. And almost as if she sensed what he was thinking, her lips quirked in a quick smile.
"I don't think I've ever had a meal I've enjoyed that much. Thank you, madame."
"De rien." She curtsied again and then stood, hands clasped together, a growing tension about her.
"What was this called?" He lifted the crystal cup.
"Sabayon au Muscat."
"Well, I can never have enough of it. When in doubt as to dessert, rest assured, you can call on this as a staple."
She looked momentarily surprised, and then she laughed. It lit her expression, and the feeling of knowing her rose again.
"My lord, there are so many desserts to make, I will never be in doubt. But if you wish it again, merely say to Edgars, and I will make sure you have it."
"You are very young, Madame Levéel, to be so accomplished a cook." He said it as a statement, but there could be no question that he wanted some response from her.
He sensed her brace herself, and wondered if it were because she had heard the comment before, and was used to defending herself against it, or whether she was getting ready to lie.
She paused. "Thank you."
No explanation. He admired her for her nerve.
"How did you come by your skills?"
She smiled. "The honest way, my lord. Through practice."
Thank you for stopping by HJ!
Thank you so much for having me!