Today we have USA Today Bestselling Author, Stacey Kennedy. She's an urban fantasy lover at heart, but she also enjoys losing herself in dark and sensual worlds. She lives in southwestern Ontario with her husband, who gave her a happily-ever-after. Together, they have two small children who can always make her smile, and who will never be allowed to read Mommy's books. If she's not plugging away at a new story, you'll find her camping, curling up with the latest flick, or obsessing over Supernatural, True Blood, Lost Girl, and Sons of Anarchy.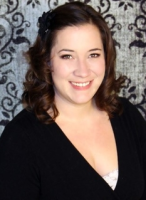 In her newest release, the second CLUB SIN novel, BARED, we are introduced to the submissive, Cora and Club Sin Master, Aidan. Today Stacey is going to share with us the emotion behind writing BARED.
Every author has reasons for why they write what they do, but I write BDSM contemporary romance because it allows me to get real emotional in a way that I couldn't in let's say a paranormal romance. There is no action or danger—it's just two people and their journey to find love.
The D/s relationship is a complex one, and with every CLUB SIN novel I deal with a certain aspect to the lifestyle. In BARED, the concept was simple: how does one take an uncommitted D/s relationship and make it committed? However, the bones of the story are about being blind to emotions because of fears or because of change.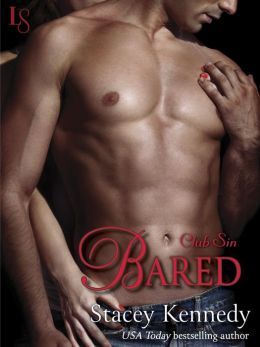 Something that I'm sure we can all relate to at one point in our lives. I know it's happened to me—where I face a moment in my life that might scare me, because I can't predict the outcome. It's about trusting your gut and baring it all to fight for what you want most in your life. This is what Cora faces in BARED. She must reach that point in her life where she has to face her fears, accept the unknown and in the end fight for the happiness she deserves.
The other aspect I dealt with in respect to the hero, Aidan was making him more realistic than maybe I have with heroes I've written before him. He is not a mind reader whatsoever, as sometimes us authors like to make our heroes. I know from experience with my hubby that unless I say something flat out to him he never understands what I mean. And emotions are something he simply doesn't understand on the same level that I do.
As women we tend to hide our emotions or simply hope that a man will see them without having to say it. Just as the saying goes, "when a woman says she is fine, she is not!" This line of thinking is what I played around with when writing BARED.
So, in respect to Aidan and Cora, I tried as hard as possible to make their relationship as real as I could. Cora hides her true feelings from Aidan, because he suffers serious loss in his life and hasn't recovered. She is afraid of losing him, so she keeps those emotions to herself. Aidan only sees what Cora is telling him. He trusts her. He listens to her, of course. He respects her. But unless she opens up and shows him what is going on in her heart, he remains blind to it all.
It's not because he doesn't care for her, it's because how can a person read into someone else's mind? He's just a real guy who takes life for what he sees with his own eyes. And perhaps, he is a bit more closed off because of his past pain. Of course, I wanted to shake him at times while writing the book, but all the same, he did seem entirely realistic to me. Because Cora seemed perfectly content in their casual D/s relationship—or until she wasn't—and if she never said anything or acted like it wasn't great than how would he know?
Sometimes heroes in novels have this mindreading ability that us woman like to think a man should possess, but I just didn't go there with this couple. I allowed Aidan to be a man who I known most men are like—a little clueless at times to a woman's emotions. They can take "I'm fine" to mean she really is fine.
I think that's why I connected so closely to Aidan and Cora, because their relationship and fight to be honest about how they felt was real to me. I know from experience I've acted out of fear many times and hid emotions because I didn't want to take that step forward. But that defining moment in any life is if you choose to finally face all your fears.
We all have pain in our lives. We all have emotional baggage we bring into a relationship. But it's dealing with all of that I feel is what makes a relationship strong and powerful. In BARED the book is all about emotion, and I loved that I could there with the story.
BARED dealt with the complexity of a D/s relationship. It dealt with a man (a powerful Dom) who isn't perfect and who has experienced deep loss in his life that keeps him at a distance. It dealt with a woman who is strong enough to know what she wants, but vulnerable enough to be afraid of the future and losing what she loves.
Right to the heart of it, BARED was an emotional journey of one couple who deserved so much more than they were letting themselves experience. It's a romance that includes tough times and emotional walls that need to be broken to find happiness. And that to me is a just a real, honest relationship. So, yes, all of that is what made Aidan and Cora one of my favorite couples to write.
I felt their emotions as if they belonged to me, even if I hadn't experienced everything they'd gone through. It was a special book to write and more than once I cried all over my keyboard.
So, I ask you: are you a sucker for real emotions and realistic characters like me?
Giveaway:
Disclaimer: This rafflecopter is hosted by the author.
BARED EXCERPT:
With languid movements, he turned to the branches and logs he'd gathered on their hike. He placed the thinner pieces he'd cut with his small ax in a tepee shape within the fire pit he'd made with stones from the forest. As he grabbed his lighter from his pocket, he said, "Ask me any question you want."
"Pardon?"
Her sharp voice lifted his head, and he smiled. "You heard me." His only intention tonight: changing the dynamics of their relationship. From what he'd seen of her and Porter, she could share her thoughts—she just hadn't with Aidan. "I asked you to open yourself up to me and you pointed out that I don't share myself with you. That has to change. Ask away." He allowed her the time to process and placed the fire stick in the middle of the wood, then he flicked the lighter and the flames rose.
She giggled.
With the burning wood crackling and a comforting aroma engulfing him, he looked to her with raised his brows. "Something funny?"
"I'm surprised you didn't start the fire by rubbing two sticks together." Her mouth twitched, as if fighting her smile. "You know, 'I am Dom. Me caveman, build fire.'"
Aidan barked a laugh. "Common sense leads me to a lighter."
He joined her on the blanket and his face ached from their laughter throughout the day. He enjoyed spending time with Cora. In fact, he liked hearing her talk, watching her smile, and learning about all the random thoughts she had in her mind. As he settled next to her, his thigh pressed against hers, causing his groin to tighten. "All right, stop stalling."
She looked to the fire and nibbled on her lip. Then she brought her legs up and rested her cheek on her knee. Her pretty eyes held his, as if she read right into his soul. "Are you happy?"
He hesitated. "Happy?"
The light from the fire cast an orange hue along her face, detailing the gentle lines. "I mean, do you wake up every day glad to be alive?"
"Of course," he replied without hesitation.
Her stare remained fixated on him; her attention was focused, intent, and almost stern. "Liar."
"Come again?" He frowned.
She glanced to the fire with a deep breath through her nose. "Exactly what I said, I don't believe you."
His thoughts stuttered. While he had opened the door to talk, he hadn't expected her to take this direction. Perhaps foolishly, he'd thought she'd ask about his favorite movie or a random question, not something so personal.
He leaned back on his arms, stretching out his legs. The heat from the crackling fire warmed his shins. "Well then, do tell, what do you think I'm doing?"
"Coasting." Her gaze cut to him and her eyes widened with her smile. "Oh my God, I'm analyzing, aren't I?" She gave a dismissive wave of her hand and shifted against the blanket. "It's a bad habit from the job. Ignore me."
Her blushing couldn't sway him. He remained stuck, infatuated with her statement. "It's all right. I told you we could talk. This is what you want to talk about. Please continue."
A long sigh fell from her mouth, and she turned to the fire. "To me, it sort of seems like you coast through life; doing the right thing, saying the right thing, and being the right man in every situation. But you don't do it for yourself or because it makes you happy." She peered at him through her thick lashes and gave a halfhearted shrug. "Today, out here . . ." She tilted her head back, glancing to the starry sky. "You were different. More comfortable. Free, almost."
"Because of that you don't think I'm happy?" he asked.
"I think you coast on the edge of totally letting go, because if you stop coasting, you'll crash." She peeked at him a moment, then quickly looked away. "I understand why you do it. It's safer to live and do for others. It's scary to face what would truly make you happy and the chance it might be taken away."
Aidan watched Cora, his mouth dropping open. He found himself unable to form the words to respond; she had him pegged all wrong. Christ, no wonder a barrier remained between them. His stomach knotted with the knowledge of her impression of him.
The fire crackled, sending an ember near Aidan's leg as she added, "I see you, you know." His gaze remained locked on her when she turned to him with a soft smile. "I see every flaw and every imperfection."
He snorted, lowering his head and looked to the ember sizzling out. "That's a pretty picture."
His heart banged in his chest as she scooted a little closer and said, "It makes me lucky."
Lucky? "Please enlighten me," he grumbled, glancing to her glowing cheeks. "How does any of that make you lucky?"
She reached out to stroke his forearm, and a soft expression crossed her face. "I see what no one else does."
Prepare to be BARED…
In a novel that's perfect for fans of Fifty Shades of Grey, Stacey Kennedy returns to Club Sin with another wicked and wild tale of submission, seduction, and love.
At Las Vegas's exclusive Club Sin, Aidan Knight is the Master, unleashing the erotic yearnings of his submissive lovers. But his dominant façade conceals a devastating loss—something he instantly recognizes in his personally trained submissive Cora Adams. Sworn to unearth her secrets, Aidan uses his seductive skills to ignite her wildest desires until Cora yields to the pleasure she can find only with him.
Cora came to the BDSM club to act out her sub-and-dom fantasies without ever revealing the heartbreak that haunts her. But Aidan's masterful touch is bringing her closer to the edge . . . and deeper into a world of control and surrender. He refuses to allow her to submit to any other man—nor does she want to. It's a dangerous game they're playing. For as they give in to passion, they must lay bare their souls for a love that could heal—and free—them both.
Bared is an erotic romance intended for mature audiences.
Buy links:
About the Author:
Website – http://www.staceykennedy.com/
Facebook – https://www.facebook.com/authorstaceykennedy
Twitter – https://twitter.com/#!/Stacey_Kennedy
Loveswept website – http://www.readloveswept.com