Today it is my pleasure to Welcome author
Roxanne St. Claire
to HJ!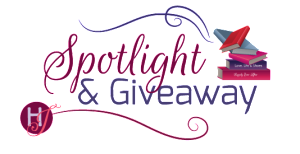 Hi Rocki and welcome to HJ! We're so excited to chat with you about your new release, Barefoot With a Bad Boy!
Hello my friends at HJ!! Love to be here and celebrate my new release!!
Tell us about the book with this fun little challenge using the title of the book:
Barefoot With a Bad Boy…so long. Let's just focus on the important words: What is a "Bad Boy" and why do we love them?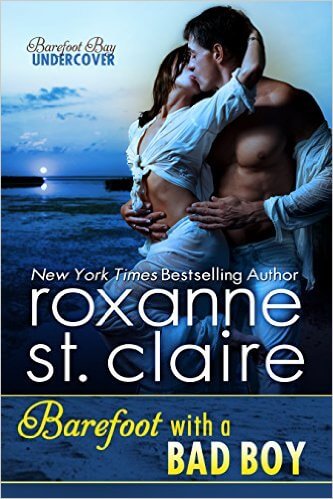 B is for BEAUTIFUL BLUE EYES and this bad boy has them.
A is for…oh no, that's too obvious. Of course his ass is perfection. How about A is for A ACTION and this former CIA operative sees plenty of that. The kind with guns and the kind with kisses.
D is for DEVASTATED which is how he feels when the book opens and he believes the only woman he ever loved, and his son, are dead.
B is for BUT….along comes a woman who rocks his world in every imaginable way.
O is for OH MY GOD CAN SHE REALLY BE WHO SHE SAYS SHE IS?
Y is for YES…she can. And thus starts a story I hope you will not be able to put down!
What's your favorite line(s) from the book?:
That's really impossible. It's almost 90,000 words long and I love every one of them! This is one of my favorites, though. The heroine describes her plan for getting them out of a predicament:
"I'll stay here for a little while, and you and I will…pretend to be a thing. In a little bit, I'll bring Rafe here. You'll fall in love with him, of course. And I'll…disappear. I can die or run away or just break it off with you, and you'll keep him and raise him."
Holy fuck, she had gone off the deep end. "That's your plan? That suckfest of stupid is your plan?"
A smile pulled at her lips. Isa would have smiled at that, too. The thought tweaked his heart, startling him. "More or less. You have anything better?"
"Don't have anything dumber, that's for sure."
Please tell us a little about the characters in your book. What first attracts your Hero to the Heroine and vice versa?
Hero: Gabe is hilarious, foul-mouthed, cocky, loyal, distrusting, brilliant, and drop dead gorgeous. He would die (quite literally) for anyone in his big Italian family. He trusts NO ONE (years as a spy) and has an almost unhealthy need to fix anything that is wrong.
Heroine: The heroine in this book is quite layered — the woman she was and the woman she is. They are, literally, two different people. She is Isadora, a brilliant, sparkly, playful, curvy translator who speaks many languages and has enchanted Gabe Rossi. But after a long and dark undercover assignment, she is Lila, cold, angular, guarded, and plagued by headaches and she confounds Gabe Rossi. That made writing her one of the biggest challenges I've ever faced, demanding nuanced thinking and behavior and knowing that she had to be both believable and sympathetic.
When you sat down to start this book, what was the biggest challenge you faced? What were you most excited about?
That's easy: Gabe Rossi is easily the most "in demand" character I've ever written. He had small walk-on roles in earlier books (a different series) and from the moment he appeared on the page, readers have asked for his story. I was PETRIFIED to disappoint them. Most excited about? The same thing. I've been wanting to write his book forever!!
What, in your mind, makes this book stand out?
Readers are raving about the plot twists and surprises, and I admit, I planted plenty in this book. But at the heart of this cloak-and-dagger spy tale is a gut-wrenching second-chance romance that asks and answers the question: Who do we love, really? The person on the inside or the package on the outside? Also, Gabe makes the book fun! I never knew what was going to come out of his mouth and I laughed out loud a lot while writing him. Cried, too.
The First Kiss…
"For the record, I would have waited for you," he said just before he put his mouth against hers.
He felt her suck in a breath and tense, but he angled his head and relaxed into a real kiss, opening his mouth enough to taste her, to feel her tongue and hear a sweet, soft whimper catch in her throat.
Her lips were soft and warm, pliable and delicious, and he slid his hand under her hair to grasp her head and tilt her to get closer and deeper into the kiss.
With his eyes closed and his heart open, he could taste Isadora. Sweet and salty, a kiss that always made him hard and hungry and ready for more.
And this one was no different.
If your book was optioned for a movie, what scene would you use for the audition of the main characters and why?
The first real conversation they have after Lila lures Gabe to her villa to tell him who she really is:
Was she CIA? Or something deeper and darker?
He tipped his head, feigning casual interest. "This is a pretty elaborate come-to-Mama ploy," he said. "What gives?"
Her eyes flickered, and she drew back but didn't retreat completely. If anything, she subtly squared her shoulders and lifted her jaw. "I wanted to talk to you."
"Talk?" He dropped his gaze, noticing how her chest rose and fell with tight breaths and a little vein in her neck pulsed.
A vein that…
Damn it. Every fucking woman has that vein, stupid.
He brushed by her and bounded up the last two steps, landing on the deck with enough force to announce that he'd officially taken charge. "Great. Let's talk inside. Got any booze?"
She turned slowly, forced to look up at him, while he loomed over her, openly checking her out. Face to tits to hips and down to the cute red toes that he'd seen on the beach.
While he was reading a letter from a dead woman.
She stayed where she was for a split second, then nodded. "Fine. We'll do this your way." She came up the steps and walked across the deck, tipping the power scales again, but he snagged her arm before she got to the door.
"Do what?" he demanded. "Am I going in there to unwrap a Christmas present, or are you planning to slam a bullet in my brain?"
Her eyes widened, the response seemingly genuine. "I'm not going to shoot you. But I might…" She slipped out of his grip and used her free hand to casually graze his jaw, the touch so light it could have been air. Hot, electric air. "Rock your world a little."
She went inside, and he stayed right where he was. Okay then. World rocking sounded…promising.
If your hero had a sexy-times play list, what song(s) would have to be on it?
Anything by Frank Sinatra.
What do you want people to take away from reading this book?
I want readers to lose sleep, shed tears, gasp repeatedly, laugh outloud, and want nothing more but to read it again after they finish. In short, I want people to be utterly lost and entertained by this tale, but that's my goal with every book I write.
What are you currently working on? What other releases do you have planned for 2016?
More books set in Barefoot Bay — the beauty of this series is that it allows me to write in a range of "genres" and "styles" but keep everything in the lush and inviting world of a high end resort sitting on the turquoise waters of a tropical island. I've written sexy and snappy romances (the Barefoot Bay Billionaires), emotional stories of women's journeys (Barefoot Bay Brides) and sexy suspense (Barefoot Bay Undercover). What's next? I have something quite fun planned for 2016 but I'm not announcing it yet. I'm taking a short break from suspense because the last three books wiped me out and I want a palate cleanser that is lighter, brighter, and even more emotional. Stay tuned!!

Thanks for blogging at HJ!
Giveaway:

One winner will win the complete set of Barefoot Bay Undercover books, autographed! (US only unless winner would like digital copies; those can be sent internationally!)
Barefoot With a Bodyguard
Barefoot With a Stranger
Barefoot With a Bad Boy
To enter Giveaway: Please complete the Rafflecopter form and Post a comment to this Q:

In this novel, the heroine has undergone many surgeries to recreate herself into another person for an extremely sensitive and dark CIA operation that ultimately saved many, many lives. If you could have surgery (or wave a painless magic wand) what is one thing you'd like to change about yourself?
Excerpt from Barefoot With a Bad Boy:
He'd never been any good at hiding his emotions. Not around her, at least. And tonight, Gabriel Angelo Rossi was wearing his anger, hurt, and deep distrust of mankind in general all over his gorgeous face. Sapphire eyes deepened and tapered, and under a shadow of whiskers, his jaw locked and throbbed. His neck corded with tension. His chest heaved with indignation and confusion and raw, raw fury.
Lila waited for a blistering barrage of creative curses, but he stayed silent, staring down at her with a glare that was somehow far more frightening than a profanity-laced tirade.
"I told you the assignment was…different," she said, hating that her voice sounded weak. Lila Wickham was not weak. She was a lot of things Gabe didn't know and might not like, but she was not weak.
"Sit down and I'll tell you everything," she said.
"You'll tell me everything whether I stand on my head or jump up and down. You'll talk fast, clear, and if you lie, you die." He leaned even deeper into her space, his hips at the same level as her eyes, so she either had to look down in deference, look up in need, or stare at his crotch. She'd seen him use the technique on plenty of detainees in Gitmo.
"Got it?" he demanded.
She shoved her chair backward, and it scraped over the hard wood, giving her enough space to stand up. He had her by a good five inches, but her move added a tiny bit of power to her side.
"Who are you?" And that low, slow growl of a barely restrained fury shifted all the power back to him.
"I am Isadora Winter."
He suddenly turned and reached to the end table to turn on the lamp. The golden glow warmed the room, but he marched to the other lamp and turned it on, too. Then he hit the switch for two sconces in the dining area and tapped on the kitchen light.
"There's a flashlight in the drawer," she said. "And I bet I can find a magnifying glass if you'd like to look closer."
Still near the kitchen, he stared at her. "I might. Don't move," he ordered. "Except your mouth. You can move that anytime. And for the love of sweet baby Jesus, please know that I was associated with the CIA for more than a decade, and there is not a trick of that trade I don't know."
"Then you know about the use of facial-reconstruction surgery to create an undercover disguise."
Still staring at her, he took a few steps closer. "Facial-reconstruction surgery, yes. Not body, height, hair, voice and…soul."
She let out a sigh. That was it, of course. She didn't just look different; she was different. "You know there's more. Body reshaping, chemical changes of hair color and texture, surgical alteration of fingerprints, permanent eye dye. And, of course, training on how to stand, walk, speak, and behave differently. A person can be remade, Gabe. I was."
He approached her, openly looking her up and down and up again, and then he began to circle, very, very slowly, examining her with his arms folded, eyes intent, an appraiser looking to see if the art was real or a forgery.
He reached out and lifted her chin, turning her face one way, then the other, looking for scars she knew were artfully hidden but could be seen if he looked carefully enough.
He rounded her back, grabbed a handful of hair, and then slid his hand down the length of it, probably unable to feel the artificial straightening that gave her well-colored hair a glassy sheen.
He stroked a shoulder, one finger grazing her bicep, which she flexed, as she did regularly in weight training after having her once-feminine curves taken away, along with her curls and green eyes.
Finally, he was facing her again, that finger sliding to her throat, her collarbone, her breastbone, and over the rise of one barely there breast, a mere shadow of its once-formidable glory.
Of course, he lingered there longer, circling the nipple that jutted against the silky top, his gaze down as he watched his finger torture her. His touch still raised chills on her skin and shot fire through her whole body.
That much had not changed.
She breathed slow and steady, waiting out his assessment. She knew Gabe's tastes, and they didn't include lean, structured women. He was a big-tits and soft-ass kind of man. He liked laughter and lushness, a woman who'd rest on his shoulder, not on her laurels.
This new model of an old favorite had to disappoint him.
"I don't believe you," he said.
"Because you don't want to believe me. Which, as you know, is the most effective element of any disguise."
His eyes flared like she'd turned up the heat on a gas flame. "If you think I don't want Isadora to be alive, then you haven't done all your homework, spy girl." He spat the words, shaking his head. "You can try to convince me you're Isadora, for whatever effed-up mission you're on for whatever coal-black op you work for. But I know every trick in the CIA handbook because I either invented them, used them, or rendered them useless. Which I'm about to do with this little game."
"I know things only Isadora could know."
"You could have interviewed the sweet shit out of her, read her journals, cracked her e-mail, stolen her computer, or dragged conversations from her brain using some Dr. Evil memory-retrieval software."
She leveled her gaze at him, knowing her ebony eyes could land a very effective glare, and she decided to make her point by using her natural American accent again. "I am Isadora Winter, your former lover and an undercover agent for the United States government."
His jaw and fists flexed as he scrutinized her, his razor-sharp brain obviously in high gear. "What I want to know is why," he mused, ignoring her statement. "Not that I'm expecting a word of truth from you." He turned his back on her, then grabbed her barely touched drink on the table and knocked it down his throat. "So I'll have to figure out a very clever way to get you to tell me the truth. Torture. Coercion. Or maybe I can fuck it out of you. That's why you brought me here, right?"
"Why don't you just sit down and hear me out, like a smart, experienced intelligence agent who knows this is entirely possible?" She put her hand on his shoulder and tried to turn him around, feeling the ice in her words which, for the past five years, felt normal. With Gabe? That cold tone felt wrong.
"Please listen to me," she said, softening her voice, letting the tiniest glimmer of Isa come through. "Even if you don't want what I tell you to be true."
He let her turn him, but she almost wished she hadn't. The fire had dimmed, drenched by the Scotch or her words. Either way, pain was back, and she knew why.
If she was lying, it hurt.
If she wasn't lying, it hurt even more.
Excerpts. © Reprinted by permission. All rights reserved.
Book Info:
A man who trusts no one is forced to believe the unbelievable…
Former spy Gabriel Rossi has been searching for CIA linguist Isadora Winter, a woman he loved and lost. After learning of her untimely death in an accident, and the loss of a son who must be his, Gabe is stunned when a woman he's never met approaches him on the beach and claims to be Isadora. She doesn't look, act, or talk like his beloved Isa, but she knows things about their past that only a lover could know, and she assures him that his son is alive as well. As much as Gabe knows that in the spy world, anything is possible, doubts and distrust plague him. Still, he sees glimmers of the woman he once knew shine through and she begins to melt his hardened heart.
A woman who is tortured by emotions must endure the pain of love…
Lila Wickham has been working deep undercover for so long that sometimes she's forgotten who she really is. Finally free but utterly changed, she is determined to fix the broken life she left behind and assure that her little boy is safe. With lingering threats from an unknown source and blinding headaches that torment her whenever she feels deep emotion, she seeks Gabe Rossi for help and protection. But instead of setting her up with a new undercover identity, he insists on luring her nemesis to Barefoot Bay so he can end the threat to Lila and her son once and for all.
Can they survive the worst betrayal of all?
Even if they succeed in drawing out the killer who has Lila in his sights, a much more serious threat hovers over them…a treacherous, deadly truth that could not only destroy their love but end their lives as well.
Book Links:

Meet the Author: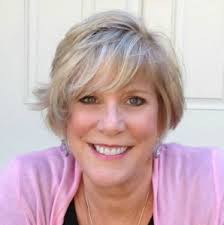 Published since 2003, Roxanne St. Claire is a New York Times and USA Today bestselling author of more than forty romance and suspense novels. She has written several popular series, including Barefoot Bay, the Guardian Angelinos, and the Bullet Catchers.
In addition to being a six-time nominee and one-time winner of the prestigious RITA™ Award for the best in romance writing, Roxanne's novels have won the National Reader's Choice Award for best romantic suspense three times, as well as the Daphne du Maurier Award, the HOLT Medallion, the Maggie, Booksellers Best, Book Buyers Best, the Award of Excellence, and many others.
She lives in Florida with her husband, and still attempts to run the lives of her teenage daughter and 20-something son. She loves dogs, books, chocolate, and wine, but not always in that order.
www.roxannestclaire.com
www.twitter.com/roxannestclaire
www.facebook.com/roxannestclaire
Website | Facebook | Twitter |