Today it is my pleasure to Welcome author
Tamara Hughes
to HJ!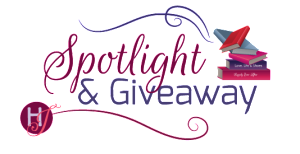 Hi Tamara and welcome to HJ! We're so excited to chat with you about your new release, Beauty's Curse!

Hi everyone! Great to be here! I hope you're all having a fabulous Saturday!

Please summarize the book for the readers here: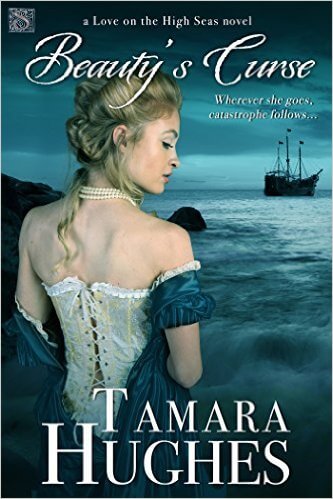 Beauty's Curse is about a brooding pirate who is aimlessly sailing the seas until he meets an unlucky woman who reminds him of the person he used to be. He finds new meaning in his life when he decides to protect and defend her against his superstitious shipmates, and falls hard for her along the way.

Please share the opening lines of this book:
A crisis of her own making, yet again. Would she ever be free of this curse that followed her? Amelia's throat constricted with dread.
Please share a few Fun facts about this book…
David is actually a character from the first book in the Love on the High Sea series. Well, kind of. The hero of that book (Tempting the Pirate) is David's older brother, and is searching for him for the duration of the story. He doesn't find David, but who knows, maybe they'll be reunited yet. Wink.
My original idea in that first book was that James, David's brother, discovers that David is dead. My critique partner objected. Such a smart woman. She wanted to know what happened to David, so I wrote Beauty's Curse to tell his story.
I had a great time researching pirate superstitions for Beauty's Curse. It makes sense that they clung to superstitions considering their lives were constantly at risk and these beliefs gave them some feeling of control, but some of these superstitions were a bit crazy. Pirates believed they shouldn't sail on Thursdays or Fridays. Ha! I think we should all skip work on those days too. They didn't whistle or step on a ship with their left foot first… And God forbid if they sneeze while stepping on the ship left foot first. They also had a thing about bananas. No bananas, people, or there shall be hell to pay.
If your book was optioned for a movie, what scene would you use for the audition of the main characters and why?
I would choose the scene where the pirates have finally had enough and they're kicking Amelia off the ship. David is prepared to fight for her, but she knows it's a losing battle, so she stops him and agrees to leave peaceably if they give her a boat and provisions. David, the protective, wonderful guy that he is, decides to go with her, even though it's likely they'll die at sea. Amelia insists he must stay, but he challenges her to try to stop him.
To me, that scene shows what kind of people they are – compassionate, self-sacrificing, and honorable. I also love how at the end of the scene, they are at odds with each other, but it's almost in a playful way (at least in David's mind).
Here is the scene:
David began to draw his sword. He'd vowed to protect her, and he'd defend her as long as he could.

"No." With a hand on his, Amelia stopped him from pulling the weapon from its sheath. "It's no use. You can't fight them all."

She trembled and sweat beaded on her brow, yet the conviction in her voice and bearing attested to an inner strength. "I'll leave," she said to the captain. "All I ask is that you allow me the use of your rowboat, and give me a few provisions."

Amelia held her chin high, facing the captain with courage and an outward calm despite the circumstances. She must know, with or without a boat, the crew had sentenced her to death. All that remained to be decided was whether it would be quick or slow.

A note of admiration flickered over Captain Swain's features as if he, too, couldn't help but respect her bravery. "You may take the small wherry we salvaged from Fortune's Song. As for provisions though, we have none to share."

The crew didn't object. Pirates they may be, but cutthroats who would murder a defenseless woman? None of them could do it outright. No, they would send her off in a rowboat in the middle of an ocean to die of thirst and starvation. The thought churned his stomach. "I'll go with her." The words spilled from his mouth unbidden, but once out, he knew he'd stand by them. Nothing else would do.

Amelia blanched. "No, you won't."

He gazed into her eyes. The fear in their depths was too bright to ignore. "I'll go with you."

She shook her head. "You don't know what you're saying."

"You'd have us lose our musician?" the captain asked, his question sharp.

David drilled the man with a glare. "I'll never play for you again, either way." While they could physically force him to stay, he'd rather break his violin to pieces than entertain this lot again.

Captain Swain's mouth twitched as he scanned the crew before him. Musicians were hard to come by. Still, what good was one who refused to play? "So be it," he finally said.

"Don't do this, David," William warned in a harsh whisper. William had been a friend from the first, until today. His actions, or lack thereof, proved how shallow his friendship ran.

David grasped Amelia's hand. His decision was final. "We go together."

"No." She pulled her hand away. "I won't let you."

Her show of spunk only strengthened his will. She was worth defending, worth saving, or sacrificing himself in the attempt. He faced her, towering over her by several inches. "How will you stop me?"

She let out an outraged huff. "By tying you down if I have to." With that, she strode from him. To where, he had no idea. To find rope? Despite everything, he smiled. Would she really attempt to tie him up? A small gleeful part of him rather hoped she would.
What do you want people to take away from reading this book?
Both David and Amelia have a false perception of themselves based on the opinions of others. In David's case, his father never believed David would amount to much because he wanted to be a musician instead of joining the family shipping business. And Amelia's stepmother is the one who first accused Amelia of being bad luck, when Amelia was a young, impressionable child.
When someone close to you says something negative, it's hard not to let their opinions influence you, but each one of us needs to come to know who we are inside and trust in our own core beliefs. We need to ignore those who would tear us down and believe in ourselves.
What are you currently working on? What other releases do you have planned for 2015?
The third book in the Love on the High Seas trilogy comes out November 9, 2015. It's entitled His Pirate Seductress and involves a widowed pirate named Catherine Fry. To pay the ransom demanded for her son, she must steal the priceless Ruby Cross from Thomas Glanville, a ship captain who will fight her to the last. This was a fun book to write. To convince Thomas to tell her where he's hidden the cross, Catherine ties him up in his cabin and "tortures" him. She can't bring herself to cause him pain, so she becomes quite inventive in her methods. Hee. Hee.
I'm also finishing up a new manuscript called Finding Ambrosia. This is the first book in a science fiction romance series containing a new human-like species with cool powers. There's only one person that can save Beck's people, but he'll have to sacrifice her to do it. Too bad he falls in love with her first.

Thanks for blogging at HJ!
Giveaway:

An ebook version of Tempting the Pirate, the first book in the Love on the High Seas series. Open Internationally.
To enter Giveaway: Please complete the Rafflecopter form and Post a comment to this Q:

Beauty's Curse contains a lot of bad luck and superstition. What is the weirdest superstition you've ever heard of? I'm not a really superstitious person, but I do knock on wood when it seems something I've said feels like it could backlash on me. How about you? Are you a superstitious person?
Excerpt from Beauty's Curse:
She smiled. "I thought trusting people was foolish."

David smiled back, his mood lifting. "It can be." He lowered the violin to his lap. "The truth is that I see glimpses of my old self in you, and a part of me wanted to protect you because I couldn't bear to see someone else lose their love of life."

Amelia sat up, her head tilted to the side. "And the other part?"

"Other part?"

She flung her hands in the air as if frustrated by the question, but humor glinted in her eyes. "You said that a part of you wanted to protect me because you saw glimpses of yourself in me. What about the other part? I assume it wanted to protect me, too."

Her cheerful disposition, despite their predicament, was amazing. After two days without food and a day without water, she must be suffering just as he was, and still she teased. A slow smile crossed his lips. "The other part of me was mesmerized by your beauty."

In the pale moonlight her cheeks pinkened, and her eyes gleamed playfully. "You jest at my expense."

"Not at all." He set down the violin and shifted closer. "You're as lovely as a flower in the stark of winter… Your hair is the color of wheat under the midday sun, and your eyes—"

"Yes, yes. My eyes are like the sea or the sky or some such nonsense," she quipped with a laugh, the lilting sound like the finest music, better than anything he could ever play.

He sat next to her and stared into those blue-green eyes she made light of. "Very well. You are also extraordinary, forgiving and caring…"

She tilted her head up, and leaned in. "If I'm so very impressive, then kiss me."

He reared away, damning himself for wanting to give in to her request. "I shouldn't."

Amelia moved closer, her hand settling on the side of his face. "Why not? I'm asking you to."

"You deserve a better man than me."

"You are a good man, David. Besides," she scanned the opposite side of the boat and back, "I think it's safe to say that you are the best man here."

A chuckle squelched his next breath. "How endearing, and entirely irrelevant."

Her lips pursed and her shoulders dropped. "We're likely to die out here, just the two of us." She lowered her gaze to her knotted fingers. "Before I do, I want to experience as much as I can."

Sadness and understanding tugged at his heart. "We are not going to die." At the incredulous look that creased her brow, he shrugged. "Our situation may seem dire, but I'm not ready to give up all hope." Life held surprises, at least it had for him. Who was to say a ship wouldn't find them? Merchantmen and pirate alike sailed this route to the West Indies all the time.

She shook her head. "Even if we are saved, what man would dare get close to me once he knew the danger?"

"There will be a man for you someday—"

"You don't know that," she insisted, the pain in her voice heartbreaking. "If it were me, I'd stand clear."

Had her thirst and hunger gone to her head? Any man would be fortunate to have her. "Amelia…" He stopped short at the misery that blanketed her features. No matter what he said, she truly thought no man would ever want her. His gut clenched at the thought. He had to make her understand how special she was. She had to know… He brought his hand to the back of her neck and drew her close, his mouth capturing hers in an emphatic kiss, one he hoped would get through to her where no words could.

They'd shared kisses before, but this time he surrendered. No more thoughts of the bitter man he'd become, of how Amelia deserved better than him. Instead, he immersed himself in the feel of her soft lips, her wet tongue, her sweet flavor.

Her arms circled his neck, and she pressed her chest to his, inflaming his senses even more. He grazed his mouth across her cheek and savored the spot just below her ear. "How can you believe that any man could resist you?" he groaned, his hands aching to explore her curves. He wished nothing more than to taste every succulent inch of her skin.

She shivered, her hands delving into his hair. He grasped one of her wrists and nipped a path along the inside of her arm, holding her still as she squirmed from the sensation.

Her breath quickened as he nibbled her wrist, then each of her fingers in turn. When he bent to her palm, he hesitated. He'd given her the kiss she'd sought. He should stop.

"David?" Amelia searched his face. "Please." Her hands skimmed over his bare chest in an invitation he should ignore.

"You wanted a kiss."

"At first," she agreed. "Now I want…" She drew her plump lower lip between her teeth. "I want more."

He stifled a moan as his body tightened in response. "You can't make a request like that without…" He couldn't finish that thought. No man had that kind of restraint. "How much more?"

"Everything," she said, her whisper riding the length of his back and settling in his groin.

Dear God.
Excerpt. © Reprinted by permission. All rights reserved.

Book Info:
England, 1722
Amelia Archer will be the ruin of her family. Her extraordinary bad luck is burden enough, but her sweet, trusting nature often lands her in impossible scrapes. After the last straw, Amelia's harried father ships his unfortunate daughter off to the Colonies to live with her aunt. But wherever Amelia goes, bad luck is sure to follow…
Pirate David Lamont is taken with the lovely young Englishwoman the moment she's pulled aboard from her sinking vessel. But sailors are already a superstitious lot and Amelia is unwelcome. In a feat of chivalry, David defends and claims her for himself…
Now their fortunes—for good or ill—are invariably tied. But as much as she longs for him, Amelia cannot allow a romance. For a lady of misfortune can only bring ruin to those she loves…
Book Links:

Meet the Author: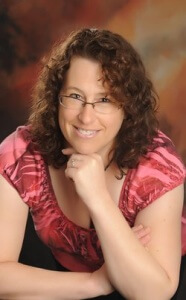 A small town girl with a big imagination, Tamara Hughes had no idea what to do with her life. After graduating from college, she moved to a big city, started a family and a job, and still struggled to find that creative outlet she craved. An avid reader of romance, she gave writing a try and became hooked on the power of exploring characters, envisioning adventures, and creating worlds. She enjoys stories with interesting twists and heroines who have the grit to surmount any obstacle, all without losing the ability to laugh.
Website | Facebook | Twitter |