Today it is my pleasure to welcome New York Times and USA Today bestselling author 

Lisa Renee Jones

to HJ
Lisa Renee Jones returns June 11th with the second book in her wildly popular Inside Out series, BEING ME.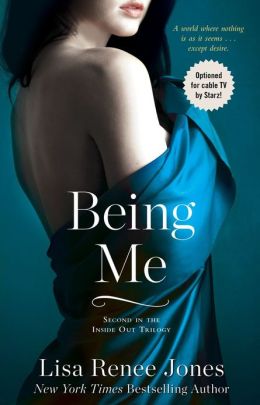 BEING ME is the continuing story of Sara McMillan, an ordinary high school teacher with an uneventful life whose surprise acquisition of a storage unit key leads her to discover the journals of a woman she never met. Riveted by the journal writer's erotic adventures, Sara begins to obsess until she takes steps that lead her to living out the other woman's life. But the writer's path is dark and the men Sara meets are darker still—can she solve the riddle of what happened to the writer before she meets the same fate?
Throughout your career so far, you've written a wide range of genres, from paranormal romance to erotic thrillers. Which has been your favorite to write and what inspires you to jump around?
I love suspense and it's where I started. Opportunity lead me other places but my heart is always in a good sexy mystery.
Your latest series, The Inside Out Trilogy, begins with a character who discovers a woman's "lost journals" in an old storage unit she purchases. How have your real-life experiences buying storage units inspired you to write this story?
My fiancée found a journal when we were buying and selling storage units and it inspired the idea. He got absorbed in the journal and insisted I write a sexy mystery involving a journal found in a storage unit. It took me years to listen to him but he never stopped pushing me. By the time I wrote INSIDE OUT had been developing the idea so long, that it made the fictional world and characters felt very real to me.
Before publishing your books, you owned your own staffing agency, which was named Entrepreneur Magazine's #7 growing women-owned business (1998) and recognized by the Austin Business Journal and Dallas Women Magazine. How has your experience in the business world helped shape your female characters?
It helped me understand the dynamics of personalities and relationships. It also exposed me to some of the good and bad sides of people and situations I do not think I would have known existed otherwise.
In your opinion, what ingredients are needed to make up a good erotic thriller?
Well, great sex is a must. And not the same sex. And not sex just for sex. If I Were You didn't have a ton of sex because the characters weren't ready. I wasn't going to make them have sex to make sex scenes appear on pages. And a good mystery is a true mystery. It's woven into the story with subtle little clues. For me, it also has to be deeply rooted in something one or more characters have some emotional attachment to.
What's up next for you and your writing career?
I have a new series Escaping Reality, another sexy mystery, out in July. A novella coming up with Random House and more books in the INSIDE OUT series. There will be 5 Inside Out books and a spinoff series. Books 4 and 5 are highly focused on the man who did not get Sara. And you will know what the spinoff series is by the end of Revealing Us. You will have no question.
Giveaway: one winner will win a copy of  If I Were You and Being Me 
To enter giveaway: Please complete the Rafflecopter form and complete this sentence: I would like to win a copy of If I Were You and Being Me because …….  most creative answers win 😉 
If I Were You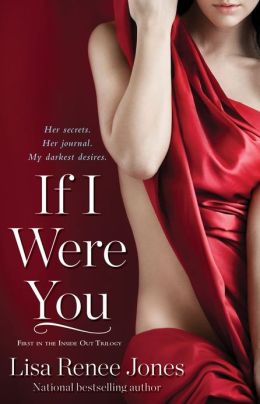 He is rich and famous, and dark in ways I shouldn't find intriguing but I do. I so do. I don't understand why his dark side appeals to me, but the attraction between us is rich with velvety promises of satisfaction. . . .
In the bestselling style of Fifty Shades of Grey, Lisa Renee Jones delivers sexy thrills and heart-pounding sensuality with a tantalizing page-turner in which the eyes of a high school English teacher are opened to a world she never knew existed, and she finds a passionate craving within that she never knew she possessed.
The journal comes to Sara McMillan by chance, when she inherits the key to an abandoned storage locker belonging to a woman named Rebecca. Sara can't resist peeking at the entries in the journal . . . and she finds a scintillating account of Rebecca's affair with an unnamed lover, a relationship drenched in ecstasy and wrapped in dark secrets.
Obsessed with discovering Rebecca's destiny after the entries come to an abrupt end, Sara does more than observe the players in the woman's life; she immerses herself in the high-stakes art gallery world Rebecca inhabited—and is magnetically drawn to two men. Which one seduced Rebecca with his masterful and commanding touch and brought her fantasies to exquisite life? On a daringly erotic escapade, Sara follows Rebecca's path to fulfill her own hidden longings. But after she tastes the forbidden pleasures Rebecca savored, will Sara be helpless to escape the same submissive fate?
Next in this thrilling new trilogy: look for Being Me and Revealing Us.