Today it is my pleasure to Welcome author
Jessica Sims
to HJ!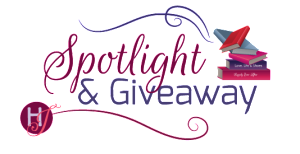 Hi Jessica and welcome to HJ! We're so excited to chat with you about your new release, Between a Vamp and a Hard Place

!
Please summarize the book for the readers here: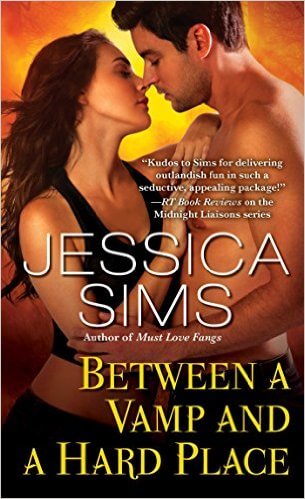 Between a Vamp and a Hard Place is about Rand, a 600 year old vampire who wakes up in modern times, and about Lindsey, the hapless antique hunter who wakes him up. Lindsey has to guide Rand on a revenge mission to find other vampires and somehow manage not to fall in love with the man. Shenanigans ensue!

Please share the opening lines of this book:
It was a lovely Saturday afternoon . . . and a very un- successful one for Lincoln, Nebraska, estate hunters. I'd hit up four estate sales and come away with a few ginger jars (which always sold at the antique booth), a butter dish shaped like a chicken, an ugly cookie jar that would probably bring in a few hundred online, and a bruise on my arm from being pushed into a wall. People tended to get mean at estate sales.
Please share a few Random facts about this book…
The heroine has a salty-mouthed BFF, because I love those. Gemma kind of steals the show in my opinion.
The book's totally a stand-alone! No connection to anything. It's just pure fun from start to finish.
I was really, really into Chinese Pottery at the time of writing this. Lindsey's 'holy grail' antiques (the anhua pottery) are my own! And I have an obsession with ginger jars and own about 15 of them.
There's a blood type more rare than AB negative!
Please tell us a little about the characters in your book. As you wrote your protagonist was there anything about them that surprised you?
I wanted Lindsey to be extremely reluctant to the idea of helping Rand, but once he got on the scene, I just felt they were so great together that I couldn't have her running away from him at every turn. She has a lot of sympathy for him despite his manipulation of her and even when she CAN abandon him, she won't.
What, in your mind, distinguishes this book from other books out there in the same genre?
The hero's vampirism has a lot of drawbacks. That was the major appeal in writing him, for me. I wanted him to have all the usual vampire 'flaws'. He can't go out in sunlight, can't cross running water, you name it. Couple that with the fact that he is a fish out of water in modern times, and it makes things very hard for him and his poor heroine.

Do you think there's a common trait or a je ne sais quoi that your protagonist must have?
I think I need to be able to relate to the heroine to want to read about her all the way through the book. That means she has to be human and flawed. And funny. I do like a funny heroine.

Did any scene have you crying or laughing (or blushing) while writing it?
I bawled through most of the ending. But I can't snippet because that will spoil it! And yes, that was a horrible tease.

If your book was optioned for a movie, what scene would you use for the audition of the main characters?
I'd love to see the scene when Lindsey wakes Rand up, because I think it's fun and dramatic.
"Come on," I told the silent actor. "Don't make me call the cops on you. Get up." When he didn't respond again, I lost my patience and grabbed at the stake "in" his chest.
As I grasped it and pulled backward, my fingers brushed against his. I realized, too late, that his fingers were as cold as ice. But then the stake was in my hand and I was stumbling backward, shocked.
No human hand was that cold. No way.
As I stared down at the body in the coffin, the chest expanded, filling with air.
The man's eyes opened.
If you could have given your characters one piece of advice before the opening pages of the book, what would it be and why?
Enjoy yourself! (seriously, I write all my books just hoping to put a smile and a happy sigh on a reader's face. If I succeed, I'm happy)

What are you currently working on? What other releases do you have planned for 2015?
In 2016 I have several Jessica Clare releases and am working on a few self-published books!

Thanks for blogging at HJ!
Giveaway:

2 Print copies of Between a Vamp and a Hard Place.
To enter Giveaway: Please complete the Rafflecopter form and Post a comment to this Q:

Rand comes from the time period of early Medieval England and was a Crusader. If you could warp a sexy guy from any period in time to the current day, what time/place would you pick and why?
Excerpt from Between a Vamp and a Hard Place:
"What is the year?"
"What year do you think it is?" I asked, curi- ous. Some of my fear was fading out of curiosity for his story. Well, as long as he wasn't biting my neck again.
He studied the room thoughtfully, then me. "When I last slept, the year was 1386. Judging by the changes in the city, I would say it is perhaps . . . 1586? Am I correct?"
I held my fingers up in a pinch. "Wee bit off." His brows went up. "1650?"
"Keep going."
His expression flattened. "1800. Truly?"
Poor guy. "Um. So what would you say if I told you that the year is actually 2015?"
His lips parted. "Truly?"
" 'Fraid so. Hope you weren't late for something. Like the Renaissance."
"The what?"
Book Info:
Lindsey Hughes loves antiques and couldn't be happier to make a living in the estate sale business. But when her assistant accidentally buys an entire estate without her approval, Lindsey is forced to clean up the mess herself.
Lindsey travels to the newly purchased, age-old house in Venice, Italy, and soon discovers more than she (never) bargained for. While digging through the hoarder's trove that fills every floor, she finds a secret staircase behind a wall that leads to a strange coffin…with an even stranger inhabitant.
Vampire Rand FitzWulf has been in his coffin for 600 years. But now that he's awake, he's ravenous, and there's a delicious-smelling woman with a rare blood type in his basement. Luckily, Lindsey has more to offer than blood: she agrees to travel throughout Europe with Rand to help him get revenge on the one who turned him. But as the unlikely pair grows closer, will the billionaire vampire be overtaken by his thirst for blood—or his thirst for love?


Meet the Author: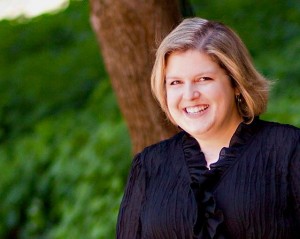 Jessica Sims lives in Texas. She has some cats, but what writer doesn't? She plays video games and confesses to reading comic books. And she likes writing, but that one was pretty obvious.
You can connect with me on Facebook, or on Twitter (though I'm less on Twitter lately). You can also send me a message through my website (www.jillmyles.com) OR sign up for my newsletter to be notified whenever a new release is available!