Today, HJ is pleased to share with you

Terry Spear's

new release: 

Between a Wolf and a Hard Place

Wooing a she-wolf isn't as easy as it looks in this bold paranormal romance from USA Today bestseller Terry Spear
What is your favorite scene from Between a Wolf and a Hard Place and why?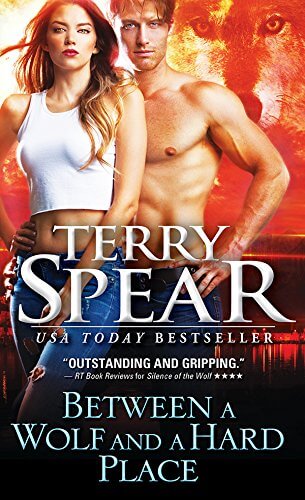 To prove she really was interested in him, Brett had the notion Ellie should date another guy, just so she could see that Brett was the right one for her. But he didn't really mean for her to date another wolf, and certainly not from his pack. Now he could be in real trouble!
Tom and CJ were best friends, both the youngest by a few minutes. Brett was best friends with them too, and she was surprised he wasn't here having lunch with them. She gave him credit for staying away, because she was certain if the others knew she was eating here today, so did Brett. She thought CJ had a lunch date with Laurel. Ellie hoped she didn't end up here too.
Her date, Robert, arrived all smiles, wearing jeans and a pretty blue wool sweater, and he was carrying yet another box of chocolates and a bouquet of flowers. Rose from Green Valley sold the flowers to everyone in Silver Town because she was a wolf and they didn't have their own florist shop. She actually had a nursery too and was probably thrilled at all the recent sales.
Ellie noticed that, like the other boxes of chocolates, this one was from her aunt Charity's shop. She hoped Aunt Charity didn't learn the boxes were all for her because she was dating a bunch of different guys.
"You're early." Robert greeted the men with a tilt of his head. He didn't seem to mind that the Silvers were there watching them. Ellie knew they were without even looking in their direction because instead of conversing, they were deadly quiet.
"You're early too." She was glad he had made the effort to come early.
"I thought I'd grab a table first. I couldn't miss this for the world."
She thought he might be referring to the chance to rib Brett rather than their actual date. And she loved what a good sport he was. She wondered if CJ would tell Brett the details of the date since he wasn't here.
Then the door jingled. She tried not to look, tried to concentrate on what Robert was saying, but as soon as she heard the door close and smelled Brett's sexy scent, her pheromones began pinging all over the place.
A fine sheen of perspiration appeared, and she felt self-conscious. All because Brett was the one she wanted to be with. No one else. Still, she held her chin up, smiled at Brett in greeting, and then tried once again to concentrate on Robert's conversation. He was talking about taking her up on the slopes for more advanced ski lessons. He was on ski patrol, but he also took turns giving lessons.
Private, one-on-one lessons.
She knew all the Silver men were excellent skiers, and all but Darien gave lessons from time to time. So she suspected Brett wouldn't like it if she signed up for private lessons with any of the guys she was dating. She also suspected that all of them would make the offer.
She hadn't realized how much of a strain going out with other guys could be though. She'd become familiar with Brett, and she liked the easiness they had between them. Of course, some of the uneasiness she was feeling was because Brett was now watching her. Maybe he wasn't. Maybe he was just visiting with his brother and cousin. They were awfully quiet over there. Like they were listening in on the conversation.
Excerpt. ©Terry Spear. Posted by arrangement with the publisher. All rights reserved.


Giveaway:

Print copy of Between a Wolf and a Hard Place (Silver Town Wolf) by Terry Spear
To enter Giveaway: Please complete the Rafflecopter form and post a comment to this Q:

What would you have done in Ellie's place?
Book Info: 
In Silver Town, the secrets run deep…
Alpha werewolf Brett Silver has an ulterior motive when he donates a prized family heirloom to the Silver Town hotel. Ellie MacTire owns the place with her sisters, and he's out to get her attention.
Ellie is even more special than Brett knows. She's a wolf-shifter with a unique ability to commune with the dead. Ellie has been ostracized, so she protects herself and those she loves by revealing nothing—not even when strange and dangerous things begin to happen in Silver Town. And especially not to the devastatingly handsome and generous wolf who's determined to win her over…
To Buy:  https://terrylspear.wordpress.com/upcoming-releases/


Meet the Author: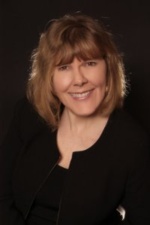 USA Today bestselling author TERRY SPEAR has written over 35 paranormal romances featuring werewolf and jaguar shapeshifters. In 2008, Heart of the Wolf was named a Publishers Weekly Best Book of the Year. A retired officer of the U.S. Army Reserves, Terry also creates award-winning teddy bears that have found homes all over the world. She lives in Spring, Texas.
Social Networking Links
Website: http://www.terryspear.com/
Facebook: https://www.facebook.com/TerrySpearParanormalRomantics
Twitter: @TerrySpear
Goodreads: https://www.goodreads.com/author/show/421434.Terry_Spear