Today it is my pleasure to Welcome author
Katherine Garbera
to HJ!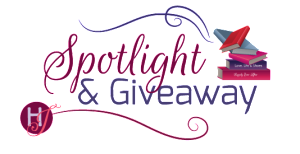 Hi Katherine Garbera and welcome to HJ! We're so excited to chat with you about your new release, Beyond The Limits!

Hello!

Please summarize the book for the readers here: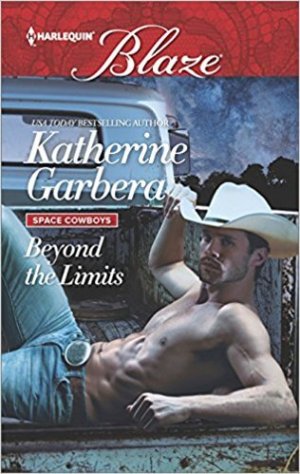 Beyond The Limits is the third book in my Space Cowboys series. Izzy and Antonio are both competing for one of the few remaining spots on the first Cronus Mission. But the sizzling attraction between the two of them keeps getting in the way. They want each other but they are both also close to going on the mission of a lifetime.

What's your favorite line(s) from the book?:
…it seemed that when it came to love, caution wasn't easy…
When you sat down to start this book, what was the biggest challenge you faced? What were you most excited about?
Astronauts! They were my biggest challenge and what excited me the most about writing this book. Since Izzy and Antonio are both in the space program and both competing against each other I wanted to make sure they rang true.
Please tell us a little about the characters in your book. As you wrote your protagonist was there anything about them that surprised you?
The most surprising thing for me was the bathtub scene. I don't want to say too much and give it away but I had thought the focus would be more sexy and it turned out to be very sweet.
What have you learned about your own writing process/you as an author while writing this book?
Hmm…this is my 66th title for Harlequin and 91st book overall so I don't think I learned anything new as an author while writing, but one thing that I have noticed about my writing lately and that I am trying to focus on is being more authentic on the page.

The First kiss…
Is out of this world! 🙂
ANTONIO TASTED BETTER than chocolate cake on her birthday. He was forbidden and not good for her but, damn, he knew how to use his mouth. His body moved with the symmetry and precision of a well-oiled machine. She knew it had to be the result of all those hours he spent in the gym and on horseback.

He smelled…like a man. Not only of expensive cologne and whatever high-end retailers thought was masculine. Antonio was the real deal. He didn't hesitate when he kissed her, thrusting his tongue into her mouth and taking her completely. He gripped her butt, pulling her close, maneuvering his leg between hers until they were pressed together from the waist up. His chest moved against hers as he angled his head and pushed his hands into her hair. He held her head, positioning her for a kiss that left her completely under his spell.

She couldn't breathe or think. She saw stars as she closed her eyes and her hands went to his waist, clinging to his sides as he thrust his tongue into her mouth.
Did any scene have you crying or laughing (or blushing) while writing it?
This is a scene where they both decide to risk their future and their place on the mission to be with each other.
He caught her hand as the music changed to "Closer" by The Chainsmokers, and he pulled her into his body, swaying along with the music. She wrapped her arms around his neck and their eyes met.

He saw the same desire, the same pent-up longing and confusion in her eyes that he felt deep in his soul. He rested his forehead against hers and closed his eyes, but that made the keen longing worse.

Her perfume was subtle but distinctive and he remembered how it had lingered on his skin after they'd made love the first time. Her body was warm and curvy, pressing into his as they moved, and he suddenly didn't care about anything but Izzy.

He moved them around the dance floor to a corner of the room hidden from view. He put one hand on her hip and the other on the wall behind them.

"What are you doing, Antonio?" she asked.

"Taking a chance that you are as unhappy with the 'just friends' thing as I am," he said, mere inches of space between them.

"I am," she whispered. "I'm so torn right now. I can't stop thinking about you, "Playboy. I can't figure out if being lovers would fix the problem."

"It can't hurt," he said. He wasn't concerned that she'd called him by his call sign because the old edge to her tone was gone.

"I hope you're right," she said, looking up into his eyes.

He was taking a risk. Hell, so was she. Dennis and Ace were watching them all and looking for reasons to bench candidates to make the pool smaller and their decision easier. But he knew that denying himself Izzy wasn't helping his chances.

She distracted him and he couldn't let her continue to do so.
If your book was optioned for a movie, what scene would you use for the audition of the main characters?
I think it would be the opening scene where they are in the gym…
"Want me to hold the bag?"

That voice. He spoke English way better than she'd ever be able to master Spanish. And his accent—well, damned if it didn't undo all the resolve she'd just spent the last fifteen minutes shoring back up. She wasn't going to fall for him. She'd been strong when she'd gone through basic training. Ignored his flirting then, and she'd do it again now.

Except this time it was harder. She was more mature. Not as angry at the world as she'd once been, and Antonio…it seemed like experience had taught him a few things, too.

"Sure," she said.

She didn't say another word, instead picturing his strong jaw and dark brown eyes right in the center of the punching bag, and just went for it. Punched down the desire for him. Made herself believe there was nothing between them but sweat and—oh, hell, why did sweat smell so good on him?

This wasn't working. She dropped back and let her arms, which felt like noodles from the pummeling she'd just given the bag, drop to her sides. He watched her the way he always did.
The intensity in his stare made "her feel that he could see past all her barriers. Past the workout clothes and the prickly exterior she used to keep everyone at arm's length.

"Why do you do that?" he asked.

"Do what?"

"Look at me like I'm your enemy," he said.

She shook her head, dropped her gaze and cursed herself inwardly. She turned away from him and used her teeth to loosen her boxing gloves. "Don't flatter yourself, Playboy, the only thing you see in my eyes when I look at you is a desire to make sure I stay one step ahead of you."

Yeah, right, and not a desire to see if his potent sexuality was the real deal or just another one of those things that looked better in the window. She walked over to the tablet mounted in the wall as she got first one and then the other glove off. Congratulating herself for leaving the encounter relatively unscathed, she entered her workout information, not paying attention to the fact that Antonio had followed her. He put his hand on the wall next to the tablet.

Even his forearm was too muscled and masculine. She doubted this man was going to "have any problems with bone density. He was six feet one inch of Grade A prime male.

"It's not flattery, Bombshell. I know you keep watching me," he said. "Deny it all you want."
Readers should read this book….
if they love a sexy, emotional story with lots of fun adventure. Training for space is only part of the fun in the Space Cowboys series, there is also the medium sized town of Cole's Hill and the ranch setting. But it's not a traditional cowboy book.

What are you currently working on? What are your up-coming releases?
My upcoming releases are Tycoon Cowboy's Baby Surprise from Harlequin Desire in May, then The Tycoon's Fiancee Deal from Harlequin Desire in August and Billionaire's Baby Bind in from Harlequin Desire in October.
Thanks for blogging at HJ!
Giveaway:

Autographed copies of all three of the Space Cowboys books.
To enter Giveaway: Please complete the Rafflecopter form and Post a comment to this Q:

If you could, would you go to space on a long term mission? I always like to think I'm an adventurous person but I know I'd chicken out and stay here safely on Earth..
Excerpt from Beyond The Limits:
"What are you doing, Antonio?"

"Taking a chance that you are as unhappy with the just friends thing as I am," Antonio said, keeping his hand on her hip. He could feel Izzy's body heat and wanted to be closer. Wanted to lift the skirt on that flouncy dress of hers and slip his hand up underneath it.

"I am," she said, whispering the words so he had to strain to hear them. "I'm so torn right now. I can't stop thinking about you, Playboy. I can't figure out if being lovers would fix the problem."

"It can't hurt," he said.

"I hope you're right," she said, looking up into his eyes.

He was taking a risk. Hell, so was she. But he knew that denying himself Izzy wasn't helping his chances. He wasn't making rookie mistakes, but only because he had been lucky.

She distracted him, and he couldn't let her continue to do so…
Excerpts. © Reprinted by permission. All rights reserved.


Book Info:
This mission is out of control…
Astronaut Isabelle Wolsten fought like hell to be one of the final candidates for the CRONUS mission to space. She can't afford to be distracted by teammate Antonio "Playboy" Curzon's broad shoulders, dark, sexy eyes and hot-as-hell Spanish accent. But one searing kiss from Antonio, and Izzy knows she's definitely hit mission critical.
When the two astronauts are put in direct competition for a top spot on the mission, they'll be tested beyond their limits. Getting involved with Antonio is dangerous—but not nearly as dangerous as the feelings Izzy's starting to have for him. With everything she's fought for on the line, falling for this space cowboy might just ground Izzy's dreams for good…
Meet the Author: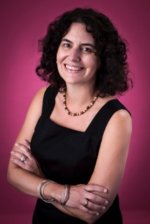 USA Today bestselling author Katherine Garbera is a two-time Maggie winner who has written more than 75 books since making her first sale to Harlequin (Silhouette) Desire. Katherine is known for her sexy heroes, feisty heroines and sensual stories. A Florida native who grew up to travel the globe, Katherine now makes her home in the Midlands of the UK with her husband, two children and a very spoiled miniature dachshund.
Website | Facebook | Twitter |