Today it is my pleasure to spotlight the release of 

BINDING TIES

 by Shannon K. Butcher

They are the Sentinels.
Three races descended from ancient guardians of mankind, each possessing unique abilities in their battle to protect humanity against their eternal foes: the Synestryn. Now a warrior must protect his onetime enemy—without succumbing to his darkest desires.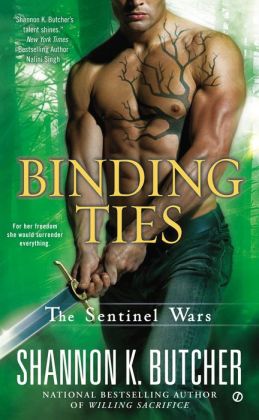 Lyka Phelan is a Slayer, sent to live among her enemy to guarantee lasting peace with the Theronai. Yet she has a secret—and it could make her a slave to their power. But when a pack of Synestryn destroys her home and captures her packmates, Lyka realizes her freedom is a small price to pay for the safety of her people. So she strikes a bargain with the leader of the Theronai—one that reveals her true identity and binds her to him forever.

Joseph thought he knew better than to tangle with the beautiful, hot-blooded Lyka. One misstep could send their races straight back to war. But now he has no choice other than to help her. Forced to protect her with his life, Joseph finds himself increasingly drawn to Lyka. As they risk everything in their fight against the demons, he realizes he must convince her to surrender to him completely—otherwise she will never truly be his.


Exclusive Excerpt from Binding Ties:
The second he was through the glass doors leading outside, he saw her. As always, Lyka drew his complete attention, glowing like sunshine incarnate. He wasn't sure why such a prickly woman would appeal to him on such a deep level, but there wasn't much he could do to stop it.
Heaven knew, he'd tried.
As he watched her talking to the kids, the searing pressure behind his eyes began to fade. There was something magical about a beautiful woman, and Lyka was about as beautiful as they came. Long golden hair. Soft golden skin. Bright golden eyes. He couldn't stare at her too long without feeling the need to shield his eyes from the glow.
Every move she made was filled with the sinuous grace of her kind. She took after her mother, showing off decidedly feline attributes beyond her catlike eyes. There was an alertness about her—a kind of intense awareness of the people around her. He knew that if he got to within twenty yards of her, she'd sense his presence.
He didn't want that yet. He liked looking at her too much for her to know he was doing so. Maybe staring at her wasn't appropriate, but he couldn't seem to help himself. And he sure as hell wasn't about to tell her that she was so beautiful that merely watching her had the power to ease his pain.
He only wished he could find a way to stop wanting her. There was nothing quite like groping a man's sister to ruin a perfectly good peace treaty.
As he continued to watch, he realized that she was directing children in the open play area, though what was going on there was like no form of play he'd ever seen.
The kids were grouped by size. The largest four were in the center of a clearing, being watched by several smaller children. The big kids were clustered together, snarling at one another and grappling for supremacy as they tried to knock one another out of the rope boundary laid out around them. They used teeth and fingernails, elbows and knees. The blows were real, leaving behind both bruises and blood.
It was a small wonder that a broken arm had been the worst of the damage these kids had suffered—at least the worst Joseph knew of.
Lyka stood at the sidelines, shouting instructions to the kids. After a few seconds, she put two fingers in her mouth and let out a shrill whistle. "Time's up!"
The kids stopped what they were doing and scrambled to line up at attention. One of them was limping. All of them were bloodied, even the young girl who'd been fighting right alongside the boys.
Joseph's first instinct was to rush over and see to their wounds, but he forced himself to stay where he was, out of Lyka's sight. It was the only way he was going to see exactly what she did when he wasn't watching.
Lyka strolled in front of the kids, studying them. She lifted the girl's arm, inspecting her wounds. One of the boys raised the hem of his shirt to show her where he'd been bloodied. After she was done looking at them, she pointed at each of them as she counted. "Four, three, two, one."
The boy who'd been labeled one thrust his fist in the air, jumping in victory. The girl beamed at her second place, while the other two boys were clearly unhappy with their ranking.
Lyka addressed the rest of the class. "What did Hank do right?" she asked. "Why did he win?"
The kids started discussing moves and strikes, but Lyka deftly steered the conversation more toward battle tactics and the combatants' traits.
"He wasn't afraid," said one of the kids—a new girl who'd only recently arrived at Dabyr.
Lyka turned to Hank. "Were you afraid?" she asked.
"Yes, ma'am. Mary's got a wicked bite."
The kids laughed, but Lyka kept going. "He didn't let his fear make him lose. We're all afraid sometimes. The key is not letting it control us. Fear is just a bunch of chemicals tricking your brain. The good news is they can make you stronger, faster. All you have to do is let them."
"But it's not the same," said a boy about ten years old, with a messy mop of dark curls. "Mary isn't one of the Synestryn. They bite for real. And they're poisonous."
"True," said Lyka. "That's why I tell you all to fight like you mean it. Don't hold back, because one of these days, you might be fighting for your life. You get strong here so you can survive out there when no one is around to save you."
Joseph braced himself, waiting for the kids to start crying, for their chins to wobble in fear or their eyes to shine with tears. Every one of them had suffered at the hands of the demons. Some had lost their parents and siblings. A few had been held hostage by the Synestryn for months, tortured and terrorized. Surely being told in such blunt terms that they might have to fight the demons on their own one day had to be scaring them shitless.
And yet not one of them so much as trembled.
"When I get big," said one little girl, "I'm going to chop their heads off with a sword, just like the Theronai do."
Lyka grinned. "I'm sure you will, but for now let's just stick to your bare hands and teeth. I don't think the Sanguinar can reattach your classmates' severed heads quite as easily as they heal teeth marks." She turned back to the four kids who'd been fighting. "Speaking of which, Logan and Hope are waiting for you inside. Go get yourselves patched up."
They took off, the limping boy trying to keep up like a trooper.
"The rest of you get a good dinner and go to sleep early. We have a lot of work to do tomorrow. Final exams are coming soon. You all need to be ready."
The kids started to race off back toward the main building.
Lyka raised her voice, shouting after them. "And no fighting outside of class, or you're benched for a week."
The kids all cleared out, leaving Lyka to pick up the rope that had been laid out to mark their sparring area. She hadn't seen Joseph yet, and that was just as well. He had no idea how he was going to deal with what he'd just witnessed.
But he did have to deal with it. Shut her down. Keep her from upsetting more parents, or, worse yet, traumatizing one of the children.
A cold breeze swept past him, ruffling the hair at the nape of his neck.
Lyka sniffed the air and froze in the act of winding the rope around her forearm.
He wondered if she'd ever let him tie her to his bed with it, binding her there so he could get his fill of her without her darting off like a frightened rabbit. He could finally get close enough to see if she smelled half as good as she looked, if her skin was even close to being as silky smooth as it appeared. She'd fight him—of that there was no doubt—but once she wore herself out, he was almost certain he could find a way to make her purr.
Giveaway: 

Print copy of BINDING TIES (Sentinel Wars Series #9) 
To enter Giveaway: Please complete the Rafflecopter form and Post a comment to this Q: 

What did you think of the excerpt spotlighted here? Did it hook you in…leave you craving more? 
Meet the Author: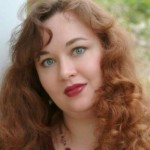 Since launching her career in 2007, national bestselling author Shannon K. Butcher has penned more than twenty titles, including the paranormal romance series the Sentinel Wars, the action-romance series the Edge, and a handful of romantic-suspense novels and works of short fiction. Being a former engineer and current nerd, she frequently uses charts, graphs, and tables to aid her in the mechanics of story design and to keep track of all those pesky characters and magical powers. An avid beader and glass artist, she spends her free time making jewelry she often gives away in contests on her Web site.