Today it is my pleasure to welcome back New York Times and USA Today bestselling author 

Gena Showalter

to HJ!
Hi Gena, welcome back to HJ!
Gena, If you gave your characters an opportunity to speak, what would they say about you?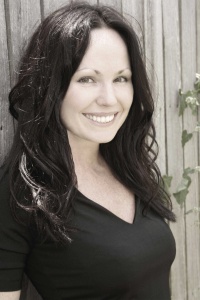 GS: They would say: "She sucks."
Sometimes I put my characters through the wringer, and I'm not sorry. As a result, they aren't my biggest fans.
What are you currently working on? What other releases do you have planned for 2013?
Black and Blue (an October 22nd release), but there's also Through the Zombie Glass (White Rabbit Chronicles, a Sept 24, 2013 release). Here's a little about it—
Zombies stalk the night. Forget blood and brains. These monsters hunger for human souls. Sadly, they've got mine…
Alice Bell has lost so much. Family. Friends. A home. She thought she had nothing else to give. She was wrong.
After a new zombie attack, strange things begin to happen to her. Mirrors come to life, and the whispers of the dead assault her ears. But the worst? A terrible darkness blooms inside her, urging her to do very wicked things.
She's never needed her team of zombie slayers more, but ultra bad-boy Cole Holland, the leader and her boyfriend, suddenly withdraws from her…from everyone. Now, with her best friend Kat at her side, Ali must kill the zombies, uncover Cole's secret and learn to fight the darkness.
But the clock is ticking…and if she fails at a single task, they're all doomed.
About Black and Blue
HE IS EVERY WOMAN'S FANTASY . . .
Corbin Blue is a man of many talents. One of the most powerful otherworlders ever born, he is wealthy, a professional football star, and a legend in the bedroom. But only a select few know he is also a black ops agent . . . and there is no better killer. When he and his crew are attacked and separated, he's forced to turn to his boss's daughter for help—a woman with even more secrets than Blue.
SHE BECOMES HIS ONLY OBSESSION . . .
Evangeline Black has always been wary, guarded. No man has ever breached her walls. Until Blue. He has never been denied something he wants, and now he's decided he wants her. As he sweeps her into his double life of seduction, intrigue, and danger, he helps her see beyond the darkness of her past. But as an enemy closes in, Blue will have to let Evie go to keep her safe—even though he'd rather die than live without her. . . .
Please introduce your character Corbin

Blue & Evangeline Black

from your novel

Black and Blue

to HJ readers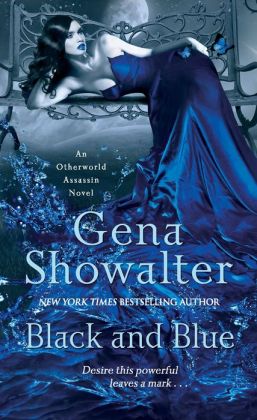 Corbin Blue: "Blue" to his friends. He is a man of many talents. One of the most powerful otherworlders ever born, he is wealthy, a professional football star, and a legend in the bedroom. But only a select few know he is really a black ops agent…and there is no better killer.
Evangeline Black: "Evie" to her friends. She is smart, beautiful, and rich, with a rapier wit and volatile temper. One of the best and brightest surgeons in New Chicago, she is the daughter Blue's boss and completely off limits. And she would rather bathe in acid than sleep with Blue…at least for a little while.
How would you describe these characters in one sentence?
GS: I'll do this Singles Ad style.
Blue: Freakishly gorgeous contract killer w/warped sense of humor seeks challenge in bed and out—smart mouth required.
Evie: Beautiful former agent turned surgeon w/smart mouth & hidden vulnerabilities seeks more office hours—because relationships suck!
What do you like best about your characters?
GS: There's so much I love about these two! Blue is powerful, sexy, and full of snark. He will give his lovers physical satisfaction but hold a part of himself back. Emotions and entanglements are off limits…until Evie. The man is obsessed with her, and he'll do anything to have her.
And Evie, well, I have a special fondness for her. She is brutally honest. "Do I look fat in these jeans?" I ask her. "As a rhino," she replies. But my darling Evie won't leave me hanging like that. She'll find me a new pair of pants. Another thing I adore about her—she creates poisons, and she knows how to use them. When people dare to rile her wicked temper, they usually end up with raging diarrhea.
What do your characters do for a living?
Blue: He makes his money two ways. As a black ops agent, he kills bad guys. And, okay, sometimes good. When a hit goes out, he does his job and does it well. As a cover, he is the quarterback for the #1 National Otherworlder Football League, the Invaders.
Evie: She is a surgeon for St. Anthony hospital in New Chicago. But she was born into money. Her father is mega rich, and owns half the world. Sometimes, she nightlights as a black ops agent.
Are your characters ruled by emotion or logic or some combination thereof?
Blue: Logic. Except when it comes to Evie. With her, he's total emotion. He craves her more than air to breathe.
Evie: Emotion. Except when it comes to Blue. With him, she tries to shut down and check out. (She fails.)
Was it love at first sight for your characters? If not what was the pivotal moment of change?
It was lust at first sight, followed by hate at first conversation. But after Blue is ambushed in an explosion, he is injured and has nowhere to turn, no one he trusts…except Evie, his boss's daughter. They are forced together, and the lust comes back with a vengeance. It won't be denied.
What are your character most proud of about in his / her life?
Blue: At the start of the book, I would say Blue is most proud of…the life he's made for himself. He came from the streets. What little he loved, he lost. Now, he's built an empire.
Evie: At the start of the book, I would say Evie is most proud of…saving lives at the hospital. She honestly cares for her patients and wants them to have what she has been denied: a happily ever after.
How do your characters feel about life right now? What, if anything, would he/she like to change?
They are unsatisfied and searching for something they can never seem to find…because they don't know what it is they are missing.
How did your characters spend the week just before the story starts?
Blue: Banging his fiancée.
Evie: Working way too many hours at the hospital. She's married to her job, and through it, trying to right a terrible wrong in her past, and forget. Just forget.
Where can readers get in touch with you?
GS: Sometimes (cough most times cough) I'm on deadline, and it's just not possible for me to answer the bulk of my email. So, the best way to reach me is through my amazing and beautiful assistant Marie at my main website. (www.genashowalter.com ) She keeps track of everything and follows up with me, even when I've stopped showering, stopped sleeping, and my family has started pushing food under my office door and running for their lives.
Thanks for stopping by HJ!
Giveaway: a signed copy of

Dark Taste of Rapture
To enter Giveaway: Please complete the Rafflecopter form and post a comment to this Q: 

What personality traits are your favorite for fictional characters? Why?
About Gena:
Gena Showalter is the New York Times and USA Today bestselling author of Paranormal Romance, Contemporary Romance, and Young Adult novels from a multitude of publishers. She has appeared in Cosmo and Seventeen magazines, on MTV, and has also been featured on many regional and national news programs.