Today, HJ is pleased to share with you Zara Cox new release: 

Black Sheep

In a family of cold-hearted black sheep, I, Axel Rutherford, am the blackest.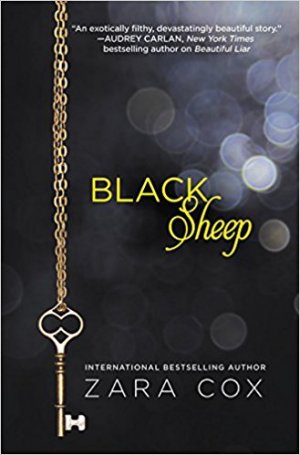 My father has hated me since the day I was born. The feeling was mutual. In the shady underworld that was my legacy, Cleo McCarthy became my light. She was beautiful, passionate, and my whole world. So naturally my father had to destroy us. First he sent me away. Next he claimed Cleo as his own. But now I've returned, and nothing will stop me from taking back everything that is rightfully mine.

He was the love of my life – when my life was still my own.

We were young enough to believe we would last forever, Axel and I. But neither of us realized how cruel life – and our families – could be. Now I'm trapped in a gilded cage: desired by Axel, who must never know the full truth, and controlled by his father, who would sooner see me dead than free. And I wouldn't even care, except that it's no longer only my life at stake.

Enjoy an exclusive excerpt from Black Sheep:
I refocus on Cleo's face. "Did you know?" I ask.
"Know what?"
I drop my hand and shove it into my pocket. Touching her while the beast rides me this hard is no longer a good idea. Hell, was it ever?
"Why he sent me to West Point?" The question I never got the chance to ask because I was too busy saving myself from the thousand cuts of betrayal. I wonder why I ask it now, why I believe it's a subject worth pursuing.
I open my mouth to tell her not to bother answering but her features undergo a startling transformation. Her face goes slack, and the light goes out of her eyes. It's like I'm staring at a marble statue. A stunning, utterly enthralling statue.
"Yes. I knew. He and my father were blackmailing General Courtland into giving them military contracts. But he was also grooming you to become his perfect little soldier." Her lips barely move with the words.
Then why didn't you warn me? The question blazes on my tongue, burns into my flesh.
"And you were okay with that, of course." I recall the video recording my brutal beating and the tender loving care from her that followed, where I swore that I wasn't leaving her to join the army. Where she listened, nodded, then fucked my brains out, after which she talked me into spending four years away from her arms. From her bed.
So she could take up residence in my father's.
"Of course," she concurs with a lifeless murmur.
A despicably pathetic part of me wants to understand the unfathomable. "Why?"
"He had something I wanted."
"You wanted to be a gangster's doll? What about it turned you on? The money? The power? Status? Rough Sex?"
Her throat moves in a slow, smooth swallow. "All of it."
My vision fades out for a moment. I claw back every single ounce of control I can muster just so I don't do something stupid and infinitely satisfying. Like strangle her. "Fucking Christ, Cleo. Did I ever even know you?"
Something moves behind her eyes. Whatever it is that sparks to life inside her flushes her face with color, and when she speaks, her voice is thick, crackling with seething emotion. "You knew me as much as I knew you, Axel."
The thought never fully forms. It isn't analyzed and accepted. Between one heartbeat and the next, I act.
She doesn't make a noise, not a single sound as I propel her downward and backward with a less-than-gentle push. Her legs splay out from beneath her. Her back lands on the floor with a loud thud.
She catches herself before her head connects with the hardwood floor. That little act of self-preservation snaps something free inside of me. As if the confirmation that she can take care of herself makes any of this lunacy okay. As if seeing that is the ultimate permission I need to unleash the terrible beast prowling through my bloodstream.
Nothing about this motherfucked situation is okay.
And yet, barely a second after laying her flat, I'm crawling over her. Planting my hands on either side of her head. Pinning her down with my body. Long, shapely legs bracket mine. The soft, deep cradle of her thighs welcomes me to her false home. The flush of her skin. Wide, blue eyes no longer flat and dead. Each catalogue of her intoxicating attributes registers like a sniper's shot to the head, and my cock hardens to stone even as my brain loses all function.
The rush of blood to my cock almost makes me groan. I swallow the sound because the time when I groaned for this woman is long gone.
Her breathing escalates, and she begins to wriggle beneath me. "Axel…"
I allow myself a smile. "I believe I can tell the difference now between you and the girl I thought I once knew. This…this is who you really are, isn't it, Cleo? The devil's whore pretending to be an angel?"
She stares at me, her perfect face framed by the rich, glossy mane spilling across my floor. "I was never an angel."
Excerpt. ©Zara Cox. Posted by arrangement with the publisher. All rights reserved.
Thanks for hosting me on your blog today. I hope readers enjoyed the excerpt.
Giveaway:

Print copy of Black Sheep(Dark Desires) by Zara Cox
To enter Giveaway: Please complete the Rafflecopter form and post a comment to this Q:

Axel and Cleo were childhood sweethearts before it all went wrong. Some people believe that first love is the strongest. What do you think?
Meet the Author:
Zara Cox has been writing for almost twenty-five years but it wasn't until nine years ago that she decided to share her love of writing sexy, gritty stories with anyone outside her close family (the over 18s anyway!). This series is Zara's next step in her erotic romance-writing journey, and she would love to hear your thoughts.
Connect:
zaracoxwriter.com
twitter: @zcoxbooks
facebook: Zara-Cox-Writer-210922862391617/