Today, HJ is pleased to share with you

Terri Brisbi's

new release: 

BLAZING EARTH.

In the new Novel of the Stone Circles by the USA Today bestselling author of Raging Sea, the ancient and wrathful goddess of fire plots her escape as the future depends on the untapped powers of two lovers.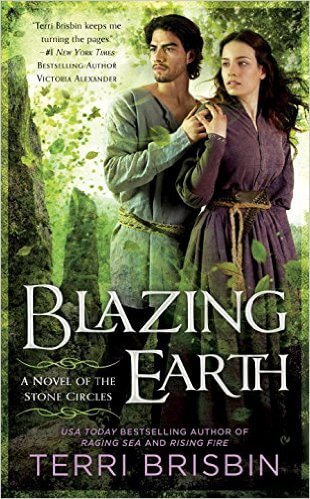 Tolan of Durrington is a farmer whose ancestors have tended the same lands for centuries with astonishing success. His hope for the future is that his son–and his sons yet to come–will carry on the traditions. But, his carefully laid plans are shaken by the village healer he's come to love.

Unable to bear children, Elethea can offer Tolan only companionship and physical comfort. When hidden powers in their blood–powers to command the fertile earth, to draw from the healing sun–explode into being, their world and lives are changed forever.

Soon, the fate of humankind is in their hands as the wrathful goddess grows closer to escaping her prison and destroying the world as they know it.

Battling the goddess' followers and their own fears, can these two lovers protect mankind and still survive to find their own future?

Enjoy an exclusive excerpt from Blazing Earth: 
Tolan had missed everything about her while away from Amesbury on the lord's business. Not just these physical acts, but also the way she smiled when she greeted him. Especially when she came upon him unexpectedly and her brown eyes lit at the sight of him. He loved the way she saw to the needs of the injured and sick of their village, her touch gentle and her care thorough and competent. More than competent, she was as successful a healer as he was a farmer.
Though the fires of passion exploded into being several more times that night, it was as the light of the morning sun began to creep into the lower edge of the sky that Tolan knew the truth. Elethea was the woman he wanted in his life. The woman he wanted as his wife, to be at his side and in his house and bed. . . but most important, in his heart.
The miles that he'd crossed and the days away from her had made that clear to him. Now, though, as the signs grew and the whispering voice had forced him to accept the reality of it, he knew he must have her at his side through whatever was coming.
At her side, he could protect her from the danger that grew and would surround them. And at his side, her presence would give him the strength he needed to face these unknown challenges. He had faced the fact that he wanted to marry her and marry her before Lord Geoffrey could, in any way, interfere. He only prayed Thea would say aye.
As the sun's light crept in through one window, she roused in his embrace, sliding her leg over his and smiling a soft, satisfied grin. He held her close and tried to think of the perfect words to say to her. Her gaze narrowed on his and she spoke first.
"What is it, Tolan?" She reached up and caressed his brow and cheeks with her fingers. "Is something wrong?"
"Nay, Thea. All is well." Tolan eased back just a bit, still keeping her near, but with enough room to speak. "I have a matter to discuss with you. That is all."
"This sounds serious." Thea pushed up to sit, her long brown hair flowing over her shoulders and pooling on her lap. It hid nothing of her charms from his sight.
"It is serious. It is a matter of marriage."
Thea tried to pull away from him and from this topic, but he would not allow her to do so. He did not force her and yet he slid his arms around her, holding her close and not releasing her. She tried to tamp down the panic that always rose within her at the mention of marriage.
"Thea," Tolan said quietly as he did let go of his hold on her. "Stay," he urged in that voice that she wanted to obey.
"We both have duties that call us, Tolan," she said. Sliding from the bed and gathering up the clothes that lay strewn around the chamber, Thea began her morning tasks as she always did.
His silent reply made her more nervous than if he'd yelled or berated her as Jasper had when he was angry. Glancing over her shoulder after she'd pulled on a clean shift, she saw him lying there naked, with his hands tucked behind his head, just watching her.
"What misgivings you have—are they about me or being married once more?" he asked. She wasn't sure if it was his insight or memory that made her more nervous.
"I do not wish to discuss it," she said, quietly but with determination in her voice. She must bring this to an end. It would stir old memories and old hurts better left buried deep and untouched. "I have no complaints about how things stand between us."
Those words caused him to climb from the bed and stand before her—closely before her—in a matter of seconds. Part of her wanted to back away. Another part wanted to issue words of apology and beg for . . . Thea took a deep breath and shook her head. She must not let the past live once more in her life.
"You never speak of how things are between us, Thea." He glared at her, angry for the first time she could remember. "You never ask for anything of me, but that," he said with a glance at the bed. "Do you never wish for more? To stop sneaking from my bed to yours and to stand together before the others in the light of day?"
Did she want for more? Since their first time until now, she'd not thought on anything past the pleasure they shared. She could not think on anything more. The bed play was the only thing that broke through the numbness she'd wrapped herself in for so long. She'd offered him only the use of her body because she had nothing else to give him.
"Is that what you want, Tolan?" she asked softly, unable to give him even a reply to his question.
Tolan opened his mouth to speak, but a loud knock on the door interrupted whatever he'd planned to say.
Excerpt. ©Terri Brisbin. Posted by arrangement with the publisher. All rights reserved.
Giveaway:

2 Print copies of BLAZING EARTH (A Novel of the Stone Circles) by Terri Brisbin
To enter Giveaway: Please complete the Rafflecopter form and post a comment to this Q:

What did you think of the excerpt spotlighted here? Leave a comment with your thoughts on the book …
Meet the Author: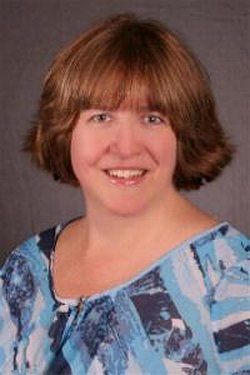 Terri Brisbin is the USA Today bestselling author of the Novels of the Stone Circles series featuring Raging Sea and Rising Fire. A three-time RWA RITA® finalist, Terri has sold more than 2 million copies of her historical and paranormal romance novels, novellas and short stories in more than 20 languages in 25 countries around the world since 1998. When not being a glamorous romance author, she is a wife, mom, grandmom and dental hygienist in southern New Jersey.