Today it is my pleasure to Welcome author
Susan Fox
to HJ!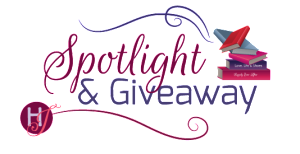 Hi Susan and welcome to HJ! We're so excited to chat with you about your new release, "Blue Moon Harbor Christmas" in Winter Wishes!

Thanks so much for having me. And welcome to the readers who join me in looking forward to the holiday season!

Please summarize the book for the readers here:
"Winter Wishes" is a collection for four heartwarming contemporary romances themed around the Christmas holidays. My fellow authors are Fern Michaels, Jules Bennett, and Leah Marie Brown.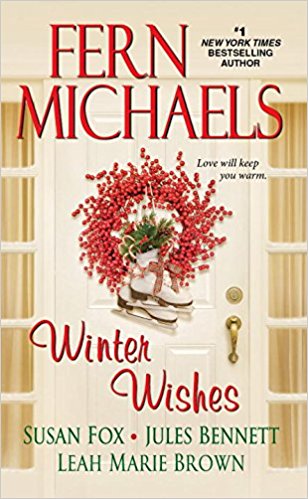 My novella, "Blue Moon Harbor Christmas," is the second title in my new Blue Moon Harbor series set in the Gulf Islands near Victoria, British Columbia.
I think of the holidays as a time for family, love, and even some Christmas magic. So I came up with a "second chance" story that embodies all those things. Eight years ago, Jillian and Michael were irresponsible college students who hooked up a few times. When she discovered she was pregnant, she decided to keep the baby—but she turned down his proposal because, being practical, she said they barely knew each other and had no foundation for building a family. She would accept child support, but wanted no other ongoing contact with Michael—and that was just fine with him.
But now it's not so fine any longer. Michael's more mature and he wants to meet his child, so he travels across the country and turns up on Jillian's doorstep just before dinner on family tree-trimming night. She is, to put it mildly, taken aback. She and her son Cole have a great life, with loving support from her parents. Yet she knows that the only thing that really matters is what's best for Cole. So, warily, she gives Michael a chance.
During the twelve days Michael's in Blue Moon Harbor, each day brings a new gift of knowledge, understanding, trust, and growing love. Day by day, they do lay a foundation, one that's strong enough to create and sustain a loving family.

Please share the opening lines of this book:
Is this cheating? I'm giving the first two paragraphs.
Then I guess we should get married. That was almost the last thing he'd said to Jilly, eight and a half years ago.

Rain slashed the windows of Michael Dhillon's rental Kia Rio, and there were no streetlights to ease the late afternoon darkness of this shortest day of the year. He could barely make out the house he'd pulled up in front of. The house on Blue Moon Harbor Drive where Jilly had made a home for their seven-year-old child.
Please share a few Fun facts about this book…
Destiny Island, where Blue Moon Harbor is located, is purely fictional, but it's based on the real Gulf Islands near Victoria, B.C. I've visited these fabulous islands many times over the years, and now we go boating there for weeks every summer.
Because this novella is contained in a Fern Michaels anthology, I had to make it a little "sweeter" – i.e., less sexy – than my usual books. For example, when I was talking about the fact that Jillian and Michael had only had a "hookup" relationship, I had this sentence: "Maybe a dozen nights of sex, booze, pot, and more sex in the spring of their last year of university." My editor toned that down to this: "Maybe a dozen nights together during the spring of their last year of university." Personally, I prefer the original!
For some reason, Kensington keeps asking me to do holiday stories. That was great when I was writing about Caribou Crossing, which is in snow country. It's not so great when the setting is the Pacific Northwest. In my part of the world, winter is mostly gray skies, clouds, and rain. That's not the best romantic setting. But my heroines and heroes do their best to keep each other warm!
Please tell us a little about the characters in your book. As you wrote your protagonist was there anything about them that surprised you?
I was delighted when Kensington asked me if I'd like to contribute a novella to the annual "Fern Michaels holiday anthology." Well, who wouldn't be? (And how cool that the other authors turned out to be Leah Marie Brown and Jules Bennett!)
Of course I wanted to do a story that would fit in with my Blue Moon Harbor series, which launched in July. All I had to do (all!) was think up that story. For me, it starts with figuring out who my heroine and hero will be. It's a particular challenge with a novella that will only be published in an anthology, as compared to with a full-length novel. Some readers will first be exposed to the series by reading the novella, and some readers of the series may not want to read a multi-author anthology. So I needed characters who tie into the BMH community yet aren't intrinsic to the other books in that series.
Having already written "Fly Away With Me," I knew that a couple of the secondary female characters would need their own books. That didn't leave a lot of other choices, but Jillian Summers, a pilot who flies for the "Fly Away With Me" hero's seaplane company, came to mind. As a single parent, she seemed like an intriguing heroine with a potentially interesting story.
Which brought me to, "and what might that story be?" There were two limitations to consider. First, as I mentioned above, that the story couldn't be too sexy. And second, that it's a holiday novella, which means it takes place in a pretty short time frame. And then of course we romance readers want our "happily ever after" ending, right? It struck me that, since Christmas is a time for family and heartstring-tugging, it might be interesting to reunite Jillian and the father of her son Cole.
I conjured Michael Dhillon, and thought about his and Jillian's backstory. College days… A time when some students knuckle down and work, but many, freshly liberated from high school and parental supervision, go a little wild. And going wild has, more than once, resulted in an unplanned pregnancy.
And now I had the seeds from which to grow a story!
I knew Jillian was a seaplane pilot, but I didn't know Michael's occupation. Casting about more or less at random, I came up "architect." And what a fortuitous choice that turned out to be!
I researched the characteristics of architects, and decided they make for an excellent hero, a man who is self-directed, creative, and successful. Not only does Michael have the technical skill and interest, but his personality is right for this career: he's confident, a good communicator, a problem solver, a negotiator, flexible, able to lead but also to really listen to what people are saying. And, as Jillian says, "Don't forget charm. I bet you can persuade clients and contractors to do almost anything you want."
LOL. Yes, Michael always was charming. He grew up rich, smart, popular and spoiled. Jillian, on the other hand, grew up in a middle-class family with parents who ran their own business and taught their kids to value hard work and responsibility. For her, going away to college was, as it is for many young people, a chance to escape the confines of diligent parents and a small community. She wanted to go a little wild, and Michael definitely was a little wild. The attraction was powerful – and superficial. Remember what I said about them having no foundation for building a family?
So, after Jillian turns down his marriage proposal and they split up, she has no choice but to stop being wild. She wants to be a responsible, loving mom, and she definitely is. It takes Michael a lot longer, but as he settles into building his own business, he does mature. To the point that he's intensely curious about the child he fathered all those years ago. He doesn't know exactly what he hopes for, but the last thing on his mind is reuniting with Jillian. Yet when they meet again, they find that the powerful physical attraction is still there. But there's more than that, this time around. As they take the time to actually get to know each other, there's an even deeper attraction.
Now here's something that surprised me. I wrote that comment of Jillian's about "foundation" right at the beginning of the novella. I never thought through the implications until I realized that architects know all about the importance of a solid foundation! So it turned out that I'd picked the absolute perfect profession for Michael. And in fact, the whole novella is about how, over twelve days, Michael, Jillian, and their Lego-loving son Cole construct a foundation out of sharing, fun, respect, liking, trust, and ultimately love. A rock-solid foundation on which to establish and grow their little family.
If your book was optioned for a movie, what scene would you use for the audition of the main characters and why?

[Because first kisses are always fun, how about this scene? It happens on the first night, and it shows Jillian and Michael's mutual attraction as well as their uncertainties and the tensions in their new relationship.]
Before she could angst it to death, she said, "Do you want to stay and help with the tree?"

Michael's dark, melted chocolate eyes, so like Cole's, lit up. "Really?"

She dropped her face into her hands and scrubbed her fingers over her tension-knotted forehead. Was this the right thing to do? She'd thought life was complicated back when she'd found out she was pregnant, but tonight took complicated to a whole new level. And in both cases, it was Michael's fault.

Warm fingers touched the back of her neck, feeling oh, too good. She jerked, the fingers fell away, and she gazed up to see Michael peering down at her, looking sympathetic.

"I'm sorry to do this to you," he said. "I was thinking of me. And of the child. I didn't really imagine how this would affect you."

"That's me," she said wryly. "Easy not to think about. Well, I didn't think of you all those years either. I didn't even realize how much Cole resembled you until I saw you tonight."

"And now here we are. Seeing you again . . . Well, it's hard to believe I'd more or less forgotten you. How pretty you are, how sexy."

She drew in a breath. He'd always been a charmer. No way should she be flattered, or stirred, by words that tripped so easily off his talented tongue. "I'm not the same woman. I'm a mother now. My idea of parties involves kids, parents, and cake."

"Cake's good." He smiled and reached out both hands. "And, by the way, you may be a mom but you're even prettier and sexier than you used to be."

Of their own volition, her hands fitted themselves into his and she let him tug her to her feet. Their bodies were only inches apart and she'd swear that an electric charge hummed back and forth between them. Now that he was touching her, it seemed impossible that she'd spared him so little thought over the years.

He let go of one of her hands and she should have thought "Good" and tugged her other hand free, but then he was reaching out to cup the back of her head and she was resting her hand on his shoulder, feeling the warm strength of the muscles under his Henley and aware of a faint, woodsy scent like sunshine on cedar boughs. And then she was rising on her toes as he tipped his head down, and oh God! their lips were touching and it was all there, all the passion she used to feel and maybe even more because she was sober now, and it had been so long, and he felt so amazingly, incredibly good, and right and—

"Jillian?" The loud call and double-knock on the door sent her thudding down, flat-footed and panting for breath, breaking contact with Michael.

"Coming, Dad," she called, struggling to control her voice.

Michael looked as dazed as she felt, which was a small consolation.
What do you want people to take away from reading this book?
A sense of perspective about making life-changing decisions. Would it have been "right" for Jillian and Michael to get married when she found out she was pregnant? Maybe they'd have made a go of it, but I'd say the chances were slim. But that's just my opinion. Others will say they should have – out of a sense of responsibility to their child, perhaps – and that they should then have committed to creating a happy, caring family. There's no correct answer, just what feels right to two people at the time.
I think that, ideally, a couple should only commit to a life together when they've taken the time to get to know each other mentally, emotionally, and physically. When they feel lust and love, yes, but also liking, respect, and trust. When they're good friends as well as lovers. When they share common values and when their visions of the future coincide.
But if they do commit, whether in haste or after serious consideration, then they should try their very best to make it work.
What are you currently working on? What other releases do you have planned for 2017?
I'm continuing with the Blue Moon Harbor series. The first novel was "Fly Away With Me," which came out at the end of July. Eden comes to Destiny Island searching for her long-lost aunt, and finds a lot more than she'd reckoned on! It's an attraction-of-opposites story – though as is often the case with those, the lawyer from Ottawa (Eden) and the seaplane pilot from Blue Moon Harbor (Aaron) turn out to have some important things in common.
"Blue Moon Harbor Christmas" is the second title.
The third story is another novel, "Come Home With Me," which comes out at the end of December. It's a second-chance story too, though in a different way than Jillian and Michael's. Miranda and Luke, both of whom are single parents, don't share a past, but they've both been burned by love: her by men who've dumped her, and him through the death of his beloved wife. They're both wary of falling in love – but, as with Aaron and Eden, and Jillian and Michael, destiny – or, rather, Destiny Island – doesn't give them much chance of resisting!

Thanks for blogging at HJ!
Giveaway:

I'm giving away a print copy of "Winter Wishes," autographed by me. The giveaway is open internationally.
To enter Giveaway: Please complete the Rafflecopter form and Post a comment to this Q:

What do you think needs to exist between two people in order to make and honor a life-long emotional commitment?
Excerpt from "Blue Moon Harbor Christmas" in Winter Wishes:

[This comes just before the excerpt above.]
"You live in your parents' house," Michael said. Jilly had brought him over to the one-story wing of the house, which he realized had been made into an apartment for her and Cole.

"It works for all of us, being close like this. Wait a minute. I'm going to take pajamas over for Cole to change into."

Waiting for her to return, Michael remained standing where she'd left him, gazing around the L-shaped living room and dining alcove. She'd done a nice, if not terribly creative, job with the space: simple wooden furniture with brightly colored cushions, framed photographs of scenery and of Cole on the bluish white walls, a basket of wood beside the fireplace, and an Ikea shelving unit holding a medium-sized TV as well as a collection of books, Legos, and other toys. Holly wreaths, twinkly lights lining the shelving and the window frames, and a nativity scene left no doubt as to the time of year.

Jilly rejoined him and gestured toward one of the chairs. "Sit."

Just like her mom, issuing commands. He obeyed while she paced across the room and turned, hands fisted at her hips. The natural look suited her better than the pile of makeup she used to wear. She was still slender, but a few extra pounds made her more womanly and even sexier.

Not that her defiant stance and narrow-eyed expression were all that sexy. "Why are you here? Are you stopping the support payments? Because if so, we can do just fine—"

"No." He cut off the flow of words, leaning forward, his hands gripping his jean-clad knees. This wasn't the time for lust—though it was hard to ignore the sheer physical desire he felt for her—but for seriousness and honesty. "I have no intention of stopping them. Ever. Well, at least until Cole's finished university, or whatever kind of training he wants to do."

Might the boy, with his fondness for Legos, decide to become an architect? Michael had believed that his parents' insistence that he study medicine or law was about status and income, but now he wondered. Had they felt the urge to see their child share their interests? "He's a great kid, isn't he? And he looks like me." It had stunned him, that first glimpse of mini-him.

"Yes, he's great and yeah, he does look like you." She didn't sound happy.

"Sorry. I guess that's not exactly fair. You put in nine months of pregnancy, had to deliver him, and you've raised him, where all I did was have a good time with you one night." Was there a man in her life now, sharing those sexy good times with her? Playing a fatherly role with Michael's son? For some selfish, primitive reason that didn't bear analysis, he hoped not.

"I have to admit, those thoughts crossed my mind." Still glaring from across the small room, she went on. "But, Michael, you still haven't said. Why are you here?"

"I didn't think this through as well as I should have," he admitted. "I wanted to see Cole. Do you realize I didn't even know if our child was a boy or a girl?"

"You never asked. Never wanted to know."

"No. But I started wondering. Especially since I turned thirty and realized I'm actually an adult."

"Married?"

He shook his head. "Not even close. Being a husband doesn't appeal. But it hit me that I'm a father. Or"—he held up a hand before she could protest—"okay, more like a sperm donor. But I wondered if . . . maybe I could, I don't know, be part of his life. Maybe."

"You maybe want to be part of his life, maybe? What does that mean?"

"It means I don't know, okay?" He scrubbed a hand across his jaw, realizing he'd been in such a hurry to drive here from the B and B, he hadn't taken time to shave. "I don't know what I want. And before you point it out, I know I don't have any right to want anything, and you don't have any obligation to go along with me. But I kept thinking that there was this kid I'd helped to create. And maybe I owed that kid more than money. Or perhaps it's more selfish than that, just my curiosity or ego or something." It really was cool that Cole resembled him and played with Legos. "That's what I'm saying. I don't even know what I want."

She gave a huffy snort, but relaxed enough to perch on the edge of the chair opposite his. "You used to be more articulate."

He still was, when it came to his work and to the women he dated. "Now my words aren't fueled by drink. They're connected to my brain and my brain honestly doesn't know what it's thinking. I'm not trying to be mysterious or obscure or . . . or to totally annoy or frustrate you. I'm being honest here."

Her face softened, something that had been rare tonight. It made her even more appealing, and again he had to battle against arousal. "Okay," she said. "I kind of get it. But, Michael, if you don't know what you want, how can I react? I have to protect my son."

"I see that. You're a mom. It's weird." At her raised-eyebrow expression, he went on. "I mean, I only knew you as a party girl. Of course I realized, objectively, that you had a baby. But I never formed an image of you being all domestic and maternal. You were just, you know, hot."

"And now I'm maternal."

"But still hot."

She sucked in a breath and that thing, that same chemistry thing, arced between them. He wondered, if she wasn't in a relationship, was there a chance the two of them— No. What was he thinking? He'd come here because of the child. "So I wanted to see Cole and see if . . . see how . . ."

"To see if Cole measured up?" She jerked her head in a motion that made her blond curls dance under the light of a floor lamp. "To see if you thought he was worthy of your attention?"

He shook his head. "No. More to see if I could imagine myself being, uh, paternal. Being a part of his life."

"Do not tell me you want to share custody and have Cole spend half his time in Toronto. That is totally not happening." Sky-blue eyes couldn't literally spit fire, but hers came close.

"Of course not." That thought had never, not once, crossed his mind. "But I thought maybe I could spend time with him. With you present, or however you want to do it. Get to know him. See if . . . we form a bond." They'd already started to, over broccoli and Legos. "And if we did, then I could fly out and see him sometimes." If that happened, would he break the news to his parents and his auntie that he had a son? They'd been after him to settle down, to start a family, and he could imagine their shock at finding out about the youthful indiscretion he'd kept a secret for years and years. They'd end up being happy, though, and they'd want to meet Cole—and how would Jilly react to that?

"At your convenience? Cole has a stable, happy life. He has a family. He doesn't need a stranger getting him confused. If you tell him you're his father, and then see him, like, twice a year, I don't see how that'd be good for him."

"I don't know, Jilly. As I said—"

"Don't call me that. My name's Jillian. Jilly was the Toronto me."

"Okay, fair enough. Anyhow, as I was saying, I don't have a clear picture of how this might go. Can I spend a little time with him and we can take it from there?"

She sighed, her shoulders rounding, and he realized what a burden he'd laid on her.

"I suppose," she said. "But we're not telling him you're his father. Being a father's about more than just genetics."

"I hear you."
Excerpt. © Reprinted by permission. All rights reserved.


Book Info:
Jillian and Michael have nothing in common—except the child two reckless college students created eight years ago. When Michael unexpectedly asks to meet his son, they have the twelve days of Christmas to get to know the adults they've become—adults who just might be ready to fall in love for real.
Book Links:

Meet the Author: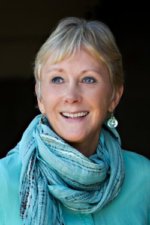 International bestselling author Susan Fox "knows what women want in contemporary romance" (Publishers Weekly). Her books have won numerous awards and "Love Somebody Like You: A Caribou Crossing Romance" was a RITA® finalist. Her latest series is Blue Moon Harbor, from Kensington Zebra. A resident of both Victoria and Vancouver, British Columbia, Susan has degrees in law and psychology, but would far rather be writing fiction than living in the real world.
Website | Facebook | Twitter | Instagram | GoodReads |