Today it is my pleasure to Welcome author
Tara Pammi
to HJ!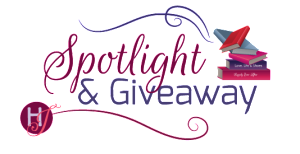 Hi Tara and welcome to HJ! We're so excited to chat with you about your new release, Bought For Her Innocence!

I love being here, thanks!

Please summarize the book for the readers here: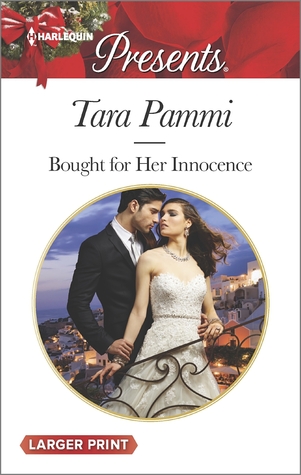 Virgin Pole Dancer Jasmine Douglas asks childhood friend turned into Playboy Billionaire Dmitri Karegas to buy her in a virginity auction and get her out from the clutches of an underworld boss!

Please share the opening lines of this book:
"I HAVE A proposition for you, Jasmine, that would allow you to pay off your brother's debt within a year."
Fear was a cold fist clamped over her spine, but Jasmine Douglas forced herself to stare steadily into the chilly green eyes of Noah King.
That word proposition from any other man of her acquaintance, while wholly unwelcome but an awful reality of her life, was something she was used to.
Please share a few Fun facts about this book…
The idea of virginity auction came to me from a real online article I read.
The song that was on repeat all through this book was Take Me To Church by Hozier. It suits Dmitri perfectly.
There's a scene in which Jasmine pole dances for Dmitri that is not in the book. 🙂 😉
If your book was optioned for a movie, what scene would you use for the audition of the main characters and why?
It would be the scene in chapter 3 in the elevator: Dmitri and Jasmine are seeing each other after five years and sizing up each other. And in the enclosed space, there's something new between them other than the pieces of their past friendship – this new awareness of each other. Dmitri, who think he's poison for any woman, doesn't want to be attracted to Jasmine and Jasmine, who hates him for turning back on her and her brother, definitely doesn't want to be attracted to him.
"DECIDING THAT HE would protect her at any cost was one thing, Dmitri decided as Jasmine devoured him with those wide eyes.
The actual logistics of what he would do with this wild creature were quite another. With lush breasts and narrow hips that swayed with every step she took, from the way she tucked that tumbling jet-black hair behind her ear to the pouty mouth that came from no injection, Jasmine was not simply beautiful, but stunningly sexy."

"The four walls of the lift were glittering mirrors that showed her a stunningly gorgeous face.
Her femininity, beaten down and stuffed into a bag, roared a primal scream of joy at the sight of the magnificent man in front of her. Every inch of her—from her skin to her breasts, from her cells to her core, stood to attention.
His legs crossed at the ankles, his hands gripping the wall behind him, he filled the space with his masculinity. Something else burst into life in that enclosed space, swelling and arching, until Jasmine felt like there was a hum inside her every nerve.
Even at sixteen, he had had arresting features, but now…the power he exuded and his command of the world filled the planes and angles of his face, making him a lethal combination of stunning looks and effortless masculinity.
Long, curly lashes kissed cheekbones that were honed so sharp that it was like looking at the work of a master sculptor. Deep-set gray eyes studied her just as hungrily as she studied him. As if he knew her volatile reaction to his nearness."
What do you want people to take away from reading this book?
That there are second chances in life for everyone. Jasmine's self esteem has taken a beating after her stint as a pole dancer and Dmitri thinks he destroys everything he comes near. But they find out they are perfect for each other if only they can give each other and themselves, a second chance.
What are you currently working on? What other releases do you have planned for 2015?
I've just begun working on a new Harlequin Presents that is part of a continuity with three other others – these stories are going to be so good!
My next release is The Sheikh's Pregnant Prisoner in February 2016 – New York nurse Lauren Hamby travels to exotic Behraat thinking her lover is dead only to find that he's the High Sheikh of Behraat and also the father of her unborn child – fireworks ensue!! 🙂

Thanks for blogging at HJ!
Giveaway:

One signed paperback copy of Bought For Her Innocence – open internationally.
To enter Giveaway: Please complete the Rafflecopter form and Post a comment to this Q: Jasmine hides the fact that she was a pole dancer from Dmitri because of the shame she feels.
Please share one thing that you had done ( not a crime 🙂 that you wouldn't want your better half to ever know…:)
Excerpt from Bought For Her Innocence:
Jasmine had never seen him smile like that.
Innocence had never been a luxury they had been afforded and for as long back as she could remember of her childhood, Dmitri had been in it. And not this smiling, outrageous playboy who looked as though nothing touched him…
The expression in his eyes was dazzling, wicked, and not…completely real. He knew what his outrageous remark would do and he had used it to deflect attention from him and his wound.
That smile was a practiced facade, she thought with a frown.
Leah shook her head. "Dmitri, stop taunting him. And Stavros, really, enough with the caveman—"
"Tell your husband that I'm not sixteen anymore and he doesn't need to patch me up." This was Dmitri again, winking wickedly at Leah. "I had hoped you would have cured him of all this duty nonsense in your bed, pethi mou."
A curse flew from the deceptively calm Stavros.
"You're his wife?" Jasmine said to the blushing Leah, realizing she had spoken out loud when Dmitri looked at her.
"Who did you think she was?"
Challenge. Dare. Belligerence. All of it wrapped in a smooth tone.
With three sets of eyes resting on her, Jasmine flushed but refused to let him embarrass her. She poured defiance into her tone. "Your current squeeze."
"I'm sorry." She said this to Leah, who was shaking her head at both men.
"Don't be." Leah smiled. "Dmitri is being his usual beastly self. I'm Leah Sporades. Giannis, their godfather, was my grandfather."
Jasmine stood awkwardly as Stavros and Leah argued with Dmitri with an obvious familiarity while he threw outrageous remarks at them.
I knew him before you did.
The errant thought dropped into her head and she sent a startled glance towards Dmitri.
His gaze stayed on her, intense and brooding, as if he would like nothing but to skin her alive with his words. Seconds piled on as that same awareness locked them in their own little world. What would happen when his friends left?
Running a hand over her forehead, she looked away. The faster she got out of here the better.
She grabbed the kit from the unsuspecting Stavros and turned to Dmitri. "Stop with the macho posturing and sit down. The cut is on the far left side and you're left-handed."
His grin vanishing, Dmitri looked at her as if she had suddenly sprouted two heads.
She sighed. That mutinous, wary expression in his eyes, that she remembered.
"Strip, Dmitri."
"Usually I'm filled with uncontainable anticipation at that command from a woman," he said with an exaggerated leer, "but give back the kit to Stavros, Jasmine."
Unbuttoning his shirt, Dmitri pulled it off his wound. Only a jerk of his mouth betrayed his pain as he balled it and threw it away. Ridges of leanly sculpted muscles defined his broad chest, only a smattering of dark hair dotting the olive-toned skin.
Her cheeks instantly tightened, her mouth dry as Jasmine tried to not stare. She took a step towards him, determined to act normal. "I'll make it fast."
Dmitri glared at her. "I'd rather you not touch me at all."
"Why not? I've sewed up so many of Andrew's wounds growing up that I—"
"Like Stavros pointed out so well, we don't know where you and your hands have been. And yes, you are super tough to have made it all on your own for so many years… But we both know that you are a little fragile right now, ne?
"You were crawling all over me on the bike and—"
"Because you were driving like a maniac," she yelled, her face heating up.
"—and a minute ago, you got upset at the sight of the small gash. I'd rather you not look at me with those sad, puppy eyes while you tend to me as if this was some grand reunion that we both have been breathlessly waiting for, for years. My generosity towards you is fast disappearing and the cut burns like hell."
The kit fell from her fingers, thudding like a drum in the silence.
There were so many offensive things in there that for a second, she couldn't even sift through them all. Only stood weightless while the cruelty in his words carved through her.
Then the slow, merciful burn of humiliation spread across her throat and cheeks, merciful because anything was better than that hollow ache, her ribs squeezing her lungs tighter and tighter.
His words should not have touched her. He was nothing to her. She had hated him for years on principle. And yet his words knocked the breath out of her.
Was it because she had never been so literally saved from a situation before? Because, for most of her life, she had only depended on herself and seeing a man like Dmitri come to her aid was warping her sense of reality?
Or was she just like her mum, after all? One kind word from a man and she was ready to fall over herself and into his arms?
She struggled to hold his gaze but she did, pouring all the hatred, for him and for herself, into that look.
"You're right. I'm not myself…" She drew in a shuddering breath. "And you…you're not…"
His face was a tight mask over his angular features, his eyes suddenly hauntingly vulnerable. "Do not assume to know me, Jasmine."
She shook her head, feeling immensely weary. "No, I don't, do I? Have your cut looked at or let it fester and rot you, for all I care. I need a little more of your precious time and then I want out of here."
Holding her shoulders rigidly, she turned.
Excerpt. © Reprinted by permission. All rights reserved.

Book Info:
$100,000 for her virginity. Going once, going twice…
The money isn't an issue for Greek tycoon Dmitri Karegas. He has plenty of that. It's her. Jasmine Douglas, the only one who knows the depths of depravity Dmitri dragged himself up from. And now only Dmitri can help when she's forced to put her virginity up for sale.
Sold to the highest bidder!
Yet Jasmine is not the sweet girl he remembers. She's a wildcat who hates him with a vengeance. But beneath that lies an undeniable chemistry. Now Dmitri must decide what to do with her…and her innocence!
A passionate read for Christmas nights!
Book Links:

Meet the Author: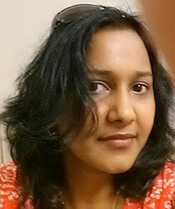 Tara Pammi can't remember a moment when she wasn't lost in a book, especially a romance which, for her, was much more exciting than the workings of an internal combustion engine. Before long, she was hiding romance novels within bigger textbooks, smuggling them into the home through her unsuspecting younger cousin's school bag, and cycling more than a few miles to her favorite library to borrow more.
One fine day, toiling away as a grad student in a basement lab, Tara started typing the beginning of a story instead of her thesis. But it wasn't until a Masters degree and two jobs later, encouraged by her real life hero, Tara realized what she truly wanted to do- Write!
Tara lives in Texas with her real life hero and her two little girls. When she isn't writing or reading, Tara can be found failing in the kitchen, watching TV or making resolutions to exercise more, or even a little.
Visit Tara at www.tarapammi.com
Website | Facebook | Twitter |