Today it is my pleasure to Welcome author
Darynda Jones
to HJ!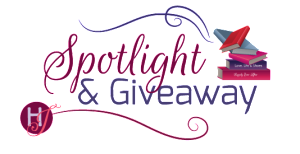 Hi Darynda and welcome to HJ! We're so excited to chat with you about your new release, Brighter Than the Sun!

Hello! Thank you for having me!

Please summarize the book a la Twitter style for the readers here: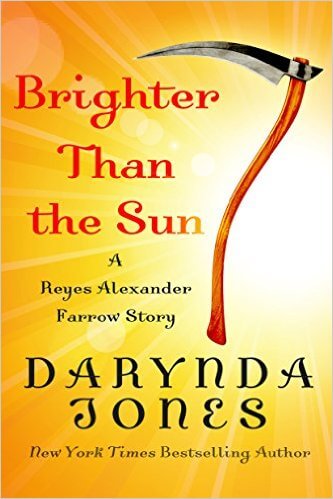 Brighter Than the Sun is a Reyes Farrow POV prequel novella that is full of darkness and terror and the healing power of light.

Please share the opening lines of this book:
I'm curled in a corner of the basement, shivering like a little bitch and licking my wounds from the latest encounter, when I hear my sister crying at the door. I try to assure her I'm okay, but the edges of my vision darken and a beckoning light appears in the distance. I collapse and drift toward it. Weightless. Ethereal.

I always drift toward it.

Not literally. I've been locked in the basement by a psychopath. I don't get out much. But mentally.
Please share a few Fun facts about this book…
It's a Reyes Farrow POV Prequel.
It includes the first time he saw Charley Davidson. And the first time she touches him. The first time she summons him to her.
In one scene, Reyes catches reading Charley first romance novel under a tree when she was in high school.
We get to see the first time Reyes met his best friend, Amado Sanchez, and their instant friendship.
We also get to see how his "sister" Kim came into his life.
What first attracts your Hero to the Heroine and vice versa?
She takes sarcasm to a whole new level and he is dark and mysterious and jaw-droopingly sexy. They are just so fun to write.

Using just 5 words, how would you describe Hero and Heroine's love affair?
Fierce, ethereal, volatile, sexy , eternal.

The First Kiss…
In this scene, Reyes is in a hospital, feigning unconsciousness, and Charley is not making it easy.
She steps closer and her warmth is intoxicating. The attraction even more so. I feel the pull of her interest. The rush of her desire. Her hip brushes my arm. Then her fingertips brush over my shoulder.

"Reyes Farrow," she says, her voice cracking with emotion. "Please wake up. They are going to turn this machine off if you don't. Do you understand? Can you hear me? We have three days."

She leans closer and I can smell the coconut shampoo she uses. The exotic perfume she dusts lightly on her skin. The underlying scent of her feminine being. I fight the pressure building under the sheets with a mental curse. I can't even smell her without getting hard, for fuck's sake.

Then she makes it even harder. Not my cock, but my ability to order him down. She lowers her head and puts her mouth on mine. Her lips are sweet and warm, but the electricity that passes between us is like lightning.
Without revealing too much, what is your favorite scene in the book?
There is a scene where three girls have decided to have the hero, Reyes, judge them in a kissing contest. It's cute and fun and they realize pretty quick they are in a little over their heads.
Here is a peek:
Since I'm killing time anyway, we go to a grouping of trees just past the swings. Kim eyes me, worried. I avoid her probing gaze. She bites her lip and lets the swing sway back and forth as we disappear behind bare, weathered timber.

I'm sore and I try not to wince when we walk up an incline, where I drop my hoodie on the ground. I put my hands in my jeans pockets. Lean against a cottonwood. And wait for them to make the first move. Because they always make the first move.

The first contestant walks up. A pretty blonde with thick eyeliner and clear lip gloss.

"Ready?" she asks. Her heart is beating fast. It pounds in my ears.

I nod.

A shy smile spreads across her face and she leans in. Presses her mouth to mine. Then her body. I don't miss the fact that her hips rub against my crotch during the kiss. A kiss she deepens by sliding her tongue inside my mouth. She tastes like peaches. I leave my hands in my pockets. This is their game. It's up to them how far they want to take it.
If your book was optioned for a movie, what scene would be absolutely crucial to include?
This is a scene from First Grave on the Right, which was in our heroine Charley's POV, but from Reyes's. They are in high school and she interrupts a brutal altercation.
Through the fog, I hear the kitchen window shatter. I blink back to consciousness and look past it to the girl standing on the sidewalk outside. Half her face is covered with a scarf, and a hat hides her hair.

She yells something about calling the police, and Earl is up in a heartbeat. I take the opportunity to run. I go toward our bedroom, but Earl is right on my heels.

Kim screams at me. "Run! Get out!"

So I do. Like the coward I am, I run for the door. Earl trips and is no longer breathing down my back, but I don't slow down. I crash into the hall, past the other apartments, and out the back door, where I stumble into a chain-link fence behind the building. I use it to leverage my weight—wrapping my fingers in the links as I navigate the uneven, frozen terrain barefoot—and manage to make it to a Dumpster. Which is appropriate, given the circumstances.

I fall onto all fours and try to calm my racing pulse. Dry heaves pump my stomach for several long moments, but nothing comes out. My breaths are ragged and wheezy, the air in my lungs struggling to get through my burning throat.

I hear someone coming, but it's not him. I know the sound of his footsteps. On carpet. On wood. On gravel. The footsteps I hear are lighter, and there are two sets of them. They stop near me. I can feel concern wafting off them, and it's the last thing I need. Their compassion. Their pity.

I look up, but they have a light focused on me and I can't see past it. I glare at them. At her. She got his attention. Now she needs to get the fuck out of Dodge. If she thinks he won't kill her because she's a pretty girl, she's sadly mistaken. I've seen him kill a man for a lot less than a broken window. The man wanted me. A broken boy. But not for the same reason Earl wants me. I've realized years later that he wanted to save me from Earl. He got too close, though. Asked too many questions. Pried a few too many times. And paid the ultimate price.

But this girl is just standing there. As though a rock through our window and the threat of a phone call will stop him.

I raise a hand to block the light. They think it's to block the light they are holding, so they lower it. It's not. It's to block her light. I've never seen it with my real eyes. It's blinding and brilliant and beautiful. I turn and spit out the blood that filled my mouth in the few seconds we'd been checking each other out, then look back at my two saviors.

"Are you okay?" she asks.

My ears are still ringing, but there is no mistaking the soft lilt of a feminine voice. Of Dutch's voice. It's just like in my dream. Or what I thought were my dreams.
I try to stand, but the earth moves under my feet. Dutch jumps forward to help me, but I back away. Livid that she is seeing me like this. At my most vulnerable. At my most whipped.
Readers should read this book …
…if they can handle the darkest side of humanity. This was a hard book to write and I've been told it's just as hard to read.
What are you currently working on? What other releases do you have planned for 2015?
This is my last release of 2015, but the next in the Charley Davidson series comes out January 5th, 2016.
Thanks for blogging at HJ!
Giveaway:

We are giving away a Brighter Than the Sun swag pack. Open internationally.
To enter Giveaway: Please complete the Rafflecopter form and Post a comment to this Q:

Brighter Than the Sun is a prequel from our hero Reyes's POV. How important is it to you to get the hero's side of the story? Any particularly good scenes or books come to mind?
Excerpt from Brighter Than the Sun:
My eighth year of incarceration turns out to be one of the more exciting. There is a riot. Almost. More like the beginnings of a riot, but it could've ended as badly as the one from the '80s if the inmates had commandeered a control room like they planned. New Mexico has a history of violence that few states can rival, and the energy in the old prison was volatile because of it. Toxic. Too much had happened there over the centuries. Too many deaths. Too many massacres.

The land on which the new prison was built doesn't have the violent history of the last one. It helps. But once a potential riot gets out of hand, it's difficult to gain control again.
But me? I'm Sweden. I'm nonpartisan. I'm neutral territory. I read in my bunk while my new cellmate goes out to party. He never takes me anywhere.

I do my best to stay out of it. I really do. But when a guard—one of the good ones, not the douche bags who think they walk on water—is taken hostage, I have no choice but to step in. Either that or live with myself, and God knows that's hard enough as it is.

I step out to see three men dragging O'Connell, the guard, toward the control room. He's bleeding at the temple and mouth and struggling for air. Partly because of his injuries and partly because of the pepper balls that have been shot into the dayroom. Tears are streaming down all their faces, and I'm starting to feel the effects of the pepper spray as well.

One inmate holds a shiv at O'Connell's throat. The second is wielding a wrench he stole when the rioters invaded the shop. And the third is telling him how he is going to decapitate him and use his dismembered body as a toilet. Only his words are, "I'm going to saw your head off and shit down your throat." I was paraphrasing.

O'Connell is terrified, and for good reason. These things rarely end well. I cross the catwalk through a ticker tape parade of toilet paper, trash, shredded bedding, and the occasional mattress.

The inmates at the end of the walk grow wary. The closer I get, the more nervous they become, but adrenaline has flooded every cell in their bodies. They'll be hard to stop. Well, harder than normal.

I lower my head as I walk forward. Glare from underneath my lashes.

They get more fidgety. The one with the shiv turns, positioning O'Connell between him and me. I curse under my breath when I realize O'Connell's been stabbed. At least twice. Nothing that can't be fixed, but he needs medical attention fast. I've learned that human bodies are much more fragile than my own. While his wounds would hardly faze me, they could be fatal to a mere mortal.

"Back off, Farrow," the shiv wielder says, holding it out proudly like a peacock displaying his feathers.

I smile and the guy resigns himself to fighting me. But what he wants is the guard. That particular guard, and I wonder why.
Excerpts. © Reprinted by permission. All rights reserved.

Book Info:
All his life, Reyes Alexander Farrow has suffered the torments of the damned. Only one thing has given him hope: the woman who radiates a light that no mortals can see; a light that only the departed can see…
Told from his point of view, BRIGHTER THAN THE SUN chronicles the first time Reyes ever encountered Charley, and how their relationship has been the one thing that can either save him or doom him.
Book Links:

Meet the Author: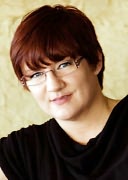 New York Times and USA Today Bestselling Author Darynda Jones has won numerous awards for her work including a prestigious RITA®, a Golden Heart®, and a Daphne du Maurier. As a born storyteller, she grew up spinning tales of dashing damsels and heroes in distress for any unfortunate soul who happened by, annoying man and beast alike. Darynda lives in the Land of Enchantment, also known as New Mexico, with her husband and two beautiful sons, the Mighty, Mighty Jones Boys.
Website | Facebook | Twitter |