Today, HJ is pleased to share with you

Maya Banks

new release: 

Brighter Than the Sun

Searing action and passion ignite the latest KGI novel from the #1 New York Times bestselling author of Darkest Before Dawn.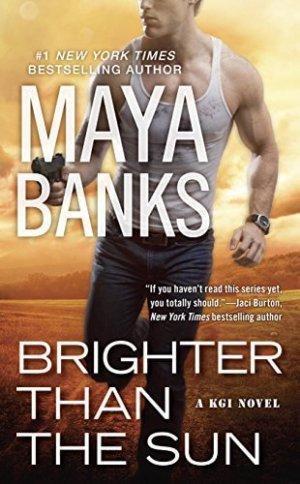 The Kelly Group International (KGI): A super-elite, top secret, family-run business.

Qualifications: High intelligence, rock-hard body, military background.

Mission: Hostage/kidnap victim recovery. Intelligence gathering.
Handling jobs the U.S. government can't…

As the last unattached member of the Kelly clan, Joe is more than ready to risk life and limb on any mission he's assigned to, but when it comes to love, he'll keep his distance. He's content to watch his brothers become thoroughly domesticated.

Zoe's had nothing but heartbreak in her life, and she's determined to start over with a completely new identity, thanks to her college friend, Rusty Kelly. But it's the gorgeous smile and tender words of Joe Kelly that begin to weaken her resolve to never risk her heart again. And Joe will have to put everything on the line to save Zoe, when secrets of her past resurface—and threaten to tear them apart…

Read an exclusive excerpt from Brighter Than the Sun:
The look on Marlene's face was priceless and applause broke out over the gathering. Zoe flinched, not realizing that everyone had obviously been privy to the entire exchange. Not only that, but they'd all gathered closer to Zoe, Rusty and Marlene and now stood only a few feet away.
"Wow, Rusty," a large, muscled man who had to be one of Rusty's brothers said. "It's always been Ma who instills fear in all our hearts, but now I'm beginning to think the real tyrant is you and that we should all be shaking in our boots."
Rusty rolled her eyes. "Oh please."
Then Zoe suddenly found herself thrust forward so that she was facing the impossibly tall, very muscled man.
"Garrett, this is Zoe, a friend of mine from college. Zoe this is Garrett, the second-oldest brother in the cult."
He laughed and then extended his hand to her. Trying to control the betraying tremors that seemed to pervade every muscle in her body, she tentatively slid her hand into his grasp. To her surprise, his grip was extremely gentle and his smile was genuine.
"Glad to meet you, Zoe. And welcome to the family. I've no doubt that Ma has already indoctrinated you into the cult as Rusty so irreverently deemed us."
"Glad to meet you too," Zoe murmured. "Rusty has told me so much about you all that I feel as if I already know you."
She instantly gave an inward grown. Way to go, idiot. Do exactly what Rusty said not to do. Open yourself up for more than you bargained for. But to her relief, Garrett's teeth gleamed all the more and he cocked an eyebrow in his sister's direction.
"I hope it was all good things. Like how I'm the best-looking and smartest brother."
There were muffled and some not so muffled choking sounds made in the group now surrounding Zoe and Rusty.
"I believe she mentioned that Donovan was the brains of the operation," Zoe said, unable to help herself, relaxing and returning his tease.
"That I am," another man said as he stepped forward.
To her surprise, he didn't shake her hand, but instead enfolded her in a gentle hug and then turned and introduced her to his wife and then to their two children, though Rusty had explained they were actually Eve's half siblings, Travis and Cammie.
Soon it became a muddled confusion as Zoe attempted to commit each name and face to memory. She had the names already, but now she needed to make sure she remembered which face went with each family member. Even before the introductions were complete, she was all but wilting. Never had she been made to feel so welcome or at home by complete strangers. Well, by anyone, anywhere, for that matter. It only brought home the fact that she was utterly ignorant of something as simple as family dynamics and it brought an unassuageable ache to her heart.
But then she noticed another man standing just off to the side, one she hadn't been introduced to yet. She searched her overwhelmed brain for who this might be, but all the family names—and God, there were a ton—blended together and she could barely recall the last few people she'd been introduced to, much less the ones who had come first.
On cue, the man stepped forward, his expression more intent than those of the others had been. Almost as if he'd been studying her and had found a discrepancy. His welcome didn't seem to be as automatic as all the others', and she immediately tensed in an effort not to give in to the overwhelming jitters that threatened to make her muscles quake.
"And this is the last of my brothers," Rusty said cheerfully, oblivious to the turmoil unleashed inside Zoe. "Joe is Nathan's twin, the older of the two by a few minutes or so."
His hand slid over her outstretched palm that she hadn't remembered extending. She was besieged with sudden awareness, an odd sensation snaking through every single muscle in her body. Though his expression was indecipherable, his touch was exceedingly gentle, almost as if he could sense her terror. And when he spoke, it was all she could do to suppress a full-body shiver.
"Welcome to our home, Zoe," he murmured.
Posted by arrangement with Berkley, a member of Penguin Group (USA) LLC, A Penguin Random House Company. Copyright © Maya Banks, 2017.
Giveaway:

Print copy of BRIGHTER THAN THE SUN(KGI Series #11) by Maya Banks
To enter Giveaway: Please complete the Rafflecopter form and post a comment to this Q:

What did you think of the excerpt spotlighted here? Leave a comment with your thoughts on the book…
Meet the Author:
Maya Banks is the #1 USA Today and #1 New York Times bestselling author of the Surrender trilogy, the Breathless trilogy, the Sweet series, the Colters' Legacy novels, and The Enforcers series.
She lives in the South with her husband and three children and other assorted babies, such as her two Bengal kitties and a calico who's been with her as long as her youngest child. She's an avid reader of romance and loves to dish books with her fans and anyone else who'll listen!