Today it is my pleasure to Welcome author
Adriana Anders
to HJ!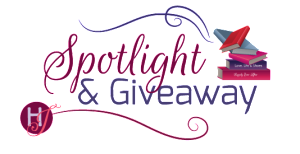 Hi Adriana and welcome to HJ! We're so excited to chat with you about your new release, By Her Touch!
Please summarize the book for the readers here: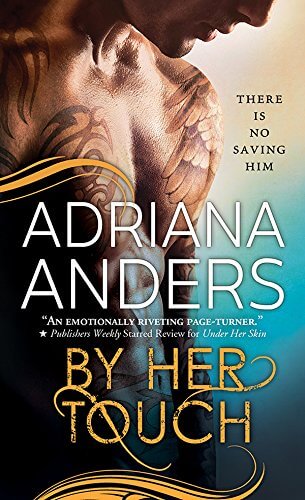 I've got lots of words to describe BY HER TOUCH, but I'll try to sum the story up in three sentences: Undercover ATF Agent Clay Navarro is a dead man. With the entire Sultans MC on his ass, not to mention the scars they put on his body and the tattoos they forced on his face, he's pretty much screwed. Until Dr. Georgette Hadley sees past the beast he's become and threatens to save him.

Please share the opening lines of this book:
The moment Ape's hand landed on his shoulder, Clay Navarro knew the game was up.

It could have been the look in the asshole's eye that told him, or the way his fingers dug into Clay's muscle way too hard to be friendly. Probably, though, it was that other thing—that elusive animal intuition that told you your life was about to end.
Please tell us a little about the characters in your book. As you wrote your protagonist was there anything about them that surprised you?
I was constantly surprised by Dr. Georgette Hadley (George). She's reclusive and lonely, but like pretty much everyone I've ever met, she's got a checkered past and that is what holds her back. While writing her story, bits and pieces of her past—along with

Did any scene have you blushing, crying or laughing while writing it? And Why?
Oh, God yes. There's a super sexy staircase scene in BY HER TOUCH that had me blushing in the coffee shop when I wrote it, back to the wall.
His hands tightened on her, helpless against her power, and he urged her up the stairs, half walking, half crawling, tripping in their haste and then staying down, the air leaving him with an audible whoosh. Because here was as good a place as any, wasn't it?
He was stuck, on his knees on the stairs, needy and wanting and ready for whatever she'd give him. He scooted up the two steps to where she was, took in the smile on her face when she turned to look at him, and then kissed it off. Hungry, God, he was hungry for her. He covered her with his body and lost it, grinding against her with blind, animal urgency. Before he could think it through, he pushed her skirt up and shoved two fingers past her panties where they sank into her hot, hot pussy.
And I cried when Clay and George dance on her porch to Hallelujah (Jeff Buckley version). It's that magical moment in the book
when Clay falls for George, although he doesn't quite realize it yet.
"May I have this dance?" he asked, holding out his hand to the strains of heavenly guitar.
George stood. "Are you sure this is a good idea?"
"What?" Clay asked. "You think this is more dangerous than what we did on the steps? In the shower? Your bed? Your goddamn office? It's just a dance," he lied.
She looked at him, her eyes big and liquid. "It's never just anything with us, Clay, is it?"
God, he loved the sound of his name on her lips.
He pulled her into his arms, probably too warm for this heat, but so elemental that temperature didn't matter.
Your own skin is always just right, after all. Slowly, he moved, and their bodies shifted together to the sad, sad music, with nobody but a cat and bats and a million little insects to witness them.
Her head felt perfect on his chest, over his collarbone, and he danced—something he'd never thought
to do again.
Finally, finally, the song came to its mournful end, and they stilled, standing together, breathing—just
breathing. And, through the deafening white noise, he could feel one thing perfectly: the beating of this woman's heart against his.
"Jesus, lady," Clay whispered into the top of her head. "What the hell are you doing to me?"
Excerpt. © Reprinted by permission. All rights reserved.

Thanks for blogging at HJ!
Giveaway:

Print copy of By Her Touch (Blank Canvas) by Adriana Anders
To enter Giveaway: Please complete the Rafflecopter form and Post a comment to this Q:

I'm one of those weirdos who cries at love scenes in romances. I don't know what it is—maybe the intensity of the dialogue or the tension in those more cathartic scenes, but a well-written sex scene gets me very emotional. What type of romance or scene gets its emotional hooks into you?
Book Info:
He thought he was beyond saving.
A cop turned undercover gang member turned…whatever he is now.
He thought no one would ever see him as anything but a beast.
Until he found her.
Until she changed everything.
Undercover cop Clay Navarro left the Sultans biker gang a changed man. Its ringleaders may be awaiting trial, but he wears the memory of his time in that hell tattooed across his skin. He figures he doesn't have space in his messed-up life for anything gentle?not now, maybe not ever.
Besides, what woman could possibly want the man he's become?
Dr. Georgette Hadley is drawn to the damaged stranger's pain, intimidated but intrigued by the warmth that lies beneath Clay's frightening exterior. She thrills at the way he gentles at her touch…and under his rough hands, she burns with a passion she never thought she'd know.
But when the Sultans return looking for revenge, Georgette finds herself drawn into the dirty underbelly of a life forged in violence…that not even her touch may be able to heal.


Meet the Author: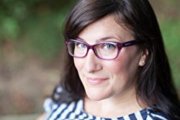 Adriana Anders has acted and sung, slung cocktails and corrected copy. She's worked for start-ups, multinationals and small nonprofits, but it wasn't until she returned to her first love—writing romance—that she finally felt like she'd come home. Today, she resides with her tall French husband, two small children and fat French cat in the foothills of the Blue Ridge Mountains, where she writes the dark, gritty, emotional love stories of her heart.
Her debut novel, Under Her Skin, the first in the Blank Canvas series, won best unpublished contemporary romance with both the New Jersey Romance Writers and the Heartland Romance Writers.
Find her at:
Website: http://www.adrianaanders.com/
Facebook: https://www.facebook.com/adrianaandersauthor/
Twitter: https://twitter.com/AdrianasBoudoir
Pinterest: https://www.pinterest.com/adrianasboudoir/
Instagram: https://www.instagram.com/adriana.anders