Today it is my pleasure to spotlight six brand-new sports romances from Carina Press!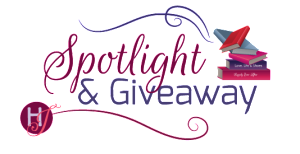 This week is Carina Press's first Sports Week, and they published six contemporary sports romances on Friday. Hockey, rugby, football, baseball, MMA, tennis—there's something for everyone! The authors are here today sharing some of their favorite scenes and giving you a chance to win one of their books. Enjoy!
The Ace by Rhonda Shaw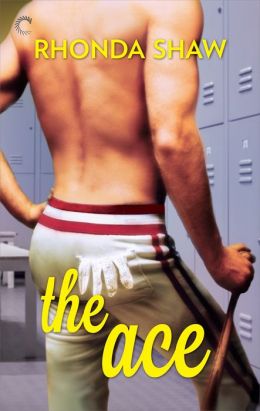 Real estate agent Karen Bentley has a not-so-secret crush on the Ace of the Detroit Rockets, Jerry Smutton, and is ecstatic when he asks for her help in finding a house. Both are attracted to each other, but both want a relationship like they want a hole in the head. Jerry is curious if Karen is game for some no-strings-attached fun and proposes a friends-with-benefits arrangement. Karen full-heartedly agrees and expects him to take advantage of those benefits immediately as she's eager to get her crush naked and horizontal. Jerry, however, has different plans. I love this entire scene because it really illustrates Karen and Jerry as a fun couple with the easy, playful banter between them. It makes me chuckle every time I read it and I hope it makes you laugh too. Enjoy!
Snippet
Fully expecting and hoping he was going to take advantage of their new agreement immediately, Karen was startled, and disappointed, when she saw they were not heading back to one of their places. "Where are we going?" she asked.

He nodded down the street where she could see the glow of lights surrounding a miniature golf course. "You game?"

It appeared he wasn't kidding when he said he wanted to go to arcades with her. She smiled at him. "Not only am I game, but I'm going to kick your ass."

Jerry grinned as he twined his fingers with hers—an action that, she noted with some unease, felt completely natural. "I'll take you up on that challenge. But to make it interesting, I think we should wager something."View Spoiler » "Oh, a bet. I like the way you think."

"How about this? If I win—"

"Don't say something stupid, like 'You have to do whatever I want,'" she interrupted.

"Let me finish," he said and put his hand over her mouth. "If I win, you have to do whatever I want. Ow!" he cried with a laugh, as she jabbed him in the ribs. "Well, then you come up with something."

"Hmmm," Karen said as she thought it over. "If I win, you have to bring home the pennant. If you win, I have to chauffeur you around in your car."

"Wow," he said as he pretended to think it over. "It doesn't sound like you're losing on either end."

She gave a derisive snort. "Who'd want to be seen in that piece of crap you drive?"

Jerry smirked as he looked down at her. "Win the pennant, huh? That's quite a wager for one measly game of putt-putt."

She shrugged. "I don't know. It doesn't sound that bad to me."

He laughed as he stepped up to the booth and paid for them both. Grabbing two balls, he handed her a pink one.

"Why do I get the pink one? Sexist."

He rolled his eyes. "What color do you want, my dear?"

"Yellow."

He grinned as he grabbed a yellow ball. "Yeah, that's not a girly color at all."

Karen ignored him as she strutted up to the first hole of the pirate-themed golf course and placed her ball in the small indentation. "I'm going first," she announced.

"I see that," he said from behind her.

Lining up the shot, she gently tapped the ball and watched as it rolled down the middle of the green before ricocheting off a wedge, which guided it right into the cup. She smiled sweetly at his look of shock at her hole in one. "I believe I'm winning."

Jerry gave her an amused look before he leaned down to set up his putt. "I'm sensing a home field advantage here."

"Whatever. That's just an excuse." « Hide Spoiler
On the Surface by Kate Willoughby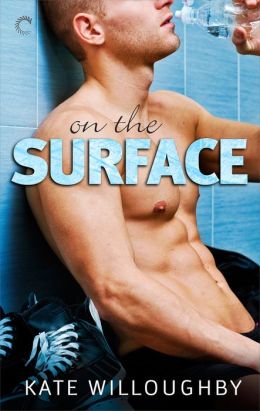 Erin's a nurse, so when hockey player Tim Hollander gets hit with a bad case of food poisoning, she accompanies him back to his hotel room to make sure he'll be all right. He's just been traded to San Diego and she worries that he may get dehydrated and, as a pro-athlete, try to tough it out. When this scene opens, both are on the bed, it's the wee hours of the morning and the worst is over. I love this scene because hopefully the reader can see a connection being made between Tim and Erin. Tim's sense of humor comes out and we get a glimpse of how boyishly charming he can be.
Snippet
"Hi," he whispered.

He smelled like soap and his hair was damp. He must have showered and she hadn't even heard him.

"Hi," she whispered back.

"I tried not to wake you up."

While you were in the shower. Naked. Six feet plus of sculpted, wet muscle.

"How are you feeling?"

"Better." He turned to face her. "But it was rough going there for a while."View Spoiler » She nodded in sympathy. "I know. Food poisoning is the worst. You think you're going to die."

Even in the darkness, his eyes twinkled. "I'd have preferred death. I'd have preferred a stick to the face. At least that's over quickly."

"You need to drink something. Water or watered-down juice. I'm sure you're dehydrated."

"I had some water before. I'm good."

She put a hand on his bristly cheek. He didn't feel clammy anymore nor did his voice waver like it had before. "Okay, I think you're past the worst of it so I should probably take off."

She started to get up, but he reached out and touched her arm.

"Wait. You must be as tired as I am. You don't have to go."

She hesitated. After getting probably less than three hours sleep, she really was still exhausted.

"You should just stay a little longer," he said in a low, rumbly voice. "We'll both get some more shut-eye, then I'll take you home. Do you have to work tomorrow? Today, I mean?"

"No, it's my day off." She bit her lip with indecision. "But, I really should go home."

He slid his hand down her arm and took her hand. "What if I have a relapse?"

She laughed but didn't remove her hand from the warmth of his. Her arm tingled where he'd touched her. "You won't have a relapse."

"You don't know that. I'm a sickly guy. It's pathetic. I've been thinking about hiring a personal health assistant for a while now."

"That is the biggest load of crap I've heard in a long time. Personal health assistant."

He grinned. She noticed he had exceptionally nice teeth. They gleamed in the dark hotel room. "It's the latest thing for the all-around athlete. Trust me."

She sighed, reconsidering. There were worse things she could imagine than getting a couple more hours of sleep. It wasn't as if he was going to jump her. He didn't have the energy, even if he wanted to. Besides, she'd left her car at the hospital and she didn't really want to shell out the money and wait for a cab.

"How much do personal health assistants get paid?"

He thought about it and then faked a yawn. "Wow. I'm suddenly really, really tired."

She laughed.

"Yeah, I don't think I can keep my eyes open much—"

He shut his eyes and let his mouth drop open in a loud, phony snore.

"You're a funny guy," she said.

The snore continued, louder.

She smothered her giggle. "All right. You win. I'll stay."

He opened one eye, smiled and said, "Good."

And he didn't let go of her hand.  « Hide Spoiler
Tap Out by Michele Mannon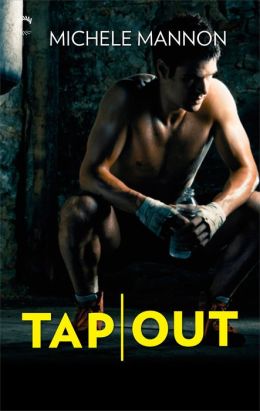 Nothing will get in the way of disgraced shock jock Sophie Morelle's return to television, not the challenges of filming an MMA documentary, not underwear model turned welterweight, Caden Kelly, and especially not the impossible task of cozying up to the hottest ticket around, given Caden's long-standing grudge against her. In this excerpt, Sophie is trying to catch up with the MMA fighters on tour, but her BMW is stuck in traffic. As bad luck would have it, she's trapped right beneath Caden's billboard. I loved writing the banter between two friends, and Sophie's grit determination. Enjoy!
Snippet
"I'll interview the fighters at each stop, film some footage of a bunch of gung-ho guys preparing for Tetnus, and in a few days, we'll have some fun in Vegas while they slug it out. We'll be driving back to Pittsburgh in under a month."

Sophie drummed her fingers on the soft leather doorframe, praying her words would ring true. "One shame-faced journalist, with one tiny camera, on a mission to interview a busload of bulked-up, testosterone laden fighters."

"A bunny in a wolves' den."View Spoiler » "Exactly." Sophie paused, looked at Lauren, and winked. "And because of this traffic, I've had time to figure out their appeal. Or at least the new angle I'm taking, one that will have American women trading in their football jerseys for MMA T-shirts."

"I think the bunny's lost her carrots."

Lauren's gaze lifted, and so did her lips, into very knowing female grin. Sophie's gaze followed.

From this vantage point, ultimate package appeal was hard to miss.

Sophie's eyes narrowed as she considered the billboard. "No telling what might happen after I get an exclusive on him…"

"Hate to say it, but you tried that once before, and look how that turned out."

She ignored the comment. After all, the one fighter who'd make even a Sunday afternoon knitting group sit up and take notice was staring her in the face. "Do you think he's a legitimate fighter? Hard to imagine someone so attractive, so dang sexy, getting his nose bashed in."

Lauren laughed, deep within her throat. "Hmm, his mad fighting skills might be the only truly legitimate thing we know about him. That and all his naughty extracurricular activities, like that scandal with the model. A nun would have found it impossible to ignore those weekly tabloid play-by-plays. Quite a lover and a fighter, our boy Caden is."

"Well, his package is legitimate. No question about that."

Legitimate was putting it mildly. « Hide Spoiler
Imaginary Lines by Allison Parr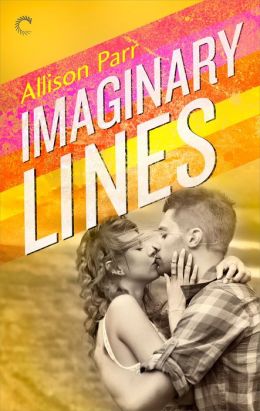 Tamar grew up down the street from Abraham Krasner, but they haven't seen each other in four years – not since he was drafted to go pro playing football for the New York Leopards. And not since Tamar embarrassingly admitted that she was in love with him. Now that they're in the same city, they reconnect. Writing about these two former friends rediscovering each other was wonderful – especially when they were also discovering feelings that they didn't believe existed. In this scene, Tamar and Abe are catching up at dinner after one of his games, and the conversation gets a little more personal than expected…
Snippet
He grinned and sliced into his steak. "All right, so no Antonio. Best boyfriend?"

"Oh, are we talking about boys now?" I fluttered my lashes. "How exciting."

"Or perhaps no one could live up to the man of your dreams?"

I gave him an arched look. "The tall, dark, brooding, and scruffy man, you mean?"

He shot me a look right back. "Please. You like the good-natured, all-American, sporty type."View Spoiler » I shook my head. "No one worth speaking of. There was Patrick before I moved out here, I guess."

Fine, I said that to see if I got a reaction, and I did. He frowned just the slightest bit. "Who's Patrick?"

"Another one of the SAT tutors where I was working. Very tall. Cute grin. Played the guitar."

Abe snorted. "A musician."

I propped my elbow on the table and my chin on my hand. "Musicians are sexy. Didn't you know?"

"Football players are sexy. Tough. We're gladiators."

"Except without all the blood. And death. And lions. And with really big padding." I gestured out past my shoulders. "And shiny pants."

He leaned forward. "Admit it. You like the pants."

I blushed slightly, because I did like the pants. "And what about you? Any memorable relationships?"

He knocked his chair back and grinned at me. "I knew you wouldn't be able to resist asking."

I tossed my napkin at him. "Merely out of politeness!"

He laughed. "Dozens."

"None you bothered bringing home to meet your mother," I countered.

"I introduced her to two when she was out here!"

"Only one was on purpose, though," I reminded him. "Kelly was an accident." I exaggerated a wince. "That must have been embarrassing, you and your mom walking into your apartment to find it filled with…Kelly and whipping cream."

His wince was real. "That made the rounds of the entire town?"

"Oh, the entire Bay, I'm afraid. And parts of Oakland."

He shook his head. "You have a cruel streak, Miss Rosenfeld."

I took a sip of my drink. "What nonsense. I am merely the deliverer of truth."

He regarded me with a smile. "You probably think you know everything about me."

"Oh, but I do, Abraham Krasner."

He shook his head slowly. "You only know what my mom knows."

I scoffed. "And what else is there?"

He reached across the table and lifted my hand in his. Both of our palms faced upward. His dwarfed mine, and I stilled, flutters cascading through me in a way I'd never quite forgotten. His dark eyes held mine and his thumb slowly circled the center of my palm. His callused skin was rough against my sensitive lifelines.

My breath caught. My blood pulsed tangibly in my wrist. "What are you doing?"

"There are some things about me even you don't know about, Tamar Rosenfeld." « Hide Spoiler
Playing It Close by Kat Latham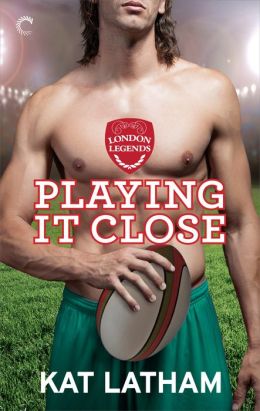 My hero, rugby team captain Liam Callaghan, and the woman who finally proves to be his perfect match, Tess Chambers, meet in Venezuela when they're both trying to escape bad decisions they made. They meet when they're trapped in a hotel elevator together, an experience that leaves them both longing for more time together—but perhaps in more romantic surroundings. So they hike through a Venezuelan cloud forest and discover a waterfall. This scene starts with Liam lying on a big, flat rock next to the natural pool while Tess sits next to him. I love it because no matter how many times I read it, I can still feel their unquenched desire for each other. Hope you enjoy it!
Snippet
His free arm wrapped around her back, clasping her hip so he could drag her lower body to lie on top of his. He hugged her so close she rode every breath, every ripple that passed through him. His shivers of delight became hers. The sights and sounds of paradise disappeared until all that was left was him, hard and getting harder under her.

When she pulled back to catch her breath, he buried his face in her neck. His voice was low, gruff, as he said, "I don't know about you, but I'm ready for a swim."

"So soon after eating?" Nice one, nervous ninny.

He gave her an assessing look, then glanced at the pool. "I don't think it's that deep. But if you want, I'll test it out and let you know."View Spoiler » Tess rolled off him and watched as he stood and dusted off his bum. Never taking his eyes from her, he crossed his arms in front of his stomach and whisked his T-shirt over his head. Her mouth went utterly dry at the sight of his chiseled chest and abs. Jesus, the man had better breasts than she did. So bloody unfair.

She'd seen him topless before. In fact, her sister gave her a London Legends calendar every year, which featured twelve players lounging around the changing room in various states of undress. Last year, Mr. July here had been starkers. She'd really hated that strategically placed rugby ball he'd held.

Being confronted with his body in person, though, was a joy she'd never imagined she would have. His muscles bunched up as he bent to undo his laces. Within seconds he'd dropped everything except his tight knit boxers, which were at her eye level since she was sitting at his feet. His arousal strained against the front.

He hooked his thumbs in the waistband and cocked a brow at her in question. "I did bring swimming trunks, if you'd rather I put them on."

Waving her hand as if she'd seen it all before, she attempted a blasé voice. "Please, don't feel inhibited by me."

One corner of his lips kicked up and he swept his pants down, stepping out of them without looking away from her. Don't look, don't look.

She looked. Swallowed hard. Her body clenched with longing.

Water splashed against her burning hot face, shaking her from her trance. He'd jumped in feet-first and was now swimming toward the waterfall, his tight back, biceps and bum working with each stroke. When he got to the middle, he trod water and faced her. "Coming in?"

Oh yes. « Hide Spoiler
Love in Straight Sets by Rebecca Crowley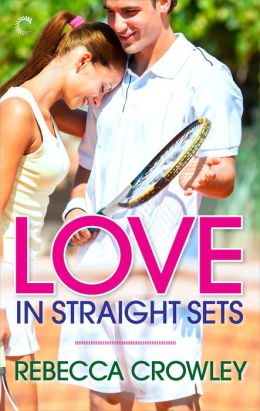 Notoriously mercurial tennis star Regan Hunter has finally met her match in her equally strong-willed coach, former pro Ben Percy. The more Regan rebels, the harder Ben works to dismantle her tightly held control until their professional tension becomes decidedly sexual. I love their stubborn banter in this scene, and the way Ben's refusal to back down is already laced with burgeoning affection for this tough, complex woman.
Snippet
Ben bit back a smile as Regan glowered at him from the net. She was a huge pain in his ass, but there was no denying she was cute when she was angry.

"You want me to do what?" she demanded.

"You heard me," he replied calmly. "From now on I'm fining you for etiquette infractions. Your racket only went a few inches, so we'll call that one a racket slam as opposed to a throw. That's two laps and ten push-ups."

Regan stared at him in furious silence, her shoulders tense and her eyes bright with anger.

He drew a circle in the air with his index finger. "Two laps, champ. Let's go. I don't have all day."View Spoiler » "Laps?" she repeated. "Like around the court? Running?"

"No, in the swimming pool. Of course around the court."

"It's eighty degrees out here. It's too hot."

"If it's not too hot to play tennis, it's not too hot to run. Get moving, we're wasting time."

She crossed her arms. "Running circles around the court is a waste of time."

"Then you shouldn't have slammed your racket."

"Fine, I won't do it again."

"Then you won't have to run laps again. But this time we're not moving on until you do."

"This is pointless. I said I won't slam my racket again. Now let's get on with the match."

Ben shoved his hands into his pockets. "How much did you rack up in fines last year? I seem to remember a particularly long tirade at an Australian umpire gracing the sports pages, but there must have been others."

She pursed her lips. "I don't know."

"No idea? Ballpark figure?"

"Three thousand, seven hundred and twenty-five dollars." Her manager, Des, appeared on the other side of the metal fence. The door clinked shut as he joined Ben on the sideline. "And eighty-five cents."

Regan's eyes narrowed to slits, but she stalked to the perimeter and broke into a reluctant jog.

"She'll never forgive you for this," Des declared cheerfully, giving Ben a hearty slap on the back.

"Probably not."

"I underestimated you, Percy. You're not a very nice guy at all."

Ben shrugged. "Just doing my job."

Regan was on her way toward them, her mouth set in a grim line as she rounded the corner.

"I hate you both," she muttered as she jogged past. Ben's mouth went dry as he watched the smooth bounce of her retreating behind.

Let her fire him the minute she stepped off the court at the Baron's. He didn't care. He'd help her become the champion she deserved to be if it was the last act of his career. « Hide Spoiler
No Limits by Lori Foster
As a special treat to celebrate Sports Week, New York Times Bestselling Author Lori Foster is sharing an excerpt from her upcoming novel No Limits, featuring MMA fighter Cannon Colter. No Limits will be out on August 26. Enjoy!
Realizing that she'd been staring at him, Yvette tried to wiggle out of his arms.
Cannon didn't let her.
"Settle down." He drew her in closer, one hand between her shoulder blades. "We have a lot of ground to cover yet and to be honest, I prefer to settle it just like this." He nuzzled against her temple, sending gooseflesh up and down her arms. "Okay?"
Without meaning to, she smoothed her hands over his chest. There were so many wonderful places to touch him, each more enticing than the other. "I need to know how we're going to work this."
"This, meaning us?"
"This, meaning both of us here in this house together." She tipped her head to judge his reaction. "It's true that I'm still a little jumpy over being here and I'd appreciate knowing when to expect you, or when…when I might be here alone. But I don't want to step on your toes."
"I don't know what that means, honey."
His use of endearments kept throwing her. "It means that you're back in town and plenty of women want your attention. This is rightfully your home and it's inevitable that you might want to bring home…company." Just saying it made her stomach sick. "When you do, you should feel comfortable about it."
His hands moved up to her face, holding her steady for his uncompromising stare. "Let's get something clear. The only woman I'm interested in right now is you."
That was so blatant, so bold, she fell back a step. Elation tried to burst free, but she stomped it into submission. "Since when?"
"The truth?" He leaned in close, nose to nose, aggressive and annoyed. "Since you walked out on me three years ago…"
GIVEAWAY:

e-copy: The Ace by Rhonda Shaw, On the Surface by Kate Willoughby, Tap Out by Michele Mannon, Imaginary Lines by Allison Parr, Playing It Close by Kat Latham, Love in Straight Sets by Rebecca Crowley.
To enter Giveaway: Please complete the Rafflecopter form and

Leave a comment for the authors about the sports romances featured here.