Today, HJ is pleased to share with you Virginia Kantra new release: 

Carolina Dreaming

When it comes to love, anything can happen on Dare Island—especially in this latest novel from New York Times bestselling author Virginia Kantra.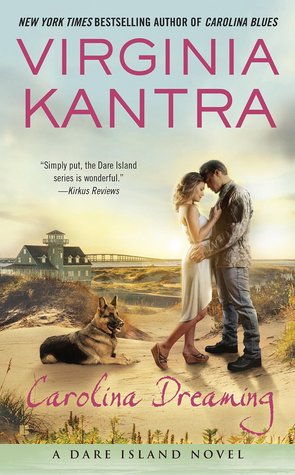 After escaping a disastrous marriage, bakery owner Jane Clark has convinced herself that she has everything she needs—her precious son, a thriving business, and a roof over her head. But the arrival of a handsome stranger on the island shows her exactly what she's been missing…

The only home Gabe Murphy ever had was the Marine Corps. He's working hard to rebuild his life. It will take a special place, and a special woman, to make him want to stay.

Now Gabe is determined to prove that he's worthy of Jane's trust—and her love. But when her past reappears, that trust will be tested, and Jane and Gabe will have to fight hard to hold onto their love and make their dreams a reality…

Enjoy an exclusive excerpt from Carolina Dreaming: 
Gabe shouldered his bag and trudged inside.

Jane Clark was leaning over, wiping down their vacated table, her thick blond braid falling over her shoulder like some princess in a fairy tale. Or the Swiss Miss on a cocoa package, something tasty and wholesome. His stomach rumbled. He saw, with regret, that his half muffin was already cleared away.

She looked up at his entrance, her shoulders instinctively rounding, protecting her chest, like a woman who had learned to fend off the wrong kind of attention from the wrongsort of guy.

Not another soul in the place. No wonder she was wary.He stopped by the door, giving her a moment to recover.She straightened, wiping her hands on her big white kitchen apron. "Did you need something?"He needed a lot of things—a meal, a shower, a bed. But his dwindling roll of bills had to last until he found a job. His gaze dropped to the Wonder Rack before he fixed his eyes firmly on her face.There was a time he could have talked any woman into taking him home for an houror the night. But her body language made it clear she wasn't that kind of woman. Or maybe he was trying hard not to be that guy anymore.He cleared his throat. "How late are you open?""Until four. It's the off-season," she added, as if the early hours required an explanation.

It was almost four now. The public restrooms would be locked until May, the local businesses shuttered by five. "Mind if I use your restroom before you close?""Go right ahead."He washed in the sink and then did his best to mop the floor with paper towels. When he came out of the restroom, Jane was behind the counter. She saw him and closed the cash drawer of the antique register. Ping."I was arrested for murder," he drawled. "Not robbery."Her face flushed.He was such a dickhead. Nice to know he was still proving the old man right: Open mouth, make trouble. And his teachers: You'll never learn.He waited for her to call her dad on him, but she just gave him a long, dry look. "Is that supposed to be funny? Or reassuring?"He found himself grinning. "Maybe both?""Maybe your delivery needs work," she suggested.His grin broadened. "Yes, ma'am."She looked away, but not before he saw a smile tug the corners of her mouth.She followed him to the door. The trees outside obscured the view from the street. The gravel parking lot was empty. Gabe frowned. Dare Island was a long way from the roughneck boomtowns of North Dakota. But she was here all alone, with Luke and the entire police force tied up at some accident by the bridge.He turned. She stood very close. Not touching, but he was aware of how soft she was, how round and plump and female. Vulnerable. "Make sure you lock up behind me."

She gave him an odd look. Because, yeah, from her perspective, the biggest threat on this quiet island was him.She didn't say anything, though, just handed him a white bakery bag."What's this?""Coffee and a sandwich. Be careful it doesn't spill. I put the coffee in a thermos cup,but, well . . ." She shrugged. "You never know."You never did. He'd certainly never expected this. He had figured she would rush him on his way, not make him a sandwich."Let me pay you." He might not want to throw money away on a motel room, but hehad enough cash and pride left to pay for a damn sandwich."Luke already did."Gabe remembered the bills Luke had left on the table. "That was your tip."Her flush deepened. She had the prettiest skin, fine-pored and smooth, the color surging below the surface. "Owners don't accept tips."He wouldn't know. Almost every damn thing he possessed fit into his seabag.He searched for a way to keep the conversation going. Not hitting on her, just . . . Not leaving yet. "This is your place?""Yes." Not encouraging."It's nice." Nice. Jesus. Way to dazzle her with compliments, dude. He looked around at the hand painted tables and mismatched chairs, seeking another word. "Cozy.""Thanks." One syllable.He tried again, remembering what Luke had said about the island in the off-season. "Must be tough this time of year. You ever think about moving?"

"No. My family's here."Four whole words. Jackpot. Gabe looked at her left hand, but he didn't see a wedding band. So the family she was talking about must be the hard-ass who drove him to the station. Officer H. Clark. Her father.You stay away from her.There was a time when Gabe would have taken those words as a challenge. Never mind that she was the prettiest thing he'd seen in a long time, that her skin was like milk and her eyes were like fog and she smelled like freshly baked cookies. He would have madea play for her just to piss off her old man.She stood there, holding out the paper sack, watching him with a pleat between her eyebrows.He was an asshole.She deserved better.Besides, Clark wasn't simply Jane's father. He worked with Luke. And Gabe was not fucking things up for his buddy on or off the job.He clenched his teeth, locking in all the things he shouldn't say, and took the bag. "Thanks for the coffee."
Excerpt. ©Virginia Kantra. Posted by arrangement with the publisher. All rights reserved.
Giveaway:

2 Print copies of CAROLINA DREAMING (A Dare Island Novel)
To enter Giveaway: Please post a comment to this Q:

What did you think of the excerpt spotlighted here? Leave a comment for the author with your thoughts on the book…


This contest will close on Feb 10, 2016 8:59 PM (PT) and the winners will be notified via email. Winner will have 48 hours to respond to my e-mail before a new winner is selected.



Meet the Author:
New York Times bestselling author of the Dare Island novels, including Carolina Blues, Carolina Home, Carolina Girl, and Carolina Man, and the Children of the Sea series, Virginia Kantra has won numerous industry awards, including Romance Writers of America's RITA Award and two National Readers' Choice Awards.