Today it is my pleasure to welcome New York Times bestselling author

Virginia Kantra

to HJ!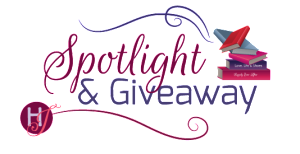 Hi Virginia, Welcome to HJ
What would you say are the defining characteristic of your novels?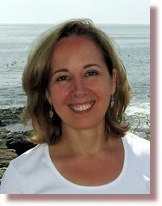 A strong sense of place and a strong sense of family. I love the give-and-take between my hero and heroine, but I also love exploring how their emotional journey affects everyone along the way—parents, siblings, and kids. I especially love the between-us-guys interactions.
5 best things about being a writer?
Fuzzy socks
Fan mail
Being able to spend time with characters I care about
Hanging out with other authors
Being able to deduct trips to the beach
Let's talk about your newest release: Carolina Man
If you had to summarize the book for the readers here.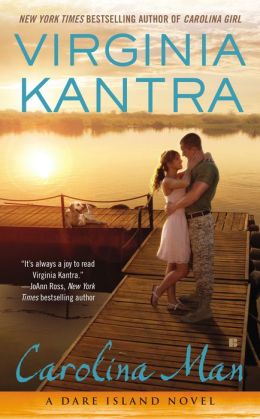 It's a secret baby story with a twist. Marine Luke Fletcher is in Afghanistan when he learns that his high school girlfriend has recently passed away, leaving him the guardian of a 10-year-old daughter he never knew he had. Family lawyer Kate Dolan is determined to act in the child's best interests, and she's not at all sure that a single, active duty Marine is the best person to take charge of a little girl.
Please tell us about the characters in your book
Luke, Kate, the little girl, Taylor, and the whole messy, wonderful Fletcher family that appears in the earlier books. Also a cat. And puppies.
As you wrote your protagonist was there anything about them that surprised you?
I was surprised by the strength of the "good father gene" in Luke (originally I think I shared Kate's doubts about his ability and willingness to be what Taylor needs).
What scene did you have the most fun writing? Why?
I loved all the interactions between Luke and Kate. Watching him break down her barriers was a delight for me.
"All right, fine. I won't deny that I'm attracted. And flattered. But—" She held him off with one hand. "You just got home. You're understandably feeling unsettled. This is hardly the right time for you to be . . .for us to be doing . . ."
She waggled her fingers in the air between them, "This."
His grin broadened. "I'm not sure I recognize your hand sign. You mean dinner?"
She rolled her eyes. "You know what I mean. Any sort of personal contact—relationship—between us would be terribly complicated."
"Only because you're thinking like a lawyer."
"I am a lawyer"
"Right. You're used to complicating things. Marines keep it simple. Identify your long-term objective, execute the steps to achieve your objective."
Her eyes narrowed. "Do you honestly expect me to believe your objective is to have dinner with me?"
"No," he admitted. Dinner would be more like the short-term strategy."
"I thought so."
"Getting to know you would be the objective," he explained.
What scene was the hardest to write? Why? 
The homecoming scene, because it was so important to get all those elements right and to do justice to our service men and women and their families.
The brakes squealed. The bus gusted to a halt.
After the dust haze of Afghanistan, everything out the windows looked sharp and clear. Blue-and-white event tents and Porta Potties bordered the arrival area, full of balloons and handmade signs. And people. Families. Lots and lots of families eagerly awaiting the one hundred and seventy five men and women finally coming home.
Luke shouldered his bag and climbed down from the bus into the milling, calling, crying, kissing crowd.
"Do you see him?"
"Dad-deee …"
"Steven! Steve!"
He was bumped, jostled, and thanked by complete strangers. He stopped to shake hands with Cody Burrows's parents, saw Ortega stagger as his tiny girlfriend launched from four feet away into his arms.
"Welcome home, honey."
"There he is!"
Danny Hill's wife cried into his neck, their infant daughter crushed between them. Hill bowed his head against his wife's hair, his face raw with emotion.
Luke blinked and looked away from their private moment.
He had served seven deployments in ten years. He'd never sought—or missed—the distraction of a family. But watching the joyful reunions all around him, he felt … Not sorry.
Alone.
A familiar whistle pierced the hubbub.
Luke stiffened like a dog on point. "Dad?"
And heard it again, the same shrill note that always announced his father's return, whether it was from Beirut or the grocery store.
Luke pivoted, scanning the sea of people waving signs and flags and cell phones, searching for his father's face.
Who would you cast in the role of your characters if your book was optioned for a movie?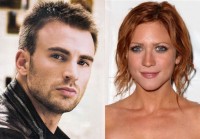 Oh, that's easy! I usually "cast" my characters. Chris Evans and Brittany Snow
What are you currently working on? What other releases do you have planned in 2014?
I'm currently finishing up CAROLINA BLUES, the fourth Dare Island story, about small town Police Chief Jack Rossi and "hostage girl" Lauren Patterson, who comes to the island to escape her fifteen minutes of fame. It will be an October 2014 release.
Where can readers get in touch with you?
I love to hear from readers!
They can email me through my website, http://virginiakantra.com
I'm also on Facebook https://www.facebook.com/VirginiaKantraBooks
And Twitter https://twitter.com/VirginiaKantra
Readers who want new release info and news about giveaways can sign up for my newsletter here http://eepurl.com/vMykD
Thank you for stopping by HJ!
GIVEAWAY:

2 print copies of CAROLINA MAN
To enter Giveaway: Please complete the Rafflecopter form and post a comment to this Q:

One of the things I love about this series is the opportunity to return to North Carolina's beautiful Outer Banks. If you could get away from all this freezing weather, where would you go?
Excerpt:
The evening sky looked warm, all fluffy pink clouds and golden haze, but a cool, damp breeze blew off the sea and rose from the sound, carrying the tang of water. The smell of home.

Luke held on to his beer. Not because he needed the alcohol, but because he wanted the prop. Something to do with his hands, some action to combat the adrenaline surge in his blood. In spite of the peaceful setting, he felt jazzed, his palms damp, all his senses on alert. Outside the wire, facing the enemy.

Luke'll handle it, his father had said.

So he would.

Even if he didn't have a fricking clue what to say or do next.

He watched Kate Dolan's butt as she walked past him in her neat navy suit, her sensible heels clacking on the wood deck like gunfire. He'd handle her, too, given a little encouragement.
He shook his head. Obviously, he'd spent too long in Burqa Land. He was not hitting on his dead ex-girlfriend's lawyer. Even if she did have great legs. And—despite the stick up her butt—a really nice ass. Hard not to notice that.

She hugged her arms across her body, as if the chill had penetrated the blue jacket she wore like body armor. "It's nice out here."

He breathed in the smells of salt, sea grass, and pine. Took a pull of his beer, as if he could permanently wash away the dust of Afghanistan. "Yeah."

She turned to face him, the sun behind her firing her curly coppery hair to gold. "Quiet," she offered.

"No snipers," he said.

She looked at him, startled.

Ah, shit. "You didn't come here to talk about the weather," he said, covering. "Or the view."

"Are you all right?" she asked.

He was jet-lagged and exhausted. But at least he was all here. Ten fingers, ten toes. No right to complain. "Fine."

Her gaze searched his face, uncomfortably perceptive. What color were her eyes? Blue? Green? With the light behind her, it was hard to tell. "Because we can do this another time."

"You must have thought it was urgent," he pointed out. "Or you wouldn't have driven out here."

She took a deep breath that expanded her chest, parting the lapels of her jacket. She wore some kind of lace thing under it, and a thin gold chain that dipped between her breasts and caught the light. Nice. "I had the evening free."

"Lucky for me," he drawled.