Celebrate the season with #BerkleyBookmas!

Berkley Bookmas is chock full of exclusive content from authors like exclusive excerpts, deleted scenes, author recipes and more!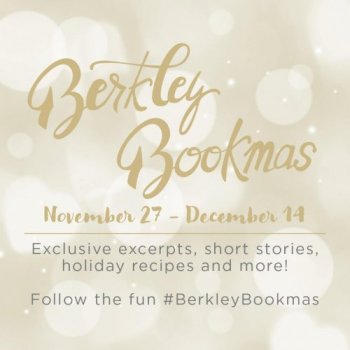 Harlequin Junkie is so excited to participate in Berkley Bookmas and we're hosting

Julie James'

who is here with her favorite holiday cookie recipes today!
Need Cookies for the holidays? I've got your back.
When I was a kid, one of my favorite things about the holidays was my grandmother's cookies. She used to spend days baking, and when we visited her house every Christmas Eve, there would be platters and tins of cookies seemingly everywhere.

Over the years, my cookie recipe book has expanded, but below are two classics that have been party of my family's holiday traditions for years.

Both are kid-friendly, adult-friendly, easy to make, and loaded with chocolate (generally a requirement for all my cookies, snickerdoodles excepted.) Enjoy!

Snowball Cookies
1 cup butter (softened to room temperature)
½ cup granulated sugar
1 tsp vanilla extract
1 cup chopped walnuts
2 cups flour
1 package Hershey's kisses
Confectioner's sugar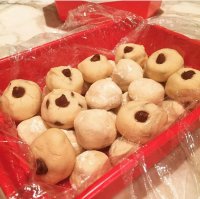 Beat butter, granulated sugar, and vanilla until light and fluffy. Add flour and nuts. Shape dough around kisses and roll into balls. (Hint for first-timers: you don't want too much dough; use just enough to cover the Hershey kiss.) Bake on cookies sheets lined with parchment paper at 375 degrees for about 8-10 minutes, or until the bottom of the cookies are a light golden brown. Let cookies cool, then roll them in confectioner's sugar.
Variation: Mr. James is a little fussier than I am about cookies, and doesn't like milk chocolate. (Miraculously, we've managed to stay married for 15 years despite this character flaw.) So for some of the cookies, I roll the dough around a bunch of semi-sweet chocolate chips (instead of a Hershey's Kiss), and everyone's happy. ☺

M&M Cookies
1 cup butter (softened to room temperature)
1 cup brown sugar
½ cup granulated sugar
2 teaspoons vanilla
2 eggs
2 ¼ cup flour
1 tsp baking soda
1 tsp salt
1 pound bag of M&Ms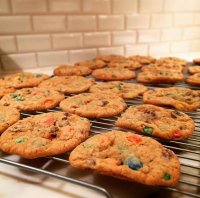 Julie's add-on: I also throw in 1 cup of semi-sweet chocolate chips because more chocolate = yummy goodness
Beat butter and sugars, then beat in vanilla and eggs. Add remaining dry ingredients, mix well, then stir in M&Ms (and chocolate chips). Bake at 375 degrees on cookie sheets lined with parchment paper for 9-11 minutes, or until light golden brown.

Thanks for blogging at HJ!
Giveaway:

One lucky winner will receive a $100 Visa gift card and one copy each the books noted below!
To enter Giveaway, please follow this Link -> http://bit.ly/2zlFxAq


*Giveaway is hosted by Berkley Books.

Giveaway Book Info:
SHOT ON GOLD by Jaci Burton (ADVANCED READERS EDITION)
From the New York Times bestselling author of The Final Score, opposites attract when a figure skater and hockey player lace up their skates–and go for the gold…
FINDING MASTER RIGHT by Sparrow Beckett (BOUND MANUSCRIPT)
Dominant, crop-wielding men are all Kate dreams about, but how far is she willing to go?
NEXT YEAR IN HAVANA by Chanel Cleeton (ADVANCED READERS EDITION)
After the death of her beloved grandmother, a Cuban-American woman travels to Havana, where she discovers her roots –and unearths a family secret hidden since the revolution…
MIDNIGHT ACTION by Elle Kennedy
He can't trust her, but he still desires her. He also needs her help….
PROMISE NOT TO TELL by Jayne Ann Krentz (ADVANCED READERS EDITION)
A broken promise reveals a terrifying legacy in this electrifying novel from the New York Times bestselling author of When All the Girls Have Gone.
THE WEDDING DATE by Jasmine Guillory (ADVANCED READERS EDITION)
A groomsman and his last-minute guest are about to discover if a fake date can go the distance in this fun and flirty debut novel.
THE THING ABOUT LOVE by Julie James
The New York Times bestselling author of Suddenly One Summer blows the covers of two FBI agents who can't hide who they are from each other…
MARRY IN HASTE by Anne Gracie
From the award-winning author of The Summer Bride comes the first in a charming new historical romance series where marriages of convenience turn into true love matches.
JUDGMENT ROAD by Christine Feehan (ADVANCED READERS EDITION)
An outlaw motorcycle club sets up shop next door to Sea Haven in the dangerously sexy new series from #1 New York Times bestselling author Christine Feehan.
SOMEONE TO CARE by Mary Balogh (ADVANCED READERS EDITION)
Once the Countess of Riverdale, Viola Kingsley throws all caution to the wind when adventure calls in the form of a handsome aristocrat…
SCHOOL TIES by Tamsen Parker (BOUND MANUSCRIPT)
From the USA Today bestselling author of the Compass Series, the teacher becomes the student in a tale of forbidden romance in the halls of an elite, all-boys boarding school…
ELIZABETH'S WOLF by Lora Leigh
From New York Times bestselling author Lora Leigh comes a new, revised edition of a beloved classic in the passionate Breed series—experience the magic again!


For tomorrow's fun, head to one of the following blogs: