Today it is my pleasure to Welcome author
Colleen Oakley
to HJ!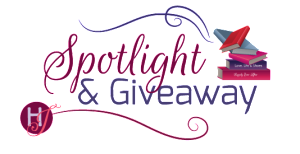 Hi Colleen and welcome to HJ! We're so excited to chat with you about your new release, Close Enough to Touch!

Thank you so much for having me!

Please summarize the book for the readers here: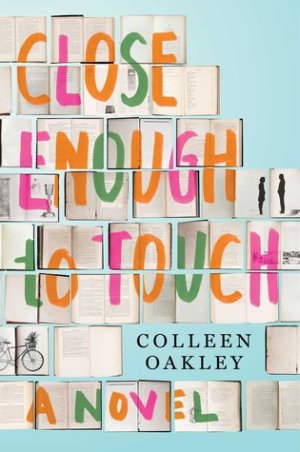 A woman who's allergic to other humans strikes up a friendship with a new-to-town man and his struggling adopted son. They all begin to form unique and powerful connections— even though they can't touch.

Please share the opening lines of this book:
One time, a boy kissed me and I almost died. I realize that can easily be dismissed as a melodramatic teenager-ism, said in a high-pitched voice bookended by squeals. But I'm not a teenager.
Please share a few Fun facts about this book…
One of the conversations Jubilee and Eric have is almost verbatim a conversation I had with a crush I had in high school.
When I first came up with the idea, I originally started writing it with Jubilee as a teenager. Then I realized it was far more interesting (to me) to discover who she was as an adult after living with this condition for so long, and how that shaped her life.
Jubilee's condition doesn't exist, but there are so many bizarre allergies that sound like fiction and do actually exist: there's a woman who's allergic to water, a man who can't be around technology, and a boy who has to be given nutrition in a feeding tube directly to his stomach because he's allergic to ALL food.
If your book was optioned for a movie, what scene would you use for the audition of the main characters and why?
When Jubilee and Eric first meet each other in the library. There's a bit of levity to the scene and I would love to see it come to life.
What do you want people to take away from reading this book?
As with all my books, I just hope they connect to it emotionally in some way. If I make a reader feel something— happiness, grief, the little butterflies of first love— then I think I've done my job.
What are you currently working on? What other releases do you have planned for 2017?
I'm in the early stages of a book about soulmates— and whether true love is a choice or fate.

Thanks for blogging at HJ!
Giveaway:

Print copy of CLOSE ENOUGH TO TOUCH by Colleen Oakley
To enter Giveaway: Please complete the Rafflecopter form and Post a comment to this Q:

How do you think your life would be different if you couldn't experience physical touch? What would you miss?
Excerpt from Close Enough to Touch:
I didn't wake up one morning and think: "I'm going to become a recluse."  I don't even like the word recluse. It reminds me of that deadly spider just lying in wait to sink its venom into the next creature that crosses its path.
It's just that after my first-kiss-near-death experience, I — understandably, I think — didn't want to leave my house, for fear of running into anyone from school. So I didn't. I spent that summer in my room, listening to Coldplay on repeat, and reading. I read a lot.
Mom used to make fun of me for it. "Your nose is always stuck in a book," she'd say, rolling her eyes. It wasn't just books, though. I'd read magazines, newspapers, pamphlets, anything that was lying around. And I'd retain most of the information, without really trying.
Mom liked that part. She'd have me recite on cue —to friends (which she didn't have many of) and to boyfriends (which she had too many of) — weird knowledge that I had collected over time. Like the fact that superb fairy wrens are the least faithful species of bird in the world, or that the original pronunciation of Dr. Seuss's name rhymed with "Joyce" or that Leonardo DaVinci invented scissors (which shouldn't really surprise anyone, since he invented thousands of things).
Then she'd beam and shrug her shoulders and give her fake smile and say, "I don't know where she came from." And I'd always wonder if that maybe was a little bit true, because every time I got the nerve to ask about my father— like, what his name was, for instance — she'd snap and say something like "What's it matter? He's not here, is he?"
Basically, I was a freak show growing up. And not just because I didn't know who my father was or because I could recite random facts. I'm pretty sure neither of those are unique characteristics. It was because of my condition, which is how people referred to it: a condition. And my condition was the reason my desk in elementary school had to be at least eight feet away from the others. And why I had to sit on a bench by myself at recess and watch while kids created trains out of their bodies on the slide and played red rover and swung effortlessly on monkey bars. And why my body was clad in long sleeves and pants and mittens — cloth covering every square-inch of skin on the off-chance that the kids I was kept so far away from accidentally broke the boundaries of my personal bubble. And why I used to stare open-mouthed at mothers who would squeeze their children's tiny bodies with abandon at pick-up, wondering what that might feel like.
Anyway, combine all the facts: my condition, the-boy-kissing-me-and-almost dying incident, my mother leaving — and voila! — it's the perfect recipe for becoming a recluse.
Or maybe it's none of those things. Maybe I just like being alone.
Regardless, here we are.
And now, I fear that I've become the Boo Radley of my neighborhood. I'm not pale or sickly looking, but I'm afraid the kids on the street have started to wonder about me. Maybe I stare out the window too much when they're riding their scooters. I ordered blue panel curtains on and hung them on each window a few months ago, and now I try to stand behind them and peek out, but I'm worried that looks even more creepy, when I'm spotted. I can't help it. I like watching them play, which I guess does sound creepy when I put it like that. But I enjoy seeing them have fun, bearing witness to a normal childhood.
Once, a kid looked directly into my eyes and then turned to his friend and said something. They both laughed. I couldn't hear them so I pretended he said something like, "Look, Jimmy, it's that nice, pretty lady again." But I'm afraid it was more like, "Look, Jimmy, it's that crazy lady who eats cats." For the record, I don't. Eat cats. But Boo Radley was a nice man, and that's what everybody said about him.
Excerpt. © Reprinted by permission. All rights reserved.

Book Info:
Love has no boundaries…
Jubilee Jenkins has a rare condition: she's allergic to human touch. After a nearly fatal accident, she became reclusive, living in the confines of her home for nine years. But after her mother dies, Jubilee is forced to face the world—and the people in it—that she's been hiding from.
Jubilee finds safe haven at her local library where she gets a job. It's there she meets Eric Keegan, a divorced man who recently moved to town with his brilliant, troubled, adopted son. Eric is struggling to figure out how to be the dad—and man—he wants so desperately to be. Jubilee is unlike anyone he has ever met, yet he can't understand why she keeps him at arm's length. So Eric sets out to convince Jubilee to open herself and her heart to everything life can offer, setting into motion the most unlikely love story of the year.
Book Links:

Meet the Author: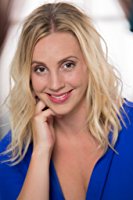 Colleen Oakley's debut novel Before I Go was a People Best New Book Pick, an Us Weekly "Must" Pick, a Publisher's Lunch Buzz Book, a Library Journal Big Fiction Debut, and an Indie Next List Pick. Formerly the senior editor of Marie Claire and editor-in-chief of Women's Health & Fitness, Colleen's articles, essays, and interviews have been featured in The New York Times, Ladies' Home Journal, Marie Claire, Women's Health, Redbook, Parade, and Martha Stewart Weddings. She lives in Atlanta with her husband, four kids, and the world's biggest lapdog, Bailey.
| Facebook | Twitter | Instagram |