Today, HJ is pleased to share with you

Kendra Leigh Castle's

new release

: Come On Closer

The author of One of These Nights returns to Harvest Cove for a brand-new sweet and sexy romance…

Nothing's sweeter than a chance at true love…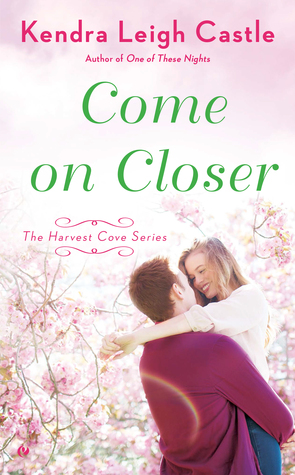 Larkin O'Neill refuses to let anything stand in her way. Despite a troubled upbringing, she's created the life she always wanted, surrounding herself with close friends and opening the bakery of her dreams. But the free-spirited baker is blindsided when she falls hard for the local bad boy. She knows that she should stay away, but the sizzling attraction between them is just too tempting…

Shane's love 'em and leave 'em ways have left him a persona non grata in Harvest Cove. But when Larkin bursts into his life, the handsome lawyer can't think of anywhere he'd rather be than by her side. She's the first person in a long time who believes there could be more to him than meets the eye. Now he's determined to prove to Larkin that he's worth taking a chance on—and prove to himself that he's the kind of man she deserves….

Enjoy an exclusive excerpt from Come On Closer: 
Larkin found him in the baked goods section, a plastic container of chocolate chip cookies in one hand, a giant cherry danish in the other. He seemed to be debating. He also looked miserable. Her impulse to do whatever she could to make him smile again was hard to restrain, but she managed to keep it tightly leashed.
Baby steps. You are not going to just throw yourself into this. Baby. Steps.
He didn't seem to know she was there. He mainly seemed concerned with frowning the cookies into submission. Or maybe he was just offended by the ingredient label. She certainly would be. Larkin lifted her hand, held it in midair for a brief moment, then gave in to the inevitable and tapped him lightly on the shoulder.
"Shane?"
"Hmm?" He pointedly kept his eyes on the cookies. "What's up?" He didn't sound like he cared, particularly. What he sounded was tired. Well, so was she.
"It would matter," she said. That got him to look up, at least.
"What would matter?"
"If I knew for sure whether you were interested in me. Just me. Like, actually me."
It had sounded better in her head, but it did earn her a pleased, if puzzled, smile. "I'm interested in actually you. That shouldn't be so tough to believe."
"See, that's the thing," Larkin replied, tilting her head. "I can't believe it because you don't know me well enough to say."
"I know you."
"You know the sexy singing baker lady. Who is pretty fabulous, I might add. And also a hell of a dancer. But that's the surface me."
His chuckle did strange and wondrous things to her lower belly. "You're also weird, right here at the surface. How many selves am I supposed to meet before I get to say I like you?"
Her lips curved. "I contain multitudes."
"I think there are meds for that. And see, the fact that I'm not running should tell you something."
"Not really. Sexy baker lady is a powerful force. You know, I don't know you all that well, either. Doesn't that bother you?"
His smile thinned. "Nope. I'm all surface. Good-looking, intelligent, basically the perfect man. What you see is what you get."
She laughed softly, since his usual arrogance aside, she doubted very much if he believed that. She remembered what Gina had said about him—the amazing actor, the guy most likely to blow town and defy expectations, except he hadn't—and wondered if there was any possible way she would end up not regretting this.
Probably not.
"Well, whatever, but the point is that I'm going to bake you cookies."
He looked at her blankly.
"I'm . . . You know . . . Those cookies are trash!" she said, pointing at the container in his hand. "Work with me here, Sullivan. Do you want to come over?"
"Wh—uh, yes? Yes." She watched the question sink in, along with the possibilities it raised. "I will definitely come over."
"We're not having sex."
He burst out laughing. "Jesus, Larkin!"
"Well, just in case it sounded like that. I think it's better to be up-front about it." It was also as much for her benefit as for his. For once, she was going to be smart with a guy and not just dive in headfirst. She planted a hand on one hip, exasperated. If she sounded like an alien life form who'd done only a passing study of human interaction, it was his fault. Besides, she knew he'd been thinking about it. She certainly was. But it still wasn't happening.
Cookies, though. Cookies were always a decent start. Besides, baking soothed her, and she'd need all the calm she could muster if she was really going to do this and explore what was between them.
Shane's eyes crinkled at the corners, and she found herself returning his smile. "Okay," he said. "Cookies, no sex. I didn't know putting them together was a thing. Maybe bakers are kinkier than I thought?"
"Don't look so hopeful," she said. "I usually go to bed early, but I can make an exception once in a while, so . . . baking and company is a good way to pass an evening. We could try that."
"So you're saying . . ."
"That we could try that," Larkin said. She knew he was teasing her now, but she was completely serious. Tongue-tied, semi-incoherent, but serious.
"I thought you said it was a bad idea?" he asked, and that was when she could see it—the swagger and self-assurance that set off alarms even as it attracted her. She liked confidence. But there was a thin line between that and simply being a jerk. To figure out which side Shane fell on, she'd have to get closer.
Too close for her own good, probably.
"We can talk about it," Larkin said. "I haven't changed my opinion."
"Then why are you inviting me over?" he asked. "Apart from your weird need to feed people."
"That's not weird, it's human. Feeding people makes me happy. And I'm inviting you because . . ." She trailed off, tried to come up with an answer that made some sense, and quickly gave up. She threw up her hands in exasperation. "I don't know. Because maybe I'm wrong. Or maybe I'm just susceptible to bad ideas. Both things have happened."
"You want me to argue my case? I'm good at that," he said. It hadn't taken much for him to get his mojo back. She was sure he could be convincing in a mood like this . . . which meant it was even more important that she keep her wits about her. Baking. That'll help me focus.
"No. Cookies. Talking. That's it. Do you know where I live?"
He didn't. Most people didn't, and that was by design. She loved people, but she guarded her sanctuary well. Just giving him the address had her stomach fluttering so badly she couldn't figure out whether she was excited or nauseous. She hadn't had a guy over in ages. Not since the one she'd followed east, in fact, and the one time he'd visited her here after they'd broken up she'd kicked him back out in very short order. Whatever Shane was, Larkin doubted he could hold a candle to Jesse Dane, Worst Idea Ever. At least, she certainly hoped not.
Well, like she'd told him, they'd talk. And she'd see what she would see.
Excerpt. ©Kendra Leigh Castle. Posted by arrangement with the publisher. All rights reserved.
Giveaway:

2 Print copies of COME ON CLOSER (The Harvest Cove Series)
To enter Giveaway: Please complete the Rafflecopter form and post a comment to this Q:

What did you think of the excerpt spotlighted here? Leave a comment with your thoughts on the book…
Meet the Author: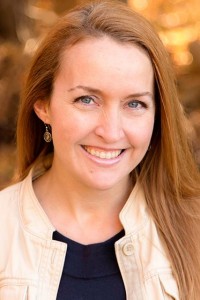 Kendra Leigh Castle is the author of numerous romances, including the Harvest Cove series (One of These Nights, Every Little Kiss, For the Longest Time), the Hearts of the Fallen series, the Dark Dynasties series, the MacInnes Werewolves trilogy, and RITA Award finalist Renegade Angel, along with a number of shorter published works. She lives in Maryland with her husband, three kids, and menagerie of pets, and she can usually be found curled up with her laptop and yet another cup of coffee.