Today it is my pleasure to Welcome New York Times bestselling author
A. L. Jackson
to HJ!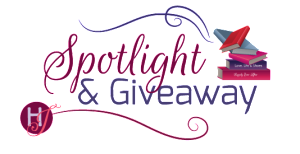 Hi A. L. Jackson and welcome to HJ! We're so excited to chat with you about your new release, Come to Me Recklessly

!
Please summarize the book for the readers here: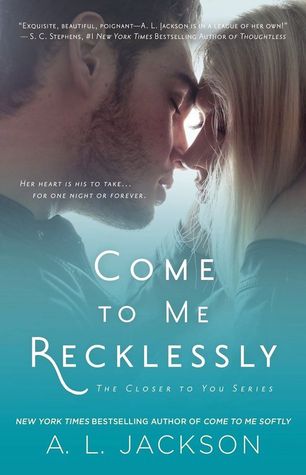 Christopher fights for what he knows was always meant to be in #ComeToMeRecklessly.

Please share the opening lines of this book:
"What is this?" I forced out, the words shaky.
He grasped both sides of my face, bringing us nose to nose. "This is unstoppable."
When you sat down to start this book, what was the biggest challenge you faced? What were you most excited about?
I would say getting Christopher's personality right. It was so distinct in Come to Me Quietly and Softly, although we never got to see directly into his head, but it was clear he was hiding a lot behind his easy-going demeanor. I knew I had a delicate balance to keep when bringing it all to light.
I was most excited about finally digging into his secrets and how Jared's actions had affected his life too.
Please tell us a little about the characters in your book. As you wrote your protagonist was there anything about them that surprised you?
There is something incredibly special about first love…especially if it's been lost. Their intense connection coupled with the loss they'd felt created an intensity unlike anything I'd written before. It was a great joy telling their story.
There were definitely a lot of things that surprised me with Christopher as I got deeper into his character. He was very protective and always wanted the best for Samantha, and I think that really came to light as the story grew.
What, in your mind, distinguishes this book from other books out there in the same genre?
I would say the flashbacks in the Closer to You series really makes it stand out. A reader gains such a greater insight into the characters since they've all been together for so many years, and in turn, it creates a closer connection to the characters.

The First kiss…
First love's sweet, cautious exploration.

Did any scene have you crying or laughing (or blushing) while writing it?
Ahh, I would have to say the last scene with Samantha and her brother Stewart. It had me both laughing and crying.
"Words muted to a whisper, Stewart leaned forward. "Now tell me about this guy who has my sister all spun up. I want to know who had your eyes smiling before that asshole out there stepped in and stole it all away."

The bond between Samantha and her younger brother, Stewart, was incredible to write. I loved the easiness between them, and also that Stewart knew her so well without her admitting anything aloud. I loved writing all their scenes, but this one especially.
When Chris walks into a room, what song is playing? For Sam?
For Christopher, Hands Down by Dashboard Confessional, and when Sam walks into the room, The Only one by Yellowcard starts playing.

What have you learned about your own writing process/you as an author while writing this book?
This book was really important to me as an author because I really came to terms with the fact that I need the time to pour myself into my characters. My stories are always emotional, and that requires a lot out of me emotionally, so I need the extra time to perfect that in my characters and to also keep myself a little sane ☺

What are you currently working on? What other releases do you have planned for 2015?
Right now I'm working on Drowning to Breathe, the second book in the Bleeding Stars series and follow-up to A Stone in the Sea.

Thanks for blogging at HJ!
Giveaway:

2 Print copies of COME TO ME RECKLESSLY (The Closer to You Series) by A. L. Jackson
To enter Giveaway: Please complete the Rafflecopter form and Post a comment to this Q:

So tell me, now that you've read Jared and Aly's story in Come to Me Quietly and Come to Me Softly and Christopher and Samantha's story in Come to Me Recklessly, which supporting characters might you like to see have their own books in the future?
Excerpt from Come to Me Recklessly:
My mouth went dry when he suddenly stilled, the corded muscles of his tanned arms rippling as he slowly lifted his head as if he sensed my presence. His green eyes met mine, widening with shock, before they flashed with something dark and fierce. Then his face twisted in arrogance, those green eyes narrowing as if he knew he had me trapped.
Just like he had that night.
I was helpless to look away, and he held me captive as he went back to work on her neck, his mouth at her jaw and at her chin. The entire time he never released me from the prison of his contemptuous glare.
It was the wrecked pieces of me that were wise, ones that already knew Christopher Moore had the power to destroy me. He'd done it before, and by the way he was looking at me now, I knew he'd gladly to do it again.
Not because he wanted me. But because he wanted to play with me. Like he'd done all those years ago. I'd believed him—that he loved me and cared about me,that he cared about my brother—that he hadn't just been seducing me into becoming an unsuspecting pawn in his sick, twisted game.
It didn't take me long to realize that's exactly what I was.
It took everything I had to compose myself. I steadied my feet and shaking hands, but there was nothing I could do about my bleeding heart. Thankfully it was safe and hidden away, in a place I'd no longer allow him to see.
I lifted my chin in nonchalance, as if seeing him meant nothing at all, all the while praying to God my legs were strong enough to carry me out back so I could give Aly and Jared my thanks, grab my purse, and go on my way.
Because really? All I wanted was to run.
But I wouldn't be giving Christopher that satisfaction.
I wound around him and the girl who'd just come to recognize that Christopher wasn't giving her his full attention because his eyes were pinned on me. I smirked at little, catching her surprise, and immediately felt bad because this girl probably had no idea what an asshole he was.
She probably was just as naive as I had been.
I stepped outside where the night had taken hold, a few bright stars breaking through the glow of the city lights, Aly and her family and friends still completely relaxed and enjoying each other.
"There you are," Aly said with a casual smile, before her eyebrows creased together when she caught the expression on my face. "Are you okay?"
"Yep, perfect," I lied, grabbing my purse where I'd tucked it under the chair when I first arrived. "But it's getting late, so I'd better get home." I looked between her and Jared. "Thank you so much for inviting me. It really was great catching up with you."
My attention jumped around the tables at the people who'd I'd been foolish enough to somehow think of as friends. Of course Christopher would snuff that out, too.
"It was nice to meet you all."
"Nice to meet you too," went up as a chorus, and I wound back around the table, leaned in close to Aly and brushed my fingers through her daughter's soft hair.
Aly frowned and I gave her the best smile I could manage, hoping she understood how much I truly appreciated her and hoped for her happiness.
I knew I wouldn't see them again.
Then I turned and rushed to the sliding glass door. I went to duck inside, when my path was obstructed by an imposing figure at the doorway, the man a full foot taller than my five foot four. I didn't want to look up, but I couldn't stop myself from being drawn, and his warm breath washed over my face.
Chills cascaded in a dizzying wave down my spine, before the venom in his voice lifted the hairs at the nape of my neck, the words cold and deathly quiet. "What the fuck do you think you're doing here?"
Lost in the searing anger blazing in his green eyes, I stammered for an answer. "I…I…"
I swallowed hard and he leaned in closer, his nose brushing mine, and I was suddenly drowning in everything Christopher Moore—tthe way he smelled, clean, like a breath of the morning's freshest air, but still something else entirely intoxicating, like sex and lust and everything I'd ever wanted but knew I shouldn't have.
My thoughts went fuzzy as I got lost in it, before that wicked voice snapped me back. "Stay away from my family." Like a caress, he trailed his finger along the line of my jaw, lifting a line of goose bumps in its wake, before he hooked it under my chin, bringing his mouth a centimeter from mine.
There was no stopping the way my lips parted on instinct, as if they'd forever been waiting for his. His heat spread across my face, and I felt myself leaning forward.
"And stay the fuck away from me."
Excerpts. © Reprinted by permission. All rights reserved.

Book Info:
From the New York Times bestselling author of Come to Me Softly, another irresistible new adult romance in the Closer to You Series.
His heart was turned off…
Until she turned him on….
Christopher Moore gave up on the idea of love years ago. Now, his life is an endless string of parties and an even longer string of girls. Enjoying the physical perks with none of the emotional mess, he's convinced everyone that he's satisfied—everyone but himself.
Samantha Schultz has moved on with her life. Finishing her student teaching and living with her boyfriend, she's deluded herself into believing she's content. But there is one boy she never forgot—her first love—and she keeps the memory of him locked up tight. She will never allow any man to break her the way Christopher did.
When Christopher's sister and her family move into a new neighborhood, Christopher is completely unprepared to find Samantha living at the end of the street. Memories and unspent desires put them on collision course of sex, lies, and lust. But when guilt and fear send Samantha running, Christopher will have to fight for what has always been his.
Buy Links:
Amazon http://amzn.to/1CcZF2V
B & N http://bit.ly/ctmrnook
iBooks http://bit.ly/cmribook


Meet the Author: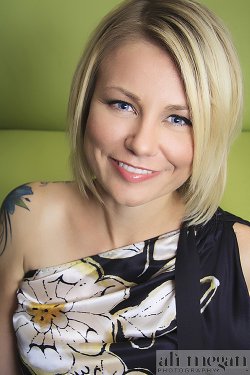 A.L. Jackson is the New York Times bestselling author of Contemporary and New Adult Romance.
She first found a love for writing during her days as a young mother and college student. She filled the journals she carried with short stories and poems used as an emotional outlet for the difficulties and joys she found in day-to-day life.
Years later, she shared a short story she'd been working on with her two closest friends and, with their encouragement, this story became her first full length novel. A.L. now spends her days writing in Southern Arizona where she lives with her husband and three children.
On Facebook www.facebook.com/aljacksonauthor
Join Amy's Angels in The A.L. Jackson Reader Hangout https://www.facebook.com/groups/aljacksonreaderhangout/
Or sign-up for my newsletter http://bit.ly/ALJacksonNewsletter