Today it is my pleasure to Welcome romance author
Stacey Kennedy
to HJ!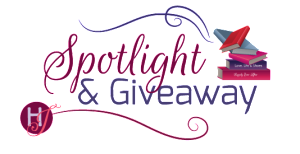 Hi Stacey and welcome to HJ! We're so excited to chat with you about your new release, Commanded!

Club Sin comes alive once again in this decadent new romance from USA Today bestselling author Stacey Kennedy

Please summarize the book for the readers here: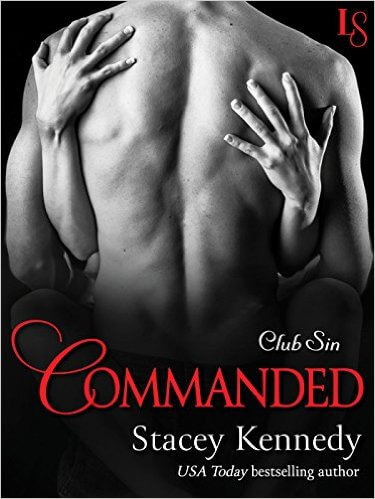 COMMANDED is about two people who are at crossroads in their lives. One chance meeting has brought the kinky, Sawyer and the innocent, Chloe together. They couldn't be more different and maybe even wrong for each other, yet something about each other draws them together. COMMANDED is their sexy journey through this crazy thing we call love, while they fight to find their happily-ever-after.

Please share the opening lines of this book:
Eyes cast down. Rope. Naked flesh.
Please share a few Fun facts about this book…
Sawyer works for the Las Vegas Swat team. Hello, hot, right?
Chloe is a private investigator.
Commanded, Club Sin #6, is the one book that is entirely different than every other book in the series. Of course, I won't tell you how it's different – no secret spilling here. You'll have to find out that one for yourself.
If your book was optioned for a movie, what scene would you use for the audition of the main characters and why?
If Commanded was optioned for a movie, I would choose the snippet below for the audition. Why? Because the characters would have to have intense chemistry together right from the get-go – because that's just how it is for Sawyer and Chloe. I would need to feel their attraction or it wouldn't work for me.
Two more sips of coffee had her sitting up a little straighter. She closed the file on her desk and rose from her chair. "Guess I should get going—"
The front door opened, and Chloe stopped breathing.
She sank back into her chair, instant butterflies whipping in her belly. As Porter stood up and turned toward the door, Chloe couldn't look away from the guy who stood there, who had the air of a military man, with his shaved head and thick, muscular body. Standing a good two heads taller than her, Sawyer possessed the type of physique that screamed I can protect you. His intense gold-flecked hazel eyes locked onto hers, heating her blood.
"Now that's a face I didn't expect to see this morning," said Porter. "What brings you by?"
"I need to hire you." Sawyer shut the door closed behind him. "Can we talk?"
"Of course." Porter waved toward his office.
Sawyer's smoky eyes zeroed in on Chloe again. "Chloe might be able to help, too."
Help? With what?
She held her breath, controlling the racing of her heartbeat. He moved toward her desk, and goose bumps prickled her flesh. She swore she could feel every move he made. His potent presence electrified the air. When her fingers tightened around the edge of her desk, Sawyer's attention fell there—he'd clearly noticed her white knuckles.
To avoid his inspection, she dropped her hands to her lap and cleared her throat. "What's going on?"
Porter returned to his seat in front of Chloe's desk. Sawyer lowered himself into the other chair next to him. Chloe pushed away from her desk a little, putting distance between herself and all that power. Porter and Sawyer had a similar type of intensity, but Sawyer's was more palpable. The two men together made the air thick, leaving Chloe breathless.
"I need you to find someone for me," said Sawyer.
Chloe noted a darkness in his eyes that she didn't remember having seen the last time they'd met. That had been more than a month ago, when Kenzie needed a shady businessman investigated because he'd threatened her.
Before she could ask Sawyer the next obvious question, Porter beat her to it. "Who?"
Sawyer ran his hands over his face to clear the exhaustion emanating off him. "My little sister's boyfriend, Travis Marks."
Excerpt. © Reprinted by permission. All rights reserved.

What do you want people to take away from reading this book?
With all the Club Sin books, I hope the stories bring a little sexy into my readers lives. We all need a little sexy, right?
What are you currently working on? What other releases do you have planned for 2015?
Right now I'm working on Micah, which is a new series coming out 02/16. You can learn more about it here – http://www.penguinrandomhouse.com/books/247671/micah-by-stacey-kennedy/.
Other than that, the Club Sin series will wrap in October/2015. We only have one more release before we say goodbye to Club Sin. I still can't believe it's almost over.

Thanks for blogging at HJ!
Giveaway:

Digital copy of COMMANDED (Club Sin series Book 6) (Via Amazon or B&N)
To enter Giveaway: Please complete the Rafflecopter form and Post a comment to this Q:

Why do you love reading erotic romance?
Book Info:
A dedicated cop, Sawyer Quinn blows off steam by immersing himself in his role as a Master at the hottest club in Las Vegas. But when Sawyer goes after the perp who brutally beat his sister, he teams up with Chloe Nash, a sexy private investigator who awakens a sweet new need: to keep her to himself, away from the dungeon of Club Sin. Chloe is beautiful, smart, and too innocent for the BDSM lifestyle. Sawyer's never wanted a woman like this before. Is her love worth swearing off the one thing that keeps him sane?
There's something different about Sawyer: a commanding strength that pulls Chloe into a vortex of heady desire. But when she learns about his double life as a Dom, she's shocked—and afraid she could never complete him. Then he saves her life, and just like that, Chloe knows she will be able to give him anything he desires. She is his—wherever and however he wants to take her.


Meet the Author: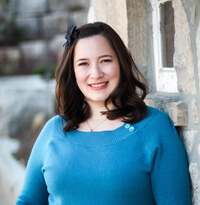 STACEY KENNEDY is the USA Today bestselling author of the CLUB SIN series. Growing up, Stacey's mind wandered the path less traveled and that path most often led to love. She has always broken rules and she continues to feed off emotion – staying true to her heart. Those traits are now the bones of her stories. She lives in southwestern Ontario with her husband, who puts any of the heroes in her books to shame, and their two young children. If she's not on mom duty or plugging away at a new story, you'll find Stacey camping in the summer, hibernating in the winter and obsessing over Penny Dreadful, Game of Thrones and Outlander.
website: http://www.staceykennedy.com
twitter: Stacey_Kennedy