#1 New York Times Bestselling Author

Sylvia Day Launches the New Cosmo Red-Hot Reads

from Harlequin eBook Program with a Sizzling New Story About Unexpected Reunions, Bittersweet Revenge, and the Fight for Redemption

Who better to launch the brand new Cosmo Red-Hot Reads from Harlequin eBook Program than #1 New York Times and #1 international bestselling author Sylvia Day? One of the hottest authors around the globe, Day is known for her highly-sensual, emotionally-charged fiction, and in her new book AFTERBURN (August 15, 2013; $3.99 eBook), she cranks up the heat—and the passion.
About After Burn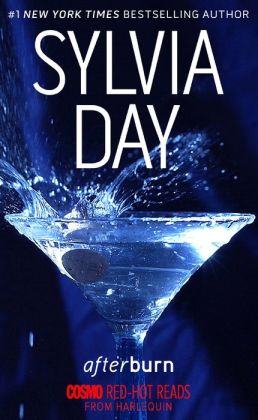 Gianna Rossi knows she's the perfect candidate to work for the legendary Lei Yeung, a scion in the restaurant industry. Gia is hardworking, comes from a family in the restaurant business, and is endlessly loyal. Being betrayed by someone she gave her heart to gives her an edge. Just the right kind of edge to do business in one of Manhattan's most cutthroat industries.
When she gets the job, Gianna's ecstatic and throws herself into her new life as Lei's protégé. Things are going incredibly well. After only a year Gia is on the cusp of helping Lei land two big new clients. It's been months of wooing and finessing, but the contracts are printed and ready to be signed. And then Jackson Rutledge shows up. The same Jackson—Jax—who disappeared two years ago, breaking her heart and taking a piece of her with him.
Jax's arrival at their business meeting isn't the only surprise of the evening. At his side is Ian Pembry, Lei's former mentor and now nemesis. Neither Lei or Gianna is quite sure how, or why, Jax and Ian started working together but Gianna is determined not to let things get personal.
But suddenly, Jax is everywhere and it's getting harder and harder for Gianna to pretend she doesn't want him, that she doesn't still have feelings for him. But Gianna's not the same girl she was two years ago. She's not about to let Jax waltz in and out of her life when he feels like. She's worked too hard to get where she is.
As Gianna starts to piece together the Rutledge involvement with Lei's nemesis and tries to save what might just be the most important deal of her life, she begins to realize that some business is personal…very personal. Only now, she knows the rules—and stakes—of the game, and she's not going to lose.
AFTERSHOCK, the follow-up to AFTERBURN, which will be published by Cosmo Red-Hot Reads from Harlequin on November 12, 2013. Both books will also be available in an exclusive two-in-one paperback edition, also on sale November 12, 2013.
About Sylvia Day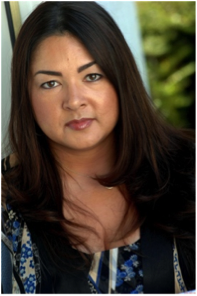 Sylvia Day is the #1 New York Times and #1 international bestselling author of more than a dozen award-winning novels sold in 40 countries. She is a #1 bestselling author in 20 countries, and a reader favorite across several genres, with millions of copies of her books in print. Her Crossfire series has sold more than 12 million copies since its debut last year.
She has been nominated for the Goodreads Choice Award for Best Author and her work has been honored as Amazon's Best of the Year in Romance. She has won the RT Book Reviews Reviewers' Choice Award and been nominated for Romance Writers of America's prestigious RITA award twice. She is currently president of the Romance Writers of America, an association of over 10,000 writers.
Visit her at www.sylviaday.com and Facebook.com/AuthorSylviaDay. Follow Sylvia on Twitter @SylDay.
Giveaway:

To celebrate the release of COMSO RED HOT READS, I have a

Cosmo Goodie Bag

to giveaway to one lucky reader, thanks to Little Bird Publicity. (US shipping Only)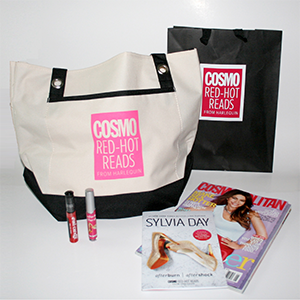 To enter Giveaway: Please complete the Rafflecopter form below and post a comment to this Q:

Have you had an opportunity to AfterBurn as yet? What do you think of this new line from Harlequin? Have you had an opportunity to AfterBurn as yet?