Today it is my pleasure to Welcome author
Sarah M. Anderson
to HJ!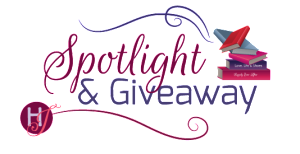 Hi Sarah and welcome to HJ! We're so excited to chat with you about your new release, Crushing on the Cowboy!

Hi everyone! How's your summer going? It just got hot here. Yah, humidity!

Please summarize the book for the readers here: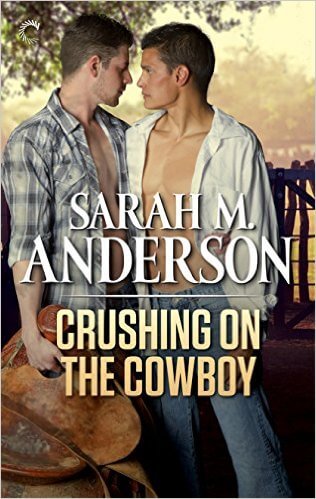 We met Mitch and Paulo in Rodeo Dreams–they were a committed, happy couple of bull riders still in the closet. People loved them! I loved them! The characters loved them! But at the end of that book, there were questions–how did Mitch and Paulo get together and what would happen to them after Mitch's bull-riding wreck? We only got to see the guys for a bit in One Rodeo Season (out last month!) and it didn't answer any questions (other than Mitch was recovering from his wreck).
This is that story!! It starts a few years before Rodeo Dreams but the epilogue sends Mitch and Paulo off for their happily-ever-after!

Please share the opening lines of this book:
In Rodeo Dreams, we learned that Mitch's rodeo nickname is The Heartbreak Kid because he flirts with every single woman he meets. He likes women as people and flirting comes naturally to him–but he doesn't LIKE like them. Instead, he hides behind this particular skill and stays deep in the closet. As Crushing opens, he's in full-on Heartbreak Kid mode.

God, he hated this.
"Oh, Bobbi Jean," Mitch crooned in her ear as they danced cheek to cheek around a bar somewhere near Amarillo, Texas. The house band was mangling a Toby Keith song but he wasn't letting Bobbi Jean what's-her-face out of his arms. The Heartbreak Kid always held them tight. "I can't believe I've found you."
Blech, barf.
Please share a few Fun facts about this book…
One of the challenges of writing a prequel of sorts is that a lot of the facts were set–how Mitch's mother reacted, what the ultimate outcome for their relationship would be (i.e. where does an international couple of mystery finally settle down?). I do think reading Rodeo Dreams first will help this story make sense. Otherwise, if you're coming into it cold, you might not feel the ending was fully satisfying because I didn't retell what happened in Rodeo Dreams.
But I couldn't not write this story. This may be my "first foray into M/M romance" but I never thought of it like that. Instead, it was just a natural story to tell about characters I loved (and readers loved, too!)–which is something I do all the time (the Beaumont Heirs are at 8 books and going strong!). That those characters were gay men was besides the point, mostly.
Mitch's Heartbreak Kid schtick–flirting despite being gay–is based on a man I knew in college. I knew he was gay–it was sort of an open secret (which, 18 yrs ago, was still a pretty bold statement). But then I wound up on a week-long class trip with him and he flirted relentlessly with me–so much so that I began to think I'd heard wrong and he wasn't gay at all–or at least bi, right? He never made a move, but he had a way of focusing on me (and other women) when we talked that was intense. So we got home from the class trip and I asked a friend who knew this man much better than I did–was he gay or was I missing something? And she laughed and said oh, he was gay–but when he was nervous in social settings, he flirted with women as a buffer.
Hence Mitch's Heartbreak Kid tactics!
Paulo was more of a challenge because, even though he'd shown up in two books, he didn't say or do much. But when I'd been writing Rodeo Dreams, I'd been tutoring a Brazilian woman in English so I had an in on some of the finer details. But it wasn't until I remembered an article I'd read some years ago about a traumatic incident that Paulo's backstory clicked into place.
The biggest sticking point for this book when it came to Paulo was finding which food he is repulsed by. Originally I said mustard but God bless the copy editors who check their facts. I was quickly corrected and then we began a huge spiral into what condiment Brazilians would find disgusting. Sauerkraut was suggested but there's a lot of German heritage in Brazil so that was out. Miracle Whip was in the running but my lovely editors were nervous about offending a major corporation with lawyers who had sharp teeth. Finally, after Twitter rode to the rescue, we settled on ranch dressing, which Mitch eats on practically everything and Paulo recoils in horror from. Not a lot of ranch dressings down in Brazil. The more you know!
If your book was optioned for a movie, what scene would you use for the audition of the main characters and why?
The chemistry between these two is key to the whole book. Mitch talks too much and Paulo talks too little so there has to be that physical connection that speaks volumes for both of them. So it's got to be that first kiss!
"And . . ." Mitch swallowed nervously. This was it, all his cards on the table. Or on the bed. "And you want to kiss me?"

What distance had remained between them closed. Mitch didn't know if he'd taken the final step or if Paulo had—or if they both had. All he knew was that he was suddenly mere inches away from Paulo's bare chest. A few droplets of water still clung to his chest hair. "Ah Sim."

The words were a sigh against Mitch's skin. "But I be sure you want." He frowned, which was downright adorable on him. "Yes?"

"You want to make sure I want to be kissed?"
"Yes," Paulo said, emphatic.
The last of Mitch's nerves melted away. He was, right now, standing in his underwear in a hotel room with a gay man wearing nothing but a towel. Paulo could have easily dropped that towel and pulled Mitch into an embrace and that would have been good. But he hadn't. He was making sure Mitch was okay.

Mitch reached out and, hand shaking, put his palm flat against Paulo's bare chest. His skin was warm, almost hot to the touch, and it took everything Mitch had not to dig in his fingertips and pull Paulo toward him.

"Sim?"

It wasn't that understanding exactly two words made him fluent in Portuguese but hey, it was a start. "Can we just, you know, kiss? Maybe?"

Paulo's lips curved into half of a smile and he looked hungry, Mitch thought. Then, with the hand that was not holding up the towel, he reached up and brushed his fingertips over Mitch's cheek. "A kiss, sim. One?" As he asked it, he cupped Mitch's cheek in his palm and then dragged his thumb over Mitch's lower lip.

Mitch could feel Paulo's heart pounding underneath his skin. It was the only sign that the Brazilian was as nervous—or excited—as Mitch was. Mitch's lips fell open under Paulo's steady pressure. Oh, God—this was really happening. He was about to be kissed.

He had never been so excited.

"Well." It came out more as a sigh than anything else. He settled his other hand right above Paulo's waist. The muscles were taut and firm under his hand. God, had anything ever felt so good? "Maybe more than one."

Paulo's hand slid from his cheek to the back of his neck, a hot touch of possession. God, Mitch hoped that he was about to be possessed. "Sim," was all he said and even that was little more than a breath against Mitch's skin.

Then the hand on the back of Mitch's neck pulled him in closer and Paulo's lips touched his—gently at first. So many times, Mitch had kissed women and tasted nothing but bile in the back of his throat. Up until this exact moment, kissing had been a torture test, a trial by fire—but one that left him charred and hollow on the inside.

His entire life had been based on a single lie—that he liked to kiss girls.

And this? This was something entirely different. He all but melted into Paulo's arms as the desire and satisfaction and relief that this kiss was nothing like all of the others had been all blended together, leaving Mitch wobbly on his feet.

Paulo's lips were hard and hot against his. The stubble from his upper lip scratched against Mitch's skin, the sensation pushing his awareness even higher. Girls had been soft and flavored with lip balm and lipstick and Mitch had hated every single second of it.

But this? This was like having eaten nothing but sawdust for his entire life and then sitting down at home-cooked Sunday meal and discovering what real food tasted like for the very first time. And Mitch was hungry. Starving, even.
What do you want people to take away from reading this book?
Ooh, love wins! I really wanted everyone to know that Mitch and Paulo really do live happily ever after. Too often, the sassy gay best friend is single and/or suffers/dies–in other words, is nothing but a plot device. And while Mitch is certainly sassy and is a great friend–and yeah, okay, he does suffer when he wrecks on that bull–I wanted him to come out stronger on the other side. I wanted him and Paulo to ride off into the sunset together, happily ever after!! But I couldn't do that in the constraints of a Superromance, so Carina is publishing the story for me! YAH!!
What are you currently working on? What other releases do you have planned for 2016?
There's a few more books on the schedule (weeps):
Sept: Claimed by the Cowboy
Oct: His Illegitimate Heir
Dec: Rich Rancher for Christmas
There was supposed to (and may still be?) a novella called Roping the Rancher out next month but I'm not sure what's going on with that and there may also be a Christmas novella out in Nov. but we're still working on the details for that! So stay tuned!!

Thanks for blogging at HJ!
Giveaway:

Three copies (print or e: print USA only; e international) of One Rodeo Season and 3 copies (epub only) of Rodeo Dreams (open international!)
To enter Giveaway: Please complete the Rafflecopter form and Post a comment to this Q:

Last week was the last day of school. FOR THE WHOLE SUMMER! And for the first time in years, I'm not putting my Kid in summer camp (he outgrew the activities). So aside from a few weeks of camp and vacation, he's home. With me. All summer long. So What's your favorite way to spend summer vacation? BECAUSE I NEED SUGGESTIONS!.
Excerpt from Crushing on the Cowboy:
This is right before their first kiss, when Mitch and Paulo are still trying to figure each other out–and Paulo's trying to make sense of the Heartbreak Kid.

Mitch sat in a booth across from Paulo, a woman on either of his sides. He had his left arm around one of the women but he kept leaning toward the other woman to say things in her ear—things that made her giggle and blush. Mitch had landed hard on his right side when he was bucked off his bull and the bull's rear hoof had clipped him on the knee. As far as Paulo could tell, the women were trying to make Mitch feel better.

Paulo was not sure how alcohol-tainted giggling could do that. Personally, he found it irritating.

The woman on Mitch's right leaned into him and stroked his chest. Perhaps, Paulo thought, he enjoyed both men and women? Because there were women apparently everywhere in front of everyone. But in private, there were no women.

Of course, in private, there were no men, either. There was just Mitch's hand on Paulo's chest and Paulo's hand on Mitch's neck. That did not mean a thing.

But it might. They were sharing a room. A boring room, Paulo thought. Two beds, a terrible color on the walls and an equally terrible color on the beds. But it did not matter because things got interessante when he and Mitch were alone.

Muito interessante.

Paulo shifted in his seat. He would not be excited about the terribly colored beds. He would not be excited thinking about how he had put his hand on Mitch's neck a week ago and how Mitch's eyes had grown wide with an emotion that was not fear, but was something closer to curiosidade. Something closer to want.

Six days ago, Paulo had done the noble thing and walked away. It had been late—or muito early—and he had not had the energy to wonder if Mitch would take him to his bed. The signals were perhaps there, perhaps not. Three in the morning was not the time to find out.
Not when they had this weekend to answer the question. They had a room they were sharing. They had not ridden together. That was Paulo's fault. He had not liked having Mitch say things in the truck and not being able to look at each other. Mitch could understand Paulo when he could see him. When he could not, it was . . . not good.

Instead, they had met at the arena. "I've got us a room," Mitch had said in a nervous way. "After the bar tonight. We'll split it. Cheaper that way. Okay?"

And since there had been other vaqueiros around, Paulo had nodded. And done nothing else.
Paulo did not know what would happen when they left this bar tonight. Would Mitch take the women back to their room? Would Paulo have to find excuses not to be in a trindade? He had no desire to go through these women to get to Mitch. He had kissed exactly one woman in his life. One was all it took to confirm what he'd long known—he was homossexual.

Bonito do vaqueiro or no, Paulo was not kissing another woman. Ever.

Mitch said something that made both women laugh—Paulo did not understand it. He did not understand most of what was said in this loud bar. All he could do was watch.

It seemed like a typical night in an American bar. A rider named Red, he thought? Was that done here, to name your child after a color? Red stood among a group of riders at the bar, all of them drinking small glasses of strong alcohol and getting louder. Paulo guessed they were looking for a fight, given how they were shoving each other around.

Other riders were dancing women around or drinking. Paulo did not know their names. No one else outside of Mitch and the Preacher had told Paulo their names. Everyone had stayed well clear of him.

Paulo took a drink from his cerveja and caught Mitch staring at him. In that look, Paulo was sure he saw something different than the way Mitch looked at the women.

One of the women noticed the look. "So, your friend?" she said, her voice a question and a giggle. "Does he talk?"

"Does he do anything else?" the other woman asked. The two women looked at each other and a fresh hell of giggles broke out.

Paulo looked dully at Mitch. No, he did not do anything else.

"Nah, he don't talk." Mitch looked trapped.

"He doesn't have to," the first woman said. She licked her lips.

A tortura. What was the English word? Hell-o? No, hell. Yes. Paulo was in hell.

"Let's dance," Mitch said loudly. The women made happy noises and the three of them filed out of the booth.

But then, when Mitch went to step toward the dance area, he collapsed onto the floor. "My knee, dammit!" he cried, his voice high and pained. "Shit, I knew that bull had kicked me too damn hard!"

Paulo stared down at Mitch. What was this? It was not real, he did not think. And if it were not real . . .

The women hovered around him, making concerned noises. They sounded like hens clucking at their chicks.

"Ladies," Mitch said, his voice pained, "I am just so damn sorry—I can't—ow!" he said, this time more in earnest. Paulo had reached over and, sliding his hands under Mitch's arms, lifted him.

Paulo slung Mitch's arm around his shoulder and stood the man up straight. Mitch did not twist out of his grip.

"Ladies." His voice was filled with regret. "I'm going to have to take a rain check on this evening. I can't do . . ." His leg buckled. The women gasped. "Nothing," Mitch finished weakly.

"Can we help?" one of the women said.

"I couldn't ask that of you." Paulo felt Mitch's fingers dig into his shoulder, which he took to mean start walking. So he did, half carrying Mitch toward the door. "But hopefully a good night's sleep and I'll be back tomorrow!"

"We'll be waiting!" one of the women called after him.

Paulo moved quickly. Anything to get away from those women.

"Whew," Mitch said when they made it through the door. Suddenly, Paulo was hardly carrying him at all. But Mitch did not pull his arm away from Paulo's shoulder and his fingers did not leave Paulo's skin. If anything, Mitch was holding on tighter. "Glad to be out of there."

Paulo turned his head toward Mitch. They were very close now, their bodies pressed together. Paulo slid the arm that had wrapped around Mitch's back and under his arm down. Mitch did not need to be carried. Just as Paulo had suspected, there was nothing wrong with his leg. He looked down into Mitch's eyes. They were hard to read in the dim light from the lamps around the car park.

Why do you do that? That was what he wanted to know. Why would Mitch lie to women, to his friends—to himself—like that?

"Because," Mitch said in a pleading voice, understanding the question without words. "I have to. It's . . ."

"Expected?" Paulo said, remembering what Mitch had said last week.

He felt Mitch gasp in air, saw the way his head tilted to one side.

That was a signal that did not need translation.

Paulo let a smile play over his lips as he slid his hand further down Mitch's side—over his ribs, past his belt, down his hip. Mitch's mouth dropped open at Paulo's touches, shock and excitement over his features. His body shivered as Paulo stroked his hand down lower and lower.

He paused—just to be sure. To be kissed against your wishes—that was not a good thing. He knew. He would not wish that mix of panic and confusion on anyone.

But Mitch did not pull away. He leaned forward. He leaned into Paulo. "Yeah," he whispered, his breath brushing Paulo's lips. "Expected."

The door to the bar swung open and, his eyes widening in panic, Mitch sagged away from Paulo. "Ow," he said in a loud voice. "Man, I can't take it."

Paulo rolled his eyes. Mitch was um ator sujo—a bad actor. Still he got the message. As Mitch moaned in a pitiful way, Paulo hefted his suddenly heavy weight back up and dragged him to the truck.

But his mind was made up.

Tonight, he was going to kiss this vaquerio.
Excerpt. © Reprinted by permission. All rights reserved.

Book Info:
Award-winning Western author Sarah M. Anderson proves love needs no words in this sexy male/male novella about two rodeo cowboys facing their future once the rodeo ends
As The Heartbreak Kid, Mitch Jenner is known as the biggest womanizer of all the rodeo cowboys—but it's just an act to keep himself safe. In fact, Mitch is so afraid of coming out that he's opted to stay single—and a virgin. He's fine with being alone…until he meets the mysterious Paulo.
Paulo Bernardes is here to learn the American style of bull riding well enough to teach it back home in Brazil. A namorado—a boyfriend—will distract him from his goal, but he's captivated by Mitch, who understands him even when they don't speak the same language. In return, Paulo wants Mitch to accept himself—and their relationship.
In private, Mitch yields to his attraction to Paulo and is rewarded with a heat and tenderness he comes to crave. But he still fears exposing their relationship. And as they grow closer, Paulo wonders how he'll live without Mitch once their time together is up—how he'll pick up the pieces of his heart when it's time to say goodbye.
Book Links:

Meet the Author: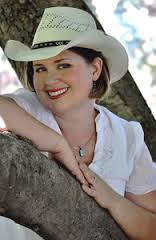 Sarah M. Anderson is an award-winning author who writes contemporary snarky and sensual romances featuring cowboys and bull riders as well as billionaires with and without babies. She won RT Reviewer's Choice 2012 Desire of the Year for A Man of Privilege. The Nanny Plan was a 2016 RITA® Finalist.
Sarah spends her days having conversations with imaginary cowboys and billionaires. Find out more at www.sarahmanderson.com and sign up for the new-release newsletter at http://eepurl.com/nv39b.
Website | Facebook | Twitter |