Today it is my pleasure to Welcome author
Kelly Jamieson
to HJ!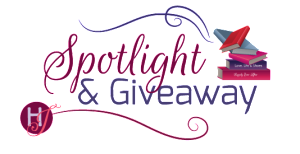 Happily ever afters aren't just for fairy tales. In this heartfelt novel, a retired athlete must become a father to the daughter he never knew—just as he discovers the power of love with a woman who reignites his passions.

Thank you so much for having me here to talk about Dancing in the Rain!

Please summarize the book for the readers here: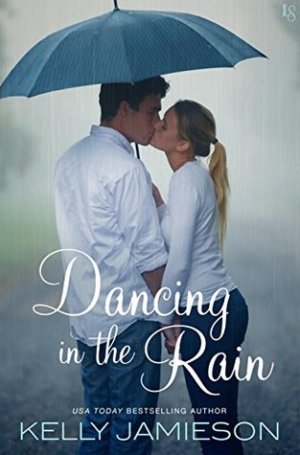 Dancing in the Rain is a story about dealing with challenges in life and how we can let them bring us down, or we can "dance in the rain". Drew is still grieving over the hockey career he's had to give up and he's not handling his disappointment very well. When he discovers he has a daughter he never knew about, things get even tougher. But when he meets his daughter, her mother and her aunt, and gets to know their little female family, their challenges put his own into a different perspective. From these three strong women he learns courage and strength, and he learns that failing isn't falling down, failing is not getting back up.

Please share the opening lines of this book:
Drew turned disbelieving eyes on the man who'd just spoken so crudely to the woman seated next to him at the bar. Did he really just ask her if she'd ever fucked a real man?
"Uh . . ." She glanced nervously at Drew.
"Does that line really work for you, asshole?" Drew asked him. "Pretty sure a 'real man' wouldn't use it."
Please share a few Fun facts about this book…
I learned a lot about shark finning.
I also learned quite a bit about child custody laws (or shared parental responsibility!)
And I'm totally intrigued with Peyton's profession as a reputation manager…I'll definitely be writing more stories set in this kind of world!
Please tell us a little about the characters in your book. As you wrote your protagonist was there anything about them that surprised you?
Drew is a charming bad boy who I fell in love with from the start. He's making some bad choices and wallowing in self-pity, but really…he's depressed. Men experience depression differently than women do…so it was a challenge to write his struggle from the male perspective. When they're depressed, men often experience anger and reckless behavior — like Drew's drinking, screwing around, and answering the door naked. Men aren't as likely to recognize that what they're feeling is depression, or to seek help for it, and they don't like to talk about how they're feeling, and this causes Drew to struggle. When Drew really surprised me? When he stood up for Chloe at her school and showed his feminist side. ☺
Peyton is a strong, confident woman…on the outside. Which is what Drew sees, at first — a woman who's in control and has her life all planned out. But like many of us, Peyton is hiding a lot of fears. On the inside, she's terrified…afraid of losing her sister, afraid of not being strong enough to help her sister, and afraid of not being good enough to parent Chloe…which is something she has in common with Drew. So she also has to learn some important things about herself.
If your book was optioned for a movie, what scene would you use for the audition of the main characters and why?
Drew's in the middle of a pity party here…
The sharp peal of his doorbell startled him. His head jerked up. Shit. Who was at his door? It better not be someone trying to save his soul because the mood he was in he was pretty sure he was beyond redemption. Hey, maybe he'd strip down and answer the door naked. That would scare them away.
Genius idea. He stood and whipped his T-shirt over his head, shoved down the athletic shorts he wore with no underwear, and headed to the door, leaving his clothes crumpled on the rug. Seeing the look on their faces would be the highlight of his shitty week. It actually made him grin.
He yanked open his front door, ready for their shock . . . but his own mouth dropped open at seeing Peyton Watt standing there.
His grin faded.
Her eyes went huge.
Her gaze tracked down his naked body all the way to his toes then back up. She met his eyes. "What the hell are you doing?" Her head moved from side to side in disbelief.
"Fuck me." He closed his eyes.
"No, thank you." She strode in past him. "Clearly you were expecting someone else, if that's what you want. Sorry if I'm interrupting other plans."
What do you want people to take away from reading this book?
Although the book certainly deals with a sad topic, the message is one of hope and strength and courage and even when terrible things happen, love makes life good and beautiful and worth living. Love gives us the strength to keep going when things are really hard.
What are you currently working on? What other releases do you have planned for 2017?
After Dancing in the Rain, I have another release in May! Hot Shot, book 2 in my Last Shot series will be out May 2 (this is Carrie and Marco's sizzling story!). In July I have Cross Check coming out — Bayard Hockey Book 2 (Ben and Ella's story) and then in the fall Slap Shot – the long awaited happily ever after for my Aces hockey player Max Hall.
Right now I'm working on a book that's been in my head for a while…a standalone with potential for spin-off stories. I don't want to say much about it but I am excited about the characters in this story, a bunch of 20-somethings who are learning that even though their parents told them they could do anything, real life isn't turning out quite like that…

Thanks for blogging at HJ!
Giveaway:

Ebook: DANCING IN THE RAIN by Kelly Jamieson (Gifted via Amazon)
To enter Giveaway: Please complete the Rafflecopter form and Post a comment to this Q:

Have you ever danced in the rain?
Excerpt from Dancing in the Rain:
Peyton reached out and laid her hand on his thigh just above his knee, over his jeans, and gave him a gentle squeeze. "I'm sorry."
"For what?"
"Just sorry that happened to you. Sorry that you can't play anymore."
"Yeah. Me, too."
He turned his head and looked at her. In the soft lamplight of the room, her blond hair glowed. So beautiful . . . she was so beautiful. Longing to touch her, to taste her, blazed through his chest.
Her blue eyes darkened. His gaze dropped to her mouth and her lips parted. Heat and desire pulsed between them. "Peyton." He lifted his free hand and cupped her face, so gently, his thumb brushing near the corner of that mouth that looked like the first step to heaven.
She gazed back at him.
"I watched you all day. I can't stop thinking about you."
Long eyelashes lowered and rose again.
He shifted closer and touched his mouth to her cheek. Her eyes closed and he felt the quivering of her body. He brushed his lips over her ear, down the side of her neck, and her skin was so soft and she smelled so damn good, luscious, like exotic flowers and dark vanilla and sex. It rushed to his head like a drug.
She made a soft sound in her throat and the hand on his thigh tightened. "Drew . . . "
His name was a breath on her lips.
He kissed her cheek again and she tilted her head, just enough to give him more access. When he grazed his teeth over her jaw, she shivered.
Vaguely, he knew this shouldn't be happening. But she wasn't stopping him . . . she was moving into him, her hand sliding higher up his thigh . . . and he used the hand cupping her jaw to turn her face to him. Their mouths hovered a whisper apart. Their eyes met and held, slow, intoxicating torture as he waited . . . and when those ridiculous eyelashes fluttered downward, he touched his mouth to hers.
She opened for him and he kissed her, slow, gentle, deep. When he pulled back to look at her once more, his breath stalled in his chest. So beautiful.
He took her wineglass from her and set both glasses on the coffee table. One hand returned to her face, the other glided into her hair and he took her mouth again. This time they both opened eagerly and he slid his tongue into her mouth. She was sweet, so goddamn sweet—the taste of her, the feel of her, the scent of her, all now filling his head with reckless lust. Hot need jolted straight to his groin.
She kissed him back, her tongue sliding on his. He tilted his head to go deeper, a groan rumbling up from his chest. Her other hand landed on his chest, fingers flexing against his shirt, igniting more fire inside him. He shifted on the couch to get closer to her, licking inside her mouth, nipping at her lips.
He slipped his hand downward, rubbing the side of her neck. The pulse at her throat fluttered under his thumb. His fingers dipped under the loose neckline of her T-shirt then under her bra strap to cup her small, round shoulder. When he dragged his hand back, his fingertips grazed over the top swell of her breast.
Her moan lit up every nerve ending in his body and he leaned in more, pressing her back into the couch cushions with his upper body. Her hand slid higher still on his thigh, inches from his aching dick. Now her other hand found skin, slipping inside the opening of his shirt, caressing his collarbone and shoulder. Hot need slammed into his balls.
"Sweet fucking hell," he muttered. "I want to taste every inch of you."
He swallowed her gasp and kissed her again.
Her fingers curled over his shoulder and pulled him closer as they strained to get nearer to each other, their bodies generating enough heat to start a bonfire. Another frantic little noise in her throat made his dick jump.
A noise behind them slowly registered in the depths of his brain and with equal shock they jerked away from each other. Their eyes met in a second of shared dismay and he threw himself back into the cushions of the couch and away from her.
Excerpt. © Reprinted by permission. All rights reserved.


Book Info:
Drew Sellers is drowning in broken dreams and empty beer bottles. Hockey was his world, until a bum knee reduced him from superstar to has-been. Then he learns that, thanks to a one-night-stand back in college, he's the father of a preteen girl with major issues. Her protective aunt sees right through Drew's BS, but "Auntie P" is no stereotypical spinster. With her slender curves, toned legs, and luscious lips, she has Drew indulging in fantasies that aren't exactly family-friendly.
At another point in her life, Peyton Watt would have been all over a cocky alpha male who pushes all her buttons like Drew. Right now, though, she needs to focus on taking care of her niece during her sister's health crisis, all while holding down a job and keeping her own head above water. Besides, Drew's clearly no father of the year. He's unemployed. He drinks too much. And he's living in the past. But after Peyton gets a glimpse of the genuine man behind his tough-guy façade, she's hooked—and there's no going back.


Meet the Author:
Kelly Jamieson is a USA Today best-selling author of over forty romance novels and novellas. Her writing has been described as "emotionally complex", "sweet and satisfying" and "blisteringly sexy". She likes coffee (black), wine (mostly white), shoes (high) and watching hockey!
Website  Twitter  Facebook  Goodreads  Pinterest  Instagram  Sign up for her newsletter