Today, HJ is pleased to share with you Christine Feehan new release

Dark Legacy

In a thrilling Carpathian novel from #1 New York Times bestselling author Christine Feehan, a woman fights to free herself from the grip of the vampire trying to possess her…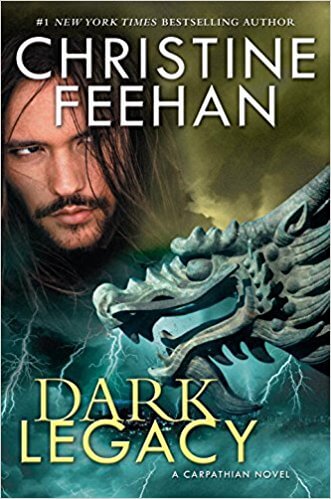 In a beautiful compound hidden away from the world, Emeline Sanchez tries to blunt the pain that has wracked her body ever since her terrifying ordeal in the labyrinth beneath the city—when she was forced to exchange blood with an evil master vampire.

Now, it's his voice that haunts her…that calls to her in the dark…that never lets her rest. And while the children that she helped to free from his clutches struggle to heal, watched over by their Carpathian protectors, Emeline knows one thing: She must sacrifice herself to keep them all from harm…

For her beauty is irresistible to the vampires, her psychic ability like a drug. Whipped into a frenzy, they'll never stop coming for her. And only the taste of one Carpathian warrior—the rush of his blood—can save her…

Enjoy  an exclusive excerpt from Dark Legacy:
"Why won't you put yourself in the ground?" Emeline asked. "You need to heal."

"I need to know why you are so afraid all the time. Even afraid of your friend," Dragomir said, no inflection whatsoever in his voice, yet she shivered, aware, without knowing how, that if Blaze had done something to make her afraid, he had no problem removing Blaze and Maksim from existence. He'd appointed himself her champion and would follow through, even if it meant putting him at odds with all Carpathians.
She shook her head. "Blaze would never do anything to hurt me." But she didn't know that anymore. She couldn't be certain.
"Emeline. I have a need, not a want, to know why you're afraid all the time." Again, there was no inflection, but his gaze was very focused. "There is a difference and this is no idle question."
Somehow, it was easier because his voice was so soft, almost gentle, as if he wasn't judging her. She sank into the chair by the window. She was exhausted. He had to be even more so. "If I tell you the truth, you'll want me thrown out of the compound. Vadim will get to me. This is the only safe place I have." The truth came out in a hurried rush.
"You are under my protection, woman. I do not give that lightly. I do not take it back just because circumstances are difficult."
She believed him. He was . . . extraordinary. He might sound arrogant and look even more so, but he was an unusual man and he deserved the truth. He had to know who he had committed to protecting. She didn't want to tell him. She didn't want him to look at her with contempt. She wouldn't blame him, but she didn't want to see it in his eyes. In such a short time, she felt as if she knew him more than she'd ever known—or trusted—anyone. That in itself was strange. She didn't trust many people.
"I'm Vadim's lifemate." She just said it. Aloud. Feeling sick, disgusted. She couldn't look away from him, waiting for condemnation.
Dragomir stared at her for a long time. "Woman, you're insane." He gave her what he must have thought was a faint smile, shaking his head as if she amused him. His smile was a very indistinct curve of his lower lip.
She blinked. She'd expected all sorts of reactions, but that was not one of them. She tried a scowl. She'd never been particularly good at scowling, but then until recently, she hadn't been great at weeping, either, and now she was a faucet that couldn't seem to be turned off. "I just told you that I'm Vadim's lifemate, and you're telling me I'm insane. Do you know how difficult it was to admit that to you?"
"What do you know of lifemates?"

Posted by arrangement with Berkley, a member of Penguin Group (USA) LLC, A Penguin Random House Company. Copyright © Christine Feehan, 2017.
Excerpt. ©Christine Feehan. Posted by arrangement with the publisher. All rights reserved.
Giveaway:

Print copy of DARK LEGACY (A Carpathian Novel) by Christine Feehan
To enter Giveaway: Please complete the Rafflecopter form and post a comment to this Q:

What did you think of the excerpt spotlighted here? Leave a comment  with your thoughts on the book…
Meet the Author:
Christine Feehan is the #1 New York Times bestselling author of the Carpathian series (Dark Carousel, Dark Promises), the GhostWalker series (Power Game, Spider Game), the Leopard series (Leopard's Fury, Wild Cat), the Sea Haven series (Bound Together, Fire Bound) and the Shadow series (Shadow Reaper, Shadow Rider).