Today, HJ is pleased to share with you

Maya Banks'

new release: 

Darkest Before Dawn

THE ALL-NEW KGI NOVEL from the #1 New York Times bestselling author of When Day Breaks.

The Kelly Group International (KGI): A super-elite, top secret, family-run business.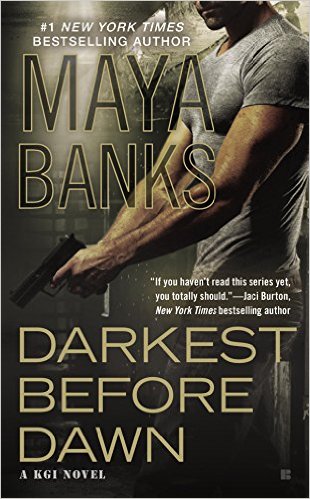 Qualifications: High intelligence, rock-hard body, military background.

Mission: Hostage/kidnap victim recovery. Intelligence gathering. Handling jobs the U.S. government can't…

The enigmatic Hancock has been both opponent and ally to the KGI teams for as long as they've known him. Always working a deep game, Hancock's true allegiance has never been apparent, but one thing is for certain—he never lets anything get in the way of duty.

But now, his absolute belief in the primacy of his ultimate goal is challenged by a captive he's been ordered to guard, no matter how much she suffers in her prison. She's the only woman who's ever managed to penetrate the rigid walls surrounding his icy heart, but will he allow his perplexing feelings for the beautiful victim to destroy a mission he's spent years working to complete or will he be forced to sacrifice her for "the greater good."

Enjoy an exclusive excerpt from Darkest Before Dawn: 
"So you want me to go after this woman, intercept her before the men hunting her find her and bring her to Maksimov?"
Bristow frowned and shook his head. "No. Not immediately. Bring her to me. I won't simply hand her over to Maksimov before gaining what I want from the exchange. And that will take time. Maksimov is reclusive and cagey. Not much brings him to the surface. If he really wants her, and I'm positive he will, I plan to make him wait and grow restless to the point he'll give me whatever I want. It will be a negotiation. If I don't get what I want from Maksimov, then I will bargain with the militants who want her so desperately. Either would give much to have the woman. Perhaps the militants would give me even more so they save face," he added with a shrug.
It was a stupid, dangerous game to toy with and attempt to manipulate Maksimov, but Hancock didn't warn Bristow of that fact. If the woman lured Maksimov into a personal meeting where he'd take possession of the woman, then that fit perfectly into Hancock's agenda, and he didn't particularly care what the consequences to Bristow were.
And it was equally stupid to bargain with a fanatical group because after giving Bristow what he wanted in exchange for the girl, they'd simply execute Bristow in very bloody fashion and take back not only what they'd given as payment for the woman but everything Bristow possessed, which would only add to their considerable wealth and power.
Anticipation licked through Hancock's veins and his pulse sped up, the taste of victory in his mouth. If all it took was capturing a single woman who was running and hiding from a terrorist group to enable him to achieve his objective, then he'd do it without hesitation. He'd have to ensure that Maksimov took the bait because it did him no good for Bristow to turn to the terrorist cell to get what he wanted. It had to be Maksimov.
He glanced up at his men and saw answering resolve in their eyes. They wanted to take down Maksimov every bit as much as he did. And like him, they grew weary of their existence or rather nonexistence. To the world, they were dead. To their government they were traitors and had been given a death sentence. To their prey, they were angels of death, without mercy or compassion. They were feared by all and they mattered to no one. To even the strongest, unfeeling soul, such a life eventually wore on them. They were all ready to step down from their cause and allow others to do the work they'd done without thanks or regard for over a decade. And make whatever kind of life was left to them, knowing that even after they stood down, they'd always be hunted.
"Give me what intel you have," Hancock said to Bristow, determination and resolve Bristow couldn't possibly miss in his tone. And Bristow had seen him in action long enough to know he didn't offer his assurances lightly. "I'll find the woman and bring her to you."
Posted by arrangement with Berkley Books, a member of Penguin Group (USA) LLC, A Penguin Random House Company. Copyright © Maya Banks, 2015.
Giveaway:

Print copy of DARKEST BEFORE DAWN by Maya Banks
To enter Giveaway: Please complete the Rafflecopter form and post a comment to this Q:

What did you think of the excerpt spotlighted here? Leave a comment with your thoughts on the book…
Meet the Author:
Maya Banks lives in Texas with her husband, three children and assortment of pets. When she's not writing, she can be found hunting, fishing or playing poker.