Today, HJ is pleased to share with you Rebecca Zanetti new release: 

Deadly Silence
Full of twists and turns you won't see coming, Deadly Silence is New York Times bestselling author Rebecca Zanetti at her suspenseful best.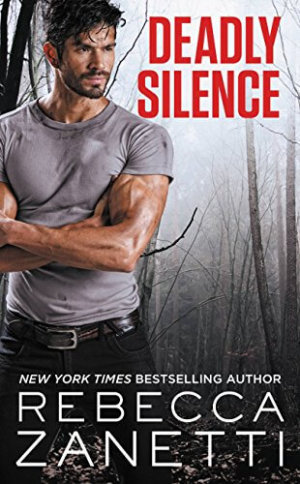 Thanks to the Harlequin Junkie gang for having me over today to celebrate the release of Deadly Silence, the first book in my new romantic suspense series from Forever.

Deadly Silence is a spinoff from the Sin Brother series and features a new cast of lost brothers all looking for answers.

My favorite scene is probably the first scene because I think many of us can relate to Zara's emotions in it. Zara is a paralegal in over her head both at work and with her relationship to Ryker Jones, the hero. She finally gets fed up and lets him have it, throwing items at his head that we all can relate to.

I mean, who really likes to wear sexy heels all day? Here's the scene:
She was so out of her depth, she'd lost sight of the shore miles ago. "Stay in your own compartment, Ryker. My business is my own, and you're not to get involved."
For the first time, anger sizzled across his features. "Be careful what you say, little girl. I'll make you eat those words."
She blinked. Sure, he'd been commanding in bed…a lot. But outside the bedroom, she'd never seen this side of him. "Don't threaten me."
"Then don't be obtuse. If you think I'm going to allow a man who hit you to keep walking, you've lost your damn mind." He put both hands on his fit hips, looking like a pissed-off warrior about to bellow a battle cry. "We may be casual, but even I have limits. A woman who cries on my shoulder after watching a stupid movie with dogs is someone who should never be harmed."
She gasped. "It wasn't stupid." It was sad when Juniper had died, darn it.
"Yeah. It was one of the dumbest movies ever made, and you turned into my shoulder to cry it out." He took a step toward her. "You don't want to mess with me on this. Trust me. Just give me the name, and tell me what's going on." Another step.
She couldn't back up any more or she'd be in the fireplace. So she held out a hand. Panic cramped her stomach, and she sucked in air and tried for anger. There it was. "I created a situation, there was an issue, and I've taken care of it." The truth would change his opinion, and she kind of enjoyed the view from the pedestal he temporarily had her on.
"No way did you create any situation that resulted in violence." The tone was almost mocking.
"That's it. You don't know me." Her chin lifted.
Something too dark to be amusement lifted his lips. "Oh, don't I?"
"No, you don't." Steam should be coming out of her ears. She reached down and plucked a high heel off. It was time to stop pretending to be somebody she just was not. "I don't like these, and I sure as shit don't walk around at work in them." Her tone was two octaves higher than normal, and she couldn't help it. Angling back, she threw the shoe at his head.
With lightning-quick reflexes, he grabbed the strap before the shoe took out his eye. "Zara." The tone was low and controlled…like always.
"You wouldn't like the real me." She kicked off the other shoe, her mind buzzing and her temper flying free. Reaching under her skirt, she yanked off the G-string underwear that had been shoved up her butt, her legs wobbling when she pulled them down and over her feet. "Nobody likes these." She flung it at his head. "I only wear them for you."
He snatched the flimsy material with one finger, his cheek creasing.
She fought the urge to stomp her foot and look like an idiot. He wasn't getting it. "I don't even know where you live," she yelled.
His phone buzzed, and he held up a hand. "Put the tantrum on hold, just for a second." Drawing the phone out, he read the screen. Both his eyebrows drew down, and he lifted the phone to his ear. "We've had movement?" Then he held still. His jaw hardened even more. "Damn it. Okay, I'm going." He paused, and his eyes darkened. "Because you just got shot. It's my turn to go, and I'll be right there." He shoved his phone back into his pocket.
Her breath heated. "Who got shot?"
"My brother."
Ryker had a brother?
He took several steps forward to grasp her neck.
She stilled. He'd never grabbed her neck before. Sure, his hold was gentle, but his hand was wrapped around her neck. "What are you doing?" she squeaked.
He leaned in, pressing just enough to show his strength. "I know you don't wear shoes like that at work, and I know the underwear set is just for me. I like that." He pressed a hard kiss to her mouth before drawing away. "I have to go, or I'd stay until we reached an agreement tonight. That bruise on your face offends me, and I'm done coddling you about it. You've got until tomorrow morning to give me the name of the guy who hit you, so I can have a conversation with him."
Ryker released her to grab his jacket and stride for the front door.
"Or what?" she asked, her voice trembling.
He opened the door and paused, looking back at her. "Or I'll find him myself and take him out for good." He yanked on his jacket, looking exactly like the badass rambling man he was. "And Zara? About where I live?"
"Yeah?"
"I moved here permanently a week ago."

So, that's my favorite scene. As an author, I have two wardrobes. One is full of yoga pants, comfy socks, and thick sweaters. I wear these most days. But for signings and conferences, it's dresses, skirts, and fun shoes. What do you wear to work?
Excerpt. ©Rebecca Zanetti. Posted by arrangement with the publisher. All rights reserved.
Giveaway:

2 Print copies of DEADLY SILENCE (Blood Brothers) by Rebecca Zanetti
To enter Giveaway: Please complete the Rafflecopter form and post a comment to this Q:

What did you think of the excerpt spotlighted here? Leave a comment with your thoughts on the book…
Book Info: 
DON'T LOOK BACK
Under siege. That's how Ryker Jones feels. The Lost Bastards Investigative Agency he opened up with his blood brothers has lost a client in a brutal way. The past he can't outrun is resurfacing, threatening to drag him down in the undertow. And the beautiful woman he's been trying to keep at arm's length is in danger…and he'll destroy anything and anyone to keep her safe.
Paralegal Zara Remington is in over her head. She's making risky moves at work by day and indulging in an affair with a darkly dangerous PI by night. There's a lot Ryker isn't telling her and the more she uncovers, the less she wants to know. But when all hell breaks loose, Ryker may be the only one to save her. If his past doesn't catch up to them first…


Meet the Author: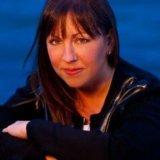 Rebecca Zanetti is the author of over thirty romantic suspense and dark paranormal novels, and her books have appeared multiple times on the New York Times, USA Today, BnN, iTunes, and Amazon bestseller lists. She has received a Publisher's Weekly Starred Review for Wicked Edge, Romantic Times Reviewer Choice Nominations for Forgotten Sins and Sweet Revenge, and RT Top Picks for several of her novels. Amazon labeled Mercury Striking as one of the best romances of 2016 and Deadly Silence one of the best romances in October. She believes strongly in luck, karma, and working her butt off…and she thinks one of the best things about being an author, unlike the lawyer she used to be, is that she can let the crazy out..
Author Website: http://rebeccazanetti.com/
Author Blog: http://rebeccazanetti.com/blog-2/
Author Twitter: http://twitter.com/RebeccaZanetti
Author Facebook: http://www.facebook.com/RebeccaZanetti.Author.FanPage
Author Goodreads: http://www.goodreads.com/author/show/4149342.Rebecca_Zanetti
Newsletter: http://rebeccazanetti.com/extras-2/subscribe-to-my-newsletter/