Today it is my pleasure to spotlight the release of 

Deeply In You

 by Sharon Page!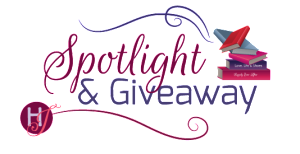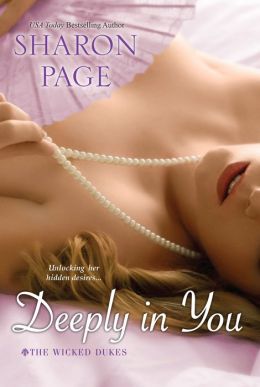 SENSUAL AWAKENING
Anxious to save her brother from debtor's prison, Helena Winsome agrees to find proof that the Duke of Greybrooke is a traitor. Well aware of his wicked ways, she takes on the guise of a demure governess. But his smoldering sensuality overwhelms her—as does his vow to make her his lover, a scandalous promise that leaves her weak with desire…
SEXUAL SEDUCTION
Darkly handsome and powerfully seductive, the Duke of Greybrooke is a man of deep passion. When the lovely Miss Helena Winsome turns down an offer to become his mistress, Grey takes on the challenge. He'll expose Helena to the erotic thrill of carnal pleasure and tease her senses until all she can do is beg for more…
Excerpt:
"I wish I'd had such a delightful governess when I was young."
Deep, silky, male—the voice startled her, and Helena spun around to find the Duke of Greybrooke leaning against the doorway of the nursery. His broad shoulders, clad in dark blue superfine, spread across the width of the opening. Then he stepped inside, and he seemed to fill the whole room. Framed by the children's things—small chairs, desks, dolls—he looked all the more large, strong, and male. "Good morning, Miss Winsome."

"Did you wish to see the children?" she asked, busying her- self with picking up fallen wooden blocks so he wouldn't see the blush that leapt to her cheeks. She pointed to the doorway at the opposite end of the playroom—the room assigned for lessons, with three small desks and chairs. "They are working on their lessons right now, but I suppose an exception could be made—"
"Exceptions are always made for dukes, my dear. But I wished to speak with you."
"Shh." She straightened and put her finger to her lips. Tried to look calm, though her heart pumped wildly. Riding crops. Tying her up!
But Whitehall's warning rang in her ears. If she did not suc- ceed quickly, her family would lose everything.
She crooked her finger for him to follow her into the chil- dren's bedroom. "We must not disturb the children," she ad- monished softly as she pushed open the door.
He put his hand over hers on the knob. His fingers were long. Even through his leather glove and her thin cotton one, the warmth of his skin seared her.
Watching the children to ensure they stayed at their work, Helena led the duke into the nursery room, and stopped in be- tween the two rows of neat little beds.
Even this—just being alone with him in this room—could see her cast out of her job without a character. A few moments alone could ruin her forever. But she had to take the risk.
The moment she closed the door behind her, he clasped her hand and turned her, and before she had a chance to be pre- pared, he raised her bent fingers to his lips. "Beautiful hands."
She tried to pull her hand free but she couldn't. He gently brushed his mouth over her fingers. A jolt, like a strike of light- ning, leapt through her body from her hand. "How can you know? I'm wearing gloves."
He kissed each finger, making her shoulders quiver with the sheer thrilling sensation rushing through her. "I love slender hands that are small and nimble. These hands dry tears, wipe noses, show children how to form their letters and numbers. These hands forge futures, and that is more than mine have ever done. The only useful thing my fingers have done is tweak nip- ples and stroke cunnies until ladies scream."
"Your Grace." Her tone was one of severe reprimand. But his words about her hands had been so sweet, she was stunned. "All right, my dear. I won't say anything naughty. Disap-
pointed?"
His index finger rested on her chin. He lifted it slightly, and
she tipped her face up. Then she realized she'd obeyed him, and she jerked back. But now she couldn't stop looking at his eyes. They were the most beautiful green—this close she could see that his irises were emerald but rimmed in gold, like priceless jewels in a precious setting.
His lower lip was lush and full, softening now into a seduc- tive pout.
"Why did you come here?" she said desperately.
"I came to apologize. But I have to admit, there is something about you that goads me into behaving like a devil. I know I should keep away from you. My tastes are too dark for a sweet, innocent woman like you."
He spoke as if she were the one in the wrong—for simply being decent. "I take it you mean the riding crops and spanking? I can- not imagine what such things have to do with love affairs. Your tastes are too—too inappropriate for any lady, I think. Really, Your Grace, should you not try to behave your—?"
She stopped. Her tongue had raced away on her. To save her family, she was supposed to flirt with him. To get into his house, she must encourage him.
"You've done it again. Insulted me and yet intrigued me." A slow smile came to his lips, and as it lazily unfurled for her, she felt her knees wobble. "Now you see my problem. You should be untouchable for a man such as me—too proper, too re- spectable, too decent. Yet I have to have you. At any price."
Fear gripped her. She was supposed to agree! She always re- mained in control; she was always in charge. But that was far easier with children and not a fully grown, immensely powerful duke.
"W-what if I am not for sale?"
"Aren't you? I would be willing to give you the world, my dear. A house of your own. One for you to keep after our affair ends."
"You told me that before." She stepped back. " 'A house, gowns, carriage, jewels,' you said. Why would you spend so much just to have me?"
The duke followed, moving close to her again. Her quick breaths flooded her senses with his masculine smells—that heady scent of bergamot, a subtle spiciness, the earthy aroma of leather.
"I wish I knew," he said softly, a wry look in his eyes.
She planted her hands on her hips. "I think I know. You are piqued because I've refused you. You are like a child who des- perately wants what he cannot have. But if I gave in, if I said yes, you would quickly become bored and cast me aside. But I could not just forget you. If I were . . . with you, I would care about you. You would give me a house, but it would be a place for me to hide within. My heart would be broken, my reputa- tion ruined. I would lose everything."
She'd spoken the truth. She hadn't meant to. Yet Grey- brooke appeared undeterred. He appeared to respond to disap- proval.
"But imagining lifting the lid on a velvet box and finding a necklace of diamonds within," he murmured. "Dozens of them, sparkling like stars. Imagine me lifting them from their cushion and laying their cool weight against your skin." Briefly his fingertips brushed over the expanse of her chest below her neck and above the modest neckline of her gown, skimming there, before he moved them away.
Even through her sensible wool gown, his touch burned.
"I would drape you in diamonds and rubies, emeralds and sapphires, and those trinkets would be yours. Did you intend to be a governess for the rest of your life? I offer you freedom."
"You offer me a gilded prison." She must stop arguing. She must say yes. But she . . . couldn't. There had to be another way to save her family.
"I know why I want you, Miss Winsome. It's because you are strong. In character, I think we are equals."
Equals? "You're a rakish duke with all sorts of land and power. I'm a governess. You can live a libertine's life. I have to ensure I never do anything improper. We are not at all equal."
"You think you are superior to me because I'm naughty and you are good."
"No—"
"Let me change your life, Miss Winsome." Another step and his broad chest filled her vision. On his ice-blue waistcoat, dragons were embroidered in fine thread—dragons in battle.
She retreated, but the backs of her legs bumped a small bed- frame, and she had nowhere left to go. "I do not want to change my life, Your Grace." But this sparring with him was thrilling.
"So the promise of enough wealth to keep you for a lifetime is not enough? I have to admit, I admire that about you, even though it frustrates my plans. I have never met a woman who would not be convinced with enough jewels."
"Those are things that would be lovely to have. But there are other things I would want. A husband, children, love. Even just one night with you and I could never have those." Selfish—she was terribly, horribly selfish, for she didn't want to throw away her hopes for those wonderful things. If she became a mistress, she would lose those things forever. Yet if she didn't sacrifice herself, her two half sisters would have no chance of ever mar- rying, of ever having families.
"No one has to know." He sounded sinful as the devil.
"I would know. I could not lie to a husband. I couldn't." The duke sat on Michael's bed, which gave a creak of protest
at his weight. With lightning speed, he grasped her hand and tugged, and she lost her balance. Clawing at the air with her free hand, she couldn't stop her fall, but the duke caught her and planted her derriere on his lap. "You are irresistible," he said.
His thighs were rock hard beneath her rump. She struggled to stand, but he held her wrists and kept her clamped upon his legs. Gently he let out a breath, and it played a merry dance along the sensitive skin of her neck.
"You are incomprehensible," she hissed. "I am refusing you, yet you seem to find that attractive. But the answer will always be no. And you must let me go—" Her voice rose with panic. What did he intend to do to her? It was one thing to play a game with him, another to be ruined. "If I'm caught here, with you, I'm ruined. If the children s-see—" Her voice wobbled. She didn't want them to see. They thought her good, but if they saw her on Greybrooke's lap and were told to think badly of her, they would.
To her surprise, he released her. Lifted her and set her on her feet.

"I do not want to get you in trouble or hurt my niece and nephews," he said softly. "You can trust me to be careful."
"Thank you." She didn't know why she was thanking him. But there were men who shredded governesses' reputations and didn't care, as long as they got what they wanted.
Her chest lifted with fierce breasts.
"What about pleasure?" he asked. "You don't want to live your entire life without knowing desire. Have you ever cli- maxed, Miss Winsome?"
She had no idea what exactly he meant, but it sounded naughty. "Your Grace, stop this at once."
He walked around her, but he did not hold her or trap her. She could just walk past him, but her legs felt strangely shaky and she could not seem to make them move. If she ran, he might follow. What she must do, she reasoned, was stand still, let him make his seduction attempt, then show it did not affect her at all.
"You are luscious, you know. No matter how severe and horrible your dress, I can detect the beautiful curves beneath. Your body was made for sex. To deny it is more than just sin- ful—it's a crying shame."
"I would devote myself to your pleasure," he continued. "I could spend an afternoon playing with your delectable breasts. Stroking them, then sucking your nipples. Imagine lying on a messy bed in a sun-filled bedroom, letting me suck on your tits until I make you come."
A dozen emotions exploded at once. Languorous delight at the thought of lying on a bed with no work to do. Shock at the crude word. A spike of desire at the image of his sensual mouth all over her breasts.
And under it all, struggling to be heard: the voice of good sense.
"I like to take a lady's seduction slowly, angel," he mur- mured. "I'd like to tie you to a bed and lick your cunny for hours, building you to climax again and again, but not letting you get there. Until I finally let you explode in an orgasm that makes you scream the house down."
She could barely breathe, and she closed her eyes. As for her heart—could hearts race so fast without exploding?
Something stroked her lower lip, sending a shower of sparks through her body. She smelled leather and knew he'd brushed his glove-clad thumb across her mouth.
That was just one little touch. Imagine a kiss.
Imagine more!
"No."
The word came out as such a croak, she thought it was a
groan of the house. No, sense still existed inside her and it was clamoring to get out. "No," she said, more fiercely. She pulled her hands free of his. "No. I can't. I won't, Your Grace."
She expected to see fury in his eyes. Instead, a slow smile curved his sensual mouth. "So I can't tempt you with steamy sex and abundant luxury?"
"I want to be decent. You must leave me alone." As soon as she said it, she winced. She was not supposed to demand he leave her alone.
"I'm afraid I will not do that. I want you," he growled. "Wrong as it is—sinful, dastardly, unforgivable as it is—I have to have you."

GIVEAWAY: 

A print copy of DEEPLY IN YOU
To enter Giveaway: Please complete the Rafflecopter form and post a comment:
What did you think of the excerpt spotlighted here? Did it grab your attention? Leave your craving for more?