Today, HJ is pleased to share with you

Lora Leigh's

 new release: 

Dirty Little Lies

From #1 bestselling author Lora Leigh comes Dirty Little Lies, a scintillating novel of the Men of Summer―and the scorching hot women who set their hearts on fire…
THE HEART HAS ITS SECRETS.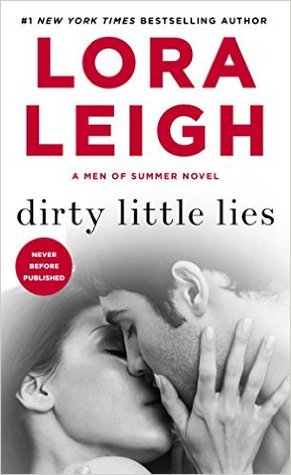 Zack Richards knows he's asking for trouble. Trying to protect a member of the notorious Maddox family could get a man killed―even a battle-scarred, muscle-ripped alpha like Zack. But the woman who has captured his wildest fantasies is nothing like the rest of her power-hungry clan. She's innocent, beautiful, and has quickly become the one shining light in his dark, desperate world. The only woman worth fighting for…and dying for…

BUT PASSION NEVER LIES.

Her name is Grace Maddox―and everybody knows that she is a marked woman. Targeted for her family's sins and hunted like a wild animal, Grace has no choice but to accept Zack's protection. In his arms, she finally feels safe. In his eyes, she sees an insatiable desire that mirrors her own.

But the truth is dangerous―and could end up tearing them apart. Will surrendering to Zack end up being the biggest mistake of Grace's life?

Enjoy an exclusive excerpt from Dirty Little Lies: 
As Zack fought to catch his breath, to pull his senses back from the savage pleasure filling him, he knew he'd made a grave error where Grace and his response to her were concerned. He should have known that years of hunger, of unrelenting need for one woman could be destructive. He should just have fucked her years ago rather than remaining at the periphery of her life, hungering for her like an animal that had never known warmth or caring while she represented the last hope for it.
Even now, letting her go, moving away from her, took an amount of effort he didn't think he'd manage to conjure up. The fact that he was able to lift himself from her and ease his still sensitive flesh from the grip she had on it amazed him.
Rolling to her side, he was preparing to lift himself from the bed when she slid easily against his side and snuggled in, a little shiver racing over her. Automatically, Zack tugged the comforter over her and held her to him, frowning at the gesture. It wasn't like him to let a woman cuddle after sex. It made them get strange ideas. Ideas that they could stay, that more than sex might hold them together.
With any other woman, he would already have been out of the bed and in the shower, cheerfully easing himself out of his lover's home. Because he had never, at any time, fucked a woman in his own bed.
The guest room, a few times, though not often. He much preferred their beds, because escape was easier and less messy. So what the hell was he doing lying here with his arm wrapped securely around Grace and allowing her to slip deeper into sleep?
Going crazy was what he was doing, he admitted. Because holding her to him and allowing her to sleep against him weren't his first mistake. They weren't even the worst mistake. Hell no, he'd committed a far graver error by allowing himself to slip inside the fist-tight grip of her sex without a condom. Then he'd compounded that error with each violent eruption of his semen inside her.
He stared up at the ceiling with a frown. And he wasn't even shaking in fear or going through any of the other responses he would have expected when doing something so insane.
He'd never spilled himself inside a woman. Never had he taken the chance that an innocent life could pay for his sins. Until now.
Until Grace.
The fact that he was complicating his life no longer escaped his notice, no more than he'd missed the fact that he'd made sure they landed in his bed rather than in the guest room.
The fact that it took so long for the act to register only elicited a resigned sigh.
He'd search for his sanity after Grace woke. Until then, he could probably use a nap himself. Keeping up with Grace while keeping her safe wasn't going to be easy. It wasn't going to be comfortable. And keeping the emotional aspects of it out of the mix wouldn't be easy at all.
It was Grace, after all.
She was nothing if not emotional, it seemed.
She inspired emotion, even in him. Emotion he was definitely going to have to guard against.
No matter the consequences.
Copyright © 2016 by Lora Leigh and reprinted by permission of St. Martin's Paperbacks.
Giveaway:

2 Print copies of DIRTY LITTLE LIES (A Men of Summer Novel) by Lora Leigh
To enter Giveaway: Please complete the Rafflecopter form and post a comment to this Q:

What did you think of the excerpt spotlighted here? Leave a comment with your thoughts on the book…
Meet the Author:
#1 New York Times bestseller Lora Leigh is the author of the Navy SEALS, the Breeds, the Elite Ops, the Callahans, the Bound Hearts, and the Nauti series.