Today it is my pleasure to Welcome romance author
Karen Rose Smith
to HJ!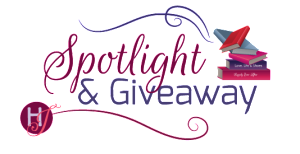 Hi Karen and welcome to HJ! We're so excited to chat with you about your new release, Drape Expectations!

Hi, everyone! It's so good to be here again to talk about the release of my fourth Caprice De Luca Home Staging Mystery — Drape Expectations

Please summarize the book a la Twitter style for the readers here: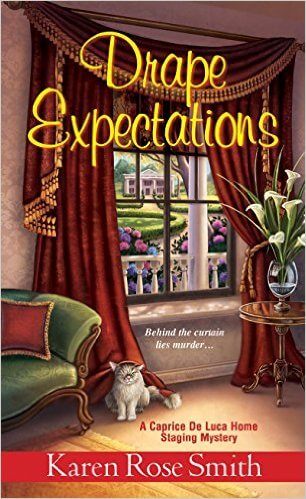 Caprice solves mysteries, takes in stray animals, cooks and wards off advice from her large Italian family.

Please share the opening lines of this book:
Caprice De Luca's cocker spaniel bounded up the wide staircase beside her.

"Why do you think Ace wants to see us?" she asked Lady, her golden-colored, seven-month-old pup.

Lady gave a bark and Caprice stopped mid-staircase to smile and ear-ruffle her dog.
Please share a few Fun facts about this book…
Caprice adopts a new cat–a white Persian named Mirabelle.
Caprice chooses Mr. Right.
Research on the Antebellum South was integral to Caprice's latest home staging with the unique theme of Antebellum Ecstasy.
Caprice's friendship with rock star legend Ace Richland adds music pizzazz.
Caprice's Uncle Dom moves in with her parents.
What first attracts your Hero to the Heroine and vice versa?
Caring and compassion attract Caprice to both Dr. Seth Randolph and her brother's law partner Grant Weatherford.

Using just 5 words, how would you describe Hero and Heroine's love affair?
Complicated, tense, caring, friendly, heart-thumping

The First Kiss…
In the next moment she found out. Crazy for Grant meant he wanted her, he needed her, and he cared about her. As the ice pack slipped from her shoulder, his lips on hers told her all that. The kiss was passionate and masterful and absolutely everything a first kiss should be.
A first kiss.

Without revealing too much, what is your favorite scene in the book?
My favorite scene is one after Caprice takes her new adoptee feline home. She is trying to integrate her into her other fur baby family.
"Mirabelle?" Caprice called again.

Suddenly she heard a thump and Mirabelle appeared at the top of the stairs.

"Come on. Meet me halfway. Then you can decide if you want to take an after-breakfast nap upstairs or downstairs."

Mirabelle's nose twitched.

Caprice had cheated with the food. Instead of Sophia's usual diet of chicken or turkey, Caprice had chosen a can of cat food with tuna in it. Most cats couldn't resist tuna, and Caprice knew Mirabelle liked it from the hungry way she'd eaten the real thing on the day of Alanna's open house.

Caprice called into Nikki, "Keep Lady occupied for a few minutes, will you?"

"Will do."

She glanced into the living room at Sophia who didn't seem to give a hoot what she was doing with Mirabelle. Yet Caprice knew better from the swish of her long-haired calico's tail. Sophia was attuned to exactly where Mirabelle was sitting and the attention Caprice was giving her.

"Come on," she coaxed Mirabelle again, waving the dish a little. Then she set it on the sixth step.

Mirabelle came down the top step slowly, one paw at a time.
If your book was optioned for a movie, what scene would be absolutely crucial to include?
Caprice and Roz were digging more deeply into their Thai food when Caprice's cell phone played.
"I'd better check this," she said to Roz. "Juan is at the house we're going to be staging and he might have run into a problem."

But when she glanced at the screen, she saw Ace's face. Uh oh, just what was she going to say to him? She swiped the screen and put the phone to her ear. "Hi, Ace. What's up?"

"Caprice…" Ace's voice sounded strained and very strange. "I'm at Alanna's house," he continued as if there was something wrong with that.

She was sure he'd been at Alanna's house a lot lately. "Does Alanna need something?"

"No, she—" There was silence…absolute silence.

"Ace? What's going on?"

"Alanna's here, Caprice, but the thing is—she's not breathing. Her eyes are wide open. She has no pulse. I think she was strangled!"
Readers should read this book …
…to become part of the De Luca family, to solve a mystery, to fall in love with Mr. Right and Caprice's furry crew.
What are you currently working on? What other releases do you have planned for 2015?
The Cowboy's Secret Baby, book 3 in my Mommy Club series for Harlequin Special Edition is also a new release this month. At present, I'm writing Caprice mystery book 6, Shades of Wrath.
Thanks for blogging at HJ!
Giveaway:

$10 Starbucks Gift Card/U.S only
To enter Giveaway: Please complete the Rafflecopter form and Post a comment to this Q:

Do you like to see friendships develop in a series and why?
Excerpt from Drape Expectations:
Why did Grant need her there?
She found out when she saw the damage at the Blue Moon Grille. There were a handful of diners and drinkers still there, scattered at tables on the right side of the room and at the bar. A group of men stood outside the French doors on the deck looking in, probably curious as to what would happen next.
It was obvious to see the left side of the room had seen a fight. Tables and chairs were pushed aside as if the floor had to be cleaned up for some reason. Grant and Ace sat on two ladder-back chairs near the kitchen.
She hurried over to them. "What happened?"
Grant motioned to the area where they were sitting. "You should have seen this fifteen minutes ago—broken glass, crab pretzels on the floor, not to mention the fries and ketchup."
Ace gave him a glare.
Grant glared back. "Do you want to tell her?"
"I decked Len. There's nothing else to say." He glanced up at Caprice. "I called Grant because I broke his nose."
"Luckily Len isn't going to press charges," Grant explained. "Apparently no one saw who threw the first punch. It's a he-said-he-said situation. But Ace here is ready to go after him again, and I need you to talk some sense into him. Apparently, you're one of the people he listens to."
"I listen to my housekeeper," Ace mumbled. "Because she feeds me."
Caprice just shook her head, yanked on a chair and pulled it over to join the two men. "Ace, go home."
"I can't. I have to talk to the owner about damages. But what I want to do is go out on that deck and throw Len off of it. He killed her. You know he did. Maybe Alanna decided not to pay him what she said she was going to. I just can't believe she'd plot against me."
Caprice wasn't a defender of Alanna by any means, but to make Ace feel better, she suggested, "Maybe she thought she was plotting for you. Maybe she thought she was doing the best for you."
"The best? By ruining my career? There isn't a career any longer without a road show. It's even more important than it used to be."
Caprice glanced toward the deck and spotted Len standing between two of the band members. He was holding an ice bag on his nose.
Ace was still flushed and looked as if he wanted to punch a wall if not Len. She'd never seen him like this. But being accused of murder so publically, grieving for Alanna and knowing he had a tour to get on the road— No, those weren't good excuses, but they sure were reasons why he was riled up like this.
Ace was Italian. He came from the same kind of family she did with lots of affection and love and passion.
She reached out to him and touched his arm. "Ace, you have to try to get a grip, and even more than that, you have a daughter to set an example for. Do you really want to wind up in jail? On assault and battery charges if not murder? Detective Jones doesn't care how famous you are. It won't take much more than this to prove you have a motive."
"They only have circumstantial evidence," Ace said stubbornly.
"Don't push Jones to search for more." Taking a different tack, she held out her hand. "Give me your phone."
Ace looked at her as if she were crazy.
"Come on," she coaxed. "Give it to me."
He did, and she swiped the screen. Trista's picture appeared. "Take a good look at her, Ace. She wants to respect you. She wants to spend time with you. Don't mess this up."
Ace studied the picture of Trista for a long time. Then he gave a little nod, took three deep breaths, and let his shoulders relax a little. "Okay. No more punches."
Excerpts. © Reprinted by permission. All rights reserved.

Book Info:
Caprice De Luca's former client and now friend Ace Richland–an 80's rock star–asks her for a favor. Can she quickly stage his girlfriend's house to sell? Widow Alanna Goodwin, a transplanted Southern beauty, will be moving in with him! Immediately Caprice realizes Alanna's southern charm can be turned on and off at will. Caprice agrees to stage Alanna's Kismet antebellum-styled mansion for Ace's sake. But she soon learns Alanna doesn't have a genuine love for her cat Mirabelle and also uncovers a plot her new client is hatching to sabotage Ace's comeback. However, before she can tell Ace, Alanna is murdered and Ace is the prime suspect.
Book Links:

Meet the Author: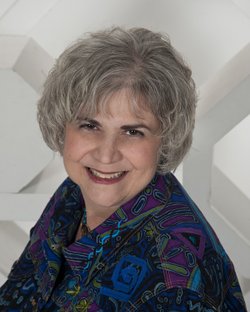 An only child, Karen Rose Smith delved into books at an early age. She learned about kindred spirits from Anne of Green Gables, solved mysteries with Nancy Drew, and wished She could have been the rider on The Black Stallion. Yet even though she escaped often into story worlds, she had many aunts, uncles and cousins around her on weekends. Her sense of family and relationships began there. Maybe that's why families are a strong theme in her novels, whether mysteries or romances.
Readers often ask her about her past times. She has herb, flower and vegetable gardens that help her relax. In the winter, she cooks rather than gardens. And year round she spends most of her time with her husband, as well as her four rescued cats who are her constant companions. They chase rainbows from sun catchers, reminding her life isn't all about work, awards and Bestseller lists. Everyone needs that rainbow to chase.
Karen's 90th release will be available in 2016. She looks forward to interacting with readers. Her website is the portal to her latest news, releases and social media feeds at http://www.karenrosesmith.com. It's like a treasure map with new surprises to reveal at each click. For day to day chatting, search on Facebook for KarenRoseSmithBooks. Tweet with Karen on Twitter @karenrosesmith. Her blog, Cats, Roses…and Books! discusses whatever is uppermost in her mind at http://karenrosesmith.blogspot.com/. She hopes each and every one of her books brings you reading pleasure and warm feelings to surround your heart.
Website | Facebook | Twitter |