Today it is my pleasure to Welcome New York Times Bestselling author  
Rachel Van Dyken
 to HJ!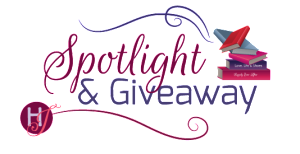 Hi Rachel and welcome to HJ! We're so excited to chat with you about your new release, Elect!
Would you die for the one you love?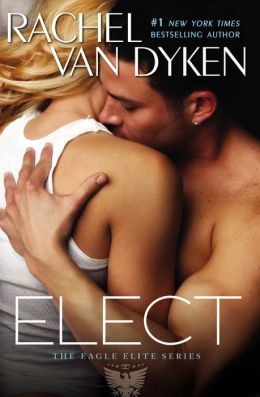 Nixon Abandonato made his choice. And now he has to pay the price. Tracey is the love of his life, but being with him has made her a target of his family's enemies. The only way to keep Trace alive is convince the world she means nothing to him.
Trace Rooks has fallen irrevocably in love with the son of her family's sworn rival, and she knows in her bones nothing can tear them apart. Until Nix suddenly pushes her away and into the arms of his best friend… But Trace isn't ready to give up on a future with Nix—and if he won't fight for them, she will.
In the end, a sacrifice must be made. A life for a life. For what better way to cover a multitude of sins than with the blood of a sinner.
Rachel, If you had to pick your five favorite scenes from ELECT, they would be…?
Choosing five favorite scenes from one of your books is kind of like being told to choose a favorite character you've written, or if you want to be really extreme–picking a favorite child. Okay, okay, so maybe it's not that hard, but for the Eagle Elite series, I feel like there are so many fun scenes that it's hard to narrow it down. So, with a strong cup of coffee in hand, I'm going to choose…
5. I'm a sucker for prologues, I feel like they can foreshadow the entire story, make the reader want to throw their kindle and also invest them in the story, so one of my favorite scenes is at the very beginning, where the story is set to take off:
Chase jerked her toward him. She fell against his chest and looked up into his eyes. "What are you doing?"
Chase sighed. "What I should have done a long time ago." He grabbed the back of her head and pulled her in for a kiss. Their lips touched.
I had to look away.
The only sound in the night was that of my soft footsteps as I walked away…leaving my heart in broken pieces where I'd last stood. She was lost to me; it wasn't even the Sicilians that had taken her, but my best friend.
A gunshot rang out loud and clear in the night air. I turned back around just in time to see Trace collapse into Chase's arms.
4. This next scene is one of my personal favorites and a huge favorite from a lot of readers…it's where we get a glimpse into Nixon's more romantic side…up until this point he's done a lot of growling, punching, and shooting, but here we see that he's completely invested in Trace:
"Chase would say you've gone soft."
"Chase can kiss my ass," I grumbled. "And I'm not soft. I'm just…"
"Just?"
I kissed her forehead and laughed. "I'm in love."
"Who is she!" Trace jumped to her feet and yelled. "I demand to know the person who holds your affection."
"'It is the East! And Juliet is the sun!'" I jumped off the table. "'Arise fair sun, and kill the envious moon, who is already sick and pale with grief, that thou her maid are far more fair than she, but not her maid since she is envious: Her vestal livery is but sick and green: And none but fools do wear it. Cast it off!'" I stalked toward her and grasped her hands. "'It is my lady, oh, it is my love.'" I touched her face and whispered, "'Oh that she knew she were.'"
Trace's eyes fluttered closed as she leaned into my hand. "That was…"—a small smile played at the corner of her mouth—"the sexiest thing I've ever experienced."
I chuckled. "Clearly I've been slacking then. You know, all the shooting in my direction and keeping a sworn enemy in hiding."
3. This scene–the first sex scene between Nixon and Trace–is a personal favorite because it's his way of saying goodbye to her, she has no idea what's about to happen but knows something's wrong…he tells himself it's okay to take this one piece of her because in his idea he's marching towards his death:
"Good-bye, good-bye, good-bye," I repeated over and over again as I lifted her shirt over her head and helped her pull off mine.
We didn't speak.
I wasn't sure I could say anything. I was afraid to ruin the magical moment that we were currently living in.
She knew.
I knew.
And we needed each other more than anything else in the world.
Just this once…after all…every man on death row gets one final wish, right?
I tugged her down onto the bed and hovered over her. Trace reached up and trailed her hands over her favorite tattoo. I closed my eyes. Her touch was almost like a burn, so powerful, so perfect.
Kissing her neck was my perfection, my last meal, my last drink, my last everything. I wanted to memorize the exact moment my lips touched her neck, the exact minute she screamed out my name.
The second she found her pleasure.
Her lips found mine again as our tongues twisted together, fighting, coaxing, tasting.
More clothes were discarded and then it was pure skin. Hot, soft skin pressed against all of me.
"Are you sure?" I whispered.
A tear streamed down her face as she nodded. "Yes."
Maybe I shouldn't have been that selfish. To take the one thing I knew she had to offer another man. But I wanted it. I wanted her and if I couldn't have her forever, I at least wanted a part of her that would be no one else's.
2. Chase steps up to the plate…His story or his part of the story destroyed me, absolutely wrecked me from the inside out. Funny, because I honestly meant for this series to be two books thats it, but after writing his POV I had no choice but to keep going, his strength fascinated me, and his love for Trace..well it just makes me feel horrible because as the author I know whats going to happen, I know what's going on and he's just desperate for any part of her he can get yet feels like a horrible cousin because he loves someone he can't have.
I shook her a bit. "Damn it, Trace! What do Alferos do?"
"We fight!" she yelled and tried to push at my chest. "But I can't. My heart, it's broken. It's so damn broken, I feel like I can't breathe." She hiccupped and struggled against me.
"Then breathe in me." I released her and took off my soaked black t-shirt. "Breathe in my atmosphere because then at least I know you're breathing. At least then I can hear you inhale and exhale. Trace, I can't fix what's been broken, and I'm not trying to take his place. God knows I can't, no matter how badly I wish I could."
She slumped against me and wrapped her arms around my neck, clinging onto me so tightly that I could feel her heat through her clothing.
"I'm sorry." She sighed. "I'll eat."
"And what else?" I pried her away from me. "What else are you going to do?"
"Fight."
"And why are you going to fight, Trace?" I whispered.
She took a deep breath. Water fell across her full lips. "Because that's what he would have wanted."
"Damn right." I grabbed her hand and kissed it.
She gasped and then, somehow, I don't even know how it happened, we were kissing. No—we weren't kissing—I was devouring her.
1. This is where as an author you decide who she chooses, and as a reader you either shout YESSSS or NOOO!!! I think I caused fights between readers with this one because in their own ways–both guys were good for Trace, both guys were good choices..but in the end I decided to reveal more of Nixon's character and maturity when it came to Trace, it was a really hard scene to write because it basically paints Chase as a bit selfish but I think anyone reading it comes out going…"Okay, I get it, I finally get it."
My drink clattered to the ground as I swayed on my feet. "What the hell, Chase? You're the one who took the most precious thing in my life from me. You're the one who, even though you knew I was alive, kissed my girlfriend, my forever, my reason for living. And you're yelling at me?"
"Damn right I am," Chase spat. "She loves you!"
"She loves you too." I massaged my jaw. "And I'm not gonna do that to her."
"Do what?"
"Make her choose."
Chase hung his head and rubbed his temples. "Stop being the bigger man."
I sighed. "It's not about me, man. It's about her. I'm not going to put her between us. Hell, I'm not even going to let it get between you and me. It's her, it's always been her, it's about her. Hell if I'm going to sit here and throw a fit for wanting something that doesn't want me back. She loves you? Fine. Because, Chase. It's never been about my wants or my needs. I can't live if she's unhappy. I can't breathe if she's upset. If being with you brings her that peace, then I want you to have her. I'll be your best man at the wedding. I'll babysit your kids when you want date night. Chase—" I swallowed the emotion in my throat and shook my head. "It's about her."
So that's it! I hope you enjoyed my fun little count down, again it's SO hard to pick favorites but these are just a few that stood out to me 😉
Thanks for blogging at HJ!
Giveaway: 

2 Print copies of ELECT
To enter Giveaway: Please complete the Rafflecopter form and Post a comment to this Q: 

What did you think of the excerpts spotlighted above? 
Meet the Author: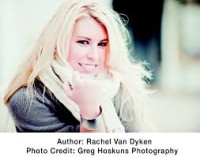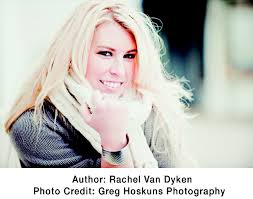 Rachel Van Dyken is the New York Times and USA Today Bestselling author of contemporary romances. When she's not writing you can find her drinking coffee at Starbucks and plotting her next book while watching The Bachelor. She keeps her home in Idaho with her Husband and their snoring Boxer, Sir Winston Churchill. She loves to hear from readers! You can follow her writing journey at www.rachelvandyken.com