Today it is my pleasure to Welcome author
Jennifer Probst
to HJ!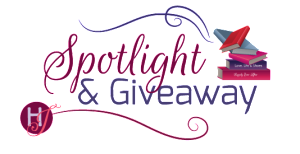 Hi Jennifer and welcome to HJ! We're so excited to chat with you about your new release, Everywhere and Every Way!
Please summarize the book for the readers here: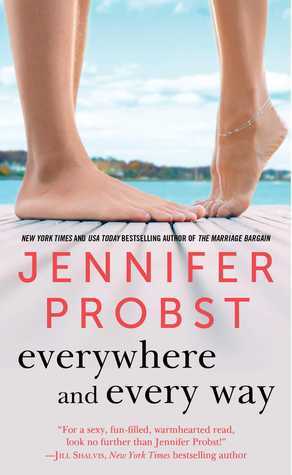 An HGTV sexy inspired romance! Three estranged brothers are forced together by their father's will to run Pierce Brothers Construction and must deal with dark secrets from the past. As the oldest brother and leader in the family, Caleb is determined to succeed, but icy home designer to the stars, Morgan Raines, challenges him at every turn. Despite their best intentions not to mix business with pleasure, will Cal be able to lay the foundation for everlasting love?

Please share the opening lines of this book:
Caleb Pierce craved a cold beer, air-conditioning, his dogs, and maybe a pretty brunette to warm his bed.

Instead, he got lukewarm water, choking heat, his head in an earsplitting vise, and a raging bitch testing his temper.

And it was only eight a.m.
Please tell us a little about the characters in your book. As you wrote your protagonist was there anything about them that surprised you?
I found these characters to be a bit different and had fun really diving deep and exploring them. When you start a new series, everything is brand new, so it took me time to get to know them. Caleb is a true all American hero, and it was so refreshing to write him rather than an alpha CEO or bad boy for a change. He runs deep. His love for his job of building houses goes to his soul, and the way he grows throughout the book surprised me the most. I think readers will really enjoy his growth arc, as he needs to come to terms with his estranged brothers, save his business, and figure out what is most important to him. Morgan is a cool, calm, collected Southern woman with a bit of spitfire underneath. Again, I never wrote a Southern heroine before and relished the challenge. I really think they fit so well together and their banter was legendary!
If your book was optioned for a movie, what scene would you use for the audition of the main characters and why?
Definitely the scene where Cal and Morgan first meet. Sparks need to fly, and the actors need achieve that smart, snarky, sexually charged banter that really makes a scene spark for viewers. I love the way Morgan challenges him at every turn and his grudging respect and then sexual interest along the way!
Here's a taste:

"You have mud on your skirt."

She never lost a beat. "I encountered the two Cujos in your foyer and realized they wanted to kill me in a way I wasn't prepared for. We wrestled and I won."

"Never heard Balin and Gandalf called Cujos before. You'd be in more danger of being licked to death."

"Tolkien fan, huh? Nice. Still, I wouldn't term them a great welcome committee for new clients," she said.

"I don't want any new clients, so they work great for me."

"You won't need any other clients after you take the Rosenthal job. You'll be able to pick and choose to your liking."

"I'm in a bad mood, princess. Sure you want to take me on now?"

She tilted her head and regarded him thoughtfully. "Why don't you try me Charming?"

His gaze narrowed. Oh, yeah, that got his attention. She tried not to get sucked into the depths of those amazing eyes, but she was fascinated at how quickly they could turn from smoke to cold steel. She wondered briefly what they'd look like when he was buried deep inside her. Whoah, what was that thought? Was she insane?

"What did you just call me?"

Morgan smiled at his slightly shocked tone. "Charming. If I'm playing the passive princess, you can play the part of the stud with brawn but no brains. Personally, I think the horses were the most interesting part of those stories."
What do you want people to take away from reading this book?
Sheer pleasure! I want my readers to close this book, give a happy sigh, and smile. I want them to feel like their heart is full and warm — because this book has all the feels and I always incorporate a deeper theme within my books that I hope resonates long after the end. In this one, it's finding home.
What are you currently working on? What other releases do you have planned for 2016?
I just finished final edits on Anytime, Anyplace which is Dalton's story. The book comes out January 2017. I also finished Searching for Disaster, the final book in the series, which is Isabella's story, and that releases this October. I also am excited about my first nonfiction writing book with Writer's Digest called Write Naked, which releases March 2017!

Thanks for blogging at HJ!
Giveaway:

Print copy of EVERYWHERE AND EVERY (The Billionaire Builders) + a keychain
To enter Giveaway: Please complete the Rafflecopter form and Post a comment to this Q:

Who loves to watch HGTV? One of my favorite shows is The Property Brothers–which this series is loosely based on. Tell me your favorite home type improvement show and if a man with a tool belt and a hammer really does it for you!
Excerpt from Everywhere and Every Way:
"You think you're the wild bad boy of the town, Caleb Pierce?" She went on her tiptoes and got right in his face. "Think you're gonna shock my poor little Southern heart by standing here, half-naked, with an erection? Think I won't take your dare, Charming?" Her slow smile glittered and stopped his heart. "Thank again."
The earth shook a bit beneath his feet, but it was no earthquake. No, this was all breathless anticipation and pure lust as Morgan Raines tossed her silvery hair like a wild filly and took his dare.
She bent down and untied her shoelaces, neatly stacking her sneakers beside her. With graceful motions, her fingers slid in a no-nonsense way and unbuttoned her little white blouse. She shrugged the fabric off and Cal was slammed with a vision of full, ripe breasts barely constrained in a delicate lace camisole. As his dick grew so hard, it was pure discomfort, his vision hazed when she casually unbuttoned her white linen capri pants and wriggled them over her full hips.
Holy mother of God.
She was gorgeous.
His gaze tried to take in all that pure white flesh and the way the cream camisole skimmed over her body as if it were a wrapped treat, every lush curve emphasized. His fingers itched to reach out and touch her. His mouth ached to press over her pink lips. His body craved to know hers like a song he wanted to learn from beginning to end and never stop reciting.
But she gave him no chance. With a wink, she pivoted on her bare heel and ran straight for the water. Then launched herself through the air in a perfect jump, sinking below the surface.
Holy shit. The woman had just taken off her clothes in front of him and dove into the water. His Southern magnolia was really a hothouse rose, and he loved every fucking moment.
Cal took off and did a cannonball, spraying water everywhere. Her laughter was witchlike, echoing in the wind like a siren call. With economical strokes, she swam around him, finally flipping to her back to float, her silvery hair spread around her, palms up to the sky like a sacrifice to the moon gods. He watched her in the beautiful silence that spilled over the lake, and something odd shifted within.
"Cal?"
Did she feel it, too? Something shifting? "Yeah?"
"I think I want to add another level for the film room."
He blinked. "Huh?"
Excerpt. © Reprinted by permission. All rights reserved.

Book Info:
Ever the responsible eldest brother, Caleb Pierce started working for his father's luxury contracting business at a young age, dreaming of one day sitting in the boss's chair. But his father's will throws a wrench in his plans by stipulating that Caleb share control of the family business with his two estranged brothers.
Things only get more complicated when demanding high-end home designer Morgan hires Caleb to build her a customized dream house that matches her specifications to a T—or she'll use her powerful connections to poison the Pierce brothers' reputation. Not one to ignore a challenge, Caleb vows to get the job done—if only he can stop getting distracted by his new client's perfect…amenities.
But there's more to icy Morgan than meets the eye. And Caleb's not the only one who knows how to use a stud-finder. In fact, Morgan is pretty sure she's found hers—and he looks quite enticing in a hard hat. As sparks fly between Morgan and Caleb despite his best intentions not to mix business and pleasure, will she finally warm up and help him lay the foundation for everlasting love?
Buy:
Amazon: http://amzn.to/1YqvR9O
iBooks:  http://apple.co/1ZO0tCp
BN:  http://bit.ly/1TCkbg4
GooglePlay:  http://bit.ly/24WYzWY
Kobo: http://bit.ly/27kudwu


Meet the Author: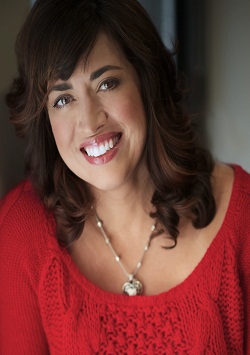 Jennifer Probst wrote her first book at twelve years old. She bound it in a folder, read it to her classmates, and hasn't stopped writing since. She took a short hiatus to get married, get pregnant, buy a house, get pregnant again, pursue a master's in English Literature, and rescue two shelter dogs. Now she is writing again.
She makes her home in Upstate New York with the whole crew. Her sons keep her active, stressed, joyous, and sad her house will never be truly clean.
She is the New York Times, USA Today, and Wall Street Journal bestselling author of sexy and erotic contemporary romance. She was thrilled her book, The Marriage Bargain, was ranked #6 on Amazon's Best Books for 2012. She loves hearing from readers. Visit her website for updates on new releases and her street team at www.jenniferprobst.com.
Website | Facebook | Twitter |