Today it is my pleasure to Welcome romance author
Jane Lovering
to HJ!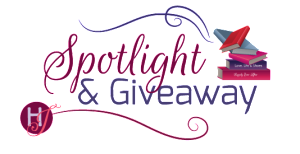 Hi Jane, welcome 🙂
What would you say are the defining characteristic of your novels?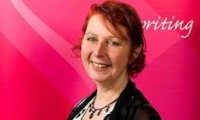 That's tricky for me to answer. Why not ask what my favourite kind of cheese is – I know that one….no? All right. Well then, I suppose I'd say that I write 'dark psychological romance – with jokes'. It might be labelled Romantic Comedy, often with Paranormal in brackets afterwards, but that doesn't mean it's all shopping and shoes, my novels are often very, very dark. But funny. Because life can be funny, even when it's being tragic.
Oh, and it's Wensleydale
Are you a plotter or a panster? Tell us a little bit about your writing process.
I practically define 'pantsing' simply by existing. I start my novels usually with a couple of characters in my head and maybe a couple of scenes. Sometimes it's a line of dialogue or a place, sometimes it's an image. Then I sort of point myself at the story and see what happens.
Of course, in Falling Apart it was easier because it's a sequel, so I already had the characters lined up, but I still didn't have much else to go on, apart from an end scene and a situation leading up to that end. I often get the end before the beginning with my novels and have to retcon the entire story to fit the end. I may not be normal, let's consider that as a possibility.
Let's talk about your newest release: Falling Apart
If you had to summarize the book for the readers here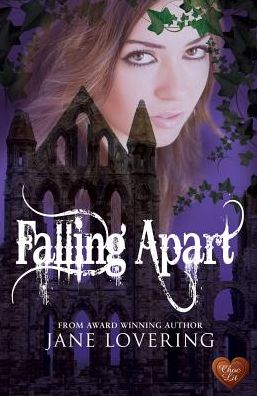 Vampires are real. They're here. And they need keeping in order, despite being mostly obsessed with paperwork. Our heroine, Jess, has made the mistake of falling for a vampire and he says he loves her too, but then one day…she wakes up and he's gone. Where is he? And why? And what's going on with humans stalking zombies?
Then these questions are answered. And Jess wishes they hadn't been…
Plus, the search for practical, attractive footwear at reasonable prices.
Please tell us about the characters in your book?
Our heroine is Jessica, Human/Otherworld liaison officer for York City Council, consumer of an inordinate number of biscuits and drinker of a ridiculous amount of coffee. She's practical, loyal, strong and ironic. She also twitches a lot, but that's probably the coffee. Her lover is Sil, a vampire. He's superhumanly fast, with ridiculously good hearing and eyesight but more sarcasm than he should have – and he's done something very, very bad.
Then we have Jess's sidekick Liam, who runs the office when she's out kicking ass. At least, he says he's running the office, he's usually on the Doctor Who forums or eBay, or hiding the biscuits from Jess. And Zan, Sil's best friend. Another vampire, he's best summed up with the letters OCD.
As you wrote your protagonist was there anything about them that surprised you?
Because Falling Apart is a sequel, I thought I had a pretty good handle on my characters, but I found myself getting constantly surprised by Zan. He kept stepping up and showing a lot more depth of feeling than I thought he had – he's particularly affected by the repercussions of something that Sil does, and I hadn't seen that coming.
What scene did you most enjoy writing? Why?
I always enjoy writing the interplay between Jess and Liam. They needle each other and are relentlessly sarcastic, but underneath it all they are deeply attached. So it's almost like writing a pair of battling siblings, plus Liam gives as good as he gets.
'Maybe I should just take a leave of absence.' I said. 'Go and hide under my duvet or something. Tell Zan I've got a notifiable disease to stop him busting in every three minutes for one of his "chats", and just … oh, I don't know, catch up with my woefully behind reading of Heat magazine.'
Liam gave me A Look. 'Jessie, you attract trouble like this carpet attracts unexplained stains – and those two things, now I come to think of it, are probably not unrelated. So maybe you're best off where your trouble is at least work related, did you ever think of that?'
I stared at him. 'You're very bossy all of a sudden. Did you get a pay-rise to cover making decisions and being definite?'
'My inner geek has moved over a bit to let my inner office manager have a turn. It's like being possessed by a firm of accountants, for the record.'
What scene was the hardest to write? Why?
The hardest scenes were where Jess is talking to her father, who's been hospitalised. I lost my father six years ago, and just re-reading the part where her dad is upset because he can't protect her makes me well up a little bit every time…
I tried to smile, but my mouth wouldn't co-operate, and only went as far as a straight-lipped grimace. 'With the best will in the world, Dad, I don't think filling in farm subsidy forms is going to be any kind of preparation for this sort of thing.'
'No, but I could …' He stopped speaking so suddenly that I glanced over to the monitor. The trace was irregular, though at least it was there. But he'd closed his eyes as if he wanted to avoid looking at my face. 'I should protect you.' A whisper so faint that it barely registered over the beeps and clicks and whirrs, and a tear slid from the corner of one closed eye. 'I should be there.'
Who would you cast in the role of your characters if your book was optioned for a movie?
I'm never very good at this but I've got a bit of a 'fantasy cast' for this one. Ben Barnes would make a good Sil, Ben Wishaw is Zan (particularly in his 'Q' persona) and Jenna Coleman would make a fabulous Jess. And Liam? Well, it has to be Tom Hiddleston…
If you could have given your characters one piece of advice before the opening pages of the book, what would it be and why?
Never doubt the loyalty of your friends.
What are you currently working on? What other releases so you have planned for 2014?
I have literally…I mean literally, in the last day…put the finishing touches to a contemporary Rom Com called (provisionally) I Don't Want to Talk About It. This features a stammering stonemason, a chaos-fuelled book editor with a tattooed wrist, a writer working on a book about graves and a little girl with a hobby horse called Light Bulb. Again, it's funny but dark, and set up on the North York Moors. Now that book is done, I'm getting into the right frame to start a new one – this time about falconry and tea shops.
Where can readers get in touch with you?
Oh, I'm pretty much everywhere… There's my website and blog at www.janelovering.co.uk, I'm on Facebook at https://www.facebook.com/pages/Jane-Lovering-Author/106404969412833?fref=ts
And Twitter @JaneLovering
Or you could just lurk outside my house. But I warn you, my children are large and hair-trigger and the dog isn't much better…
Thanks for blogging at HJ!
Giveaway:

Winner's choice of print or e-copy of FALLING APART.
To enter Giveaway: Please complete the Rafflecopter form and Post a comment to this Q:

If you knew you were going to live for at least two hundred years, how would it change your attitude to things?
Excerpt
'Oh shit.' It was all I could say. Liam and I held on to each other and watched the film Zan was sending from a security camera in central London. When it came to the end, we watched it again, slo-mo; even through the blood and the
terror, I couldn't look away.
Finally Liam turned the video off and we just stood and stared at one another. 'Shit,' I said again.
'Definitely him?' Liam looked pale and his eyes were huge.
'I … yes. Only Sil and Sherlock Holmes wear a coat like that.' The shock had kicked in, leaving my brain driving uselessly forwards, like a clock with no hands, trying to force me into action. I had no idea what action I could usefully
take right now. 'And, yes. It was him. I suppose … we should call Zan …?'

At that moment the phone rang and we both stared at it. 'That will be him,' I said, still distant with shock. 'You'd better speak to him. I don't think I …' I waved at the handset and Liam, green-faced and shaking slightly, picked it up.
There was a static buzz of words and Liam took a deep breath.
'No, Jess has no idea either, he … no, we've not heard anything from him.' I was glad Liam had taken the call; I had the feeling that I was going to come over all hysterical any moment now, and Zan's phobia-list had 'crying women' right up there. 'Yes. As soon as we hear anything.' He lowered the
phone and looked across the office at me, his eyes wide with panic now. 'Shit, Jessie. What has he done?'
'We know what he's done. We saw him doing it.'
Book Info:
Jessica Grant liaises with Otherworlders for York Council so she knows that falling in love with a vampire takes a leap of faith. But her lover Sil, the City Vampire in charge of Otherworld York, he wouldn't run out on her, would he? He wouldn't let his demon get the better of him. Or would he?
Sil knows there's a reason for his bad haircut, worse clothes and the trail of bleeding humans in his wake. If only he could remember exactly what he did before someone finds him and shoots him on sight.
With her loyalties already questioned for defending zombies, the Otherworlders no one cares about, Jess must choose which side she's on, either help her lover or turn him in. Human or Other? Whatever she decides, there's a high price to pay … and someone to lose.
Falling Apart is the sequel to Vampire State of Mind.
Author Bio
JANE LOVERING was born in Devon, England but, following extradition procedures, now lives in Yorkshire. She has five children, four cats, two dogs and doesn't believe in housework so the bacteria and dust are approaching sentience and now rank among the pets. Incidentally, she doesn't believe in ironing either, and the children all learned self-defensive cookery at early ages. She works in a local school and also teaches creative writing, which are extreme ways of avoiding the washing up. Jane is a member of the Romantic Novelists' Association and has a first class honours degree in creative writing. Jane writes romantic comedies which are often described as 'quirky'. One day she's going to find out what that means.