Today it is my pleasure to Welcome New York Times bestselling author
Katee Robert
to HJ!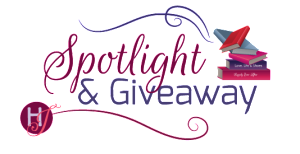 Hi Katee and welcome to HJ! We're so excited to chat with you about your new release, Falling for His Best Friend!

Hi! Thank you so much for having me!

Please summarize the book a la Twitter style for the readers here: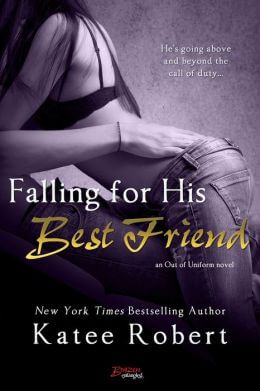 Avery's decided it's time to have a baby, her best friend Drew is determined to step up and be the one she does it with—the old fashioned way.

Please share the opening lines of this book:
Drew Flannery was so goddamn late. He was supposed to meet his best friend, Avery, at Chilly's forty minutes ago. She'd mentioned something about exciting news and now he was fucking up what he expected was her well-planned out delivery.

He ducked into his police cruiser and cursed. The whole thing reeked of alcohol and stale cigarettes, an unnecessary reminder of why he was late.
Please share a few Fun facts about this book…
I sort of made up a trope for this book — The Baby of Convenience. It follows the same rules as marriage of convenience but with a baby instead of a ring.
Avery's name in the original draft was Charlie.
The main song in the soundtrack I have for this story was Jason Aldean's Night Train. There's even a scene partially inspired by it in the book 🙂
The Out of Uniform series was only supposed to be a duology, but there's one scene between Avery and her sister, Alexis, that had me emailing my editor saying, "So I know this wasn't in the plan, but I have GOT to give this woman a book!" So the third book is Alexis's story.
This is the first book I'd written that made me laugh and cry in equal measures.
What first attracts your Hero to the Heroine and vice versa?
Avery and Drew have been friends for nearly twenty years, so they have a great relationship at the start of the book. But when things take a turn for the sexy, Avery is all about Drew's hands and how he takes charge of every encounter. On the flip side, Drew loses his damn mind multiple times in the book when he finds Avery missing certain vital parts of her wardrobe.

Using just 5 words, how would you describe Hero and Heroine's love affair?
Hot, Complicated, Playful, Angsty, SEXAY

The First Kiss…
"Come on."

"What?"

He grabbed her arm and hauled her down, not holding her tightly enough to hurt, but she wasn't getting away without a fight. Avery stumbled along next to him, confusion deepening with each step. What had crawled up his ass this time? She hadn't locked the door, so there was no pause on her porch before he towed her inside, finally stopping in her
kitchen.

She jerked her arm out of his grasp. "What's wrong with you?" When he didn't immediately answer, she had to fight the urge to deck him. "You can't just—" She broke off as he stepped into her space, so close their chests almost brushed.

Drew met her gaze, his blue eyes full of something she wasn't sure she wanted to define. "Avery, shut up and listen to me. If we're going to do this—and we are—we're going to do this right."

And then he kissed her.
Without revealing too much, what is your favorite scene in the book?
It's the scene where Avery takes Drew to the fertility clinic. There was a slight…miscommunication…over how exactly they were going to go about impregnating her, and the hilarity is one of my favorite parts of the book.
God help her, but she'd become pretty damn attached to the idea of Drew being the one who made the other half of this baby. Maybe his backing out was for the best, but she couldn't stem a rush of disappointment knowing this wouldn't be happening.

What was she supposed to say? There wasn't exactly an entry for this kind of situation in Miss Manners. She took a deep breath as he jerked into her driveway and slammed on the brakes. "Well, thanks for trying anyway. I get why you…why you're not okay with it."

He stared down at his clenched hands. Or maybe he was counting the scars on his fingers. She had no way of knowing. Finally, Drew spoke, his voice so low she could barely hear him. "I'm not going to come in a cup and then have some doctor implant you with a turkey baster."

"Uh…that's not exactly how it works." Wow, this was getting more awkward by the second. "I get it. You freaked out. It's really okay. It's not even going to affect the appointment I have set up next week. They'll just use the donor I'd already picked out."

"No." Just that. No explanation, no reasoning, nothing but that freakishly calm expression.
If your book was optioned for a movie, what scene would you use for the audition of the main characters and Why?
The fun (and seriously hot!) scene where Drew pulls Avery over. It starts partially as a joke, but quickly spirals out of control.
He leaned over her, covering her with his body, and she stopped struggling at feel the hard length of him pressed against her backside. Whoa. Where had that come from? She swallowed, trying to process the one-eighty her hormones did, from anger to desire, in a single beat of her heart.

It was because she wanted the end result of this—the baby—not because being at his mercy and having his hands on her got her hot. "Is that a baton in your pocket, officer, or are you just happy to see me?"

"Oh, sweetheart, I'm definitely happy to see you."
Readers should read this book …
If they love friends-to-lovers stories that are quirky and heartfelt.
What are you currently working on? What other releases do you have planned for 2015?
I'm currently working on the third book on my O'Malleys series for Grand Central. 2015 will see the first book in that series releases, The Marriage Contract, as well as the final Out of Uniform novel, His Lover to Protect, and novella, His to Take.
Thanks for blogging at HJ!
Giveaway:

$10 gift certificate to Amazon
To enter Giveaway: Please complete the Rafflecopter form and Post a comment to this Q:

Friends to lovers stories are some of my favorite kinds. How do you feel about them?
Excerpt from Falling for His Best Friend:
The more he thought about it, the surer he was that her decision to put them back into familiar territory was the right one. They had to stop this shit before he lost her for good. He forced a grin. "You ready?"

"I was born ready." She leaned forward as the game started, her thumbs flying over the buttons as she tried to run the football down the field.

He'd seen her use that play before, though, and he was prepared for her. Drew's defensive lineman tackled her quarterback and he whooped. "What's that I was hearing
about you kicking my ass?"

"The day is young." She elbowed him. "I'm about to pull out my super secret weapon. You'll never see it coming."

"Your mouth keeps writing checks that your ass can't cash. Just like always."

"Always? Please. I'm reigning Mario Kart champion. No one can argue that."

He really couldn't since she constantly dominated during that game. Drew glanced at her, loving the way her dark eyes lit up with challenge. He grinned. "They're two different animals, young grasshopper, which you'll figure out soon enough." He refocused on the game in time to see her wide receiver catch a long pass and sprint into the end zone.

"What's that?" She jumped to her feet and cupped her hand around her ear. "I thought I heard you explaining how I'm not going to dominate this game." She laughed and did the Avery version of a touchdown dance—knees high and her arms pumping.

It was the most adorable thing he'd ever seen.

She paused, her arms dropping to her side. "I feel like you're judging me right now."

"Avery—"

"You can explain it away however you want, but I know the truth. You're so filled with shame that you don't know how you'll get up in the morning." She held up a hand when
he pushed to his feet. "It's okay, Drew. There will be other games. I'm sure you'll have your day in, say, about five years."

God, she was driving him crazy in the best way possible. "Five years? It was one touchdown."

"One in the long line of many future ones." She laughed. "Because I'm obviously superior in all things."

The sad truth was that she was. No one else could compare to her on any level, a fact which was only becoming clearer the longer this thing between them went on. Why would he have lied to her in order to take out another woman when all he wanted was her?

Avery opened her mouth—no doubt to deliver some more hilarious shit-talking—but Drew didn't give her a chance.

He pulled her against him and kissed her, reveling in the feel of her going soft against the front of his body. He dug his hands into her hair, tipping her head back so he could slant
his mouth over hers, slipping his tongue between her lips.

She pulled away just enough to say, "I thought we were stopping."

"I changed my mind."
Excerpts. © Reprinted by permission. All rights reserved.

Book Info:
He's going above and beyond the call of duty…
Avery Yeung's biological clock just went off early. Thanks to
her family's medical history, she's running out of time to get
knocked up. And the only guy within donating distance? Her
overprotective—and irritatingly hot—best friend. So clearly
she needs an anonymous donor…
Anonymous donor? Over Sheriff Drew Flannery's dead
body. While daddyhood will never be in the cards for a man
with his past, Drew won't let Avery shop for a "popsicle pop."
He'll do what's right for his best friend by doing his best friend.
But only if they do it properly.
But there's nothing "proper" about it. Between the bed, the
kitchen counter, and against his squad car, Avery and Drew are
having the hottest sex ever. They can't get enough of it—or each
other. And without knowing it, they've crossed the one line that
could ruin their friendship forever…
Book Links:

Meet the Author: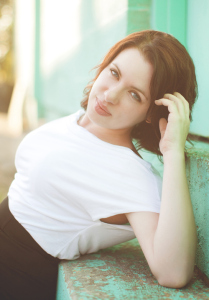 New York Times and USA TODAY bestselling author Katee Robert learned to tell her stories at her grandpa's knee. She found romance novels at age twelve and they changed her life. When not writing sexy contemporary and speculative fiction romance, she spends her time playing imaginary games with her children, driving her husband batty with what-if questions, and planning for the inevitable zombie apocalypse.
Website | Facebook | Twitter |