Today it is my pleasure to Welcome author
Kristina Knight
to HJ!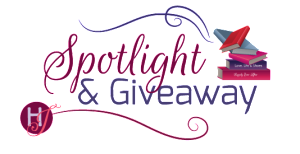 Hi Kristina and welcome to HJ! We're so excited to chat with you about your new release, Famous in a Small Town!

Hi, everyone! I'm thrilled to be back at Harlequin Junkie!

Please summarize the book for the readers here: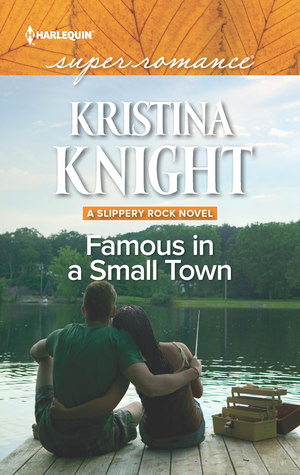 Famous in a Small Two is the first book in my new small town romance series. It's about former foster child, Savannah, who has a knack for self-sabotage, and Collin, one of the town's former football hero, who has a dark secret of his own. Together, they learn what 'home' really means – and how to let go of their dark pasts.

Please share the opening lines of this book:
DECISION TIME.
Savannah Walters sat staring at the faded red stop sign at a crossroads—one would lead her into complete anonymity and the other back to a place where everyone knew who she was.
Anonymity beckoned, slick and sweet.
Please share a few Fun facts about this book…
Slippery Rock is based loosely on the small town where I grew up, which has made it a lot of fun to write! Savannah is the younger sister of Collin's best friend – which makes for some interesting banter between Collin and Savannah as well as them and Levi, Savannah's brother. I adore all things apple – apple orchards, apple cider, apple pie…my Apple watch. So setting Collin's business in an apple orchard let me play around with all my favorite apple-things. I was also in a serious Dierks Bentley mood, so his album "Rounder" pretty much dominated my playlist!
Please tell us a little about the characters in your book. As you wrote your protagonist was there anything about them that surprised you?
Savannah and Collin are both a little bit broken, but I was surprised how optimistic Savannah is. She's taken charge of her life – while still trying to hide the awful thing she did in Nashville – and is ready to embrace life. Of course, she's still messing things up – mostly by keeping the Nashville secret – but she doesn't shy away from things she usually would. She is at a place where she wants to know more about who she was before she was adopted, and at the same time, she wants to embrace her adoptive family.
If your book was optioned for a movie, what scene would you use for the audition of the main characters and why?
The opening scene – Savannah's car has broken down just outside town, and Collin is, naturally, her rescuer. The banter in that scene was really fun to write!
Here's a snippet: "Collin Tyler," she said, thankful that her voice was working despite her raging thirst. "Still a Good Samaritan, I see."
He shrugged and the motion brought her focus right back to his body. Damn it.
"What seems to be the problem?" he asked, walking over to the car. His hands slipped between the hood and the grille and before she could warn him it was stuck, he had it unlatched and resting on the thin rod that held the hood aloft. Collin put his hands on the grille and leaned in as if he might spot the problem. Probably, he could. He fiddled with a couple of wires. "What are you doing driving this old thing still? Figured you have traded up by now."
"I love this car."
Collin shook his head and scoffed. "Nobody loves a 1997 Honda hatchback, Van," he said, using the nickname which Levi had christened her within five minutes of her arrival at Walters Ranch.
"I worked hard for this car. I love this car," Savannah said, probably a little too stridently. But she did love the car. Even if she wanted something newer and trendier and…road-worthy. This car had taken her out of Missouri to Los Angeles then Nashville. And back again.
What do you want people to take away from reading this book?
That family isn't something we are born into, family is something that we make for ourselves – and sometimes it includes our biological family, but sometimes family is made up of the friends with whom we surround ourselves.
What are you currently working on? What other releases do you have planned for 2017?
The second Slippery Rock book, Rebel in a Small Town, will be out in July (it features acting Sheriff James Calhoun, Collin's sister Mara Tyler, and has a secret baby hook!), and then in September book 3, Breakup in a Small Town releases, featuring marriage-on-the-rocks couple Adam and Jenny Buchanan (whom we meet and get to know a little about in books 1 and 2)…and then in December, book 4 releases! It's currently untitled, but features Savannah's older brother, Levi, and newcomer to Slippery Rock, Camden Harris.

Thanks for blogging at HJ!
Giveaway:

I'm giving away an e-copy of my book, First Love Again by Kristina Knight
I also have a month-long giveaway going on my blog, which readers can enter for a swag pack + an autographed copy of First Love Again.
To enter Giveaway: Please complete the Rafflecopter form and Post a comment to this Q:

Would you have (or did you) date a sibling's friend?
Excerpt from Famous in a Small Town:
"He looks ridiculous," a sullen voice said to Savannah's left. A young girl with long blond hair in a French braid, wearing a faded T¬¬¬¬-shirt, ripped jeans and Chuck Taylors rolled her eyes when Savannah turned in her direction. "Like we're living in the eighteen hundreds instead of the twenty-first century."
"I take it you don't like farmer's markets?"
The girl scuffed her shoe against some loose gravel. "Not when I'm here under duress. He says I owe him compensation."
"Amanda Tyler, right?" The girl nodded. Savannah didn't remember her exactly, but her features were too similar to Collin's to deny, and since she was too old to be his secret love child, she had to be his sister. His other sister. Savannah and Mara were the same age, although they'd never been close friends. Amanda was clearly several years younger. "Savannah Walters."
"I know who you are. You almost won that singing show last winter." Amanda breathed a heavy sigh. "Even people who get out of this town don't really get out of it."
Oh, she could so relate to the teenager. The last place she'd wanted to be when she was sixteen was Slippery Rock. People either called her Levi's sister, ignored her completely, or made not-quite-whispered insinuations about her adoption and the possibility that either Bennett or Hazel had a love child. Or that she was a drug baby from Springfield who needed to be saved by the wholesome Bennett family. The speculation was endless. She patted the table beside her.
"Pull up a corner of the table and we can plot your exit from the oppressive Slippery Rock."
That got a grin from Amanda. She sat beside Savannah, swinging her legs.
"Why do you owe him compensation?"
She mumbled something Savannah didn't catch, but before she could ask again, Collin interrupted.
"I said five minutes, not fifty." Annoyance laced his words and his expression, which was focused on Savannah rather than his sister.
"There was a line at Bud's and I was barely gone fifteen," Amanda retorted. She shoved the cup in her hands at her brother and stomped off. "I'll be in the truck if my penance is over."
"What did she do?" Savannah couldn't resist asking.
Collin looked from her to his sister's retreating back, and then winced when she slammed the door of his truck. "She shouldn't have been—" he squeezed his eyebrows together as if searching for the right word "—bothering you."
Savannah sat straighter, reading between the lines. He didn't really see this situation as Amanda bugging someone, he saw it as his innocent baby sister being led astray by Savannah Walters, Screw-Up. "You really think in the two minutes we were talking I could have convinced her to…what? Run away from home?"
"Isn't that what you did?"
"I tried out for a reality show. I was over twenty-one. It isn't the same thing."
"That isn't what I was talking about."
Savannah blinked.
Collin watched her for a long moment, and then said, "I was talking about homecoming night, my senior year, your junior."
Her breath caught in her throat. She didn't think anyone outside the family knew about the time she really had run away. The night the boy who'd asked her to the homecoming dance, the boy who'd made her feel like she might finally fit in here, had called to tell her he couldn't take her to the dance because she was mixed race. She'd been waiting by the front door in the pretty peach gown she and Hazel had found in Joplin, she'd straightened her hair and spent an hour on her makeup.
And she'd wanted to die.
She'd run as far as she could, gotten lost in the woods between the ranch and the lake, and spent most of the cold, rainy night hugging a tree trunk and hoping there were no wolves or bears in Missouri. Bennett had found her at dawn the next day. He'd carried her home, but no matter how gently they'd asked what had happened, Savannah hadn't been able to tell them.
People in town trusted and liked the Walters, despite racial tensions in the area, but she wasn't really a Walters. She was different, and that boy made sure she knew it.
"How did you know about that?"
"Who do you think drove all the country roads with Levi that night while your dad and my grandfather and Sheriff Calhoun searched the woods?"
She swallowed. He'd helped look for her. God, no wonder the pristine Collin Tyler wanted nothing to do with her. Collin, who had the perfect life with his perfect family whose roots went back farther than the Walters clan. Collin, who was a Tyler by birth, unlike her, a Walters by adoption.
"I should thank you for helping Levi that night. And it was no bother talking to Amanda. Mama Hazel sent me out here to get out of her way and into my dad's. I decided to steer clear of both and enjoy a cold drink. Amanda made for a little company."
"Still. She had her orders."
"And I'm not the kind of influence you want around her. Well, from what I recall, teenage girls don't do so well with orders. You didn't answer my question. What did she do? Skip curfew?" Savannah knew she should drop the subject, but she couldn't. Despite Amanda's obvious annoyance at Collin, there was something very connected about the two of them. Family dynamics fascinated her.
Collin rubbed a hand over the back of his neck. "What hasn't she done? Cut class, skipped curfew. She was with the kids who set that fire downtown just after you got back into town. Last weekend she duct-taped the one-ways downtown to run the way she thought made more sense. She needs a keeper."
Savannah chuckled. "Sounds like some of the stuff you guys did back in high school." Pranks and raids she'd never been invited into, not that she was bitter. Even if Levi had asked, she would never have gone.
"Totally different."
"Because you were boys and she's a girl?"
Excerpt. © Reprinted by permission. All rights reserved.


Book Info:
Lifestyles of the small-town famous
Forced to leave Nashville after a scandal, Savannah Walters has come home to Slippery Rock, Missouri, with a bruised ego and her singing career in jeopardy. As if that isn't humiliating enough, on her way into town she's rescued by her swoon-worthy childhood crush, Collin Tyler.
His hands are full running the family orchard and dealing with his delinquent teen sister, so Collin doesn't need to get involved with someone as fiery and unpredictable as Savannah. But the intense attraction between them can't be denied. And when disaster strikes, they'll both be surprised by who's still standing when the dust settles.
Book Links:

Meet the Author: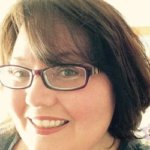 Once upon a time, Kristina Knight spent her days running from car crash to fire to meetings with local police–no, she wasn't a troublemaker, she was a journalist. Her career took her all over the United States, writing about everything from a serial killer's capture to the National Finals Rodeo. Along the way, she found her very own Knight in Shining Cowboy Boots and an abiding love for romance novels. And just like the characters from her favorite books, she's living her own happily ever after.
Kristina writes sassy contemporary romance novels; her books have appeared on Kindle Best Seller Lists. She loves hearing from readers, so drop her a line!
Website | Facebook | Twitter | Instagram | GoodReads |