Today, HJ is pleased to share with you Katie Ruggle new release: 

Fan the Flames.

In the remote Rocky Mountains, lives depend on the Search & Rescue brotherhood. But in a place this far off the map, trust is hard to come by and secrets can be murder…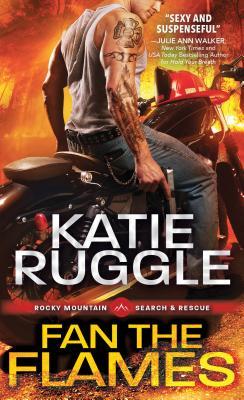 He's a firefighter
He's a Motorcycle Club member
And if a killer has his way…he'll take the fall for a murder he didn't commit

Ian Walsh is used to riding the line between the good guys and the bad. He may owe the Club his life, but his heart rests with his fire station brothers…and with the girl he's loved since they were kids. Ian would do anything for Rory. He'd die for her. Kill for her. Defend her to his last breath―and he may just have to.

Every con in the Rockies knows Rory is the go-to girl for less-than-legal firearms. When she defends herself against a brutal attack, Rory finds herself catapulted into the center of a gang war, with only Ian standing between her and a threat greater than either of them could have imagined.

Read an exclusive excerpt from Fan the Flames 
Thank you for having me! This is one of my favorite scenes from Fan the Flames, the second book in my Search and Rescue series. After night after night of false alarms and empty scares, there's finally actual evidence of an intruder on Rory's property. Rory grabs her favorite revolver (my dream gun—a Colt Python) and charges out to protect her gun shop. Good thing firefighter and MC member Ian is there to have her back! I love how protective Ian is, while, at the same time, he recognizes that she's able to take care of herself.
The alarm woke her instantly, her body jackknifing into a sitting position before her brain even registered the beeping. After a disoriented second, she shot out of bed, scattering pillows and bedding in her wake. She'd almost reached the bedroom door when it opened, forcing her to stumble backward so she didn't get slammed in the face.
"Which alarm is that?" Ian asked, sounding wide-awake.
"Move, and I'll check," she snapped, shoving past him into the living area. When she hit the power button on the monitor, the cameras' live feeds filled the screen. A quick scan didn't show anything amiss. She checked the alarm panel next.
"It's the southwest corner," she said, and began scanning the recorded footage.
Ian paced toward the stairs. "Let's go."
"Give me five seconds," she said, her eyes fixed on the screen. "We need to know what we're dealing with before we charge out there, guns blazing."
Although he made an impatient sound, he returned to watch the monitor over her shoulder.
"There." She reversed the video and pointed to the shadow that moved in and out of the far side of the frame. Not much of the intruder had been captured by the camera.
Squinting, Ian leaned closer to the screen. "Play that again." After she did, he shook his head. "What is that, someone's arm?"
"Think so." She replayed it a third time.
"The resolution on that camera is crap."
"Yeah, that's why I was hoping the deer cameras would get a better shot." She straightened and opened the desk drawer, grabbing her revolver. "It does tell us there's at least one person out there, looking to cause trouble, so we're not just dealing with our coyote friend."
Ian followed her as she charged up the stairs. "Is that a Colt Python?"
"Yep." After checking the store cameras, she unlocked the door.
"Nice. Can I shoot it sometime?"
"No." She automatically closed the door and covering shelves behind them, then punched in the code before the store alarm could sound. After jamming her feet into her boots and yanking on her coat, she unlocked the back door and charged into the night. Jack ran in front of her.
"Rory!" Although Ian's voice was low, he managed to pack an entire yell into his whisper. "Wait for me."
Without pausing, she headed for the trees. They would provide cover for most of the trek to the southwest corner where the alarm had been triggered. She heard Ian swearing under his breath as he followed. Rory was a fast runner, but he was faster. It was just a few seconds before he caught up with her and took the lead. She wanted to roll her eyes at his protective insistence on being the first to encounter any danger, but she couldn't do that and watch where she was going.
They'd just passed the greenhouse and chicken coop when a loud boom echoed through the night. Through the trees in front of them, a bright flash illuminated the darkness for a blinding moment. Ian jerked to a halt, whirling around to grab Rory and pull her into his chest, his back to the detonation. With a pained yip, Jack streaked toward them and cowered next to their legs.
"What the hell?" Ian growled. "I thought you didn't have any explosives out here."
"I didn't say that." Her voice was muffled, since her face was pressed against his chest. Despite the situation, she couldn't help relishing the comfort and security of his hold. It was a novel feeling to be protected—novel and addicting. "I said I didn't have any land mines."
"Rory…"
"Relax." Reluctantly, she tried to push away from him. After resisting for a second, he released his tight grip, allowing her to take a couple of steps back. "It was just one of the flash-bangs."
When she said the words, a delayed realization hit her: something activated the grenade. That meant someone had made it inside the fence. Her eyes widening, she turned and ran.
Excerpt. ©Katie Ruggle. Posted by arrangement with the publisher. All rights reserved.
Giveaway:

Print copy of Fan the Flames (Search and Rescue) by Katie Ruggle (US & Canada)
To enter Giveaway: Please complete the Rafflecopter form and post a comment to this Q:

You're home alone and hear a suspicious noise. What would you do?
Meet the Author:
When she's not writing, Katie Ruggle rides horses, shoots guns, and travels to warm places where she can SCUBA dive. Graduating from the Police Academy, Katie received her ice-rescue certification and can attest that the reservoirs in the Colorado mountains really are that cold. While she still misses her off-grid, solar- and wind-powered house in the Rocky Mountains, she now lives in Rochester, Minnesota near her family.
Buy Links:
Amazon: http://amzn.to/1ZXdlWU
B&N: http://bit.ly/1ZXdfhW
iBooks: http://apple.co/21k5Laj
Kobo: http://bit.ly/1ZXducQ