Today it is my pleasure to Welcome romance author
Meg Benjamin
to HJ!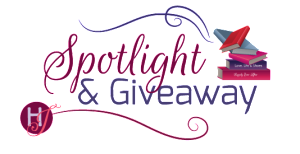 Hi Meg and welcome to HJ! We're so excited to chat with you about your new release, Finding Mr. Right Now!

Hi, everybody. Welcome.

Tell us about the book with this fun little challenge using the title of the book: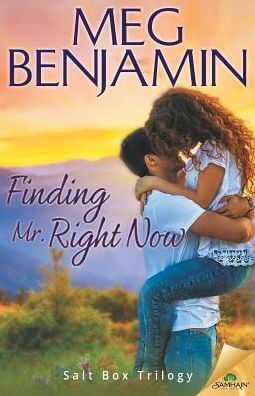 Finding – F is for Fairstein Productions, the reality show producers who start the ball rolling in Finding Mr. Right Now. One of the bachelors in their bachelorette show takes off unexpectedly, and they need a replacement. My hero is reluctantly pressed into service to keep the show's slightly ditzy bachelorette from having a meltdown.

Mr. – M is for Monica McKellar, my heroine. She's the show's assistant producer and in charge of the resident bachelorette. Monica is the one who has to track down a substitute bachelor, and the one who has to explain to one of the show's writers why he's been selected by the slightly hysterical bachelorette as her fill-in of choice.

Right – R is for Ronnie Ventura, the bachelorette in question. She's a decent person deep down. But she's also sort of, well, excitable.

Now – N is for Nope. Just nope. Monica's determined not to fall for Paul Dewitt, the reluctant bachelor. She's so not going to get involved in a vacation romance, even though everything about Paul is just yummy. Do I have to tell you nope eventually turns to yep?
Please share the opening lines of this book:
"He's really gone? You're sure? You checked everywhere—hotel, limo service, makeup, wardrobe, all of it?" Monica McKellar held onto her iPhone like it was glued to her palm. If she kept her voice low, maybe no one else would hear.
Please tell us a little about the characters in your book.
Monica McKellar, my heroine, is a workaholic assistant producer for Fairstein Productions, but she's beginning to question her priorities. She's working such long hours she doesn't have time for a social life and she doesn't seem to be moving ahead with her career. Paul Dewitt, my hero, is one of Fairstein's writers, but he sees the job as a stepping stone to something bigger and better. Neither Monica nor Paul expects to end up in Salt Box, Colorado, for a few weeks, and neither of them expects to fall in love. But Salt Box is a kind of magical place, and both of them are smitten. Then there's Ronnie Ventura, the bachelorette, who's one of the last romantics. Ronnie believes in true love, even if it takes place in front of thousands of viewers. But while Paul and Monica fall under the Colorado spell, Ronnie starts wising up.
Please share a few Fun facts about this book…
The setting for Finding Mr. Right Now, Salt Box, Colorado, is based on some of my favorite Colorado resort towns: Steamboat Springs, Frisco, Crested Butte and Telluride among others.
When I started working on the book, I'd never seen an episode of The Bachelor or The Bachelorette so I had to search them out online.
I did a lot of my research in People and Us magazines–I picked up every issue that had a Bachelor or Bachelorette on the cover.
The First Kiss…
For once in his life, he didn't even pause to think. Thinking's overrated anyway. He lowered his mouth to hers, running the tip of his tongue along her lips, breathing in her sigh when she opened to him.
He slid his arms to her waist, pulling her in so that their bodies touched. The warmth that began in his chest moved south rapidly, his body hardening again against hers. He heard her moan softly as he pressed harder, one hand at her shoulders, the other at the small of her back. Her legs opened against him, as she rubbed against his arousal.
He growled low in his throat, his hand dropping to the rounded cheeks of her behind.
He angled his head, taking the kiss deeper, spearing his tongue into her mouth as he felt her rise to him in return. Her hands were on his shoulders now, squeezing gently as she leaned into him. He reached up to pull them around his neck, then speared his fingers into her mass of butterscotch hair, her breasts full and warm against his chest.
After a moment, he pulled away from her lips and ran the tip of his tongue along the column of her throat, his breath warm against the coolness of her skin. He dropped one hand to cup her breast, finally feeling that perfect weight against his palm, his thumb moving across the hard pebble of her nipple through the smooth silk of her shirt.
Her breath rasped against his cheek. "We need to slow down a little," she gasped.
"Why?" As far as he could tell, this was absolutely the right speed. A great speed, in fact. At this rate they'd be in bed within the next fifteen minutes.
"Because we're both in a tough situation here, and we can't do anything about this, even if we want to." Her voice sounded almost choked.
Paul pulled back to stare at her, trying to shake his addled brain into something resembling coherence. "We can't?"
"We can't." She stepped away from him slightly, closing her eyes as she fought for breath. "It's way too cold to do anything outside, and we've both got roomies."
If your book was optioned for a movie, what scene would you use for the audition of the main characters and why?
Probably the first post-sex scene. They're on the darkened front porch of their resort hotel, and Paul's a little anxious since he can't see Monica's reaction. It shows their slightly snarky conversations and the fact that both of them are a little overwhelmed by what's happening between them.
Paul's lips whispered across her forehead. "Don't go all silent on me, Monica. I need to know what you're thinking here."
She blew out a quick breath. "Um…whoa?"
He chuckled against her hair. "Okay, that pretty much sums it up I guess." He leaned back against the side of the couch, shifting his weight, pulling her up against his body again. "Sorry, I didn't mean to squash you."
"You didn't." She ran her fingertips along his cheek, staring at his face in the shadows, the angles and hollows made stark in the dim light.
"Talk to me," he said softly.
"I don't…" She shook her head. "What do you want me to say?"
"How you feel, what you think."
She narrowed her eyes. "Are you usually this talkative after sex?"
He frowned slightly, his brows drawing together. "Not that I recall, no. I just…I like to hear your voice." He brought her hand to his mouth, pressing his lips against her fingers. "Particularly now. I can't really see you here, so I need to hear you."
Her lips curved into a smile, almost against her will. "I feel lovely, considering that I should be freezing and squashed and I'm not. And I think that was insane."
What are you currently working on? What other releases do you have planned for 2015?
Right now I'm working on the two other books in my Salt Box Trilogy, Love in the Morning, and one I'm calling Running on Empty for now. Both of them take place in Salt Box, featuring some of the same characters from Finding Mr. Right Now. In fact, Ronnie Ventura is the heroine of Running on Empty. There are also a couple of reality shows involved–Fairstein Productions really likes Salt Box too. Love in the Morning will be released on January 26, 2016.

Thanks for blogging at HJ!
Giveaway:

I'll give away a $10 gift card to either Amazon or Barnes and Noble. Just leave a comment to be entered in the drawing. Giveaway is US only.
To enter Giveaway: Please complete the Rafflecopter form and Post a comment to this Q:

So how do you feel about reality shows–love or hate? Any favorites? Any you wouldn't watch on a bet?
Excerpt from Finding Mr. Right Now:
The waitress returned with their drinks, including a slightly dubious-looking chocolate martini for Ronnie. Paul opened his Fat Tire and leaned back again in his chair. Somebody had switched the music to seventies-era Bruce Springsteen, adding to his growing conviction that Salt Box was a Colorado version of Brigadoon.
Monica watched Ronnie sip her chocolate martini, her eyes narrowed.
"Relax," Paul muttered. "She's over twenty-one."
"Yeah," she muttered back, "but I'm guessing she's never tasted a chocolate martini before. Hell, she may not have tasted hard liquor before. I should have ordered her a glass of chardonnay."
"I repeat, she's over twenty-one." Paul stroked his fingers along the side of her arm, feeling the silken softness of her skin. "You're not responsible for her anyway. You're the associate producer, not a chaperone."
"You know that and I know that. But I'm not sure Fairstein Productions knows that." Her breathing seemed to have speeded up slightly. She glanced up at him through her lashes. "Screw it. I'm not going to be the one who keeps track of her."
"There you go." Paul grinned, cupping his hand around her shoulder again.
"I will, however, be the one holding her head up if she ends up barfing her dinner tonight." Her voice sounded slightly breathy.
"Probably more information than I wanted right now." He pushed his chair back from the table, reaching toward her. "Come on."
She blinked. "Where are we going?"
"Over there." He pointed to a dance floor the size of a yoga mat. Several couples were already swaying to something that sounded suspiciously like Phil Collins.
"I don't…"
Before she could finish her objection, he pulled her to her feet, then into his arms, guiding her around the floor to a small, unfilled space on the other side.
"Take five," he murmured against her ear. "Don't think about Fairstein or Ronnie or the guys or anything else job-related. Just relax."
She felt as good in his arms as he'd thought she would, soft and female, lush curves pressed against him, her scent a heady combination of something faintly floral with a mild tang of sweat. Real.
He blinked. Odd thing to be impressed with. Didn't everybody smell real? Now that he thought about it he wasn't sure. It had been a while since he'd had anyone he could describe as real in his arms. He steered her by a couple so tightly wrapped around each other they were hardly moving, feeling her breasts pressed warm against his chest.
Her hand slid slowly to the middle of his back, touching him lightly as she swayed against his body. Her other hand drifted against the back of his neck, her fingers sliding delicately across his skin.
He felt a sudden jolt of heat spearing down from his stomach to his groin, turning his loins to granite. Whoa. He didn't usually get this hard this fast.
He glanced down at Monica again. Her butterscotch hair floated around her face, her dark eyes studying him warily, flecks of gold burning in the dimness of the room. Her abdomen pressed against him, her softness against his aching arousal. She dropped her hand to his shoulder again.
All right. Time to walk it back a pace here. Jumping her on the dance floor wasn't exactly what he had in mind. Plus she didn't look like she thought it was a good idea herself. The music came to a close and he moved her back toward the table. "Food's here."
"Right." She stepped away from him quickly, as if she'd realized just what had started to happen between them—or what could have happened in a few more minutes.
Paul dropped back into his chair, pulling his beer close again, along with the basket of fish and chips the waitress had dropped off. Across from him, Monica took another sip of her margarita, studying the people on the far side of the room as if she were cataloging them for future reference.
Maybe if they didn't look at each other they could pretend it had just been a dance.
Excerpts. © Reprinted by permission. All rights reserved.

Book Info:
Monica McKellar, associate producer of Finding Mr. Right, is desperate. One of the show's bachelors has bailed one week before shooting starts. She not only needs a replacement ASAP, he has to get the temperamental bachelorette's stamp of approval.
Fortunately there's a hot guy right under her nose who's a perfect fit. Unfortunately, he pushes all her hot buttons. Until the show's over, her hands—and every other part of her body—are tied.
When Paul DeWitt signed on to write for the reality show, "Bachelor #10" wasn't supposed to be in his job description. He fully expects to be cut early on, which will free him to focus on the real object of his attraction. Monica.
Instead, he's a finalist, and they're all packed in an SUV climbing the Continental Divide, headed for Salt Box, Colorado. Where stampeding horses, vindictive tabloid editors, and one capricious bachelorette's waffling over suitors may conspire to end Paul and Monica's romance before it even starts.
Warning: Contains hot sex on the sly, cold nights, creaking wicker couches, and a gypsy wagon that gives a whole new appreciation for the pioneers.
Book Links:

Meet the Author: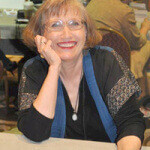 Meg Benjamin is an award-winning author of contemporary romance. Her Konigsburg series for Samhain Publishing is set in the Texas Hill Country and her Salt Box trilogy is set in her new home, the Colorado Rockies. Meg's books have won numerous awards, including an EPIC Award, a Romantic Times Reviewers' Choice Award, the Holt Medallion from Virginia Romance Writers and the Beanpot Award from the New England Romance Writers. Meg's Web site is http://www.MegBenjamin.com and her blog is http://megbenj1.wordpress.com/. You can follow her on Facebook (http://www.facebook.com/meg.benjamin1), Pinterest (http://pinterest.com/megbenjamin/), and Twitter (http://twitter.com/megbenj1). Meg loves to hear from readers—contact her at meg@megbenjamin.com.
To purchase Meg's books, you can visit her author page at Samhain,
Amazon or All Romance Ebooks.
Website | Facebook | Twitter |